Zeros and Near-os: Taking a few days off from the AT
So, what is a near-o and a zero?
I've taken a handful of near-os (short hiking day followed by a stay at a hostel or hotel then back on trail the same or next day) and two zeros (no hiking at all for a day) since I began the AT. When I started the trail in March, I knew I would be heading home for a few zero days at the beginning of June for a burial.
Let me explain…
My dear dad passed away in January of this year. Up north in the Great Lakes region, the cemetery where he had purchased a plot would not consent to dig a grave in winter as the ground would either be too saturated or too frozen. Thus we had to put off the committal ceremony and actual burial. 
Having to go through the same grieving twice is rough—I know from past experience. Mom passed away in December of 2021 and we had to put off her burial until May of 2022 for the same reason.
Change of plans
My husband planned to drive to Virginia and pick me up two days before the graveside ceremony, but an injury on my part brought him a few days sooner.
While hiking in a rocky section of southern Virginia, I twisted an ankle and in the process of trying not to land on my face, I violently twisted my torso, resulting in some injured ribs. I managed to hike another 6.5 miles to the next road crossing where a shuttle picked me up and dropped me at a Super 8.
I called my husband (trail name: Rollie) and we decided I'd give it one night of rest before making a decision about whether or not I should try to hike for the next 3 days. We were both hoping to leave the pickup day as scheduled.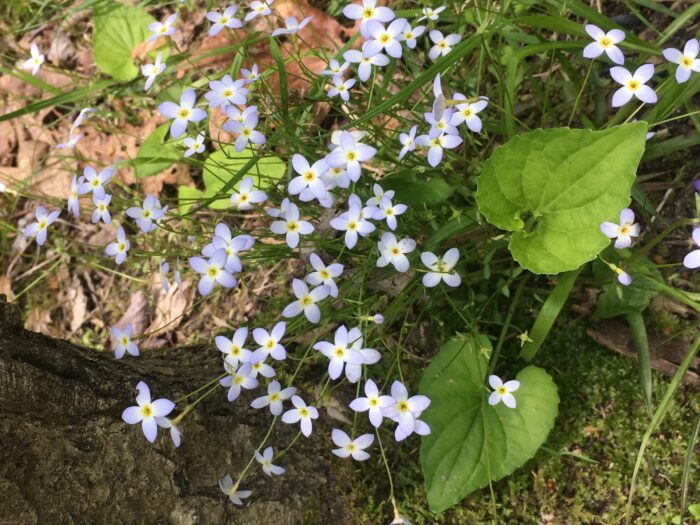 The spring has provided lovely flowers throughout the mountains. I look forward to getting back to the beauty of the season.
The next morning, even after a great night's sleep, I was still in pain. The worst was attempting to tighten my pack's waist belt, which I absolutely must do to hike. Then I looked at the weather forecast. The next three days were solid rain and thunderstorms. The next section of trail would include Dragon's Tooth, McAfee Knob, and Tinker Cliffs. Having hiked McAfee Knob last October, I knew I didn't want to attempt that area in thunderstorms. Not only would it be rough hiking, I'd have no views.
This comic was taped to the refrigerator at Holy Family Hostel in Pearisburg, VA. The message might be, "Need to cure what ails you? Take a hike."
I decided to go home early
I booked a second night, spent the day in bed with ice on my ribs, and waited for Rollie to come and take me home on Monday.
Arriving home after being on the trail for over two months was simultaneously comforting and jarring.
My cat (who happily remembered me) wouldn't leave me alone for the first hour. I was able to lie down and rest for extended periods, take a shower and wash my hands whenever I wanted, eat whatever and whenever I wanted, and sleep in my own bed next to my husband. My appreciation for my life off trail grew each day.
Yet, I missed the trail. The traffic that goes by my house shocked me awake each morning as I had become accustomed to birdsongs in the woods. My gut reacted negatively to the new daily diet in the same way it reacted the first week I was on trail.
What is this fresh food? What happened to the dehydrated stuff? <GrumbleGrumbleGrumble>
Rest, but not really
I became restless as I considered the miles I was missing and how many days behind I would be when I got back on trail. I looked at my AWOL Guide and maps, planning how to make up for lost time. I completely emptied my pack and switched out some of the clothing, refilled the hand sanitizer, and changed out my North Face Hedgehog boots for my Salomon Mad Cross trail runners. I love the boots, but they have 700 miles on them and were definitely showing wear. The deciding factor in switching footwear was that the inner cushion of the boots was no longer providing any comfort for my soles.
On Friday morning, we laid my dad to rest. Reuniting with family following the burial service I caught up on everyone's lives and answered questions about the trail. Just as when family joined me for a weekend of hiking the AT, fellowship with loved ones only served to rejuvenate my desire to hike and reinvigorate my tired muscles.
Saying a final goodbye to Dad.
As much as I wish I could send Dad postcards from the trail, I hope he's proud of me and is able to witness my achievements from heaven.
And now, I resume my hike. My ribs are feeling better and my feet are restless. Back to the trail. I won't be home again until I've summited Katahdin.

The top of the burial vault gives honor to Dad's military service in the United States Air Force.
Dad was laid to rest with full military honors. For more info on his career, visit the Smithsonian Air and Space website: https://airandspace.si.edu/support/wall-of-honor/col-philip-chaffee
Affiliate Disclosure
This website contains affiliate links, which means The Trek may receive a percentage of any product or service you purchase using the links in the articles or advertisements. The buyer pays the same price as they would otherwise, and your purchase helps to support The Trek's ongoing goal to serve you quality backpacking advice and information. Thanks for your support!
To learn more, please visit the About This Site page.