Arizona Trail – Peak to Peaked
Day 30 – 21.7 miles
I had originally planned to take only one zero day, but my right ankle and shin had swelled once I was off trail and I took an extra day to rest and ice my leg.  Magic Mike dropped me at the trailhead early and it was chilly until the sun appeared from behind Picketpost Mountain. I walked gingerly testing my right ankle. The trail wound up and down around the mountain and although the trail wasn't rocky or overgrown, I went extra slow on the downhills. A mountain biker heading north passed me on a steep switchback and I cringed as he skid and slid around a corner. I couldn't imagine biking parts of this trail and was grateful I was on foot.  The trail hugged the contours of hills through Telegraph Canyon and into Tonto National Forest. Twice the trail crossed over high saddles that gave beautiful views of the ranges to the south.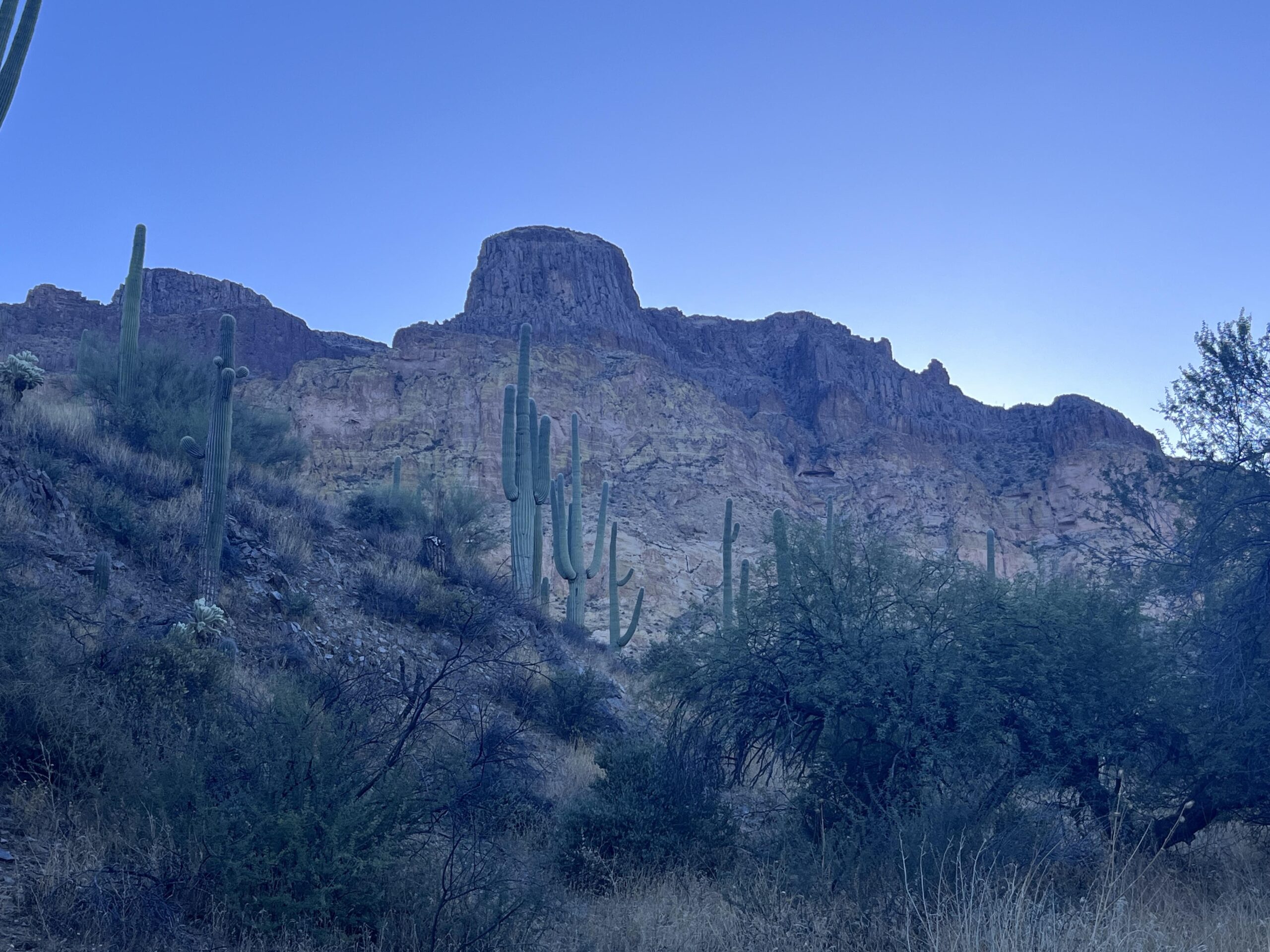 I passed the 500 mile mark and while I was pleased that I only had 300 miles left I worried that my right leg would keep me from finishing. The trail descended to the Gila River, the lowest point on the Arizona trail at 1,646 feet. I followed a wash to the river and filled up two liters of water. I saw a javelina run across the wash and decided to push a little bit more to camp. And then I slipped on a shallow, rocky downhill and fell. This time my right knee bent at an unnatural angle and I grimaced in pain. I sat very still for a bit before standing up on wobbly legs. I walked another half mile to my campsite. A full moon rose and shined brightly in my tent. I fell asleep to the sounds of the river gurgling nearby and insects singing.
Day 31 – 22.6 miles
I woke up in the quiet morning with drool drying on my cheek. I lingered a bit in my tent watching the sky lighten in the dawn. I finally began hiking at 6 am; there were 15 miles to the next water source and it would be hot by 9 am. The trail paralleled the Gila River and railroad tracks through low open desert until I reached Walnut Canyon. The high cliff walls looked down on the tree-lined river and an iron railroad bridge came into view – beautiful.
The trail wasn't too rocky, but the ups and downs became progressively steeper. The sun beat down relentlessly from a cloudless sky. Every now and then I'd pass a small tree and covey of quail would burst out their thrumming wings startling me. I walked slightly off trail down a road to a maintenance shed to fill up on potable water from a spigot. I drank two liters quickly before refilling my bottles and setting off again. Water had become my central interest; I couldn't remember another time in my life where I depended so entirely on water sources. The rest of the day I climbed to a ridgeline where I set up camp. I had a 360 degree views of the terrain and the moon shone bright in the quiet night.
Day 32 – 25.4 miles
I slept fitfully during the night. My right knee was aching and no matter what position I turned I could not get comfortable. I was ready to hike by 5:45 am but I took one step and my right knee screamed in pain. I spent the next predawn hour picking my way slowly downhill limping my leg along. After a half-mile I was sure I was going to have to quit my hike – no way I could handle the next 250 miles on this knee. I was feeling pretty low as the sun rose, frustrated with my body and cursing my clumsiness and bad luck. I was already planning for an extraction point when a thought occurred to me. I had been wearing a sleeve around my ankle because of the previous injury but I could MacGyver a knee sleeve if I slit the slides. It worked like a charm and my knee pain lessened immediately. In a matter of minutes, I had gone from despair to joy as my hike resumed – the highs and lows of thru-hiking! The trail had become generally flat and only slightly rocky. I picked up my pace determined to make up for the slow morning. I filled up water from a 50 gal blue drum with spigot (bonus!) and ate my lunch on a large flat rock. I put my backpack on and felt a sharp sting on my back – I pulled off my pack and sure enough, a bee was crawling on the backpad. After showing the bee who was boss I put my pack on and resumed hiking. The burning pain from the sting lasted only five minutes and then I forgot about it. Later I went through one of the many ubiquitous gates on the trail. Unlike others this looked like a gate from a Mousetrap game and I got a perverse pleasure from tugging the pulley. I was camped by sunset. While I ate my cold-soaked refried beans I thought about the next day. I had gotten my first views of Mt. Lemmon and the Santa Catalina mountain range and knew I would have a tough climb in a few days.
Day 33 – 25.6 miles
I fell asleep after midnight. I had cell service at my campsite, so I spent too much time on the net before finally turning my phone off. My knee hurt every time I moved my leg and waked me a thousand times during the night. I started the chilly morning in my puffy but warmed up quickly. Five miles in I filtered more water from a tank and then the trail became ups and downs reminiscent of the notches and gaps on the Appalachian trail. The constant climbing and descending was tedious and I grew bored with the same scenery all day. But I did note that the desert is actually very green. The various cholla cactuses, the saguaro and barrel cactus, the mesquite trees, prickly pear cactus and ocotillo are all shades of light, dark and lime green. The long grasses are a yellow and it is only the dirt that is brown. From a distance the desert looks very inviting; it's not until you're walking in it that you notice how little shade there is.
I was filtering water from a lovely tank when I saw a bull cow galloping down the rocky trail. I was glad I hadn't started up the hill yet or I'm sure the cow would have taken me out. In the early evening, I crossed Highway 77 near Oracle and found a flat place to camp. My knee was sore but was holding up. Soon after setting up my tent two runners ran past on the trail northbound. It was full dark by then and they both wore headlamps. Turns out one of the runners was Mike McKnight who was attempting a FKT for a supported hike/run of the Arizona Trail. To set the record Mike would have to run/hike 60+ miles per day. I was tired after 12 hours and 25 miles of hiking – I couldn't grasp how someone could do huge miles day after day. Humans are amazing.
Day 34 – 22.6 miles
I woke to another chilly day but I was eager to move. My plan was to meet Magic Mike in six miles for a resupply. The trail through Oracle State Park was lovely – mostly flat and clear of rocks. I cruised quickly over the terrain and arrived at American Flag trail head 30 minutes early. Fortunately, Mike was there early too. I ditched my trash, refilled my food bag and added back my rain flap, rain pants and gloves to my pack. That night I planned on camping at close to 8,000 feet and temperature near the top of Mt. Lemmon could be 30 degrees cooler than the base. Most importantly, Mike had brought me an actual knee sleeve and I was hopeful that this would help with my knee pain. I ate two turkey and cheese wraps, and drank a lemonade and frappe before leaving. Next stop would be Summerhaven, the small town on Mt. Lemmon.  The trail was rocky and overgrown again but I felt strong – perhaps from fueling up at the resupply stop. For the rest of the day the trail followed endless steep, rocky dirt roads, and sketchy overgrown contours. The wind blew hard from the east which helped keep the heat down. When I rounded the mountain to the leeward side I was immediately sweating from the blazing sun. My energy started to flag in mid-afternoon but thankfully by late afternoon I arrived at the parkway entrance to Summerhaven's downtown. The street was deserted but I headed to the visitor center which had 24/7 access to bathrooms. I had planned to fill my water bottles there as well but unfortunately the town was under a water restriction and faucets and water fountains were turned off. The trail took me past the Summerhaven General Store where I bought two pieces of the famous fudge and received a free hot chocolate. The sun was going down as I ate my fudge and drank my hot chocolate gratefully in front of the store. I put on my rain pants and puffy jacket in the chilling air. I planned to hike a few miles past Summerhaven to my campsite. As I followed the road out of town I passed dayhikers going back to Summerhaven to stay. I enjoyed the brief stops to talk with them about our hikes but by the time I was hiking again the sun was setting. I hiked the last two miles in the dark, my headlamp giving me glimpses huge rocks. I found a flattish site and settled into camp tiredly. I was relieved to have completed this portion of the hike and I had passed 600 miles today!
Day 35 – 17.4 miles
As expected, the temperature dropped in the night. I was bundled up as I started hiking. I was nervous about descending the mountain today and anticipated a steep rocky trail. I hoped my knee would survive. But first, the trail took me through the "Wilderness of Rocks." It was delightful and I felt a little of the joy I had at the beginning of the Arizona Trail as I took in the scenery. Huge slabs of rocks were stacked on top of each other or precariously tilted waiting for a prankster giant to tip them over the edge. Other stacks looked like big cairns marking the trail for that same giant. It was slow-going negotiating the big rocks, but I enjoyed every second of it.
Right before the descent the trail opened to an amazing view to the west where the Catalina foothills descended toward a sprawling Tucson. After taking in the sight I set out with some trepidation on the rocky path. But my fears were overblown; the trail was steep for a short bit to Romero Pass but became a little shallower for the next six miles. The sun was out with a vengeance and I grew increasingly tired and hot as I reached the lower altitudes. By the time I reached Hutch's Pool and Sabino Canyon my knees were on fire and my pace slowed considerably. Three hours later I was almost to the Gordon Hyrabayashi campground; I limped along tiredly and as I grew close to the trailhead I looked up to see Magic Mike walking towards me. He was there to pick me up for a nero in Tucson and thought to meet me partway. My spirits lifted immediately at the thought of food, a real bed and a chance to rest my legs.
Affiliate Disclosure
This website contains affiliate links, which means The Trek may receive a percentage of any product or service you purchase using the links in the articles or advertisements. The buyer pays the same price as they would otherwise, and your purchase helps to support The Trek's ongoing goal to serve you quality backpacking advice and information. Thanks for your support!
To learn more, please visit the About This Site page.