Arizona Trail SOBO Thru-Hike Finale! (Pt. 3)
Rincon Mountains to Southern Terminus. For part one click here, part two click here. I'll be thru-hiking both the PCT and CDT this year so I hope y'all will follow along on Instagram!
Rincon Mountains
In the Rincons, the landscape opened up. The mountains showcased brassy waves of dried grasses, a big change from the evergreens we saw up on Mt. Lemmon. The days were hot, and Bowie and I bore down and got to business covering bigger miles. The end was now in sight.
To be honest, the days and sights blended together for me a lot during this time, likely because we were pushing ourselves and running into fatigue issues. We had been on long-distance hiking trails for most of the last eight months, and it showed. A generous trail angel gave us a ride into Tuscon to rest up before the final leg to the terminus.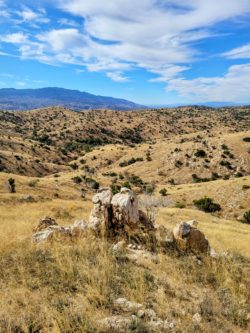 Rincon Valley/Las Cienegas
Bowie took a couple days to rest in Tuscon while I pushed on, and we agreed to meet in Patagonia to finish together. The next 40 miles or so were relatively flat, which allowed me to cover ground quickly. One highlight was the riparian oasis along Cienega Creek, marking the last time we would come across cool, flowing water on the AZT. The I-10 underpass was also a treat, as it's painted to look like a snakehead, making it a pseudo-famous landmark and photo op for AZT hikers. 
Patagonia
A long Forest Service road walk dumped me out of the Temporal Gulch into the town of Patagonia, the last resupply point for SOBOs. I was SO glad to walk into town to find Bowie and a bunch of other friends we had met on trail all hanging outside at a local bar called Patagonia Lumber Co. I put down my pack and kicked it for the afternoon, swapping stories with some super fun hikers (Bowie, Juicy, No No, Caboose, and Hot Pants to name a few).
We got dinner with our friends Tim Tam and Commando and then stayed at Goatlandia, a cute and affordable Air BnB with goats roaming around <3
Miller Peak Wilderness
The end was here. We headed into the Miller Peak Wilderness, one final challenge to make sure you really earn your visit to the Southern Terminus. Topping out over 9,000 feet, Miller Peak was high up enough to transcend the desert environment, instead favoring shaggy evergreens. We could look down and see the US/Mexico border seared across the land like a huge surgical scar.
Southern Terminus
We made it off the mountain and descended to Montezuma Pass where a volunteer ranger routed us down a long, hot, dry detour because of an outdated trail closure related to old construction of the border wall. Our final mile was walking along the border, rusty barbed wire and towering steel slats leading the way to the monument. The monument is a steel obelisk a few feet tall and located inconveniently on the Mexican side of the border behind barbed wire, but we made the pictures work anyways!
Conclusion
We completed the trail in exactly six weeks, which is the timeframe we were shooting for. As my second "major" thru-hike, the AZT provided such a stark contrast to the Appalachian Trail that sharpened new skills and taught me so much about my body and what I need to thrive on long-distance hikes. I'll try to write a post about those lessons in the future.
This trail is magical. The land of Arizona is magical. If you've hiked in Arizona you know what I'm talking about. That feeling of magic is especially present in the final hour of daylight as you can feel the desert relaxing and opening up to the cool evening air. You can see, hear and feel the interdependence of the birds, bugs, rabbits, coyotes, snakes, cacti, grasses, and everything in between. In climates humans often deem harsh and inhospitable, nature recognizes the need to pare down to the barest of essentials and to thrive in simplicity and cohesion. I believe there's a lesson in that for all of us.
Please consider donating to the Arizona Trail Association. They work hard to protect the land, keep hikers safe, and make our experience incredible.
Follow Along!
As always, thanks for reading. All I can speak for are my experiences, so I'd love to hear what people have to add about the AZT. Follow my 2022 thru-hike of the PCT and CDT on Instagram @seltzerskelter and subscribe to future posts on The Trek by visiting my author page!
Affiliate Disclosure
This website contains affiliate links, which means The Trek may receive a percentage of any product or service you purchase using the links in the articles or advertisements. The buyer pays the same price as they would otherwise, and your purchase helps to support The Trek's ongoing goal to serve you quality backpacking advice and information. Thanks for your support!
To learn more, please visit the About This Site page.