Atypical Gear Review: Hults Bruk Kisa Axe
You're at a shelter in the middle of nowhere, and a wind-storm hits, knocking trees across your path. Don't those trees know people are trying to get through?!
Don't they know they should maintain better posture, and not lie down on the job? They're also not responding to politely worded requests to clear the trail, or even strongly-worded letters demanding passage. These trees are real jerks, aren't they? Somebody should teach them a lesson…
Well, you've got Kisa on your side. Also, you're a raging Serial Arbicide with bad impulse control, have places to be on the other side of these trees, and climbing is a completely different sport, ya'hear?! We'll have none of this nonsense! We're not going over, we're going THROUGH!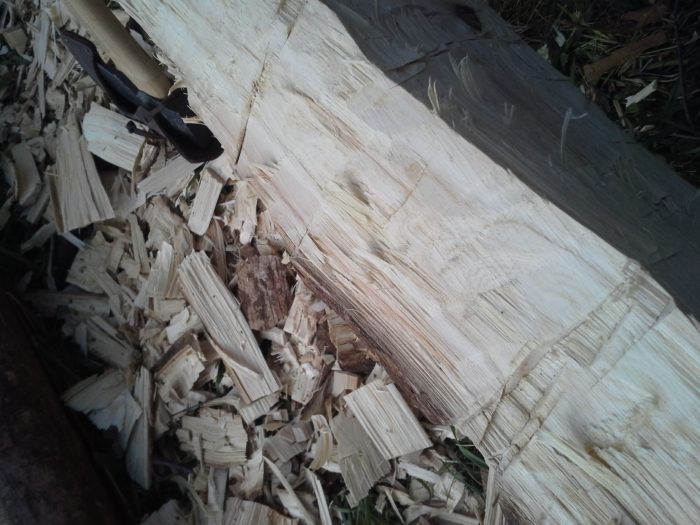 THAT'S A WHOLE NEW MEANING TO THRU-HIKING!
You make short work of their education, logging a dozen victories as you wade through the dead fall. Like an Outlaw Rapparee, you "step into your trail mates' love o'er the copses of your foes" as hew tear them limb from limb.
The axe, though light and agile in your hands, bites deep into the wood and throws chips out into the ether with gleeful abandon. The forest rings with the sound of the blade landing again and again, a sobering reminder to all trees that their continued peaceful existence is contingent on not giving you an excuse to find out how many board-feet they're made of.
The blade never sticks, the light weight and perfect balance of the tool make it a dream to use, even after several back-to-back hours of near-industrial levels of chip production. By the end of the day, your skilled hands have bucked a dozen trees 16 inches in diameter clear of the trail, and paved the way in extra-coarse mulch.
Maybe if they'd listened to reason the first time you asked politely, they wouldn't have been sequentially segmented into shattered splinters of their former selves. Of course, you've only made it a quarter mile today, but knock on the plentiful wood at your feet, you'll find it a lot easier going in the morning.
Let this be an example to all the other trees that wanna fall across the trail….
The last tree to cross my path, seen above, was a box elder on my Brother's Farm. It didn't last too long. About 14 inches DBH (Diameter at Breast Height)  and standing dead from earlier in the season, I was able to accurately and easily fell, limb, and buck the log with this axe in a single of a day.
I left a longer section intact, and hewed it into a 5×5 inch beam, a task not exactly in the design specifications of this axe, but one to which it took to quite well. The edge held nicely through the entire 12 hours of work in squaring it off over a length of about 6 feet on each side. To give you an idea of what that means: When I took it out of the box, it cut index cards like butter. Now you have to apply some pressure. It's still functionally sharper than any hardware-store axe factory edge I've ever had the displeasure of dealing with, and can be restored to its factory keen edge in a short time with a sharpening stone.
This axe can be your constant companion on the trail, and help when things like the story above happen without adding a lot of weight to your gear. The head is nominally 2 pounds, though I suspect it is a hair lighter, and is perfectly balanced on a 26 inch hickory handle. The overall weight is just about 1310 grams according to my scale, which is only a few ounces more than a full nalgene. The shallow edge angle of 27 degrees gives a very clean, deep cut, especially when used on softwoods, but is slightly less efficient in splitting as should be expected for a lighter forestry axe.
I would highly recommend this axe to anyone who will be working in the woods with such tools for any length of time, or who appreciates and works with hand tools as a hobby. It is especially well suited to limbing, bucking, blazing, and small-to-mid size felling, which are all common tasks for trail maintaining crews. In my experience it does quite well at hewing despite a narrow face for that particular job as well as lacking a flat-faced side and chisel-ground edge like a classic broad-axe.
DISCLAIMER: I bought this axe with my own money, and have received no input from the manufacturer or retailer since. I intend to keep it that way.
Affiliate Disclosure
This website contains affiliate links, which means The Trek may receive a percentage of any product or service you purchase using the links in the articles or advertisements. The buyer pays the same price as they would otherwise, and your purchase helps to support The Trek's ongoing goal to serve you quality backpacking advice and information. Thanks for your support!
To learn more, please visit the About This Site page.