AZT Day 14-21 (177.2-305.7)
*I'd like to make a quick note that I'm actively writing these blogs on trail. That means I'm usually typing them out in my tent each night and posting when I have signal. I proof read the best I can, but am sure there are still plenty of errors! Hopefully you can make sense of my ramblings. Enjoy!*
Day 14: 12 miles (camp at Marshall Gulch Trailhead, mile 189)
Today was a doozy of a day. We didn't cover much ground but it certainly beat us all down. The morning started off lovely, I watched the sunrise over the canyon walls while doing some yoga by the river. We left camp at a reasonable time and enjoyed the first several miles of early morning hiking.
The trail today had us zig zagging back and forth over the river. We slowly gained elevation as we ventured further up the canyon walls. We made decent time and still stopped to take in the view behind us: the canyon opening up and revealing sprawling mountains to the south.
We stopped for a snack break and to fill up our water bottles at a trail junction before pushing on. I had thought we were mostly out of the canyon, but I was wrong. We still had several miles to go. The sun wasn't her usual self today, instead she was coy and hid behind an onset of clouds. I was thankful for the shade as we worked up a sweat, but later I'd be eating my words. The wind was also extra gusty today, again something that felt good in the heat of the day but later would feel like an icy slap.
We eventually reach Romero Pass, but that's only when the difficulty increased tenfold. The next several miles climbing up the spine of Mt. Lemmon gave me flashbacks to hiking in the White Mountains of New Hampshire. Everything was rocky, there were steep drop offs on either side of the trail, and the trail seemed to never slow in its aggressive ascent. My chest burned and my muscles ached as I pushed my body to keep moving. I discovered that soon as I stopped to catch my breath, the cloudy weather and blustery winds would zap the heat I'd worked up and I would be left shivering.
After what felt like an eternity, we reached the top of the initial climb. We still had some uphill to conquer, but it would be at a much more forgiving grade. Pimento, Truffles, and I hiked together for another mile or two before finding a decent spot for lunch. We were all exhausted and wanted to relax, but again the clouds and the winds kept the temperature just low enough for it to be impossible to be comfortable while sitting still. We ate as quickly as we could and tried to look ahead on FarOut for a place for us to sleep. Our original goal had been to get to the other side of Summerhaven, the little town nestled on the summit of Mt. Lemmon, but at the pace we were going we knew we needed to reevaluate.
Once we set off again the hiking seemingly got more challenging. The elevation stayed fairly even, but the terrain changed drastically. There had been a recent-ish fire on Mt. Lemmon that burned and knocked down a lot of trees. Coupled with the high winds that are apparently the norm for the mountain, there were down trees and debris everywhere. Most of the AZT has been easy to follow up until this point, but this section was a different story. It seemed like there was no designated trail and it was just a "pick your own adventure" for how you wanted to get from point A to point B. We hopped over down trees, wadded through the creek, slid down snow pack, and wandered in circles all while trying to check FarOut to ensure we were at least moving in the right direction. We were frustrated to say the least.
Eventually we found our way to the Marshall Gulch Trailhead. This was just a big parking lot with a pit toilet and picnic tables tucked into the hillside. We had seen conflicting comments on FarOut regarding whether or not camping was permitted in the area. We searched high and low for signage indicating if camping was illegal and found none. Given our state of exhaustion we decided we've take the gamble and stay here. We were only a mile outside of Summerhaven and Truffles decided to run into town to get cookies from the Cookie Cabin to brighten everyone's crappy day. Pimento and I set up the tents and started dinner, once Truffles returned we had desert and called it a night. We had spotty signal and were able to check the weather for the night, it called for temperatures in the 20s and possible snow…
Day 15: 22 trail miles (15 actual hiking miles, camp at Hwy 77, mile 211.3)
We woke up to a dusting of snow on our tents. Because we were only a mile from town and it was so cold, we decided to stay in our tents and play on our phones (we got signal!) for a couple hours in order for the temps to rise and the stores in Summerhaven to open.
We walked into town around 10:30am and made our first stop at the General Store. We got some snacks and our complementary coffee for hikers and sat outside to charge our electronics. The boys walked over to the Cookie Cabin to get more giant cookies and we enjoyed those on the porch of the General Store.
One of our buddies from the AT, Hollywood, messaged me that he was in the area and wanted to do some trail magic for us. We made loose plans to connect and then Truffles, Pimento, and I walked to the Summerhaven Community Center to use the bathroom and refill our water. We left town just after lunch and began hiking down the mountain towards Oracle, AZ.
The trail today was incredible! We had mountain views as far as the eye could see. It felt like the trail was just cut into the side of the mountain, I thought several times about what would happen if I lost my footing and took a spill off the side. The trail crossed back and forth between traditional trail and ATV roads. We went up and down over and over again, but the general direction was downhill.
The hiking most of the afternoon was uneventful other than the beauty around us. We made good time and were able to get enough signal to solidify plans with Hollywood. He agreed to pick us up at a trailhead and was going to take us in Oracle for dinner. Yay town food! We found a comment on FarOut that mentioned a blue blaze that would walk us straight into town and cut out a multi mile dry section of trail, so of course we chose that option. We took the Cody Trail the rest of the way down the mountain and were popped out on the edge of town.
Hollywood rolled up in his truck shortly after and whisked us away to the Ore House Hilltop Tavern in Oracle. We ate, drank, and reminisced about our time on the AT. Hollywood even bought our dinner, talk about a trail angel!
Hollywood wanted to camp with us and hike for a while the following day. He drove us to a trailhead just outside of town and the four of us set up camp in the dark. Our campsite for the night was in a wash close to an underpass, but we didn't care. We were just thankful to be on trail and to have ran into an old friend. What an eventful end to the day!
Day 16: 20.9 miles (camp at Beehive Well, mile 232.2)
Today was long and hot. Truffles, Pimento, Hollywood and I all woke up to frost on our tents and we tried to get moving as quickly as possible to fend off the cold. The beginning of the day started with a couple miles of road walking down a gravel road before opening up to sweeping views at the Tiger Mine trailhead. We enjoyed some beverages at the resupply box and talked to Mel, another hiker we'd met the day before.
Today was more ups and downs over rolling hills. It was nice to have Hollywood to hike with just for something different. We all talked about the AT, his time hiking in South America, and about being an "influencer". Around noon we found a decent break spot and bid farewell to Hollywood.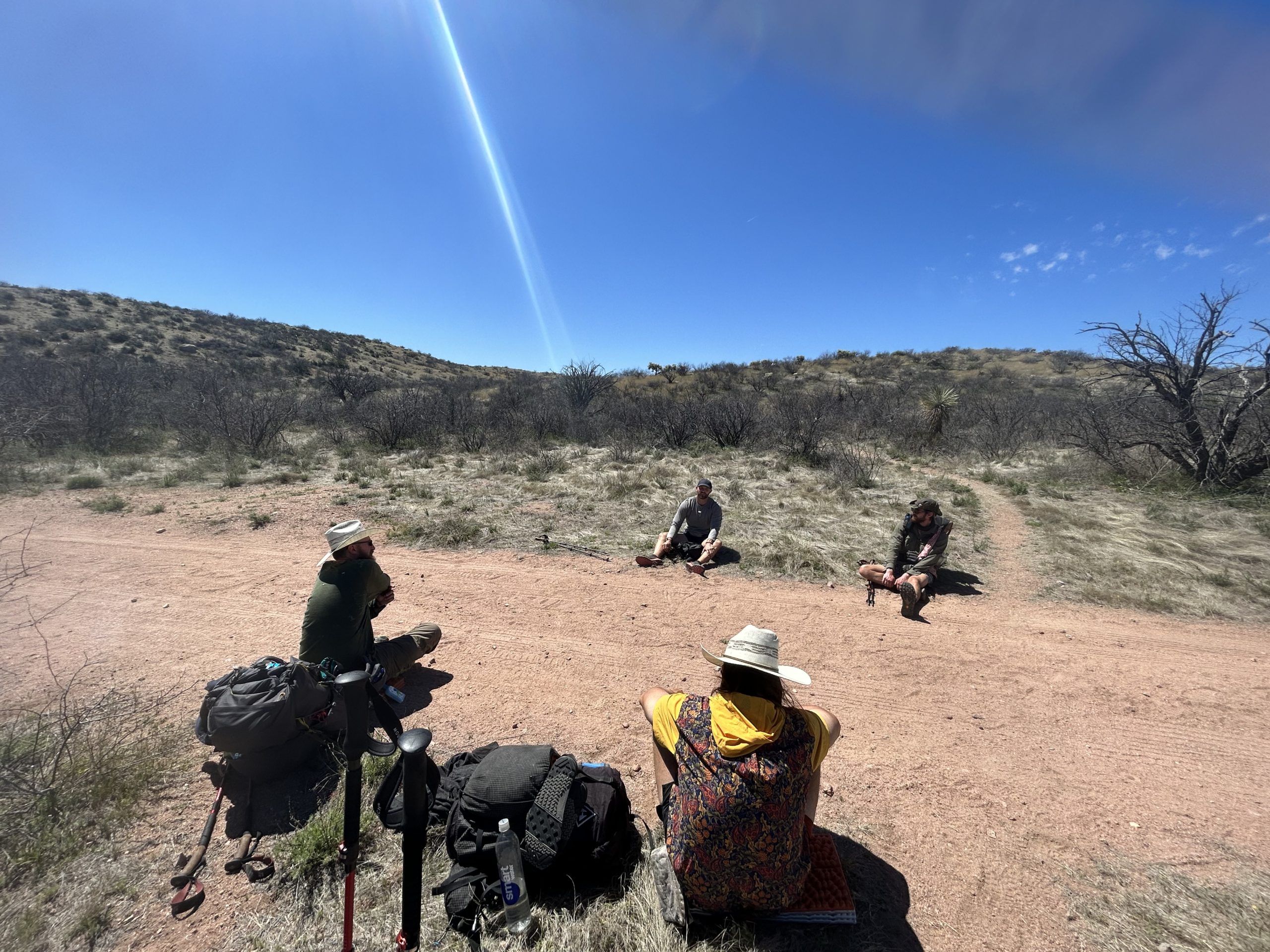 The rest of the day went by in a blur of desert heat and blazing sun. Pimento, Truffles, and I split up to hike at our our own paces. We regrouped at a water tank and took a nice long break to enjoy the shade. The tank was huge and we had to climb up on a ladder to access the water. There were even fish swimming around, which we later learned were out there intentionally to control mosquito populations around the water.
After our break we set back out into the desert sun. I decided to retry my hiking umbrella, which I quickly discovered I hated using. I reset my pack without the umbrella and opted to use my wide brimmed hat instead. Nothing too eventful happened in the afternoon. We hiked until just before dusk and finally made it to the Beehive Well. There were a handful of other hikers gathered to camp here, but since we got in late there wasn't much time to socialize before hiker midnight. We ate our dinners using our headlamps and quickly fell asleep in our tents.
Day 17: 20.1 miles (camp at wildlife tank, mile 252.3)
Today was another desert day. I don't feel like there's much to describe the day other than desert hiking. I think all three of us are over the desert, we are green tunnel lovers at heart. We had a little bit of uphill this morning, but the grade was gradual enough so that it didn't totally suck the life out of us.
We made it through the uphill portion of the day and found ourselves again walking down double track road to a trailhead. At the trailhead we were thankful to find the water cache was still full and we took that as an excuse to break for lunch. We talked to another hiker, Ping, for a while before deciding to push on for the day.
The rest of the afternoon was "mind numbingly boring" as described by Truffles. The trail was very flat and seemed to zig zag around without any rhyme or reason. We made it to a wildlife tank that was basically just a large pond and took a long break to escape the sun. We filter water and tried to summon the energy to get us through the remainder of the day.
We only had a few more miles to do and I tried to pass the time by listening to podcasts and music. My body was tired and my feet hurt. The last mile felt like it lasted forever, and of course the wildlife tank we scoped out as a campsite was very far off trail. I hobbled to the tank and was so grateful to drop my pack and slide on my camp shoes. The sun was beginning to set as we made dinner and we were surprised to see one of the best sunsets we've experienced this far! It was a great end to a less than great day.
Day 18: ~16 miles (camp at Rio Vista RV Park, Kearny, AZ, ~mile 268)
What a funny day on trail. It was chilly when we woke up this morning and we tried to procrastinate hiking as long as possible. We've been waking up earlier and earlier each day to try and beat the midday heat, but we have a hard time hiking out in the crisp morning air. We finally rolled out of camp and began making our way down the trail. It was more desert hiking today (shocking) and we traveled through washes and down ATV roads. After several miles we walked through a wash to a water source that was a rain water collection tank. We enjoyed the cold water and tried to find some shade for a quick break before pressing on.
On FarOut we found an ATV road the followed the trail for a while before veering off straight into town. We decided to walk on that rather than walking the trail, thinking it would save us a mile or two. In the long run we may have shaved off a mile, but the agony of walking down a sandy wash for several miles was not worth it at all. We love a blue blaze but sometimes it isn't worth it!
Eventually our side quest spit us out on the outskirts of Kearny, AZ. We walked straight to the Firehouse Saloon and asked the bartender for the coldest drink they had. We spent the rest of the afternoon lounging around the bar, charging our electronics and playing table games. We even had pizza delivered to the bar from Old Time Pizza in town.
When we had our fill pizza and cheap beer we decided to wander over to the RV park/laundromat in town. Tim, the manager of Rio Vista RV Park, lets hikers sleep on the grass in the park for $5. We pitched our tents and started laundry before relaxing with a couple other hikers for the evening. Thankful to be in town, even if we're still sleeping in our tent.
Day 19: 1 trail mile (0 actual hiking miles), camp at Kelvin Trailhead, mile 269)
Today was pretty much a zero that consisted of town chores. We managed to sleep in until around 10am and slowly went about packing up our stuff and leaving the RV park. We walked into town and stopped at Buzzy's restaurant for lunch. This place was an absolute hiker dream! They had everything you could think of on the menu, the price was affordable, and they had it ready it minutes. We ended up sitting in the restaurant for a couple hours charging our battery banks and chatting up the locals.
We rallied ourselves together and headed to Norm's IGA, the local grocery store. We made quick work of resupply and meandered over to Old Time Pizza in hopes of finding a ride back to trail. We had heard that the former owner of the pizza place, Gary, was the ultimate trail angel and loved toting hikers back and forth to the trailhead. It was easy to find Gary, he is one of the most friendly people on earth and was chatting up hikers and locals alike. He was happy to take us to the trail head and away we went.
Gary dropped us off in a gravel parking lot close to trail where he thought we'd be able to camp for the evening. It was around 5pm so we knew we didn't want to hike further. We said goodbye to Gary and went to work setting up our campsite. Our only neighbor was a van lifer who came over to chat while we were eating dinner. All in all we've had a good day, it feels nice to have not hiked today but still be falling asleep on trail. Back to hiking tomorrow!
Day 20: 19.2 miles (camp in a wash, mile 288.8)
What an absolutely amazing day! If every day was this good I would sail to Utah and back. The temperatures are supposed to be rising this week so we decided to try our hand at early morning/late evening hiking with a siesta in between . We woke up around 5 and tried to be on trail by 6:30. I was moving slow this morning in the cold so we didn't roll out of camp until after 7.
We decided to walk on the train tracks for a couple miles to cut out a climb on the trail. We are anything but purists, but at least we're honest. Our train track adventure was short lived, but we did get to see a train go by!
Once back on trail the day truly began. For the majority of the day we wove up, down, and around a valley carved out of by Gila River. We were almost always within sight of the river, but half the time we were high on the hills above it. The terrain was rocky and the trail was mostly comprised of gravel. We hiked hard and covered ground quickly, all while still taking time to snap photos and enjoy the breathtaking wildflowers.
By 11am we reached our first water source of the day, an access point to the Gila River. We decided to push ahead to the river campsite we had planned to camp at for the evening and "reassess". Our tramily loves to play things by ear, often times on trail you have to be able to adapt and roll with the changes. At 1pm we had covered the full 15 miles we had planned for the day, so we decided it was time for a break.
We found respite in the shade of a tree on the river bank. Our first siesta of the trail and we reveled in it. We napped, ate, and relaxed for 3 full glorious hours as the heat of the day passed. Truffles and I even submerged our sleeping pads in the river in order to try and patch some holes.
Somehow we found the willpower to put our hiking shoes back on, shoulder our packs, and keep hiking. I felt surprisingly good after 15 miles, but I'm sure the long break had something to do with that. Our destination for the evening was a dry campsite, so I hiked out with 5 liters of water. My pack was heavy but I felt strong as I slowly chugged my way uphill the rest of the afternoon.

The sheer rock formations we hiked around in the evening were beautiful. I stopped to take lots of pictures and tried my best to soak it up. I'd never seen landscape like this before, I kept thinking about how lucky I am to be able to see places like this. It made me grateful for my unconventional lifestyle and the opportunities I've had.
Truffles and I caught up to Pimento in a wash a found a decently flat spot and decided to call it good enough. We pitched our tents and ate dinner as the light was fading. It appears we were successful in patching the three holes we found in my sleeping pad… excited for a good night's sleep!
Day 21: 16.9 miles (sleeping in a bed at Al's house in Superior, AZ, mile 305.7)
Today was easily the most beautiful day we've had on trail. We woke up around 5am in hopes that we could beat the heat. I was ready before the boys and took advantage of the scenery and did some yoga. We were moving by 7am and slowly made our way out of the wash and upwards. I don't even know how to describe the landscape we were traversing. It wasn't quite a canyon, maybe more of a gorge…? Either way switch back after switch back took us higher and higher, each turn revealing more stunning views.
We wound our way up, further and further until there was no more mountain to climb. At the top we were greeted with incredible long range views. Along the way we saw numerous new wildflowers and even witnessed our first few cactus blooms!
When we finally crested the ridge we walked along the spine of the mountain for several minutes before beginning the slow descent. This is where the scenery drastically changed. Red towering rock mounds rose up over the horizon, creating mountains unlike anything I'd ever seen. I kept asking Truffles what he would compare this too, and we both came up short.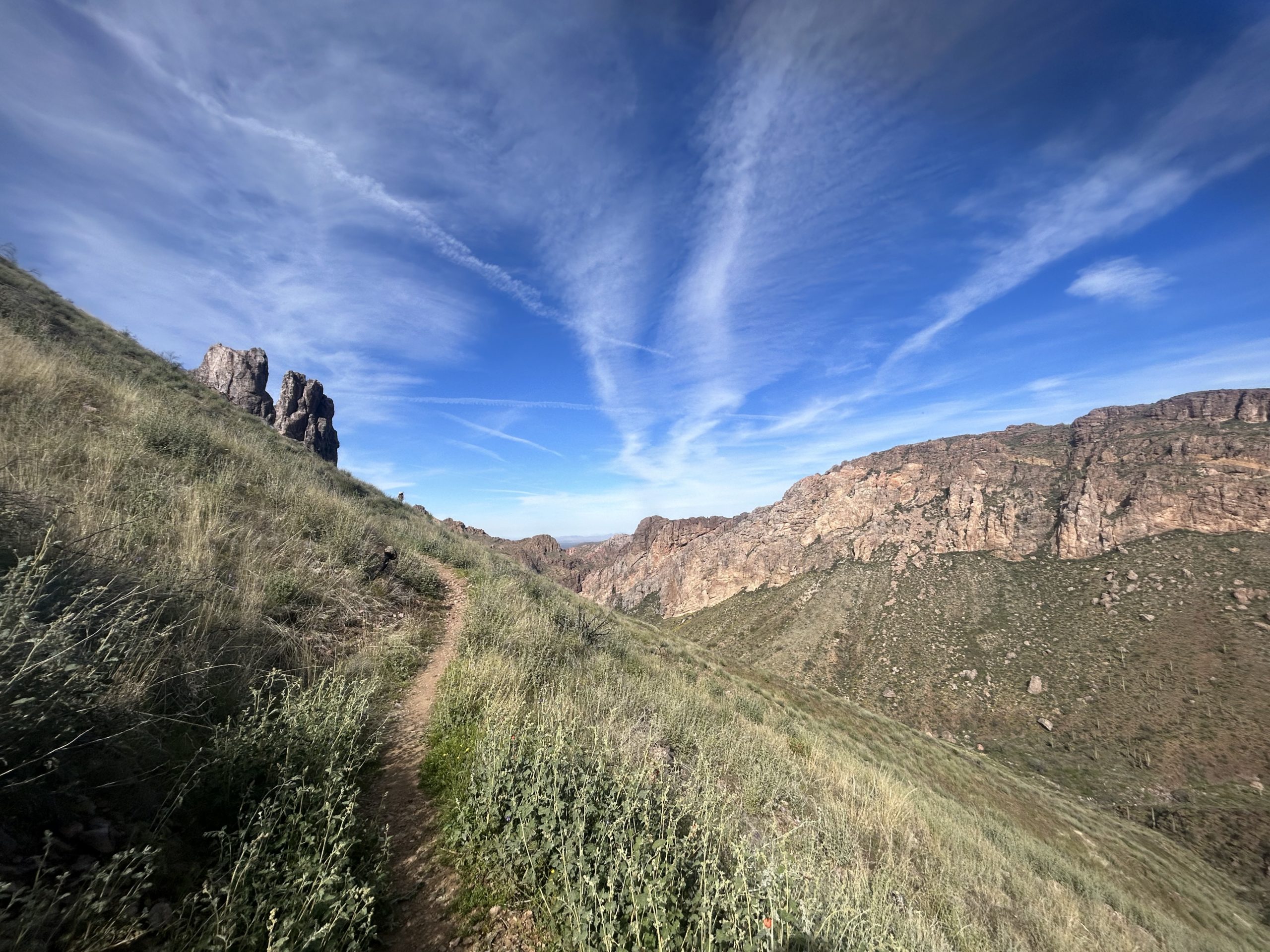 Truffles, Pimento, and myself all said time and time again on this stretch of trail that we envisioned other west coast trails looking like this. Maybe this is what sections of the PCT look like, or the CT. I was certain that at any point a mountain goat would pop its head over one of the rock formations or that big foot walk nonchalant in front of us. We all tried to enjoy this scenic stretch and stopped to take lots of pictures on the way to the water source.
Our main water source for the day came from a rain water entrapment at the top of a hill. We reached it after several miles of climbing and sat down to take a well deserved rest. Not long after we arrived, other hikers began to show up. We really hadn't interacted with many hikers throughout the rest of our journey, and it felt awkward and familiar all at the same time to make small talk around a break spot. We quickly buddied up to Toast, Shady, and Lentil and passed the time while enjoying the shade.
After half a hour my tramily decided it was time to move on. We started making our way down the mountain, but of course it wasn't just a straight forward descent. We went up, down, and all around the wandered closer to our destination. I was able to get enough signal to text a trail angel in Superior to arrange for lodging, and the angel agreed to pick us up at the trailhead. Our group shuffled down the trail without taking breaks other than to sip water and eat snacks. I passed the time by listening to music and audiobooks.
Finally we found ourselves at Picket Post trailhead where a handful of hikers were congregating. Our train angel, Al, was waiting and we packed up and headed to his house. He was so hospitable and welcoming! He had a taco lunch waiting for us and even surprised us with ice cream sandwiches for desert. We sat around talking for hours before finally settling in to watch TV and vegging out for the evening. We'll see what tomorrow holds, we are considering zeroing.
Affiliate Disclosure
This website contains affiliate links, which means The Trek may receive a percentage of any product or service you purchase using the links in the articles or advertisements. The buyer pays the same price as they would otherwise, and your purchase helps to support The Trek's ongoing goal to serve you quality backpacking advice and information. Thanks for your support!
To learn more, please visit the About This Site page.