AZT Day 4-7 (mile 38-96)
Day 4: 12.2 miles (camp at TerraSol)
Town day! We woke up and tired to get moving at a decent time. Our campsite turned out to be beautiful in the daylight when it wasn't super windy.
Once we got moving we only had a few cruisey miles until the next water source, our first cattle trough. The water itself was murky and filled with algae, but thankfully there was a pump that funneled up cleaner water. It still wasn't crystal clear, but once we ran it through our filters it tasted fine. After filling up our water we enjoyed a nice break in the shade of a small windmill.
Back on the trail we followed an old stream bed through what looked like forgotten desert land. We saw more cow skeletons and treaded over sand and rocks. Eventually we reached a trail junction where the new AZT split from the old AZT. The trail sign was surrounded by California Poppies, our first time seeing them!
We decided to take the old AZT for several miles to another trailhead where we could walk into town. Most of the afternoon was uneventful, we climbed some hills, came back down, and passed a couple day hikers.
Knowing we were going into town, we were all eager to get to the trailhead. When we finally arrived we parked ourselves in the shade to enjoy cell signal, the first we'd had since starting the trail. We played on our phones and snacked for half an hour before finally willing ourselves to get moving.
The road walk into town was only about 2 miles, but it seemed to stretch on forever. I think it felt especially long because it was the only thing standing between us and town food. We tried to hitch but to no avail.
Finally we made it to TerraSol and met the owner, Mary. She gave us a tour and welcomed us with open arms. Once we settled up with Mary, we took some of the loaner bikes into town to get a late lunch.
We met Twinkle, Fugitive, and Bryce at the Wagon Wheel in Patagonia where we all cleaned our plates. We talked about other long trails, the hike so far, our lives back home, and post trail depression. It felt really good to once again be in the type of environment where strangers quickly become friends and it's easy to open up about deeper issues.
After we had our fill we went to resupply at the Patagonia Market. For a small town, they had everything a hiker could need! We were all pleasantly surprised and were able to over fill our food bags.
We took the bikes back to TerraSol where the chores began in earnest. We took turns showering and doing laundry before Mary built a fire for the evening. The four of us sat around with Mary and a van lifer who was in town following bird migratory patterns. We chatted for several hours before bidding each other goodnight. What a lovely evening!
Day 5: 12.2 miles (camp at mile 64.5)
Today was a doozy. We woke up at the hostel and tried to soak in Mary's hospitality as much as possible in our last hours there. I drank coffee on the porch and chatted with Blink and Bryce before my tramily packed up and headed into town for breakfast. The boys wants burritos but I wanted something else, so I treated myself to a little alone time and got breakfast at The Ovens of Patagonia. I had a delicious pastry, breakfast sandwich, and huge caramel latte.
With a full stomach I crossed town to meet back up with the boys at the Patagonia Market to get a couple things we forgot the night before. We loitered in the parking lot for a while, delaying the inevitable of getting back on trail. No matter how much you enjoy trail life, it's always hard to leave the conveniences of town.
We finally willed ourselves to make ourselves to the outskirts of town to try and get a hitch. While waiting I managed to drink an entire liter of Gatorade, something I thought was brilliant at the time but quickly regretted as my stomach filled with liquid. We stood with our thumbs out and waving our "hikers to trail" Tyvek sign for about 15 minutes before a truck pulled over. We tossed our packs in the truck bed and Pimento took one for the team and climbed in the bed with our packs. Hangman, Truffles, and I climbed into the cab with the driver and we were off.
The guy that picked us up was friendly enough, but must have misunderstood our directions to our drop off location. To be fair, we weren't going to a specific trail head, just a point where the trail crossed the road. Our driver accidentally drove passed where we wanted out, and after he realized it sat us out on the side of the road 2 miles past our destination. We thanked him and started road walking back the way we had come. It wasn't long before someone else picked us up and took us the two miles back to trail. The trail provides!
We finally started hiking around 12:30pm. Right out of the gate I didn't feel good. All the Gatorade I had drank was sloshing around as I walked, and my thighs were beginning to chafe. Before leaving TerraSol I had pooped four blisters on my feet, so my feet felt tender and sore. My knees both screamed in pain at even the slightest downhill. I felt like my body was failing me, and we're only 5 days into a multi month trip.
Finally I reached my breaking point and began to cry. I was frustrated that I was having such a hard time physically, especially given all my experience and preparation. I felt like I was doing everything I knew to do and yet I was still hobbling down the trail. Truffles sat with me and listened to me sob and I tried to explain how I felt. I took some Ibuprofen, ate a snack, and felt myself calming down. Truffles was very patient and supportive, just one of the many reasons why I'm thankful he's not only my hiking partner but my life partner.
Once I started feeling better (and the pain meds kicked in) I knew I could hike on. Thankfully the next section of trail was mostly uphill, so that meant my knees wouldn't give me any issues. I listened to the podcast "Dolly Parton's America" and it helped me power up the hill until we eventually found Pimento and Hangman waiting for us at the top. We sat and ate the burritos we had packed out from town before tackling the second part of the day.
This section of trail wasn't partially difficult, but the afternoon was mostly downhill which caused me a lot of grief. We decided that we would zero in the next town so that I can have a little more time to rest my knees in hopes that they heal up a bit. I've always had some knee problems, but never anything this severe and debilitating. Thankfully my tramily is thoughtful and caring and did their best to wait on me and encourage me.
We finally made it to our destination just as the sun was starting to camp. We quickly pitched our tents, scarfed down dinner, and retired for the evening. I'm hoping I feel better tomorrow…
Day 6: 
No improvements on the knee front today. We woke up in the tail head parking lot where we had made camped and slowly began our morning routines. Around the time we were packing up to leave, Bryce came wandering down the trail. We stopped to talk to him for a little bit and told him of our plans for the day and invited him to camp with us that evening. We left him to filter water and began to hike.
The start of the day was pretty uneventful. The trail followed a Jeep road for several miles and wound its way through a rocky canyon. We crossed a stream several times and heard what we were convinced was either a cow giving birth or being mauled by a mountain lion.
The road steadily got more steep until it became obvious that the only vehicles that would be able to brave it were four wheelers or rock crawlers. We slowly made our way up the Rocky Mountain road until we finally reached the trail turn off.
At the junction there was a small stream and we decided to take a break to snack and filter water. Just as we were getting comfortable, it started to rain. Between the rain and wind, it got cold quickly and we all packed up as fast as we could. We were only about a mile from the top of Mt. Wrightson, but we knew it would be a steep climb.
The rain passed just a quickly as it started and the wind kept the clouds moving across the sky. We had fantastic views down into the valley we had climbed out of, and could even see the road we had we hiked up on. Going uphill has been easier for me because it doesn't put as much pressure on my knees, and I was able to power to the top fairly easily. I rewarded myself with a Snickers while waiting for the boys to catch up.
Once everyone had gathered together at the top, we slowly started making our way down into the canyon for lunch. I moved at what felt like a snail's pace because of my knees. The whole time I ran through worst case scenarios of what could be going wrong. It was easy at first to brush the sudden onset of pain off as a result of falling in the snow on day one, but the fact that the pain wasn't subsiding was what gave me pause. The pain obviously wasn't getting any better and I started worrying that this injury could interfere with me finishing the trail.
I eventually made it to the base of the canyon near the flowing stream where we picked out a lunch spot. We ate and tried to stay warm, one of the biggest surprises on this trail so far has been how chilly it is if you aren't in the direct sun.
The trail the rest of the day was more rolling hills and tall desert grasses. We hiked away from the stream and ended up high above the water near the top of the canyon. We hiked along the edge for a while before the canyon gave way to the hillside we've become accustomed to. We even passed some signs about the historic mining operations in the area. There's gold in these hills, allegedly.
We hiked along the ridge line for a ways before finally reaching the spot a FarOut comment had dubbed "one of the best stargazing spots on the trail" and "epic sunrises". We fought the wind to get our tents upright and I quickly crawled into the warmth of my sleeping bag. It was cloudy most of the evening but we ended up seeing a colorful sunset despite the clouds. Here's more hoping my knees don't hurt tomorrow.
Day 7:
We didn't get the sunrise we had hoped for, but the view on top of the ridge was still a beautiful way to start the day. Since we had woken up a little earlier to see the sunrise, we were able to leave camp around 7:30am. The trail followed the ridge line for a mile or so and we hiked pass several curious cows before leaving the open fields behind.
We made our way several miles up the trail to Kentucky Camp, an old gold mining camp. It was a neat little place to walk through that even had signage detailing the history of the area, local plant and animal species, and things to do in the area. We enjoyed the shade of the porch and took some time to stretch and apply sunscreen before filling up on water, using the pit toilet, and hiking out.
I have been blown away by the scenery of the AZT. Maybe it's just because I'm used to lush forests and thick rhododendron tunnels, but it seems like every mile of trail out here has views. Bryce and Truffles stopped along the way to take pictures of interesting flowers and cactus, and I was thankful for an excuse to slow down since of course my knees were already starting to give me trouble.
We hiked for several miles before stopping for a break at a water source. I took my shoes off and discovered I had new blisters forming. I didn't have a signal blister the entire AT and have helped plenty of clients combat blisters while guiding backpacking trips, so I'm extra frustrated that I am having such a issue with my feet out there. I put more Leukotape on and we kept going for several more miles until we stopped for lunch.
We were planning to only hike 8 or so more miles after lunch, but my condition seemed to deteriorate quickly this afternoon. I feel like I've been hiking fine throughout the day until the last couple miles when my knee pain intensifies and I literally limp into camp. I slow down A LOT going down hill and try my best to keep moving forward. Today between the knee pain and my feet starting to hurt I just feel apart. When I finally made it to camp I sat down and cried from pain and frustration.
This isn't my first thru hike. I'm a literally professional hiking guide. I know what I'm doing out here and how to take care of my body. That is what makes my aches and pains so infuriating because I am doing everything I know to do to combat my issues. I think at this point I just need some rest.
Truffles and the rest of my tramily have been encouraging and supportive. Hangman even told me if his feet looked as bad as mine he would have gone into town a long time ago to try and heal up. We are planning on hiking 16ish miles into town tomorrow, and since we're camped next to a forest road tonight that connects to the highway into town Truffles suggested I just go straight into town tomorrow in order to get a few more hours of rest. I'm going to make up my mind tonight about what I want to do tomorrow. I know that I can keep hiking and push through the pain, but I worry if I continue doing damage to my knees I won't be able to finish the entire trail. Hopefully some R&R on the front end will be better in the long wrong. I am conflicted and upset as I lay in the tent tonight.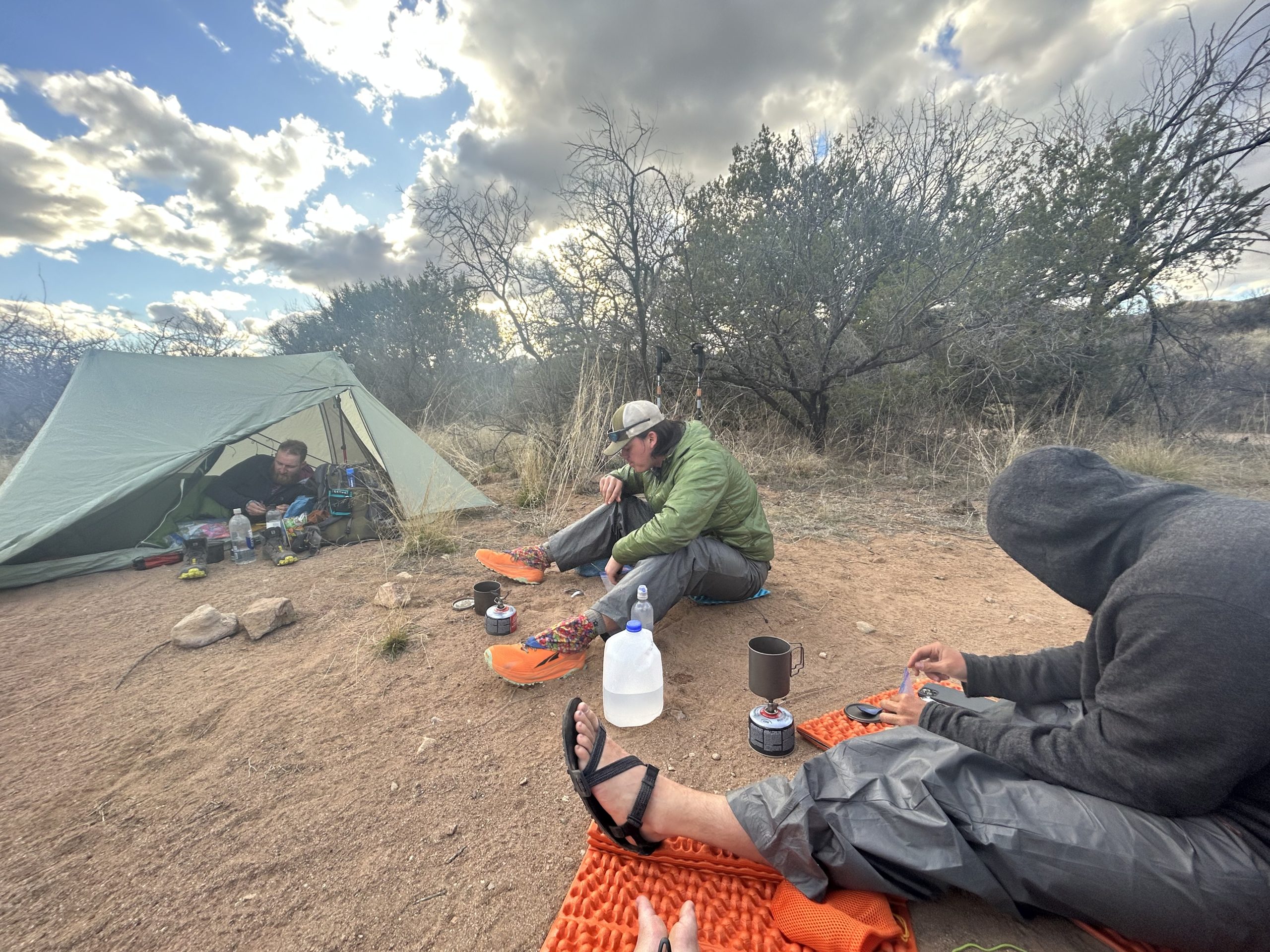 Affiliate Disclosure
This website contains affiliate links, which means The Trek may receive a percentage of any product or service you purchase using the links in the articles or advertisements. The buyer pays the same price as they would otherwise, and your purchase helps to support The Trek's ongoing goal to serve you quality backpacking advice and information. Thanks for your support!
To learn more, please visit the About This Site page.