AZT Passage 36: A 19-Mile Sampler of Kaibab National Forest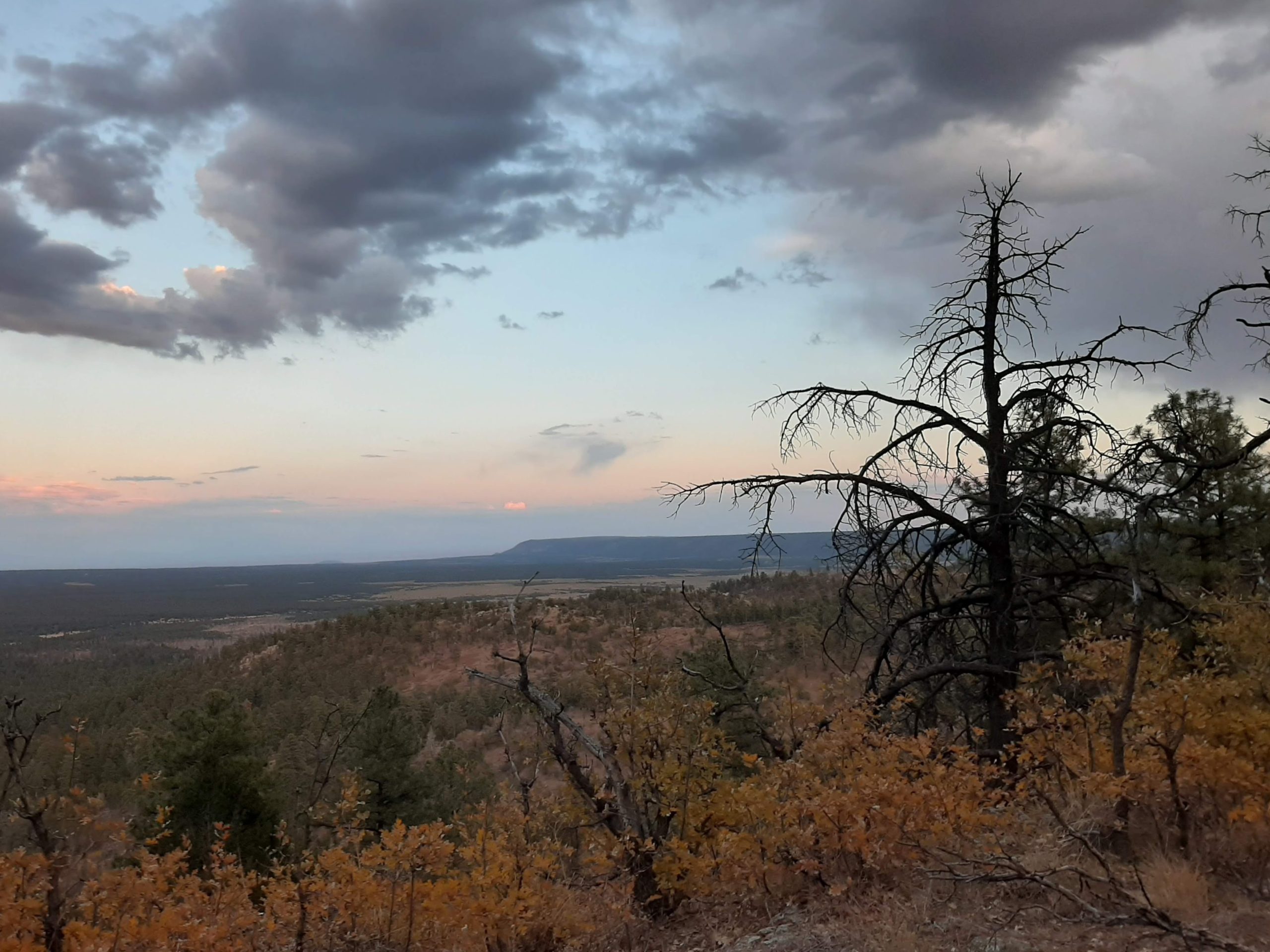 Overlook from the Coconino Rim towards the northern end of this section. In person, you can catch a glimpse east of the Painted Desert, miles away.
Starting just outside Grand Canyon National Park, this section follows the edge of the Coconino Rim before turning to head deep into the Tusayan Ranger District of Kaibab National Forest. Along the way, you'll see a variety of sights, from distant overlooks of the Grand Canyon and Painted Desert to occasionally full tanks and wide open stretches that in twilight fill with cattle. It offers a gentle tour of the best of this area, one that isn't often crowded. In case you can't tell from that description, it also happens to be one of my favorite places. 
Basic Info
Length: 19 miles one way
Expected Completion Time: 1 day (if thru-hiking and doing 20-30 miles/day), 3 or 4 days (if day-hiking 4-6 miles/day)
Location: Tusayan Ranger District of the Kaibab National Forest in Northern Arizona. The northern trailhead is 1.5 miles south of 64 East in GCNP. 
Trail Type: Out and Back
Scenery: Ponderosa to pinon juniper

forest with overlooks from the edge of the Coconino Rim (it's sloped, so heights won't necessarily be an issue). Heavily wooded, with occasional breaks through to more open, field-like areas

toward the end. 

Terrain: Easy. For the most part, the trail is relatively flat as it follows along the top of the ridge and through the forest. There are occasional hills throughout, and one optional section that switchbacks partially down the rim. The path is rocky in places and thin, making biking more difficult.
Navigation: For the majority of  this stretch, the AZT is a fairly clear dirt track. Toward the southern end it will occasionally go along a wider forest road. There are regularly

brown/wooden

markers with the AZT logo, and occasionally signs showing mileage to various landmarks. At one point the path splits into biker and hiker switchbacks. The hiker one is poorly marked. If you're not careful, you'll find yourself at the bottom of the ridge and face a long backtrack up. I've ended up having to do this pretty much every time I've tried, so pay close attention when you're heading down. 
While it goes through KNF, the Arizona trail is marked both by guideposts like this one and signs detailing mileage to certain landmarks. 
Getting There
The easiest way is to go through Grand Canyon National Park. Head east on Highway 64 until you see a turnoff for a dirt road on your right (it's the one after the Grandview Overlook if you're coming from the South Rim). After about 2 miles, you'll see an old fire lookout tower with restrooms and an informational sign. This is the trailhead parking lot. 
If you don't have a park entrance pass, you can drive roughly 15 miles up FR 302, immediately south of Tusayan. Follow the signs for Grandview. This road is not paved, but is well-maintained and easily passable in fair weather.
To reach the southern trailhead at Moqui Stage Station (starting at the northern trailhead), follow the signage for Russell Tank, another 11 miles on dirt roads. Passing that turnoff will get you to FR 320, which intersects FR 301, how you reach the rest of the trail. (Continuing west on FR 320 will get you to HWY 64 near Valle).  FR 301 onward though is very rough going (about 3.5 miles to Moqui after this point). I wouldn't recommend it for anything other than high clearance or offroad vehicles. The closest workaround I've found is finding a pullout once the road gets bad and biking from there. At any point along this route, though, it's fairly easy to find a campsite to park in and make your way to the trail from there (FR 310 runs parallel to the trail for the first 10 miles or so).
Maps are available on the ATA's website.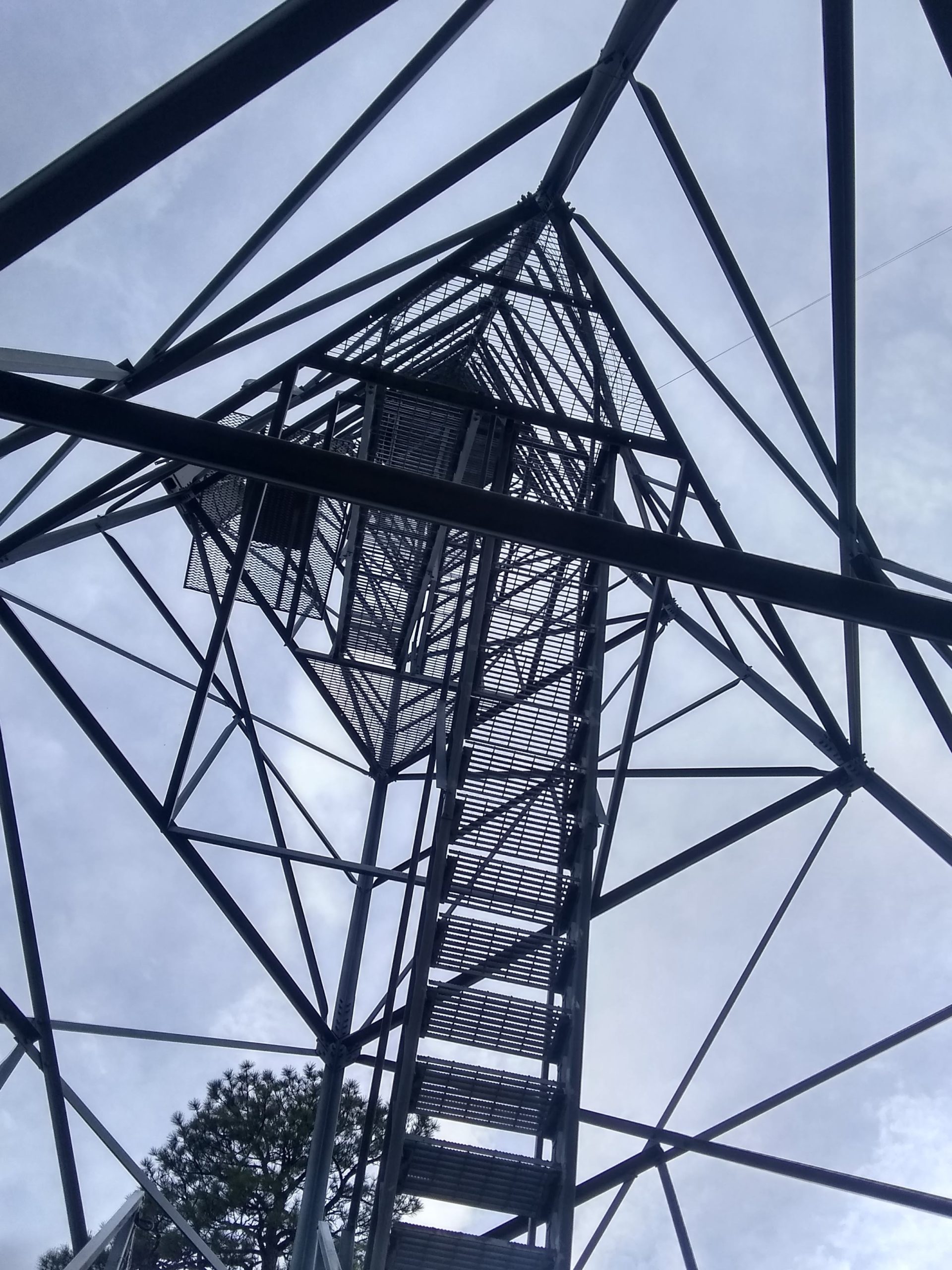 Looking up from underneath Grandview Tower. The old fire watch marks the northern trailhead for this section of the AZT, by far its most accessible point.
Direction
You can hike this trail either N-S or S-N. There isn't too much difference in the directions if you're not planning a thru-hike, but the southern trailhead is harder to access by car. I'd probably recommend starting at Grandview, especially if you're only planning to do part of the trail. The section at the beginning that follows the Coconino Rim has some of my favorite views.
Why Hike This Trail?
As I mentioned before, this section presents in miniature one of my favorite things about Arizona. There's a lot of variety in the landscape, and some absolutely spectacular views. Since you'll likely be walking this, or at least moving at a slower pace, you'll be able to observe more about these changes as they happen. This could just be me, though–I've spent a lot of time here! Either way, though, it's hard to argue that this passage is crowded. Once you get going, you'll likely have the place to yourself. And that's welcome, especially if you're coming from GCNP.
Climate and Weather
Due to its elevation, northern AZ has four seasons, including winter snow. The trail is open year-round, but is also much harder to access in wintertime, as roads within the park can be icy and 64 E closes during bad weather. (Not to mention how treacherous dirt roads can become in winter). Mid-April through early November usually offers the best weather for exploring this section of the trail.
Gear Suggestions
This section doesn't call for a lot of specialized clothing. Dress for the weather, in sturdy clothing. If you're planning on camping, remember that there's not a lot of humidity, so the temperature will fall sharply at night. As always, be sure to bring plenty of water.
A well at Moqui Stage Station, the southern end of this section. This used to be a rest stop along the stagecoach route tourists took between Flagstaff and the Grand Canyon in the late 19th century. 
Camping
Camping is allowed in Kaibab National Forest for a maximum of 14 days at a time. Just find a turnoff and set up your tent. You might need to venture to FRs 310 or 311, a little ways distant from the trail, where the sites are more clearly marked. Before you go, be sure to check the Kaibab National Forest site for fire restrictions or other advisories. 
The north rim of the Grand Canyon, as seen from the top of Grandview Tower.
Highlights
This passage essentially gives you a cross-section of the Tusayan Ranger District of KNF. There are a few historic structures, a number of overlooks, even (if you come at the right time) a lake. All this is located in, again, the forest, so you'll also see several pinons, ponderosa, even a few gambel oak and juniper. I feel this passage gives a sense both of the variety and scale to be found in this area. 
Some things to look forward to on your trip (list order is based on distance from northern trailhead):
This 1.3 mile loop trail branches from the AZT under Grandview Tower. It takes you to a distant overlook of the Grand Canyon from the Coconino Rim. If you only have an hour or two, this is a great place to take a picnic lunch and get a glimpse of what this section has to offer.
Built by the Civilian Conservation Corps as a fire watch, this steel structure now serves to mark the northern end of this passage. Several flights of steep stairs lead to just under the enclosed room at the top and offer views of the surrounding area, including a better sense of the difference in elevation between the north and south rims of the Grand Canyon. (Information partially from KNF.)
Views East of Kabab National Forest and the Painted Desert 
This is, for me, much of the appeal of this section of the AZT. The area is heavily wooded, so it takes a little time to find a view over the rim. As the trail winds along the hillside, it moves through various clearings that give you a sense of the area's bigger picture. My favorite is a little over three miles from Grandview, where there's even a bit of a cliff for you to look out over, and widely spaced trees. Hard to see in pictures (at least with what I'm working with), but definitely worth the trip.
The previously mentioned and much anticipated lake. It has water year-round, usually much more than you'd find around here. Though it's an official trailhead with parking, restroom, and signs, it also feels remote, being around 15 miles from the nearest paved road. The best part of Russell Tank is probably the wildlife. Horses, mule deer, and all kinds of birds use this as a water source, and I've seen them much more often when I've visited over the course of this fall. I'm assuming this is because both water and people have become scarce. A note–when I say horses, I do mean several, and though they've mostly ignored me, I am very much afraid of them. Please be careful. 
when tourists visited the Grand Canyon in the late 19th century, they often came by stagecoach, along a route through what would soon be the Kaibab National Forest. Travelling between Flagstaff and the Grand Canyon, a trip which now takes roughly an hour and a half by car, would have been a full day's journey in horse-drawn stage coaches. Moqui Stage Station, as you may have guessed, was one of several stops along the way. Today, the site is at an intersection of forest roads, and consists mostly of an abandoned-looking well and an informational sign. (This is also the southern trailhead, by the way). It comes at a point where I, at least, am usually ready for a bit of a rest, and also gives a pleasant sense of some of the history of the area. 
(
A short interlude about "wildlife":
I don't think I've mentioned yet, but the southern part of this passage also gets cows at dusk, and as you may have guessed, I am afraid of them too. They're just standing there, in these large herds, and usually they're right where you need to go. I tend to walk slowly toward them if I can't find a way around and they generally disperse. But there's nothing like an afternoon hike in the middle of nowhere to remind you just how big they are. Just a heads up, if you're similarly skittish.)
Russell Tank in the summer of 2019 (top) and early fall 2020. It is the only reliable water source along this section of the AZT, and levels can vary drastically depending on precipitation. (Both 2019 and 2020 had unusually light monsoon seasons). I'm too afraid of the horses to take pictures, but a variety of wildlife also uses this as a water source, especially when the surrounding area is dry.
Water Sources
Russell Tank is the only dependable year-round water along this section of the AZT, and it needs filtered. Occasionally people will leave gallons of water along the trail near Grandview for thru-hikers, but that's more of a pleasant surprise than something to count on. If you're coming in from the national park, there are plenty of fill stations at the visitor's center plaza where you can stock up before heading east. 
Toilets and trash cans (both primitive, to say the least) can be found at the Grandview Tower and Russell Tank parking areas. 
Resupply Options
You can detour to get supplies from either GCNP or the town of Tusayan (just south of the park), but if you're thru-hiking, other sections will be closer. 
This is toward the southern end of the passage (about 4 miles past Russell Tank). I find the range of scenery in this passage one of its most compelling features.
Closing Thoughts
This is one of my go-to sections of the AZT if I'm just looking to have a nice day in the forest without seeing too many people. It's not nearly as flashy as, say, the Canyon itself, but a genuinely lovely little stretch of trail. If you're visiting the area, at least go see it for a few miles. I'm guessing it'll be hard to stop.
Thanks for reading! I'll be back in two weeks with Passage 34: San Francisco Peaks. 
Affiliate Disclosure
This website contains affiliate links, which means The Trek may receive a percentage of any product or service you purchase using the links in the articles or advertisements. The buyer pays the same price as they would otherwise, and your purchase helps to support The Trek's ongoing goal to serve you quality backpacking advice and information. Thanks for your support!
To learn more, please visit the About This Site page.