Backpacker Radio 92 | Andrew Skurka Returns
In today's episode of Backpacker Radio presented by The Trek, we are once again joined by Andrew Skurka- and as you might've already guessed, it does not disappoint.  We touch on a range of different subjects in today's show ranging from how COVID effected his guiding business, to why wildfires have been so bad in the west over the past couple of decades (and the reason might surprise you), to Andrew's favorite trail meals, to the intricacies of the backcountry bidet, to picking the perfect campsite, to layering in the winter, and much more.  Put simply, you will enjoy this chat.
We round out the show with a reminder of our impending butt tattoos, a triple crown of the worst chores, an explosive butthole patent-pending, picking death by shark or mountain lion, and some horse facts, crab edition.
Listen
Download this episode.
Gossamer Gear discount code: Use code "POOPSTORY" to save 15% off your cart at GossamerGear.com
Feals.com discount code: Use code "BACKPACKER" to get 50% automatically taken off your first order with free shipping.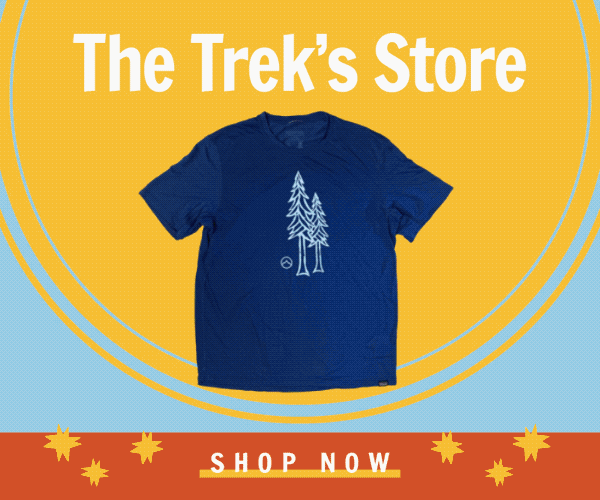 Help us raise $100,000 for the trails and we'll get butt tattoos.
Apply to be a Trail Correspondent.
Check out Hikerlink.
How to Get a Job In the Outdoor Industry by Kelly Floro 
New Podcast Seeking Research Intern (A Juliana Chauncey Project)
Interview with Andre Skurka
00:04:49 – Intro to Andrew Skurka
00:06:38 – What has Andrew done since 2019? 
00:07:53 – Is it usually bigger nes in the FKT world when someone breaks a record rather than setting one? 
00:09:28 – Was 2019 mostly dedicated to the guiding business? 
00:10:20 – How did guiding go in 2020? 
00:12:15 – What was your thought process on when to pull a plug on a trip for 2020? 
00:14:48 – You also dealt with a lot of fires this year correct? 
00:15:14 – How many clients are usually on each trip? 
00:15:40 – Did you run into any problems with the number of people? 
00:17:04 – How are you feeling about trips in 2021? 
00:24:41 – Are people going to have to submit whether or not they've been vaccinated before going on a trip? 
00:25:56 – Did the 2020 fire season impact how you are scheduling trips in 2021? 
00:28:09 – What is your personal threshold for hiking in smoke? 
00:34:19 – Do you want to speak to what is causing wildfires? 
00:37:50 – What is the solution for wildfires? 
00:40:20 – Is climate change part of the causes of wildfires? 
00:41:00 – The Ted Talk Andrew shared on wildfires. 
00:41:19 – Do you have tips for hiking in smoke/near wildfires?
00:43:09 – Would you ever consider making plan B's for your trips? 
00:45:00 – Can you touch on some of the trips you are looking forward to in 2021?
00:49:42 – How active are you with new gear testing? 
00:51:10 – Skurka uses a pillow.
00:57:10 – Is there anything else you've used this year that you like? 
01:01:10 – You're a hunter right? 
01:02:25 – What are some of your favorite backcountry recipes? 
01:04:42 – Do you put anything with the protein powder? 
01:05:27 – What does Skrurka eat in normal life? 
01:06:10 – So you run fasted? 
01:10:19 – People want to know about the backcountry bidet? 
01:12:22 – Do you bury the things you use to wipe? 
01:14:00 – Do you use an accessory? Do you poke a hole in the lid? 
01:14:28 – Have you ever thought of making a video that demonstrates? 
01:15:48 – How do you know you're clean at the end? 
01:16:39 – Wait, so you don't just splash the water? 
01:18:00 – Do you use soap on your hands after? 
01:18:33 – Out of your high route guides, what is your top recommendation for beginners? 
01:19:47 – What do you look for in picking the perfect campsite? 
01:22:30 – Do you have any advice for beginner winter hiking/snowshoeing/backpacking?
01:28:03 – What do you want to plug? 
Segments
How to Get a Job In the Outdoor Industry by Kelly Floro 
New Podcast Seeking Research Intern (A Juliana Chauncey Project) 
How much money would you have to be paid to be someone's personal bidet assistant? 
Triple Crown of Chores You Hate 
Patent Pending: A Washer and Dryer in One Machine 
Horse Hermit Crab Facts
QOTD: Would you rather be trapped in a cage with a mountain lion or a pool with a bull shark? 
Mail Bag
Subscribe to this podcast on iTunes (and please leave us a review)!  Find us on Spotify, Stitcher, and Google Play.
A super big thank you to our Chuck Norris Award winner(s) from Patreon: Jason Lawrence, Austen McDaniel, Andrew, Christopher Marshburn, S11N, and Sawyer Products
A big thank you to our Cinnamon Connection Champions from Patreon: Cynthia Voth, Brandon Spilker, Emily Brown, Jeffrey Miller, Mitchell, Zoe Jenkins, Dcnerdlet, Jeff LaFranier, Mark Snook, Peter Ellenberg, Thomas Fullmer, Jacob Northrup, Peter Leven
Follow The Trek, Chaunce, Badger, and  Trail Correspondents on Instagram.
Affiliate Disclosure
This website contains affiliate links, which means The Trek may receive a percentage of any product or service you purchase using the links in the articles or advertisements. The buyer pays the same price as they would otherwise, and your purchase helps to support The Trek's ongoing goal to serve you quality backpacking advice and information. Thanks for your support!
To learn more, please visit the About This Site page.