Bigger Mountains, Smaller Miles
The next section of trail between Stratton and Rangeley had multiple 4000 ft mountains to climb. Beginning with the Crockers, then to Sugerloaf and Spaulding, and finishing with the Saddlebacks. I packed too much food and paid for it in some seriously sore legs. Luckily, the views, good weather, and a bit of trail magic made it all worth it!
Day 16 (8.4 miles)
Felt refreshed from the great night stay at Mountain View. Slept in until 6:30 am and then shuttled to the Looney Moose Cafe! Inhaled some eggs, sausage, home fries, an English muffin and a cup of coffee. Followed breakfast with a shuttle back to the trail head. Just before starting the climb up the Crockers I was rearranging my bag. A rather large brown spider was crawling on my stuff. I tried to get him to leave but only scared him deeper into my bag. I had to take every item out and give it a shake. Finally the spider retreated from underneath my sleeping pad. I then reassembled my bag and begun the 5 mile ascent.
The climb up the Crockers was pretty mild with lots of breaks in the elevation gain. I definitely felt the breakfast sitting heavy in my stomach, glad I didn't eat more! The views at the top weren't like the Bigelow's but I was happy to have summited another mountain.
The descent was much steeper but offered additional views of the valley. We crossed a Cirque and some extremely cold mountain streams. Nearing the campsite we ran into Captain Morgan, a thru-hiker attempting to break the fastest known time on the AT. His support offered us beers and bananas, we gladly took them up on the offer!
Our campsite was right near a branch of the Carrabassett River. I chilled the beers in the creek for Tenacious and myself to enjoy at dinner. An ice bath for my feet was a perfect way to end the day. This day was shorter due to breakfast but we still made great time and were able to relax at camp!
Day 17 (13.1 miles)
Another early morning, made it on trail at 6:30 am. As usual Tenacious made it out a bit before me. The trail was steep out of the valley and required the use of my hands a number of times. Trail maintainers have been working in the area and are doing a great job fixing some sections of trail. Towards the top the grade levels out and the forests were peaceful.
Managed to climb Sugarloaf and met up with Tenacious at the top. The view from the lookout was deeecent.
We then made quick work of the ridge and the climb up Spaulding. I reached the 200 mile mark of my journey! Another big milestone but many more miles to go.
Another long ridge near Mt. Abraham led us to a few thousand foot descent. We followed a creek that gushed through a perfect section of gorge chutes. Lunch was much needed at the bottom, 10 miles before 12 pm.
Only 2.5 miles to camp but with 1500 ft. of elevation gain it was no easy task. We took it slow since our morning was productive. Made it to the shelter early in the afternoon and had plenty of time for camp chores plus relaxing. Rain was forecasted for the following day. We were hopeful that we could make it over the Saddlebacks before the weather got bad.
Dinner that night was spent around a campfire near a lean-to. There were a number of other hikers there that we met: Spirit, Bubbles, Onion, Rabbit, and Charm. They were all heading North for now but we shared stories and talked for a couple of hours.
Day 18 (12.9 miles)
Dropped the kids off at the Privy Pool (a real upscale establishment in my humble opinion). Then climbed a thousand feet up to Saddleback Jr. Stunning views of where the trail had came from and where it goes! Storms in the distance made the the day a bit ominous.
In hiking you "have to go down before you can go up". So I descended for a while, met up with Tenacious and then ascended the Horn. Not an easy climb and the summit had extremely high winds. Strong enough to knock you over if you weren't careful.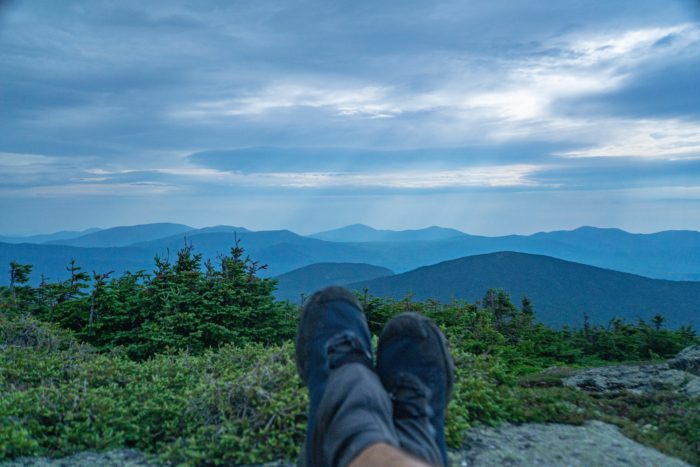 After the horn there is another descent and ascent to get to Saddleback proper. Was able to call Kara at the top, but service was not great. I hid behind a rock structure to stay out of the wind.
Although the sky was full of clouds we had not yet been hit by the impending storm. The 5 miles descent into town was not easy. About 2 miles from the road we got dumped on by an angry cloud of rain. Luckily, a generous Subaru driver picked us up and took us into Rangeley. Another Cheesesteak at Sarge's pub was just what I needed. A quick trip to the outfitters, ice cream shop (where I got chicken tenders), and grocery store and then we were back on trail. 2 more miles until a pond we could camp at. Got there just in time to setup camp, enjoy a beer and dinner, and get into our tents to hide from a thunderstorm coming our way. A busy day on trail!
Thanks for reading this section of my trail journey! Although it was difficult the mountains and people made it all worth it. Until next time, keep wandering in your own direction.
Affiliate Disclosure
This website contains affiliate links, which means The Trek may receive a percentage of any product or service you purchase using the links in the articles or advertisements. The buyer pays the same price as they would otherwise, and your purchase helps to support The Trek's ongoing goal to serve you quality backpacking advice and information. Thanks for your support!
To learn more, please visit the About This Site page.
Comments
7
Love the beautiful pictures! Glad you are able to get some decent meals and have a trail buddy to share this part of the trip. Miss you but glad you dream is coming true. Think about you every day and say prayers for your safety. Love you, take good care!

Thanks Mrs Wendling! Glad you are enjoying them. I miss and love you guys too!

You seem to have a good attitude. Thanks for the post. Good luck.

Drew I have been following you since the start. You are doing a great job and especially with the posts. Can't wait until you get close to PA. I am only a couple of miles from the trail. I will have a few adult beverages cold for you and a nice place to stay if you want. Keep up the good work. Continued prayers for safe travels daily for you.

Thanks Jim! I'm glad you are keeping up with them, always makes me feel good when people enjoy to hear what the trail is like. I will definitely text you when I'm close to/into PA! Thanks again for the kind words.

Hi Drew!
I am the woman who camped next to you at Katahdin Stream Campground and said bye to you in your way out!
LoL
Great Blog! Living vicariously through you!
Also following you o IA
I'm leaving for Alaska this week for family vaca
Follow me if you like @nldimages

Hi Nancy, it was great to meet you! Glad you found my blog and IG. I followed you as well, excited to see some photos you take in Alaska.