Brushes, Boots, and Backpack: Paintings from The PCT (Plus a Giveaway!)
Many people on the PCT head into the wilderness with the intentions of keeping a journal, getting in touch with the real "them", or making big miles. I am here to encourage you to take that precious amount of time you are given on the trail and make a project of it. Treat your thru hike like a traveling residency. For most hikers, everyday is a physical challenge. But I assure you, that challenge can be eased if you take some time to channel your creative outlets.  Write a poem, do a drawing, heck; do a modern art installation, in a Leave No Trace style of course. The key to any trail project is consistency, start from day one and keep your expectations small. I lost count of the thru hikers who carried journals for the first hundred miles only to send them home or leave them in a hiker box; pages still blank. You can and you should find a creative outlet on your hike…your experience will be richer for it.
I am an artist, first and foremost, and I decided to carry watercolors and a 10″x10″ sketchbook along the trail. I was often asked the question, how are you carrying that extra weight? My answer was, "How could I not?" This is the way that I have communicated and expressed myself since I was born. From the moment I committed to a thru hike I viewed it through the lens of an artist residency. I wanted to see what happened while my body was being challenged beyond belief. I wanted to see what happened creatively after long days of walking. I wanted to see what ideas my mind would come up with while under all the stresses of the trail.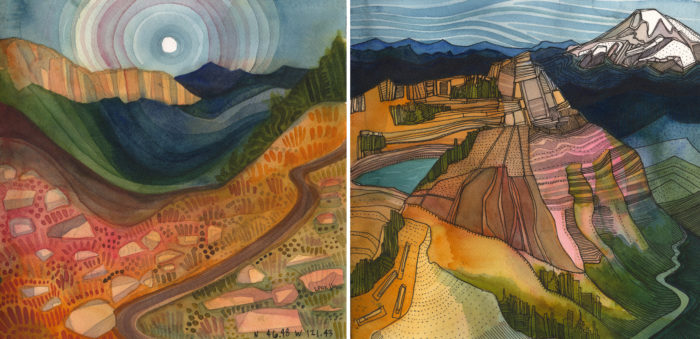 I do not believe that these creative strategy sessions happen spontaneously, I think you have to take the time to let them happen. There were many times on the trail when I regretted not stopping to record a beautiful time of day or place. However, those moments when I did stop for a lunch break and chose to draw, rather than taking a much desired nap always produced the most magical and memorable moments of my hike. Those are the moments I will always treasure, the moments where I was the most present. It's finding the balance between the desire to create and the desire to progress along the trail that becomes the real challenge!
Postcards have always been my communication of choice while traveling. During my hike I found it to be the perfect way to share my journey with friends, followers and family. It allowed me to capture some of the most intimate moments of the trail and share them with the ones I hold close. The mile marker postcards were an entity all their own. Not only were they a way to communicate with my family, but a way to share and keep track of how far we had journeyed. They were a way to commemorate the miles in a Leave No Trace manner, and also a living document of the passing of time along the trail.  One of my first realizations of just how far we had hiked, was when my brother took a photo of all the mile marker cards together. I looked at all 27 cards and first felt stunned that there were that many, and second amazed that each card represented a 100 miles of our trek.
On an average day you really don't think about how far you have come. You think about that day specifically: how far is it till camp, how far you have to go till water, what does tomorrow's elevation look like? But, once in a while I had the pleasure of painting a milestone postcard in my tent at the end of the day and I soon realized that not only had we hiked another 100 miles, but after a time seeing 2000 and 2500 mile cards brought me a sense of pride and accomplishment I had never experienced before. My trail project was bringing me peace and perspective…a unforeseen yet fulfilling result.
I would encourage everyone who hikes the trail to look at the time they are given as a gift and create something from it. Something that will outlast them and shine a light on the beauty that is the PCT in a new and unique way. I heard story of hiker who was spending hours writing the most intricate postcards while hiking the trail, another who brought along oil paints and spent hours creating works of art in some of the most remote sections of wilderness. These are the stories that inspire me; people who find ways to be present in the limited moments you have during your hike.  Whether it be through photography, writing, music, film, drawing, painting, or any other medium that appeals to you…find a way to remain present through your art. I promise you, your time spent creating on the trail will transcend anything else you experience on the PCT.
GIVEAWAY!
In an effort to stoke your creative flame, I'm going to be giving away one of my paintings from my PCT thru-hike- see the image below.  To enter, let me know how you plan on combining your love of nature with an upcoming creative pursuit in the comments of this post.  I'll pick a winner by 10pm EST on 1/24 (the winner must have a US mailing address).
Affiliate Disclosure
This website contains affiliate links, which means The Trek may receive a percentage of any product or service you purchase using the links in the articles or advertisements. The buyer pays the same price as they would otherwise, and your purchase helps to support The Trek's ongoing goal to serve you quality backpacking advice and information. Thanks for your support!
To learn more, please visit the About This Site page.