Camino del Baztán – Another Warmup on an Unpopular Route.
When I walked the Camino de Santiago five years ago I passed through Pamplona, Spain.  I didn't stay the night, I think I just had some coffee, snapped some pictures of a few of the sights along The Way, and kept walking.  The timing wasn't right and I was going at The Camino like a thruhiker… crush those miles and walk all day!  I remember thinking 'I could come back here and spend more time.' and so that's what I did.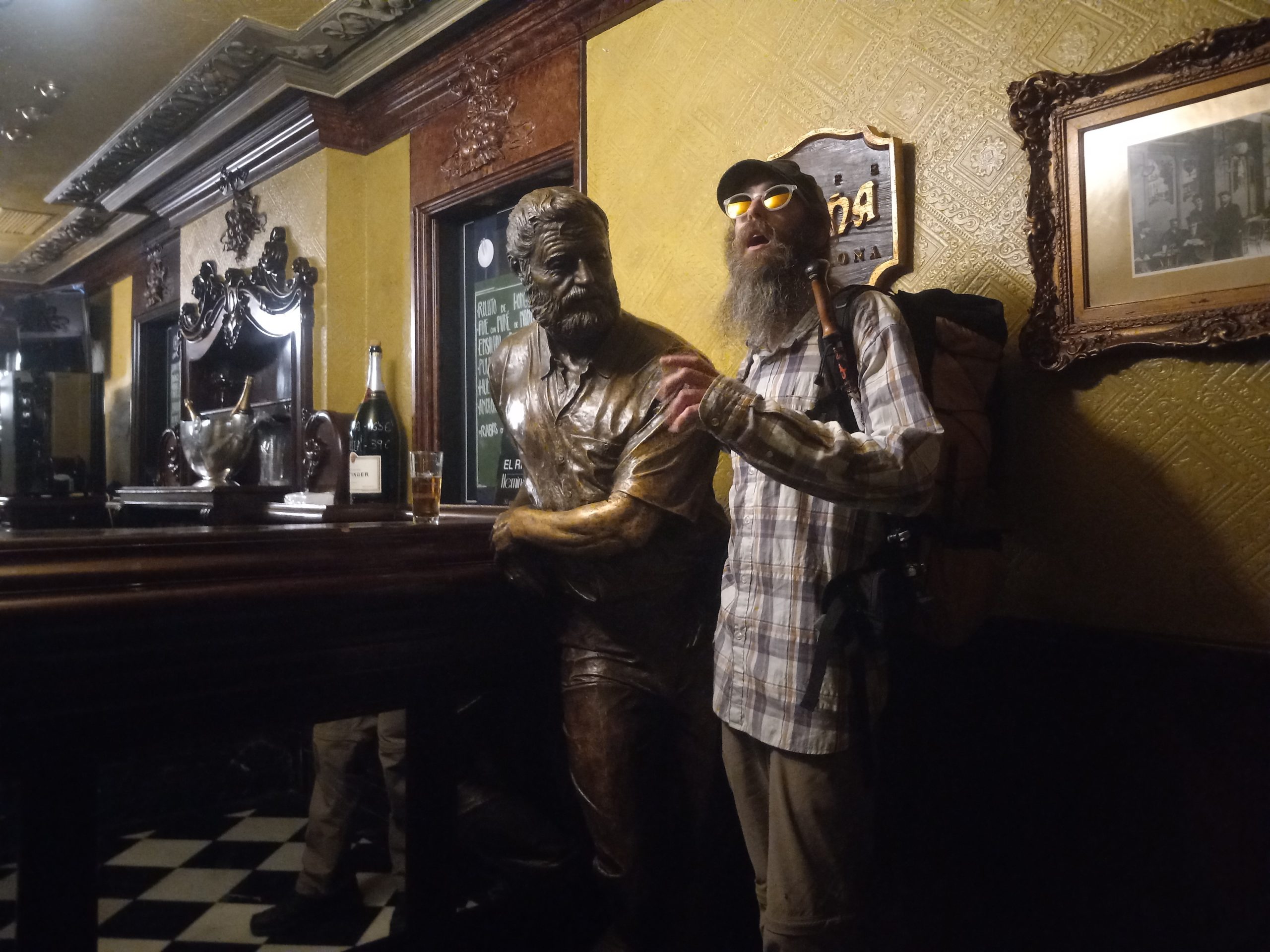 "Pamplona is changed, of course, but not as much as we are older. I found that if you took a drink that it got very much the same as it always was." ~Ernest Hemingway
Pamplona, Spain – A City That Knows How To Have A Good Time.
My timing once again wasn't optimal.  Arriving on a Sunday I missed the party that is every Saturday night in Pamplona.  During the day there were still a lot of people walking the narrow streets of the old city, the cafés were crowded and boisterous.  Pamplona was the historical capital of The Basques and more recently has become famous for their indulgence in The Festival of Sanfermines, which includes the very well known Running of the Bulls.
While staying at a quiet pilgrim albergue the very friendly host asked if I had heard of The Camino del Baztán.  I said I had not, and asked if he had any information on it.  He didn't, it isn't a popular route, but he said it was "muy bonita" and referred me to a Camino Information Center.  There I found the necessary information on distances, elevation profiles, places to stay, and was told about a handy app with all of that and more!
So being the beginning of the week and not much going on I got my fill of sightseeing and grubbing done and chose to hit the trail.  It's very possible I may choose to take a break from the HRP later in July to return for the bull run…
Day One – Pamplona to Baltan Pass
Early in the morning I set out, first passing through the Portal de Francia then across the Puente de la Magdalena, two famous sights for those that walk the popular Camino Francés.  After a bit of rural city navigation in a light drizzle I connected with the official route I would be walking.
The first few miles were along a paved track next the Rio Ulzama meandering through several parks until the small town of Sorouren.  At this point the trail became single track ascending through woods and meadows.
In the town of Enderitz I had one of those interactions that only happen when in a foreign land where neither party involved speaks each other's language (yes, my Spanish is abysmal and Basque nonexistent.)  I saw a woman carrying a heavy load of water so I offered a hand and for some reason decided to try to ask where the closest place to buy some bread was.  She couldn't follow but gave me the impression maybe I could find what I was looking for up higher in the town.
The woman went back into her house and I went to see if I could track down some bread.  I was unsuccessful with that, but I did find a peaceful moment at the 13th century Curch of St. Nicholas.
A couple towns later I found my food stop.  Here in Spain everyone recognizes siesta and closes down sometime after noon.  It was 1:15 or so and the place was closed, but their sign said they were open until 2:30.  I wandered around a little, found some puppies to play with for a minute, then decided to have another go and knock on the door since I needed a bit of resuply.
There was a delivery truck parked in front of the place and I knew I could talk my way in at that point.  It was no problem so I got my bread and some sardines and cheese, then headed over to a quiet place I had found to observe siesta and eat lunch.
After a few hours waiting out the heat of the day I continued on my way passing through several small towns but not stopping.  At this point the route was mostly road walking- some pavement, and some gravel backroad.
After Lantz the true ascent began to Baltan Pass.  The gravel road turned to pitted forest track then to confusing logging and cattle paths.  After a false summit the "road" dropped a bit to the beautiful Monastery of St. Mary of Baltan, a 12th century refuge for Pilgrims that was apparently well known in the middle ages when this route was much more popular.
I had scoped this spot as a place to stay the night, but it felt a little to conspicuous and exposed.  So I ate dinner then summited the true pass and found myself following a cobblestone path.  I read that it was the medieval road through the area, built over a prior Roman road which originated in the 1st or 2nd Century BC.
After about a mile I found a peaceful grove of beech trees with flat ground and soft moss, the sounds of songbirds and sheep bells to lull me to sleep.
Day Two – Baltan Pass to Sunbilla
After one of the most peaceful night's sleep I've had in a while I set off again.  The Camino stayed high for a while, I found some ripe wild strawberries for breakfast, then began the descent.  After passing through Almadoz I ran into another pilgrim (the only other hiker I would meet the entire way) on the forested single track, an exitable older gentleman from The Canary Islands.
The next town, Berroeta, had a cheap pilgrim hostel in an old school house, the option I had planned for if weather went foul.  It was a beautiful mountain town, quiet and isolated.
The next town, Ziga, was much the same.  It was here that I deviated from the official Camino del Baztán to create my own version so that I could walk to Irun rather than Bayonne in France where the Baztán Way led.
I descended for several miles along an overgrown single track until I met the Bidasoa River, which I would follow for the the next day and a half.
From here on my route would be the Via Verde de Biadosa, a cycle path on a former rail line that is a piece of the Euro Cycle Route 1.  That route in its entirety looks legendary, it goes from the southern tip of Portugal through Spain and France, over to Ireland and then Scotland, over the water again and up to northern Norway.
My footfalls on this route would be much shorter.   I made it to Sunbilla for dinner, then walked a couple miles out of town and found a place to stealth camp with two fine marble tables and soft grass.  The sound of the highway nearby was obnoxious but I was otherwise unhassled.
Day Three – Sunbilla to Irun
I got going super early as a proper stealth camper does.  After packing up and poofing up the grass I had flattened (Leave No Trace) I hit the trail, or cycle path.
The day was mostly uneventful, if not grueling.  Flat track makes for sore feet and a tired mind.
I took my siesta in Berra.  After buying some fruit and bread and drinks at a small shop I found a park nearby and got my solar pack charging and threw out my tent out to dry (single wall = condensation almost always.)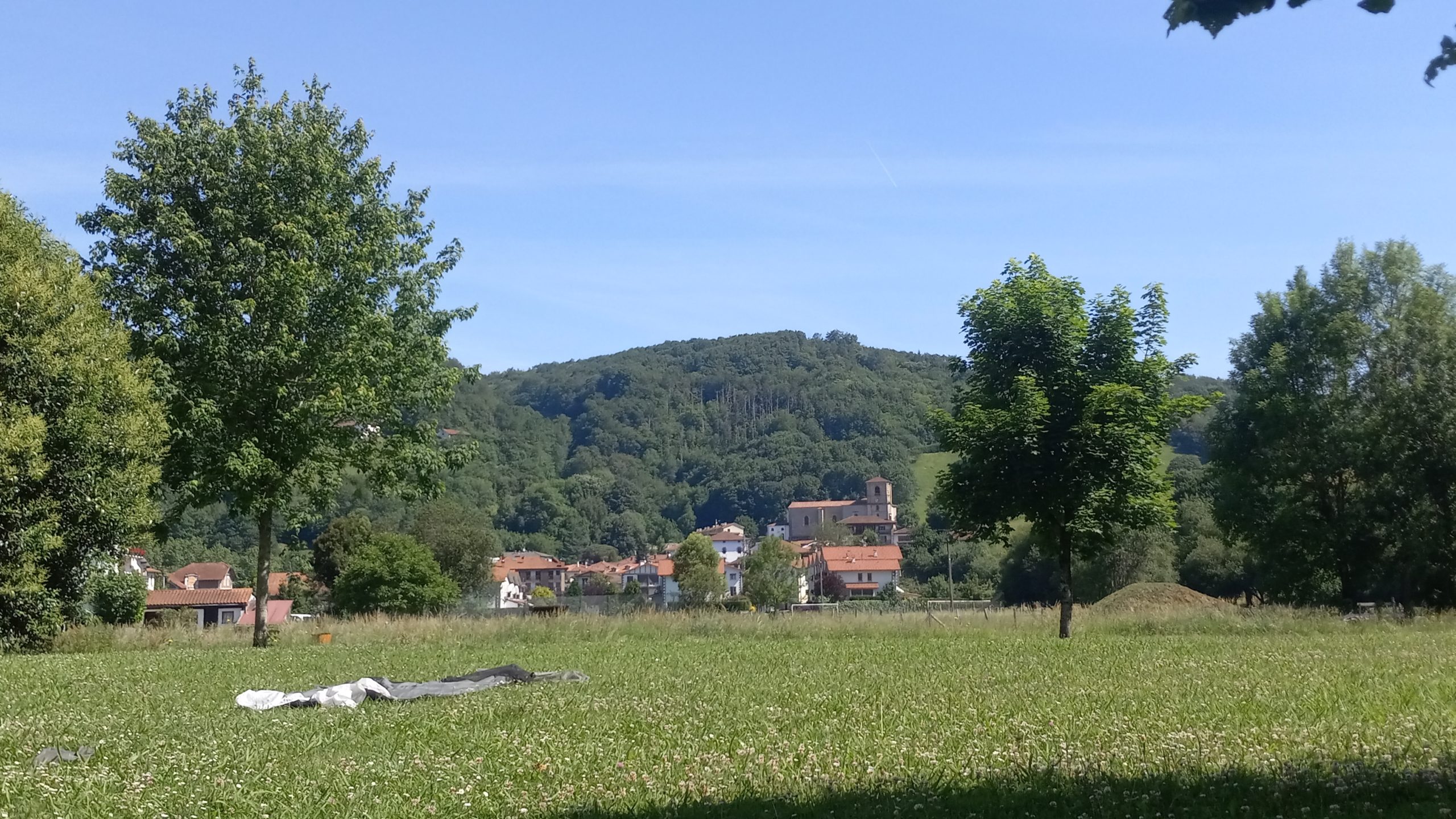 After a couple hours I left town by way of this medieval bridge:
Luckily the rest of the afternoon was mostly in shade.  About two miles out of Irun I found a picnic area near a tunnel over the highway, which noticably dulled the sound of trucks and busses.  I'm a cheap traveler so rather than go into town and get a hotel room even though I was close to town I found a stealthy spot behind some trees.  I was going to cowboy camp, but at the last minute when it was getting dark I decided to set up my tent.  Boy am I glad I did!  A little after midnight the sky lit up, the thunder echoed through the river valley, and the rain started coming down.
The following morning I finished the last few miles into the city.  The rain had stopped and the walking was cool and calm.  I found a nice café to wait out some of the day and I will stay around here until I feel like it's time to get started on the Pyrenees High Route.  That could be tomorrow or it could be a few Days from now, I'm waiting on a buddy that will be joining up.  So stay tuned, thanks for reading.
Affiliate Disclosure
This website contains affiliate links, which means The Trek may receive a percentage of any product or service you purchase using the links in the articles or advertisements. The buyer pays the same price as they would otherwise, and your purchase helps to support The Trek's ongoing goal to serve you quality backpacking advice and information. Thanks for your support!
To learn more, please visit the About This Site page.