CDT Day 24-31: Montandaho
CDT Day 24
So I've been doing some dumb things recently. Not like really dumb, just things I normally wouldn't do where I'll catch myself and be like, "you're an idiot, why did you just do that." So I hung my food bag in a tree when it was dark last night. When I went to get it this morning, it wasn't there. I panicked for a few seconds. Then but then I realized the tree that I hung it in wasn't there either. Now there's about 50 blowdowns around so I'm like maybe the tree fell over, it was dead after all. But I still can't find my food bag and I know if an animal grabbed it, the line would still most likely be wrapped around the tree. Then I scratch my head, look around, and see my food bag hanging about 50 feet away. Wow. I'm sure all this dumbness is due to my lack of calories. Despite eating a ridiculous amount of food every day, probably around 4,000 calories, it's still not enough to make up what I am expending, especially with all the climbing over blowdowns and just the insanity of this trail and walking around 30 miles every day up and over every mountain in the heat. I'm sure I've experienced this calorie deficit dumbness on previous thru-hikes, but like any good thru-hiker, you block all the bad parts of the trail out after completing it to ensure you do another one. Obviously I'm doing pretty good at that.
Luckily I'm going into town today, so I eat the last of my food. Fritos, PB, trail mix tortilla. Breakfast of champs.
I decide to have a little fun and take an alternate route. It shaves a couple miles, but I end up walking through a swamp, climbing over butt-tons of blowdowns and doing all the bushwacking. I almost get lost a few times, but eventually make it out. So much fun. Making your own routes is the best.
I get a ride into Darby from Tim, a Seattle native who is on a roadtrip. Honestly, he just stops to take a picture of the cool Montana sign I'm standing in front of with my thumb out and he's too nice to say no when I ask if he stops for me. Tim was diagnosed with Parkinson's disease over 20 years ago and it's so amazing to hear his story how he went from being diagnosed and unable to work and going on disability all within a couple years when he was pretty young, spending two years hardly being able to sleep because of the shaking and then two years later getting a brain surgery that cured his shaking, but left him with a speech impediment. He went from not being able to eat, write, drive, and do so many other things to having so much of his life back. Such an inspiring story and such a great guy. I felt blessed go have happened to have suckered him into a hitch.
Darby is hot AF. And smells like smoke. I can see why.
I find an RV park that lets hikers stay in their canvas tents. I turn the fan on and blow the circuit right away. Go figure. Instead I opt for a much needed shower.
And then "accidentally" soak myself in the sprinklers a few times throughout the afternoon. I head down to the store to cram all the food I can in my face and buy my resupply for the next four days.
I'm disgusted with myself too. But my 8 year old self would be so proud.
And then it's off for more food. There's two options for dinner in Darby, one at a bar and the other a saloon. I chose the divy-looking one with all the locals and loud music. The band is great. The burger is the best I've ever had and the people watching is even better.
I make it back to the RV park and watch the sunset and the moon come out until I realize the mosquitos are eating my legs for dessert. It's finally cooled off enough to sleep. I even get a real mattress to sleep on tonight. Life is good.
CDT Day 25
Walk down to the store for breakfast since the only breakfast joint in town is closed on Sundays. Don't you think a breakfast joint would be open on Sundays? If there was one day of the week I was going to go out to breakfast it would definitely be Sunday. But grocery store donuts, fruit, coffee, and a bagel sandwich hit the spot. I shop for new shoes online while I eat. Gotta look good out here you know! Kidding. New hiking shoes to ship up the trail since all the towns coming up for a while are pretty dang small and the luck of finding my hiking shoes in one of them is probably a big goose egg. Finally find some and talk the seller into shipping them via USPS so I can have them shipped to the post office to hold.

It's only later after hitching out of town and hitting the trail do I get a gut feeling to double check the size of the shoes. Sure enough, advertised as womens, but when you read the details it's a men's size 7.5 and I need a women's 7.5. Dang. Gut instincts are so weird. But awesome. Luckily I catch it before they're shipped and get a refund and find a pair in the correct size to be shipped. Sometimes the logistics of thru-hiking are harder than the actual hiking part. Which says a lot out here.

There's a fire west of the trail and it's blowing all the smoke where I'm hiking. I'm also walking through last year's burn so that's kinda ironic.
Today is a mix of all things. Logging roads. Steep climbs. Dead forests. Even a few miles of probably the most well graded and groomed section of the entire trail thus far. It's glorious. Reminds me of the PCT. Of course it doesn't last long.
Lots of springs in this section, some have even been piped!
While eating lunch I think about how amazing Honey Buns are. Delicicious, lots of calories, they don't even get smushed when they're buried in my food bag somehow. True story: I had never had a Honey Bun until last year hiking the Appalachian Trail. Isn't that crazy! Now they're a staple.
The trail is now basically following the border of Montana and Idaho, Montandaho as we call it.
It's interesting that they put the border of the states right on the continental divide, but I guess it makes sense. So far Idaho is a steep and rocky beezy. Looks like I'm gonna have my work cut out for me for a bit.

I pass a sweet cabin in the middle of nowhere. I so want to live here.
With how steep it is, there is hardly any good places to camp. I find a tiny cleared spot close to a river and hope the trees all stay standing tonight.
CDT Day 26

I wake up and smell a campfire and am confused since I am camping alone. Then I remember the smoke from the fire. It all settled in the canyons overnight and the taste is strong in my mouth.

No trees fell on me overnight! Of course right when I cross the creek in the morning that I camped on the other side of there is a flat spot surrounded by way less sketchy trees. Go figure.

Today is all rocks and climbing and smoke.
The sky stays the same color all day, just a grey haze.
I fight away mosquitos all day and fight with my legs not to slip out on me on the steep sections. You know it's steep when you're slipping walking uphill in dirt.

Luckily this section of the trail has lots of water.
I can't imagine having to carry water up and over all these climbs. It makes for some fun creek hopping too.
I pass so many breathtaking lakes with not a soul at them.
I would love to come back and camp at some of them someday when it's less smokey. The smoke isn't horrible. It just makes it a little harder to breathe.
Lunch is spent trying to get enough food in to ease my growling belly and fighting off ants who want to eat all my food and me.

I keep getting mystery raindrops falling on me during the afternoon. It never actually rains, but they just keep appearing a few at a time out of nowhere. Rain wasn't forecast so I wonder if the smoke from the fire is creating it's own weather.

I am more than pooped when I find a random spot in the woods to camp.
I eat so much food, spooning peanut butter in until I actually feel satisfied! And then an hour later my stomach is growling. I think hiker hunger has officially set it.
CDT Day 27

I know thru-hiking sounds like a glorious adventure of a lifetime, and don't get me wrong, sometimes it is, but some days are also just blah. Despite what social media might tell you, we spend less of our day frolicking in flower fields and skinny dipping in mountain lakes and more of our day just walking until our feet feel like they're gonna fall off. Today was one of those days.

I was blessed with some chill trail and then tortured with some insane climbs.
I think this section might actually be really pretty usually, but it's so smokey right now that it's just kinda eh.
And oooooh the rocks.
This section reminds me of The Sierras on the PCT, only rockier. How that is even possible, I have no idea. Sometimes when I get tired of slipping and rolling my ankle and tripping because of all the rocks in the trail I try to walk on the side of it. But then I realize it's just as rocky in the grass, you just can't see the rocks until you're kicking them or falling on your face. I guess it's good that it's so smokey so there isn't anything to look at, because I have to keep my eyes on the ground basically all day.

More burned areas. Hot from all the exposure.
Water goes from abundant to non-existent and I have to go to off-trail sources to get it.

I end the day on a road walk to find water and decide just to camp on the side of the road. My first thought was to go farther off the road so cars wouldn't wake me up. Then I laughed and remembered that I am in the middle of nowhere and haven't seen a car for days. So I camped right next to the road. If I'm lucky maybe someone will drive by and give me a beer. On a Tuesday night at 8 pm in BFE Montandaho. Sigh. One can dream.
CDT Day 28

Four weeks on trail as of today!

Wake up to a freezing cold morning. Perks of camping by the only water in miles.

Easy morning road walk to get back to the trail. Feels good to walk and be able to look around for once and not concentrate on not tripping. Then I get back on the trail and it's actually an old jeep road. How any jeep could get up and down this road without tipping over or sliding out is beyond me. Needless to say it is steeeeeeep. Most of the day is cresting all the hills on this road. Few hundred feet up, few hundred feet down. I'm toasted. But it's so nice to have views for once, now that the smoke has started to dissipate now that I'm getting south of the fire.
Wow, did not know Idaho had such a massive mountain range! It's funny when I can see both directions. Idaho to my west is steep mountains.
Montana to my east is rolling hills.
I run into two more SOBOs during the day and another at camp! One of the hikers I met on the AT last year and we also hiked the PCT the same year, although opposite directions, so we must have passed each other at some point. Love all the connectiins in this hiker world. And so fun seeing SOBOs since I haven't seen any in quite a few days. At this point I am also passing a few NOBOs every day so at least I'm not totally alone.

Find the last water source for the day. Yummmm.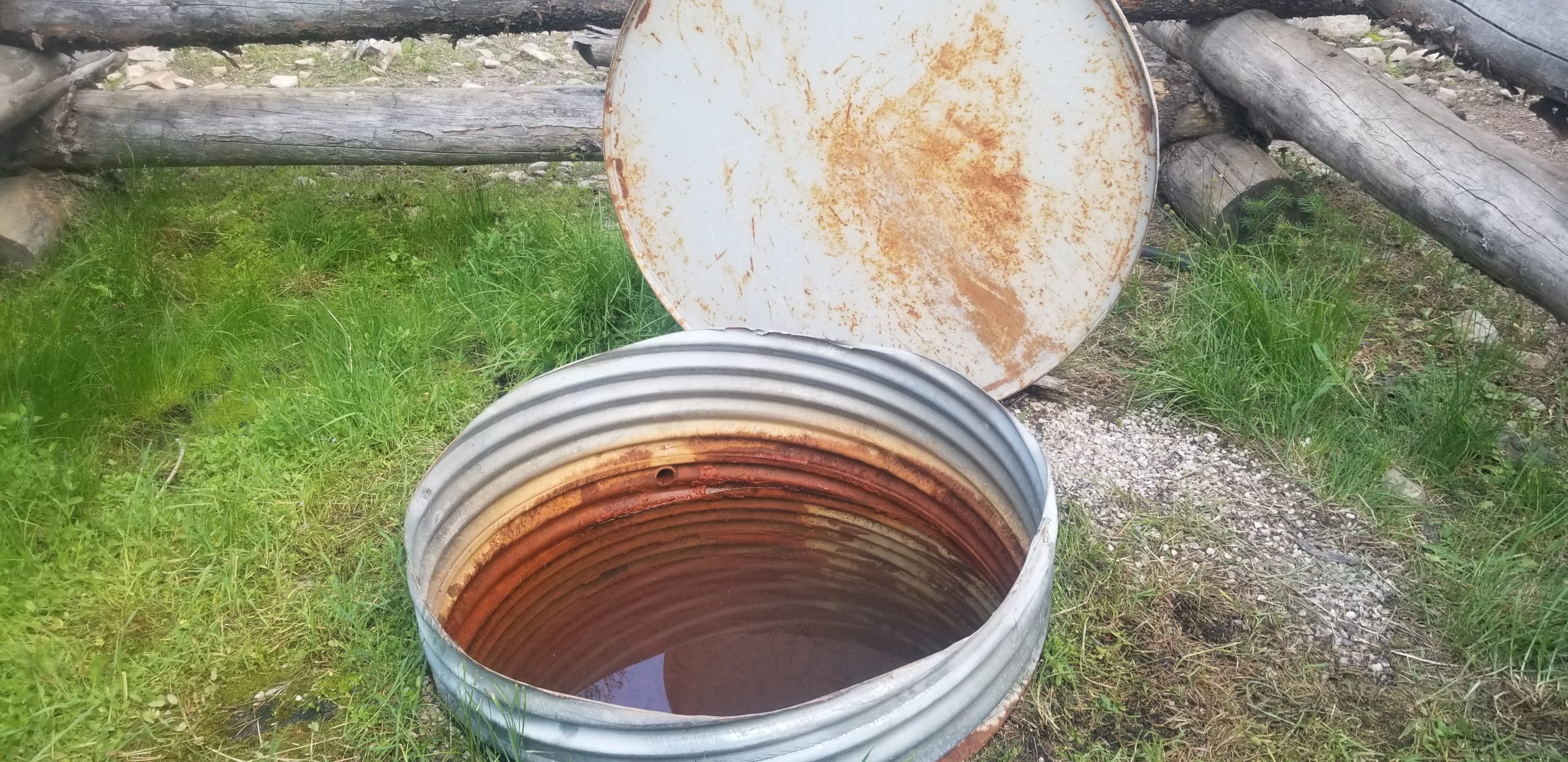 Camping with other people which I haven't done in a couple weeks is nice! And it's a town day tomorrow. Can't wait for some real food!
CDT Day 29

Only have four miles down to the highway where the other hikers I am with have arranged a ride into town at 9:30 am. I try to sleep in, but my body has a mind of its own now. I make it to the "highway" around 8:30. The highway is a dirt road. In the two hours I wait for our ride, a few cars pass by going the opposite direction, but none going the way we are. And there's no cell service. Thankful to have found some hikers smart enough to arrange a ride, otherwise it might have been a long day waiting in the sun.

Two NOBOs join us and when our ride, Randy, arrives dropping off a couple hikers back to the trailhead, we pile in the bed of the pickup. Randy does this all on donation and just asks for some gas money in return. We are more than willing to pitch in.
He drops us off in Leodore, population 105. I frickin' love these small towns. One grocery store, one restaurant. A library/community center that lets us charge our stuff and hang out and use their restrooms and wifi.

I plug my power bank in and run across the street to The Depot for breakfast. Our waitress's pre-teen daughter is helping her out for the summer and it's delightful to have her wait on us. I ask her if she likes working at the restuarant. Her response, "I don't know yet, it's only my second day." Most honest waitress I've ever met. Love it. She makes a mean pot of coffee too. Since this is second breakfast for me, I go easy. Ham, eggs, hashbrowns, English muffin, and pancakes. Ok, maybe easy in hikertrash terms. I planned to pack half my food out for a snack later, but before I know it my plate is empty.

I spend breakfast with the three other hikers I met yesterday. Poles and I spend the meal giving Ranger and Peri-mamba all the deets on the Appalachian Trail since neither of them have hiked it yet. We tried to sell them on it, but I think we might have had the opposite effect. Like all trails, the AT was great. Sometimes. Like when it wasn't raining. So never. Kidding, it was great, just in a whole different way from any other thru-hike I've done.

After breakfast which was insanely cheap for all the great food I got, I run over to the store for resupply. The store is more like a gas station, so the choices are ehhhh limited. Luckily I'll eat just about anything and make out pretty well. I even find a hiker box there and find some free food in it. Being the only store in miles, the place is pretty dang busy. But they have all the essentials: trail food, beer, sandwiches, and fresh baked cookies and cinnamon rolls. What more could you want?

Everyone else is hanging out in town for awhile, but I'm ready to hit the trail. I text Randy and he picks me up in minutes and drives me back up, loading me up with a handful of apricots to go. At least I got my weekly fruit in!
It's insanely windy and the hiking is all exposed rolling hills and ridgeline.
Straight up and town most of the hills. The wind is hard to fight, but I'm glad for it as it keeps what would otherwise be a miserably hot day, much cooler.
Water is scarce. Thank god for these cow troughs.
The views are epic.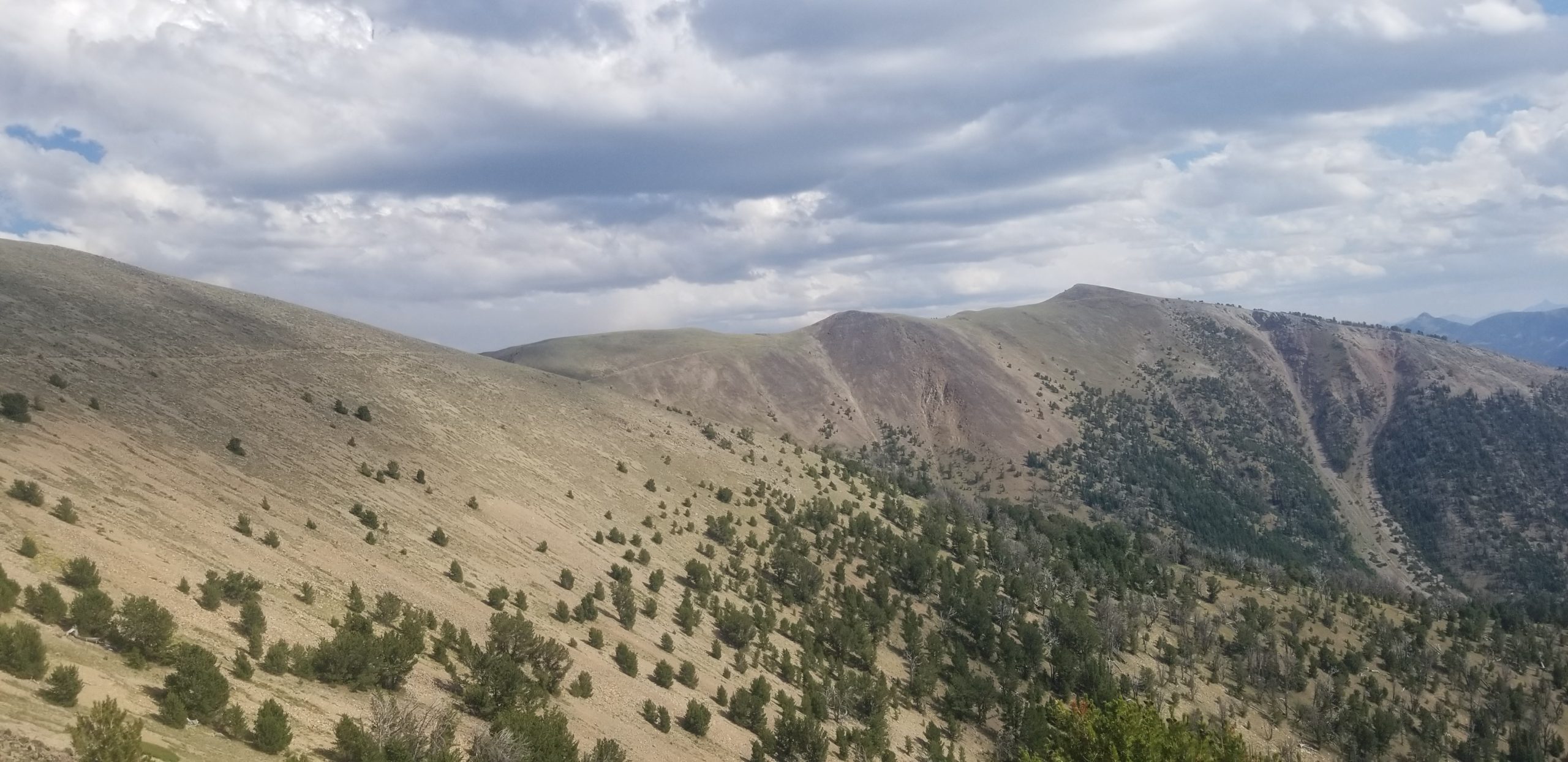 I find a sweet place to call home for the night and find a couple trees to block the wind. This has to be one of my prettiest camping spots so far.
A beer, a massive red velvet cookie, a chicken sandwich.
Life is good. I passed the 750 mile mark today too which means I am 1/4 of the way done with the trail. Crazy. Long way to go, but it also seems like just yesterday I was at the Canadian border.
CDT Day 30

Wake up to the most beautiful sunrise. This is what thru-hiking is all about.
The day starts with countless steep ups and downs walking the same jeep road as yesterday. I keep asking myself, how could any kind of car make it up and down this? But perks of ridgetop walking are all the great views.
I am dying of thirst by the time I find some water. With tons of cow poop around.
I pass by gorgeous lakes.
I see all the pretty wild flowers.
I even see some moose!
They just stare at me.
Then the trail gets really confusing. Actually it just disappears. So I spend a couple ridiculously hard hours trying to navigate uphill in a headwind walking through ankle-breaking bushes and not get lost or climb up the wrong mountain. It takes every ounce of energy I have. By the time I make it up and over the last mountain and find a creek to eat lunch at I can barely pick my feet up off the ground. I tell myself I will sit here for at least an hour and rest, but after shoveling food in my face, the wind picks up and I am covered in goosebumps even with my warm clothes on. Cloud cover: great for hiking, bad for sitting. I can't sit any longer and have to start walking. It takes me almost an hour until my hands aren't numb anymore. Perks of unintentional weight-loss.
I've been passing through tons of these wire gates recently made by ranchers since I'm walking through ranchland.
Most are pretty easy to open, but there are a couple that literally take all my muscle to open. One I literally can't open and do some sketchy maneuvering over the barbed wire.
It stays cloudy all day and makes for some pretty views.
I push hard to make it to a beautiful lake to camp at. 33.5 miles, my longest day so far on this thru-hike. I have to stop myself from demolishing my entire food bag. Still have a day and half to go. But I'm so hungry. Luckily a couple spoonfuls of peanut butter helps stop my stomach from growling for a bit.
CDT Day 31

Wake up. It looks like rain is coming.
I pack up and start hiking. It starts raining pretty quickly, not too hard, but with the wind, and being around 9000 feet in elevation, it's a little chilly. It dies off for a bit when I descend. But then I climb another ridge and it's pure fog. Can't see 40 feet in front of me.
The trail disappears in this section too, so navigating is quite interesting. I'm wearing four layers of shirts and I'm still freezing. But alas, I descend again and am greeted with sun. As I'm forcing water in since I haven't drank anything in hours due to being freezing and being in a 15 mile dry section ironically, who pops up but Kasen! Kasen is going NOBO and she just happens to be from the same city I live in. We knew we were going to run into each other soon, but it's always fun to see a familiar face. I hang out with her trail family for a bit and we all agree this is the first long trail we've been on where there is not a war between NOBOs and SOBOs. Ok there is never a real war, but I have definitely seen some anger towards the opposite party on both the AT and PCT. Which is pretty funny since we are all hiking the exact same trail. Maybe because there are less people on this trail so we're all just happy to see anyone. Maybe because most people on this trail are older and more experienced. Who knows. But it's nice.

I force myself on for more climbs and more rain. The sun finally peaks through in the evening and it feels amazing.
And I get a perfect rainbow.
I take a chance that the storm has passed and push on to camp on a ridgetop since I want to get close to town, but the last 20ish miles before town are all exposed. I find a sweet place as the fog is rolling in.
Hopefully that is the extent of the weather tonight!
Affiliate Disclosure
This website contains affiliate links, which means The Trek may receive a percentage of any product or service you purchase using the links in the articles or advertisements. The buyer pays the same price as they would otherwise, and your purchase helps to support The Trek's ongoing goal to serve you quality backpacking advice and information. Thanks for your support!
To learn more, please visit the About This Site page.