CDT Day 32-38: Geysers and Bears and Smoke, Oh My!
CDT Day 32

When I went to bed I was banked in a layer of dense, wet fog. When I wake, it's cleared, but it's still freezing and everything is soaked.
I put on wet socks and shoes and pack up my wet sleeping bag and tent. My tent has ice on it. The sun pops over the mountain when I start hiking and warms my face.
It's all the PUDS (pointless ups and downs) this morning going over all the ridgetops.
I'm smoked in no time and totally out of water. I finally get water when I drop down into the valley and have a long road walk with all the cows. I get to the interstate and attempt to hitch, but there's no pullout and all the cars are going 70+ miles an hour. It's also apparently illegal to hitchhike on an interstate in Idaho, but the last thing I want to go is walk the interstate all the way to town. I decide to start walking and see if I can find an on-ramp to hitch from when a car pulls up. Turns out they turned around and came back to pick me up just to find out what I was doing. They ask me if I was base jumping from a nearby bridge. I see the bridge. It's about 50 feet off the ground. Yikes. I tell them what I'm really doing and they're still slightly impressed. They give me candy and Clif Bars and drop me off in Lima.
Lima is a teeny tiny town. I run over to the cafe to eat since they close in 30 minutes.
Mmmm just what I was craving.
I camp at the RV park. $10 for tenting, a shower, and a washing machine. What a deal. It's definitely the hiker spot.
They also have an epic hikerbox which I am basically able to do my whole resupply out of for free. I'm not totally sure what some of the home-packaged dehydrated meals are and the bars and chips are expired, but hey free food is free food!
A local asks me what I'm doing as I'm passing through the laundry room. He's an old timer who I can only understand some of his words, but I oblige and attempt to listen. He rambles for days about everything under the sun. His life, his theories on everything, how I need to make sure I get off the trail if I see any beartracks because this area is swarming with them (haven't seen a bear in weeks and never would have made it out of Glacier if I was avoiding bear tracks), how apparently black bears are more dangerous than grizzlies (?), how there are aliens hiding in all these surrounding mountains and the motherlode of them are under Crater Lake. When he mentions having had a few beers at the bar in the next town over, I decide I can only be nice to drunk-talk so long and I have my own beers to drink and I say so long.
I head over to the only restaurant open for dinner, Peats Steakhouse, apparently famous in Montana. But despite being open two more hours and staying they serve food til 8ish and it's only 7, the kitchen is apparently closed. I have a beer and hang out with a couple NOBOs anyways and then do the old gas station microwave dinner and chips afterwards as I join the rest of the NOBOs for storytime back in the hotel parking lot. We stay up til way too late telling trail stories and laugh our heads off. Eventually I pull myself away and crawl in my tent and try to block out the nearby interstate traffic as I drift off to sleep.

CDT Day 33

It's a rough night of sleep. I wake up every time a semi drives by. By 5 am I give up and get up. The only other person awake in town in another hiker, Smoke. We sit in the laundry room and make instant coffee and chat trail and wait for everything in town to open.
I'm the first one in the restaurant. Bacon, eggs, pancakes, and more coffee. Smoke and I get a ride back to the trail and walk together for a few miles since we have a long road walk to do. He started thru-hiking 40 years ago. I can't imagine what it was like back then without all the people and technology that we have now. It's fun to listen to his stories. Eventually I get ahead and spend the rest of the day alone.
The trail has been very poorly marked for the most part up until now, just since it's such a new trail and less used compared to the PCT and AT. But all the sudden there are placards everywhere.
Like two on some trees. And the trail is so obvious! I'm convinced a meth-head got ahold of some placards and went nuts. It's almost annoying how many of them there are. Can't they put these at like any of the hundreds of unmarked junctions or where there is no trail to follow!?! Typical CDT, gotta love it.
I stumble upon a wrecked quad. It's obvious the crash wasn't too recent and I have no clue how it even got up this trail as far as it did. It's not even wide enough for two people to walk on.
The ridiculous placards end after the quad so I'm guessing the meth-head thought he was riding a magic carpet, instead of a 4- wheeler, and upon crashing walked back to town and forget he had already placarded all the trees and doubled up his work.
After that the trail is a mess. Blowdowns. Bushwacking. Pushing my way through massively tall flower fields as all the grasshoppers jump on me.
Finally find a stream and a place to camp that is mostly cleared of dead trees. Just a bunch of sheep poop, but eh, at least it's flat.
I watch the sunset, drink a tasty IPA I packed out, and listen to the woodpeckers and birds do their evening songs.
CDT Day 34

Wake up to the smell of smoke which is weird because it's been pretty clear the past few days. But the sky is a smokey haze. Hmmm.
I find some berries in the morning. I try one, but it tastes bitter. I see what look like huckleberries around it, but those taste weird too. Better play it safe and not stuff my face with unknown berries. Puking poisonous berries up is not on my to-do list for today.
There's a lot of exposed climbing today and some longer distances between water sources. But the flowers are stunning.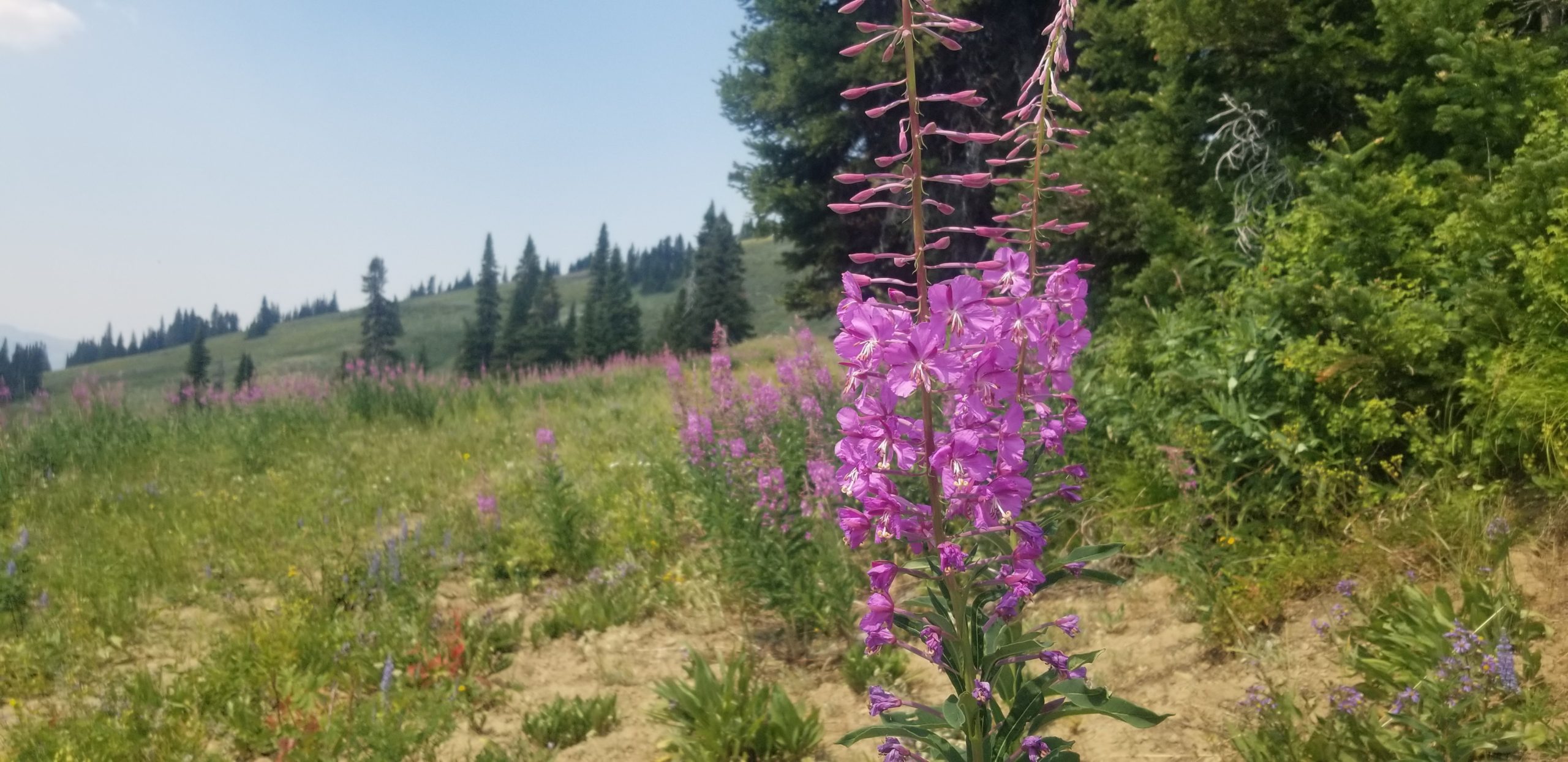 I saw a heard of sheep yesterday, and find a sign that tells me about a sheep experiment. Not quite sure what the experiment is about. See if sheep eat everything in sight? Check. See is sheep are annoying and loud AF? Check. See if sheep chase stinky hikers? Check. Guess I solved that experiment. What's next?
It's good views, despite the smoke, but I can feel all the exposure to the sun zapping my energy.
I find some sacred shade to eat lunch at.
Good thing, because I feel like I'm stumbling along the trail in exhaustion. I drink lots of water and force food in. Even when you have hiker hunger, trying to eat when you're dying from the heat can be rough. I pass a bunch of NOBOs today. I still can't believe how many I am seeing. One couple recognizes me. It's Dee and Mouse! A couple I met on the PCT and also saw on the CT. So crazy. We say goodbye until the next trail! I'm guessing I'm nearing the end of the NOBO pack though.
The smoke clears in the afternoon and the sun scorches me even more.
I find a meadow to camp in and set up just as the sun is going behind the trees and the temperature starts to drop. I cook up one of my mystery meals that I got in the hiker box in Lima. Couscous.
Now there's not a lot of foods I don't like, but couscous has never been a fav. Something about the texture. And maybe the fact it never feels like it fills you up. Probably just too healthy for my hiketrash taste. But free food, man, can't complain! I supplement my hunger with lots of chips, peanut butter, sour gummy worms, and a beef stick. It's so much easier to eat now that it's cool out, so I try and make up for lost calories during the day. I eat so much, I should be stuffed, but somehow I'm still hungry 20 minutes after I finish. The struggle is real.
CDT Day 35

I sleep great. It's been awhile since I got a good night of sleep. I still wake up often, but much less than normal and I feel much more energized throughout the day. I pass through Hell Roaring Canyon. It's the first narrow canyon I have passed through on this trail and it reminds me of the canyons in the desert.
Then the smoke comes in. I'm walking through the valley and it's hot and hazy. I stop at a piped spring at one point. There's a lid covering up where the water is gushing from the ground and I pull it back and find a beer bobbing in the water. Thank you trail angel! I pack it out for tonight. My feet are killing me by lunchtime and I soak them in a freezing creek as long as I can stand.
I see a few NOBOs, but no SOBOs today. There is an alternate for this section that a lot of hikers take to cut some miles and cut down on the climbing. But it turns out to be the best section in Idaho so far.
Despite doing 8000 feet in elevation today, I feel great. I have the most switchbacks I have had on the entire trail. Switchbacks are my friend. Despite making climbs longer, they are so much easier than walking straight up mountains. The climb feels amazing and the views on top are stunning.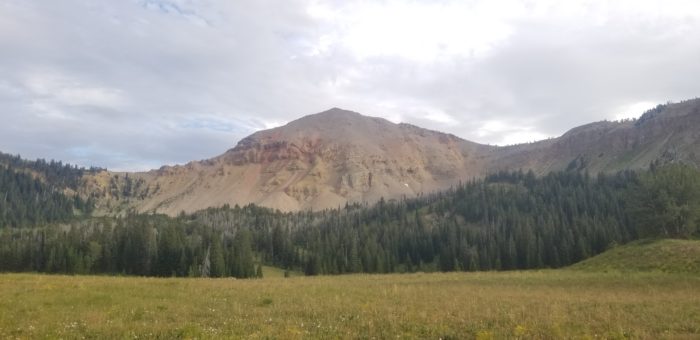 I get a few raindrops now that I am above the smoke, but nothing more. Lots of cool rocks too.
I find some trees to camp under in case it rains tonight in a gorgeous meadow by a stream. It's perfect. Except the mosquitos. They haven't been as bad recently as we get later into August, but up here they are relentless. At least I have a beer to ease their annoyance.
CDT Day 36

Get a little rain before it gets light out, but nothing heavy. Wake up to a wispy fog. It's chilly, but I strip down to shorts and a t-shirt right before I start walking because I know I will be warm once I start climbing. My favorite kind of morning hiking weather. The cold makes my legs move faster in an attempt to warm up.
When I crest onto the ridge within a few miles, the view is breathtaking.
The sun rays popping through the clouds. Mountains every direction.
By far the best part of Idaho so far. I feel so lucky to see it in the morning on a day like today when the clouds are making the sunrise its best. I follow the ridge for awhile and every turn gets better and better.
I even see some alien markings!
Guess that crazy old man from Lima was right afterall!
I can see the valley below all the way down to the highway, where I get a ride in about 3 seconds, despite being on a fast-moving highway in tourist-mecca. People are great. I get a ride down to the post office in West Yellowstone to pick up some shoes I ordered online, but the post office doesn't have them. Weird. They say to try the UPS store down the street. But I'm too hungry and I only have a few minutes to get McDonald's before breakfast closes so… priorities.
McDonald's is packed since it's probably the only cheap place to eat in this tourist village. But I make myself at home, finding a random outlet to charge my battery pack, shoving food in my face, and talking to the one other CDT hiker there. I don't care what you say, McDonald's breakfast is a pretty good deal for a lot of calories that actually tastes good. After, I grab some groceries and finally find my shoes over at the UPS store.
West Yellowstone is cute, but so touristy it's hilarious. I feel like I'm walking through Frontierland at Disneyland with how fake everything looks and all the tourist shops selling the exact same thing. Gotta love it.
I decide to walk a forest service road out of town instead of hitching back to the trail and have a pleasant afternoon of easy snowmobile-trail walking mixed with crazy bushwacking. Gotta love Google Maps loose interpretation of a "road." My toes are killing me with wincing pain and upon an inspection of my feet I think I am getting some heat rash bumps on the bottom of my toes from all the walking in wet socks. A little vaseline on the bottom of my toes and put on my sleeping socks and I feel a million times better. I finally make it back to the trail and find the one water source of the day.
Yummy. The clouds look threatening, but also like they're heading away from me, so I take a chance and camp in the open to hopefully have a good sunrise view in the morning. I eat my dinner watching the birds dive bomb random trees as the thunderous clouds calm down and pan out over the horizon.
CDT Day 37

It was a full moon last night. Everytime I woke up, the sky was bright, even through the clouds, and as silent as can be, besides the random bat that soared overhead when I got out to pee. I wake up and have an easy walk into Wyoming! See ya later Montandaho! Feels good to be in a new state. A bunch of NOBOs are chilling at the makeshift border along with a family who is hiking the CDT.
They have five kids, all probably 12 or younger. One is a toddler. The parents work at a hospital in Africa, but brought their kids to the CDT for a vacation. We laugh at this and decide that home will be more like a vacation when they get back, actually having beds and toilets and what not.
I eat lunch at a gorgeous lake, not another soul in sight.
I also enter Yellowstone in the middle of the wilderness.
It looks exactly like Montandaho until I get down to the touristy area.
Then there's people everywhere, although still not nearly as chaotic as expected, probably due to the thunderstorms that come and go all day. I pass all the bubbling pools.
I see a bunch of little geysers.
There's the smell of sulfur everywhere. Maybe it will mask my hiker stench!
I watch Old Faithful erupt in a downpour. I people watch. I eat a burger and fries. I hang out in the lodge, which is THE most epic building I have been in and am serenaded with piano music, warmth, a beer, a sunset, more people watching.
I "accidentally" stumble into the tubroom at the lodge. I mean, there's no lock or key. It's almost like they're telling me to use it. I could probably use a bath. Do I indulge? Come on people…. I'm hikertrash afterall.
I may or may not be stealth camping in the woods. But the rangers here don't really care what you do. Noone does actually. Despite all the workers being extremely nice, I can tell they are touristed-out. I ask one if it's a fun job. His response, "For some people." I walk back to my tent and have the best post-storm sunset.
I go to bed listening to thunder threatening, but it stays dry… for now.
CDT Day 38

Wake early. It's dark. But I can't go back to sleep so I pack up and head back to Old Faithful Village. Only a couple other early risers are awake and out and about. I hit the breakfast buffet right when it opens at 6:30. It's pretty much just a nice continental breakfast, not too bad for only $15.
I drink a whole carafe of coffee so when I hit the trail I feel like I'm flying… for about 30 minutes. Even after three plates of food, I'm only full for less than an hour. Oh, the hiker hunger.
The day is a mix of more bubbling pools of stinky hot water, gorgeous lakes, flat forested sections, steep climbs, and swamp land that is full of leeches.
In the afternoon I see fresh bear poop, the first I have seen in weeks. A few minutes later, I hear a noise in the bushes and see a dark animal nearby. At first, I can't tell what it is. Too small for a bear, but too big for anything else. Then I realize it's a teeny, tiny cub. And then there's another. And then I see mama. I'm less than 30 feet away and they definitely heard me so I keep moving. I look behind me and mama has ventured out into the open with her cubs in tow and she is sniffing for me. And she's definitely a grizzly. As much as I want to stop and watch or take a picture, I know it's best to keep going, especially if I already spooked them and she is on the lookout for me. The trail heads away from them and I don't see her again.
I meet an off-duty Yellowstone employee and her boyfriend as I'm hiking and she tells me all about her awesome life jumping from campground to campground for work as she pleases and they give me a ride up to Grant Village, where I'm planning on staying the night. I head to the store first and stock up on food and run into some friends from the trail. And find a beer that's named after me, can't say no to that!
I walk to the campground which has a hiker/biker site for only $10 a night. I guess I'll be legal tonight. I set up just in time for the thunder to start cracking right overhead and the rain to start.
Affiliate Disclosure
This website contains affiliate links, which means The Trek may receive a percentage of any product or service you purchase using the links in the articles or advertisements. The buyer pays the same price as they would otherwise, and your purchase helps to support The Trek's ongoing goal to serve you quality backpacking advice and information. Thanks for your support!
To learn more, please visit the About This Site page.