CDT Day 45-50: Halfway to Somewhere
CDT Day 45

The trail is hard and rocky all day.
I roll my ankle once pretty bad in the morning just as I'm thinking to myself, man, how did I not get hurt yesterday on all those massive loose boulders… go figure. A million more beautiful views.
So many lakes.
So many rocks.
So many creek crossings. Just as I'm doing a sketchy rock hop across a wide creek, it starts raining, which basically makes all my rock-hopping that I did all morning to keep my feet dry completely pointless since my feet are soaked in minutes from the rain. I assume it will pass, I can see blue sky in the distance, but apparently I am walking with the storm. It rains and thunders and hails for hours. I am soaked to the bone and oh so cold. Being in a rain storm above 10,000 feet is anything but fun. You know it's cold when the glacier-fed creeks feel warm. I just keep telling myself, it will stop eventually, you've been through worse, you've been colder before.
When I finally force myself to stop and hide under a tree to get something to eat and try and warm up, my hands are so cold, they are basic useless. Trying to eat lunch is quite hilarious, my fingers have no dexterity or grip. Just trying to zip my jacket and unclip my backpack in an ordeal. I don't know what is wrong with my hands but when they get really cold for a long period of time, they do this. There's been times I've got caught in a rain or snow storm on a hike or run and come back to my car literally unable to turn the key and therefore unable to turn my car on. And the worst part is I never realize it until it's too late and then I just have to wait and blow on them and rub them for forever until I can function. I should probably get this checked out someday. Or just bring waterproof gloves with me. But that would be way too smart.
The storm eventually subsides and the sun finally comes out and it has never felt so good.
I get some epic views with the stormy clouds.
And get a sneak peak of the alternate trail I will be taking tomorrow, as long as I don't wake up to another storm.
It still takes me awhile to warm up and my socks and shoes are still wet hours later when I finally find a place to sleep for the night. I chug water until I practically make myself sick because drinking water was the last thing on my mind today. I don't feel hungry after chugging water, but once I start eating, I can't stop. I have become the bottomless pit. I have no idea how many calories a day I am eating right now, but it is a ton and somehow I still can't get full. I think about food a lot during the day. Mostly pizza right now.
CDT Day 46

I wake to a cold morning. And then it gets even colder when I have to ford an icy creek. But my shoes were still wet from yesterday so I guess it really didn't matter.
I am taking another alternate loop off the CDT today: The Cirque of the Towers. The views are stunning.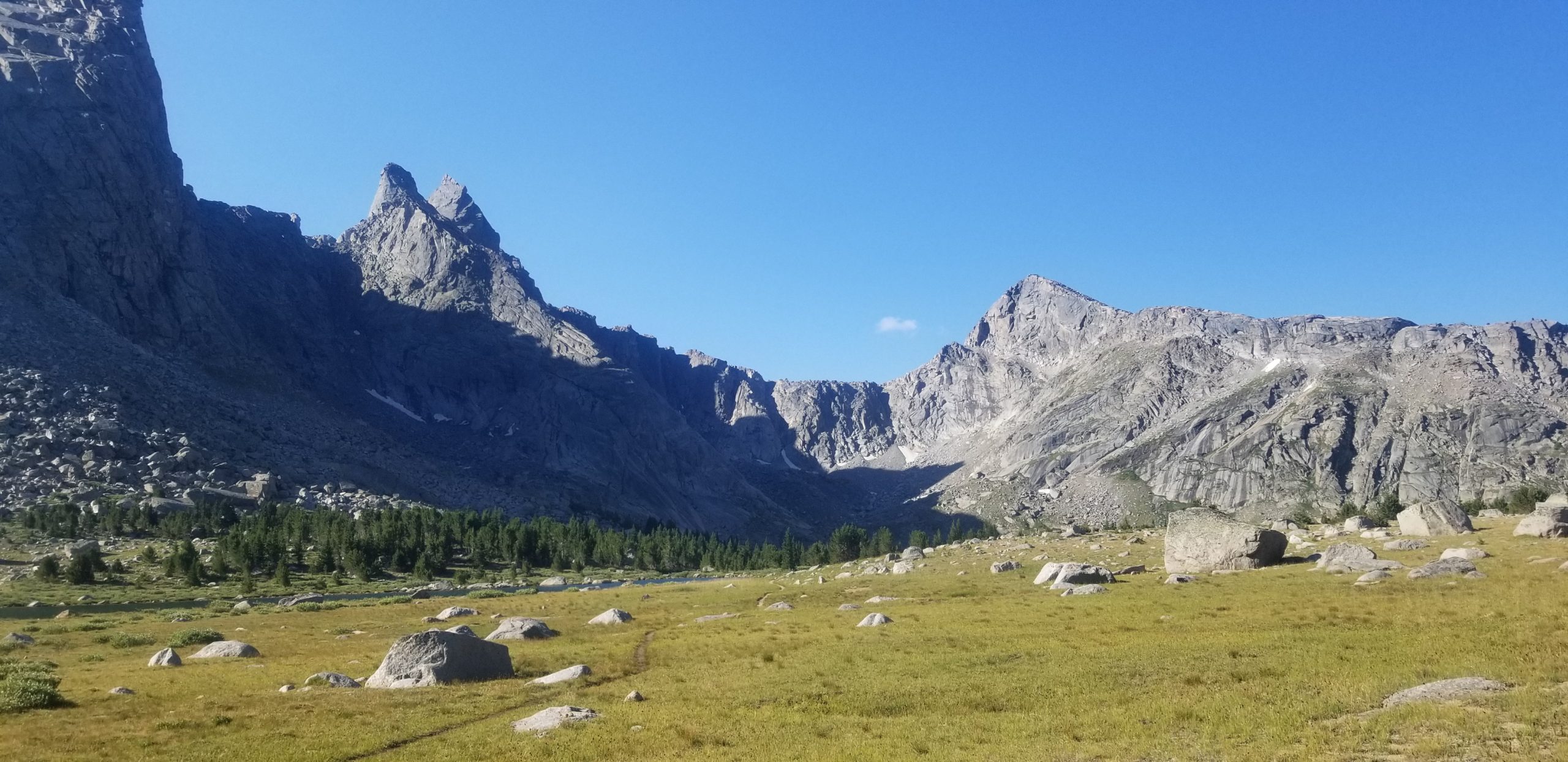 Once again, I feel like I am a Lord of the Rings Movie.
Or climbing up to Count Dracula's castle.
The clouds make it even more perfect.
First I climb Texas Pass. Then Jackass Pass. The passes today are all pretty steep, but nothing too technical, besides lots of shaley rocks to slip on. There's a decent amount of weekend backpackers out, but they all head back to the Big Sandy Trailhead and I keep going. It's a big climb up to Temple Pass and the clouds have been teasing me all day threatening a storm with random thunder claps.
But I make it up and over without anything more than a few raindrops. So glad, especially after yesterday. I am so thankful for the sun today.
The hardest part ends up not being any of the steep passes, but the last mile out of the canyon to rejoin the CDT. There are a million blowdowns and I have no idea where the trail is so I just end up bushwacking my own way out. It's fun! In an exhausting sort of way. I finally find the trail and go a few more miles before camping.
CDT Day 47

I'm out of the mountains now. Back in high desert. The day is pretty chill. I have to navigate through tons of crisscrossing dirt roads. But don't see anyone. Who drives out here? It seems so weird that just yesterday I was high on glacial peaks and now I'm walking in farm land with all the deers and cows. Such is Wyoming.

I make it to the highway by late afternoon and wait awhile for a hitch. Wyoming has been the toughest state for hitchhiking so far in all my thru-hiking. Eventually a nice National Park Service employee turns around and comes back to get me. Turns out he spent some time in Redding when he was working out there for the Carr Fire in 2018. Small world.
He drops me off in Lander and I am blown away. I always get these ideas in my head of what trail towns are going to look like and they obviously never look the way I imagine. Lander is a hip little outdoorsy town. Gear shops, a brewery, art, cute restaurants. Seems so out of place in BFE Wyoming. It's also the headquarters for NOLS (National Outdoor Leadership School) and I happen to know they have bins of leftover food from trips that they can't sell and let hikers pick through. I score a bunch of free food. Then I give away my bear spray to one of the gear shops in town since I won't be needing it anymore. Not that I ever needed it, what a waste of money.. kidding… kinda.
Then it's grocery store for some much-needed fruit and the rest of my resupply and I splurge on a cute cabin, the cheapest accommodation I can find in town. I mean it's only $70 and I haven't slept in a bed in weeks so I feel like I deserve it. It's not much, but it has a bed and it feels like such a luxury. After a shower and laundry I grab a pizza, a bag of salad, and a beer and bring it back to the cabin to sit outside and enjoy the last light of the day.
The wind picks up as the sun sets and blows hard. I guess this is why it's called The Winds.

CDT Day 48

I tell myself I'm going to sleep in but when the dumpster is getting picked up at 6 am, 20 feet from my cabin I am wide awake. All the free hotel coffee, OJ, a banana and PB, a few day-old discount donuts, and a sausage breakfast sandwich is the perfect breakfast. I sit around most of the morning researching the upcoming trail section, updating my blog, and catching up with the world after not having service for six days and let my feet rest as much as possible.
I head back out to hitch a little after 9 am and get a ride part way from a dude from Florida who just retired and is on a roadtrip to see the country. We both agree we are blown away by this land. Luckily I'm clean, I would have felt bad stinking up his precious Porche otherwise. He drops me off at his turnoff and I am back to hitching once again. Eventually Jerry pulls up. I've met Jerry a couple times now, him and his wife started the trail together, but he quickly decided it wasn't for him. He went home and got his Jeep and now he follows his wife and other thru-hikers along the way, giving them rides, bringing them food and water, doing whatever he can to help support us and doing lots of fishing too. What a guy. He drops me and another hiker he picked up in town off at the trailhead and I'm off.
I enter The Basin. It's 120 miles of nothing but rocks, dirt, and scrubbrush.
And cows of course.
Such a contrast from what I just went through. I do some cross-country walking and some road walking. Even though I'm above 7000 feet still, it's pretty flat, with the occasional rolling valley. It is nice to have some easy walking after the past week of strenuous climbing, but it's also hard in its own way. My body likes climbing compared to flat. It kills my hips to have the same gait all day long. But I know my body needs this break and I appreciate it. I have a quick thunderstorm roll over and then find a gorgeous creek hidden in the empty desert.
Such a gem. Isn't this world just amazing how you can be in such a dry and vast landscape and then stumble upon this? The only people I see all day are three dirtbikers who scream past me on the gravel road. I jump off the road because they are coming so fast, I'm not sure they'll see me. They do though and wave at me and I don't know how they don't crash they are going so fast. It looks fun. And terrifying. But then again, anything looks fast compared to walking.
I am walking on the Oregon Trail which is so weird and so cool to think about all the history and dreams and tragedy that took place under my feet.
I finally find a very rare spring at the end of the day.
And find another hiker and her dog! It's so fun to see dogs out here on the rare occasion that I do. It takes a pretty tough pup to tackle this trail. She says they do a lot of night-hiking to not kill her dog. Makes sense. I've met a lot of people in the past who have attempted to bring their dogs on thru-hikes and usually have to send them home early on. It's just so hard on their feet and a dog will never quit on you, it will just keep going until it dies, so it takes a very special breed and a smart owner to be able to do a whole thru-hike with one. And dog booties. They are a saving grace for their feet. Our water source is a little off trail so someone made this sweet rock arch for hikers to find it.
People are awesome. Abby and her dog keep hiking and I set up camp for the night, watching the deer run around me, the birds fly overhead, the sunset, and hear other weird animal noises I can't quite identify. The mysteries of the basin. Sitting outside with the last orange hues tinting the sky, eating my dinner by headlamp of dehydrated chili, instant potatoes, and leftover bagged salad all tossed together in my pot, having only clouds and the endless basin around me in every direction is perfect.
So peaceful. I can't help but think about all the wagon trains that circled up in this exact spot hundreds of years ago, watching the same gorgeous sunset to the west, imagining the promise land as they went through hell to get there. They're probably rolling over in their graves right now, knowing that a few hundred crazy hikers now walk this land for "fun" every year.
CDT Day 49

The morning is beautiful and the perfect temperature. I love waking up to the prospect of actually being able to see the sun when it rises because I'm not stuck behind massive mountains or trees and being able to see for miles. I cruise through the morning, stopping at all the water sources I can find. A cow pond. A metal pipe stuck in the ground.
I even find a water cache!
People are amazing. I don't know who the heck manages to keep this cache in the middle of nowhere stocked, but I am very thankful.
There's no tree cover all day and despite the clouds in the distance, non seem to want to block out the sun so I'm in full direct sunlight all day.
It's not too hot, especially with the wind, but I have to reapply sunscreen so many times so I don't wake up looking like a tomato tomorrow. The sun drains me and I'm smoked by late afternoon.
I end up doing a 36 mile day to get to water. It's almost dark when I finally stop for the day and I can see a storm moving my way.
I find some bushes with a little coverage and watch the lightening light up the whole sky as I'm setting up and the wind starts blowing like crazy. I get my tent set up just in time for the rain to start. It's not a downpour, but the storm seems to be around to stay. I make dinner and snuggle in my tent as I eat listening to the thunder coming from all directions and the branches whip around me as the sky continues to light up. Might be an interesting night!
CDT Day 50

I've been walking for 50 days. Seems like both a small and large number at the same time. This is the longest I've ever gone without taking a zero day. I should probably take one soon, but I've been waiting for my body to tell me it needs one or waiting for a good reason to stay in town if it's somewhere I want to explore or wait out bad weather. But none of that has really happened yet. But I'm sure the day is coming soon. The morning is overcast with last night's storm which feels amazing compared to being in the sun all day.
But eventually it blows off and it's back to the baking ball of fire slowly turning my exposed body parts a very, very brownish-red color, no matter how much sunscreen I apply. I pull my shorts up to see how dark I am and I crack up at the contrast of the top part of my legs compared to the rest of them. I find some wild horses at one of the few water sources of the day. They're so beautiful.
Horses make me so happy and seeing them in the middle of nowhere makes me feel like I'm in a fairy tale. I have a long and sandy road walk for most of the day. At one point I run into another hiker and we walk together, talking for miles, which makes the hot afternoon fly by. It's rare to have someone to talk to and more so to be able to talk while hiking, but the road allows us to stride side-by-side and converse.
We're both triple-crowning so it's fun to compare all our trail stories. The day is pretty easy, but also monotonous walking basically in a line across the barren desert all day. I both love the ease of it and crave the mountains again. But they'll be here soon. I walk until the clouds turn pink and the breath-taking sunset appears in a 360° view around me.
I find a small dried-up drainage to set up camp with hopes that the short walls will block the wind if I get another crazy night. Nothing to do it if rains, I can't see a tree anywhere in sight for miles. After the sun sets, I can hear coyotes yipping in the distance. It's oddly comforting. I love the desert.
Affiliate Disclosure
This website contains affiliate links, which means The Trek may receive a percentage of any product or service you purchase using the links in the articles or advertisements. The buyer pays the same price as they would otherwise, and your purchase helps to support The Trek's ongoing goal to serve you quality backpacking advice and information. Thanks for your support!
To learn more, please visit the About This Site page.