CDT Day 51-56: Hello C-O
CDT Day 51

I wake up. It's not freezing and everything is dry. A rare blessing. The sunrise is just as pretty as the sunset last night.
It's more of the same, walking through the desert.
Although the rocks are starting to change. More shapes and canyons.
I get lost a few times when the trail disappears. There's a fence I have to cross without a gate, but some previous hikers have found a solution.
And then eventually I see some trees. It looks weird after not seeing them for awhile.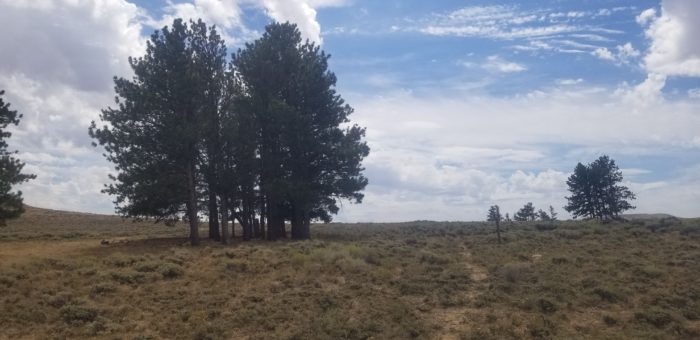 I have a long walk along the highway as I walk into the town of Rawlins. It's rare that the trail actually walks right into and out of a town and it's nice to not have to hitchhike for once.
I find a cheap hotel for $50. I'm expecting a dive, but it's actually really nice. I've stayed in way worse for twice the price. My legs are smoked but the room isn't ready yet so I leave my pack and walk down to the store to resupply. I chug so much water when I find a water fountain, making up for all the dryness of The Basin.
Back at the hotel I sort my resupply, shower, attempt to wash my clothes in the bathtub. It mostly works, but my socks are impossible to wash the dirt and smell out of. Oh well. I spend the rest of the evening trying to rest my feet as much as possible. Pizza, salad, a beer, ice cream.
Comedy Central is stuck on The Office, I'm not sad. It's nice to have little luxuries for once. Then I look ahead at the next section of trail and realize it's going to be even dryer than the previous one. Yikes. Oh well, future Zebra problem.
CDT Day 52

I set my alarm to 7 am, forcing myself to sleep in. I wake up at 5:20 and can't fall back asleep. I guess that means I'm well rested! A bed will do that to ya after sleeping on the ground the majority of the past two months. Not only is my hotel cheap, it also has a continental breakfast. Now for a $50 hotel room, I'm not expecting much, maybe a shitty cup of coffee and a bruised apple if I'm lucky. But I'm wrong once again. Bagels, english muffins, toast, cereal, oatmeal, fruit, yogurt, OJ, coffee, tea, and granola bars. I attempt to carry my insane amount of food back to my room so I can eat in bed and be as lazy as humanly possible. When I get to my door and remember I have to open it, it's quite the acrobatic stunt to get half of my food on the floor so I can unlock the door. I hope the security cameras got a good laugh at me. I stuff my face, go back for 2nds and 3rds of coffee, watch Two and a Half Men… forgot how funny this show is and laugh at how the majority of the lines and premise of the show would never be allowed to be scripted today because political correctness ya know, which makes the show even better.
I finally pull myself away from my comfy bed and head out around 8:30. My hotel was on the bypass of town, but I walk through downtown to get back to the trail and am in love with the old-town feel, old buildings, and great artwork.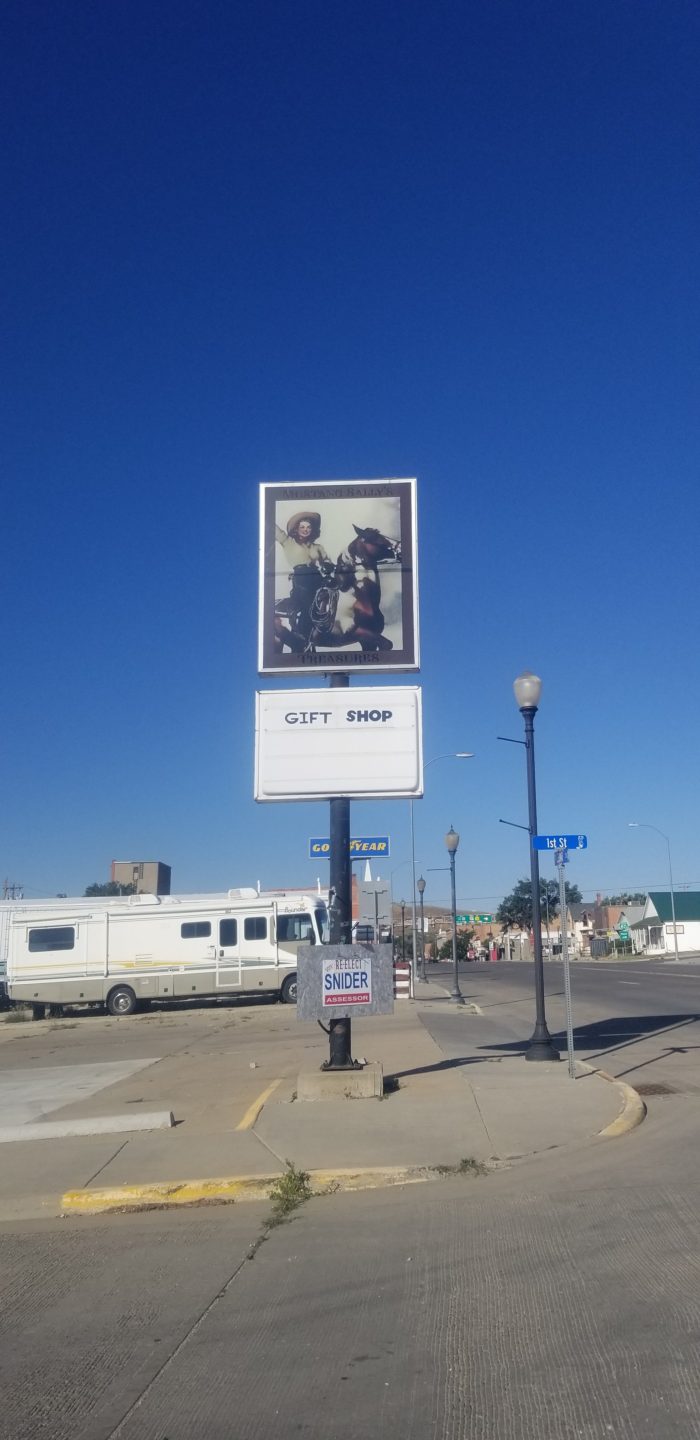 For a small town in the middle of the desert in nowhere Wyoming, it's pretty dang cute.
The next section of the trail is basically waterless, so everyone is taking a highway alternate. It's not a busy highway luckily, but I do have fun waving at all the cars that pass me and getting lots of thumbs up from the motorcyclists.
Three people even stop to give me water and I find a few water caches along the way which is awesome, because water is super rare out here, and the water we do find is beyond disgusting.
It's kinda fun to walk along the highway and be able to see cars and different sights, but it's not easy on my feet, they're so used to walking on dirt now. I walk over all the roadkill.
The sun is bright and a storm threatens, but sticks to the mountains.
I get some cool lanscapes to stare at.
The wind steadily increases all day and by afternoon I am walking into a non-stop constant headwind. And it's fierce. I am almost knocked down so many times. The roadwalk is not so fun anymore. I can tell the wind is a common occurance out here by all the ice chest covers I see littering the side of the highway.
Just when my legs are about to give out on me, I see some trailers and a couple outhouses right off the highway, a little camping spot apparently. I head in and find a little tree cover from the wind to set up. There's six trailers here, but only one has an accompanying truck and people. Everyone else must be out on the town! Or just leaving their trailer here since it's free and all. On top of outhouses, there are even picnic tables. Oh man, I feel spoiled. I can't tell you how nice it is to eat a meal at a picnic table when I spend almost all my time eating while sitting on the ground. I have a beautiful sunset and from the looks of the place, should wake up to a beautiful sunrise tomorrow too.
The small comforts make the hardness of today that much more enjoyable.
CDT Day 53

Sleep so good. A hard day will do that to ya. Have I told you how amazing the stars have been out here? Wyoming nights are the best. It's so clear from lack of pollution and fires and infrastructure. The stars are so bright. I can see the Milky Way most nights and the Big Dipper is humongous.
I wake up as the horizon is just turning pretty colors. I love peaking out of my tent and being greated by a gorgeous pre-dawn view. Another seven miles on the highway and then I'm back on the trail. Well, dirt roads at least. I am out of the dry desert and making my way back into the forest. The cottonwood trees blow in the wind, making their soothing sounds. I pass actual ponds and even a couple flowing creeks. I walk through thick forests with tall creaking trees.
I climb up high, up to about 11,000 feet and have a view of the Red Desert that I just walked through.
Climbing feels great after so much flatness, but it also leaves me exhausted, not having done it in so long. The trail is rocky… forgot how much I don't miss rocks. I push hard and do 31 miles before 6 pm to get to a highway.
I get a ride on the remote highway into the tiny town of Riverside. I show up at the RV park which lets hikers camp and shower for $15 a night. I score some freebies from the hiker box and find a bunch of other thru-hikers and we make our way to one of the two bars in town to eat. The town is packed for having a population of 68. The two bars are side by side and both are full. I hang out with my new thru-hiker friends and laugh and compare trail stories and devour some steak nachos and an IPA.
I run into another hiker I met back in Butte, Montana, weeks ago who has been taking all the alternates and even ended up switching from hiking to biking for some of the trail and somehow are paths have crossed again. Crawling into my tent with a full belly and a happy heart is such a good feeling, even better going to bed warm, camping down in elevation in the valley.
CDT Day 54

Still wake up at 6 am, even though I tell myself I can sleep in. My internal clock is my best and my worst friend. I pack up and grab a gas station breakfast since that's my only option. I lounge around for awhile and then hitch back to trail.
We have nine SOBOs leaving town today! The most I have seen at once since East Glacier! Back on the trail we are greeted with trees!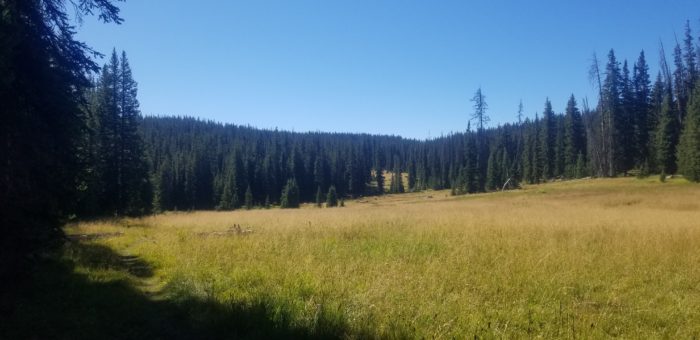 And water! It's magical. And steep climbs. Not so magical. Oh well. All the sudden there are crystalized rocks everywhere!
Big ones too! I get up high and get some views through the trees.
At some point in the afternoon I leave Wyoming and pass into Colorado, woohoo!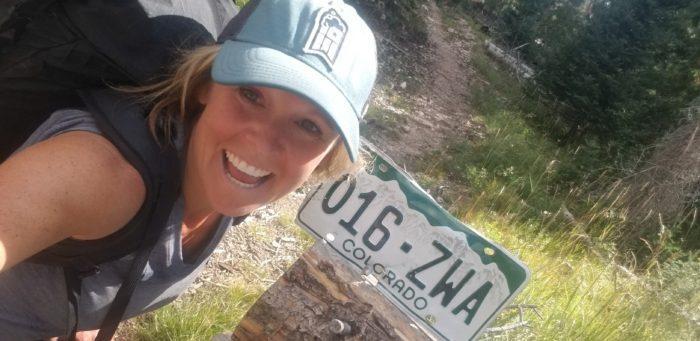 This is also about the halfway point of the trail, crazy! Only two more big-ass states left! My stomach is feeling a little off all day, I think it's from all the meat and cheese on my nachos last night and breakfast sandwich this morning. My body is just not used to these kinds of foods. But they taste so good! And I do hike so much better after eating all that protein. The water gets scarce in the afternoon and I have to push a big day to find a creek. But it's worth it to have this view for my campsite.
I'll be eating dinner in the dark, but the sunset is gorgeous, the sky is cloudless, the air is calm, the bugs aren't around, and it's not even freezing cold despite being high up on a ridge. Life is good.
CDT Day 55

Climbing.
Bushwacking. Lots of lakes.
Lots of water. Lots of views.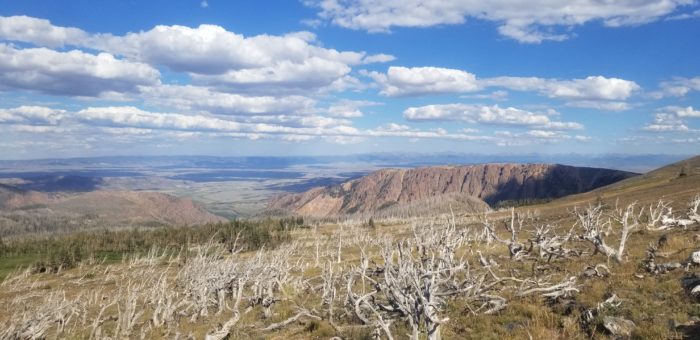 Lots of trees. I'm so tired. Most of the day is spent pretty high elevation. Almost up to 12,000 feet at one point.
I suppose this is why I'm tired. That and the fact I've walked 1500 miles. I should probably take a day off soon. Been seeing lots of mushrooms recently.
I find a place to camp while the sun is still in the sky which is a nice change from the later evenings over been getting into camp recently.
I'll be in town tomorrow evening. And hopefully getting new shoes. Good thing because I've been slipping like crazy the last great days in these ones.
CDT Day 56

Despite camping up high in elevation, I wake to a warm morning. The sunrise is gorgeous. The morning walk provides epic views.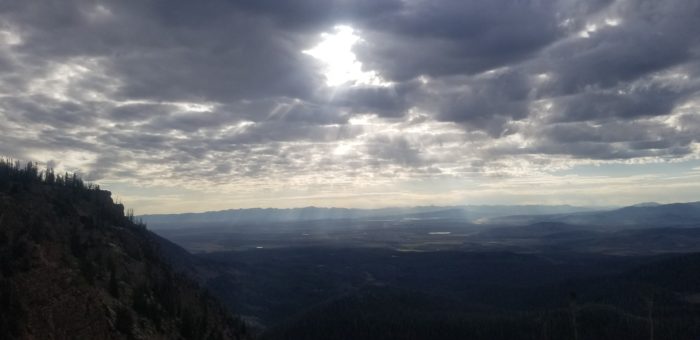 So many gorgeous lakes up here.
And just when I think I am in the middle of nowhere, I pass through a random campground and trailhead. And another amazing lake.
I make it down to Highway 40 in the afternoon and quickly get a ride into Steamboat Springs. I swing by the post office and pick up a care package from Donna, who is the founder of Wings of Angels, the charity I am fundraising for during my hike. She is so sweet to send me a box and I am stoked to see it is filled with soooo many yummy things.
Even dehydrated meals which will be such a treat from my normal dinner of Top Ramen. Thank you Donna, you are amazing! She also sends me a sweet new hat to rock! Good thing, cause mine was probably getting a little stinky.
Steamboat Springs has a free bus that runs all over town which is awesome because the town is super spread out. I love Colorado. I take the bus up to the KOA Campground, the only cheap place to stay in a touristy town. There's a bunch of bikers there who are riding the Great Divide Trail and even two thru-hikers too! Yay, more SOBOs! A guy recognizes me from the climbing gym in my hometown. It's Ezra, a fellow Redding-ite who is biking the Great Divide Trail. How crazy!
I shower and do laundry and then jump back on the free bus and head back into town to grab some food. I'm so excited for real food. I can tell my body needs it. I make it back to the campground after dark and sort through my resupply, stuff my face, and hang out with the other bikers and hikers.
I finally crawl into my tent around 10:30, which is set up about 30 feet from the highway, so it looks like it might be quite a loud night. Even with earplugs. Oh well. Future, Zebra problem.
Affiliate Disclosure
This website contains affiliate links, which means The Trek may receive a percentage of any product or service you purchase using the links in the articles or advertisements. The buyer pays the same price as they would otherwise, and your purchase helps to support The Trek's ongoing goal to serve you quality backpacking advice and information. Thanks for your support!
To learn more, please visit the About This Site page.