CDT Day 75-82: The San Juans and Winter in September
CDT Day 75

Coldest night yet. My tent is covered in frost in the morning. It's always fun trying to pack up without soaking yourself by rubbing up against icy tent walls. I have a few good climbs to warm me up luckily.
Pass a cool beaver dam.
And then climb up high above treeline again onto a sweet mountain.
The views are insane.
Eventually I hit a plateau and walk across the open expanse for miles.
The clouds and wind start rolling in and I get a few raindrops.
A front is supposed to hit tomorrow and the pre-storm seems to already be here. I make it down to the highway and get a ride into Lake City from a couple older couples who are out for an autumn drive. They are half intrigued by what I am doing and half scared to death for me. Mostly because I tell them I'm not picky about who I get rides from. You can't be picky when you've got your thumb out! One of the women gives me her business card and makes me promise to call her when I finish the trail or else she's coming looking for me. We stop on the way into town at a scenic overlook of a beautiful lake, something I never would have seen had I not got a ride with them!
They drop me off at the post office and I pick up my new shoes I sent here. Then I head down to the Presbyterian church that has a place for hikers to hang out during the day. Charging stations, a hiker box, free coffee and tea, a bathroom, and most importantly a place to dry out my wet gear. I grab a sandwich from the store and the pastor makes me a tasty espresso. It tastes amazing after drinking crappy instant coffee every day. I was originally going to stay in town, but when I get an updated weather report and find out the rain isn't supposed to start until tomorrow afternoon I decide to head out and take advantage of the dry weather before it rains for three days straight.
I decide to take an alternate route that I can walk out of town and will keep me at low elevation (below treeline) since I know the actual CDT portion is one of the most exposed sections of trail. I happened to get caught in a hail/thunderstorm up there two years ago when I was hiking the CT and it was one of the few times in my life when I actually thought I was going to die either from lighting or hypothermia. I definitely don't want to do that again. And since I've already hiked that portion of the trail, it's always fun to do something new! And wow, am I glad I did. The dirt road I end up walking takes me through the most gorgeous canyon.
It also happens to be the home of an old mine and dam that was an extremely prosperous gold and silver mine back in the early 1900s and what drew people to what is now the town of Lake City.
It's so cool to stumble upon a piece of history like this without even knowing it was here.
I pass about 500 quads and side-by-sides on the way, this area is a popular OHV destination. Once the sun sinks behind the mountains I luckily find a place to camp, which is not an easy thing to do while walking through this narrow canyon. It's beside a creek so I'll probably wake up soaked, but at least I'm much lower in elevation tonight!
CDT Day 76

Another morning waking up to a frozen tent. It's starting to get really hard to sleep with how cold it's been. I wake up and check my watch throughout the night, hoping it will be time for the sun to rise soon. When I do get up and get moving, it takes a long time to warm up since I'm walking through a canyon and the sun doesn't pop over the mountains for an hour.
But once it does, it is glorious.
The canyon has the most amazing views and the changing yellow leaves of the trees are beyond stunning.
I start to climb up steep jeep trails. Since I'm taking an alternate, I don't have my normal GPS trail map to follow. I downloaded some directions for the alternate before leaving town the day before, but I don't have cell service in the canyon and I get a little confused on some unlabeled roads. I end up taking a wrong turn and walk miles up a steep road only to find a dead end. Dang it. At least I get some good views!
By the time I make it back down and talk to some ATVers and find the correct road, I've wasted a couple hours and the clouds are getting really dark. I climb and climb, well above tree line, which kinda defeats the whole purpose of taking this alternate trail- to stay low for the storm. Guess that's what I get for trying to outsmart the trail. I finally make it up to Engineer Pass and omg, mountains for days. I can't believe there are jeep roads up here being almost at 13,000 feet. It's even crazier to think that mining structures were constructed up here over 100 years ago, I can't even imagine hauling all that equipment up here back then. I start walking down, and stop a sweet couple on a side-by-side for directions and they offer me a ride into town. One look at the sky and the choice is obvious. I'm so thankful for the ride as we start to feel some raindrops. Riding in a side-by-side going down steep, sketchy roads is quite the adventure after walking for months.
We get into Silverton, one of my favorite mountain towns and I check in at The Avon, an old brothel turned hostel. I stayed here on the CT and absolutely love the place. It's so homey and old-timey and sooo nice for a hostel. I run into another CDTer I know and meet one more and we find out that we hiked the PCT the same year. I'm so hungry by this point so I run downtown and hit up the first place to eat I can find. Of all things, shrimp ceviche sounds amazing, maybe because it reminds me of being in Mexico… and being warm.
After food I am still freezing and a hot shower never felt so amazing. I lounge around the hostel, meeting fellow travellers. The hostel has a fireplace which we all huddle around, especially after seeing the dreary mountains I could be in that are a wall of darkness. The rain comes and goes throughout the evening. We eat, share stories, mostly just laugh a lot. I only pull myself away because I am so excited to sleep in a bed. I can't remember the last time I slept in a bed… Wyoming? And this one is so snuggly. I fall asleep happy and warm.
CDT Day 77

It's overcast when I wake up and soon starts raining, which it continues to do for most of the day. You can't even see the tops of the mountains. So glad I'm not up there. I drink coffee and sit on the porch wrapped in a blanket. Suddenly I'm starving and realize it's after 9 am. I usually eat breakfast before 7 am, so my stomach is not happy. I run down to the store to grab some eggs and make a yummy breakfast. Then I wander around town in the drizzle. I can see a statue above the town and I climb up to find a catholic shrine.
It has a great view of the small town too.
I wander through the shops downtown and check out all the history of the mining town. The steam train rolls into town in the afternoon, whistle blowing. I feel like I could be living back in the old mining days.
Then it's back to the hostel for more food and relaxation. We band together and make a joint dinner of scrumptious breakfast burritos and then settle into the home theater in the basement of the hostel and start in on the first Lord of the Rings movie. I forgot how epic it is. We get halfway through, but by midnight we decide to call it a night and finish it tomorrow.
CDT Day 78

I sleep in and awake to another rainy morning. Coffee on the porch and watching the town wake up is a perfect start to a cold day. The weather isn't looking great and there's a flood warning in effect so we all decide to stay another day in town. It's more town walks.
More oohing and aweing at the pretty leaves.
I find the 'S' on the hill.
The creek is just a mud bath after the storm.
I wander around the cemetery and wonder about all the people buried here.
Many of them dying young from mine accidents, avalanches, the influenza. The train into town is canceled today because of the flooding so the normal afternoon tourist surge doesn't happen. The sun finally pops out in the afternoon.
After two days I get a chance to dry my tent out. We finish watching the Lords of the Rings movie and I can't help but feel like it was made for thru-hikers. It's more food and telling trail stories and laughing with the other hikers until the hostel is quiet and it's way past hiker midnight (9 pm) and time for bed.
CDT Day 79

Well the two zeroes were fun, but now that the sun is out, time to hit the trail. One last real meal (leftovers and instant oatmeal) and all the coffee and then we head out. Skybird and I walk to the edge of town where we quickly get a ride. He takes us to the Stony Pass junction where we start climbing back up the jeep trail. A jeep shows up behind us and they take us a couple more miles up until they turn off. I walk the last couple miles back up to the trail. I can definitely feel the elevation after a couple days down low. The day is sunny and cold.
There's all the climbing. Perks of the recent storm- lots of water. Downfall of the recent storm- parts of the trail are now a creek. It takes a lot of work to keep my feet dry today. We diverge from the CT a couple hours in and it's almost comical how quickly the trail deteriorates. All the bushwacking and route finding and steep, rocky climbs. The smoother CT was nice while we had it. I stop for a late lunch and then push on until after dark. I see a massive bull moose and do a big circle around him as he stares me down. The lakes are abundant and beautiful.
The scenery is breathtaking.
I definitely feel like I am in the Lord of the Rings movie we were watching last night.
When the sun sets, the temperature immediately drops and I hurry to set up camp before I freeze.
Back to ramen and tortillas and cold nights!
CDT Day 80

I wake up to a hard and frozen tent. The ground is hard and frozen and covered in frost too. Getting out of my tent is so hard when it's this cold, but I force myself to. Luckily, being up high above treeline means I get lots of sun once it pops over the mountain.
And the morning views are stunning.
The San Juans do not disappoint.
The trail is so rocky today it's insane. I feel like I'm walking on giant marbles. And the bushes overflowing the trail destroy my legs with cuts. And I almost get lost like a million times. Oh gotta love the CDT. The miles are hard to come by today with all the elevation and other things. But the mountain lakes and ridge walking sure do make up for the hardness.
And I happen to hit the best ridgetop walk of the day right at sunset.
Wow, what a sweet world we live in.
It's dark by the time I stop to camp and I scour the ground for thr driest piece of flat earth I can find. My hands are numb even with gloves on, but the rest of my my body warms up when I put all my layers on. Looks like I'm in for another chilly night. Someday I will be able to camp below 12,000 feet again!
CDT Day 81

I wake up and my tent isn't frozen! It's a miracle! This life really makes you appreciate things like that. Camping in trees helped too to soak up all the dew. The day starts hard and gets harder. It's up and down every hill imaginable.
And oh wow is the trail soooo rocky.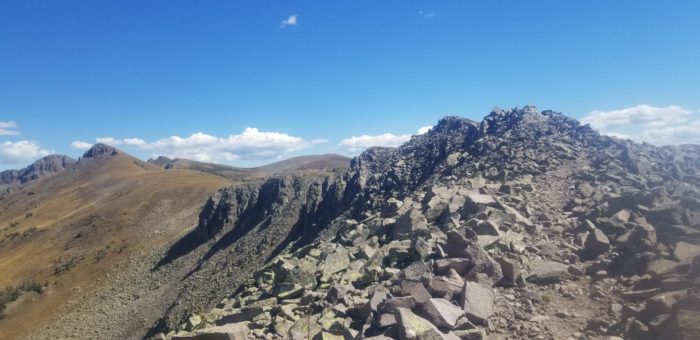 My legs feel like lead after yesterday and I feel like every step takes so much effort. But the views do make up for it.
Every time I climb another peak, I get an even more amazing ridgetop view.
They just keep coming.
And the lakes are beyond stunning.
Towards the end of the day I pass a couple hunters carrying out a deer on their backs. I guess my little pack isn't quite so heavy afterall. I make it down to the highway right after sunset and figure I'll try and get a ride into town and if not just camp there and wait until the morning.
It's usually pretty impossible to hitchhike when it's dark. But I luck out and get a ride after just a few minutes from a super sweet local girl. She tells me all about her life living here with her farm and horses and I am so jealous. She drops me off in town and I grab some food and some stuff for resupply and find a place to camp. Listening to cars drive by randomly throughout the night is a little different, but I'm hoping I will sleep pretty well since I'll be warmer sleeping much lower in elevation.
CDT Day 82

Much warmer night sleeping below 8,000 feet, but my tent is still soaked when I wake up from sleeping in the grass. Oh well, future Zebra problem. I walk down to McDonalds and enjoy a big breakfast and two big cups of coffee when they accidentally pour me a second one. Trail magic!!!! Also, when did McDonalds start making pumpkin coffee???? Omg, I am in heaven. Never will I have to spend $8 on an overpriced Starbucks PSL again! Ok, I'm sure I will, but $1 Mickey D's pumpkin coffee can't really be beat.
I take the bus back to the east side of town to a gear store to get a tip on my trekking pole replaced. The rocks in the San Juans did a number on me and my poles. The gear store people are super nice and instantly know I'm a thru-hiker and let me dry my tent and sleeping bag out outside and dig through their hiker box. I finally hitch back to the trail once my stuff is as dry as it's gonna get and start some more ridgetop walking.
The trail is considerably nicer than the previous part of the San Juans and I wonder if there is a different trail maintenance organization for this section. I still manage to get lost once though when I hit an area of thick blowdowns. I get to thinking about how much extra elevation gain and loss this trail would have if they accounted for every blowdown we had to climb over. I honestly think it would be at least another 10,000 feet, maybe even way more. So crazy. I stop for a lunch break and listen as the storm starts rolling in. The thunder cracks, but I don't see any lightning so I push on. The rain starts up and even though it's not a downpour, it's pretty cold when you're waking through sideways rain at 12,000 feet. I hurry through the exposed sections of trail and laugh at how I can see blue sky to the north, east, south, and west of me, yet I am walking in a storm. Gotta love The Divide.
Eventually the rain starts to slow and them I'm just left walking in a muddy cow-poop trail. But oh the views!
What we go through to get these epic views!
I finally get off the ridge when I hit a forest service road and the views on the road are stunning as well.
And I finally get to walk through the bright yellow Aspen forest for miles.
I'm in heaven. Between my pumpkin coffee, the chilly air, and the yellow leaves, it finally feels like fall. I find a little tiny dispersed campground right after sunset and find a few dispersed spots with picnic tables and even an outhouse! Wow, what a luxury. Part of me wants to sleep in the outhouse since it's surprisingly not too smelly and way warmer than my tent will be, but since there is a couple motorcyclists camping here too they might not appreciate having to step over my sleeping body in the middle of the night should nature call. I set up quickly and get in my tent since it's already super chilly being close to a river and in a canyon. The cows roam nearby and are very talkative. Hopefully the mooers will abide by hiker midnight quiet rules.
Affiliate Disclosure
This website contains affiliate links, which means The Trek may receive a percentage of any product or service you purchase using the links in the articles or advertisements. The buyer pays the same price as they would otherwise, and your purchase helps to support The Trek's ongoing goal to serve you quality backpacking advice and information. Thanks for your support!
To learn more, please visit the About This Site page.