CDT Day 89-94: Life in the Rainy Desert
CDT Day 89

We sleep in until 7 am. Skybird and I are starving and we try to raid the kitchen when we wake up, but find it's locked until 8. And noone else gets up until 8. So different from a hiker hostel. We finally get into the kitchen and I drink all the real coffee and devour lots of fruit and pastries and even make scrambled eggs! Everyone in the hostel has a quick chore to do every day which helps keep the price of the hostel cheap. After that we all set off on our own to wander around town. Santa Fe is full of history and art and I walk for miles seeing lots of both. I hit up REI for some new socks and grab a water filter for Skybird and then find a rooftop pub to have a beer at overlooking the plaza for all the best people watching.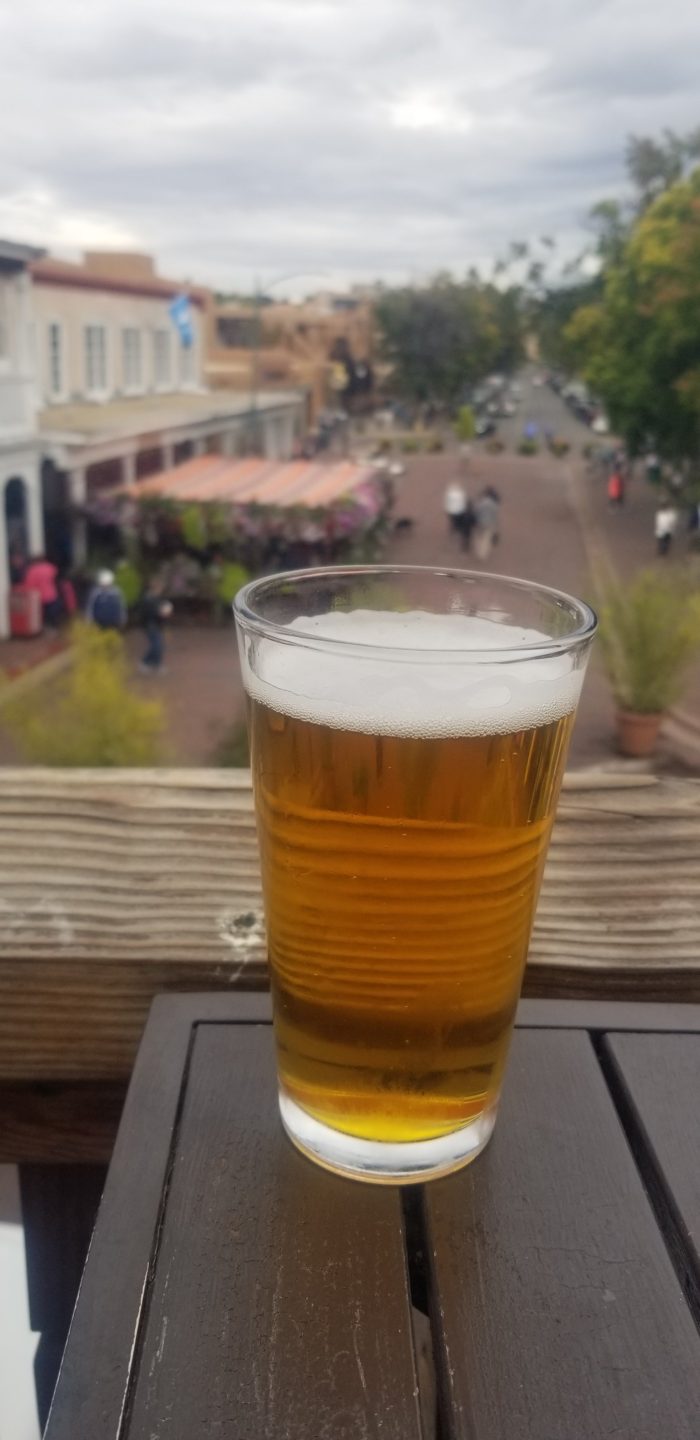 I finally make my way back to the hostel where Physics and I lounge around the yard and coat our poor feet in vaseline. I'm sure we get some weird looks from the other people staying there. We head off to catch the bus and get caught in a ridiculous rainstorm while waiting for it. Thunder cracks right overhead and the downpour comes and goes quickly, but soaks everything in the meantime. We meet Skybird on the bus and make our way to the real reason we came to Santa Fe, to see the Meow Wolf interactive art exhibit. I don't know how to describe it besides it's a choose your own adventure, self guided, mysterious, wild, interactive, and eclectic art exhibit/experience. Definitely check it out if you're ever in Santa Fe. We wander around for a couple hours until we solve at least some of the mystery and get our fill of people. Then it's back to the hostel with an epic post-storm sunset view and I pass out early after a fun day of walking and entertainment.
CDT Day 90

We wake up early and head out before the sun to catch the bus back to the trail. We make it back to Ghost Ranch and then spend the rest of the day winding through canyons and forests, gawking at the views, praying the rain holds off, and mostly just slipping in the mud.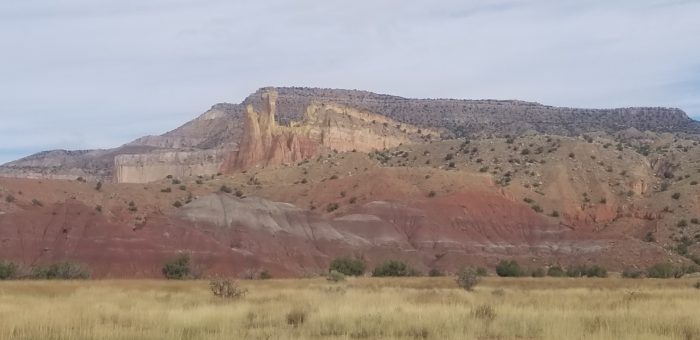 The trail is mostly just a mudslide after all the rain and it's both ridiculously annoying and hilariously funny to spend all day sliding around. My legs and shoes are caked in it.
And all the water sources look like chocolate milk.
But all the insane rock formations make up for the horrible walking conditions.
Physics and I miss an unmarked turn at one point and have to bushwack back a long ways to the trail. There's always something out here. I have the most glorious sunset views and hike until dark, trying to find a place to camp that isn't covered in mud and might give me a little protection from the rain that's supposed to hit tonight.
CDT Day 91

I wake up to the sound of rain at some point during the night and when I wake up to start the day everything is wet and dripping. The rain continues throughout the morning and the trail is once again a muddy, muddy mess. The cold isn't too bad while I'm climbing, but once I reach the top of the mountain, it starts to snow and brrrr does it get cold fast. I stop to chug some water and put all my layers on and even a five minute break is enough to chill me to the bone. Being soaking wet and walking through sleet and a trail that is a river is not so fun above 10,000 feet. But the only way to stay warm is to keep moving as fast as I can. Eventually I drop in elevation and the rain and snow let up a bit and I can finally feel my fingers and toes again.
But stopping is still not an option. I pretty much walk straight through the entire 30 mile day which is slightly exhausting, but better than being numb. The rain finally quits when I drop low enough and I get a good view of the valley.
It has never felt so good to not be frozen.
I hit a road and have a long road walk into the town of Cuba.
I do my best to not get bit by all the dogs that chase me and grab some Mexican food when I get into town and walk down to the RV park hoping I can spend the night there. There's a sign on the door when I arrive saying "be back in an hour" so I hang out on the porch and hope someone comes back before it gets too dark! Physics shows up around dark and we eventually decide just to camp out back since noone seems to be working tonight. Super glad to be lower in elevation even if it's supposed to rain tonight and I'm camping beside a busy highway.
CDT Day 92

It's a loud night sleeping next to the highway. Luckily the cars dwindle in the night, but when they start whizzing by nonstop before the sun comes up, I am wide awake and decide might as well be productive. I walk into town and head straight towards McDonalds, definitely the most productive thing I can do at this hour. I always get there before the dining room opens. Never would I have known that most McDonalds don't open their inside until 7 am if I wasn't a thru-hiker. Just look at all I'm learning out here! Big breakfast, coffee, charge my phone, and wait for the Family Dollar to open so I can resupply. They have to unlock the door for me there too since I'm the first customer. Never in my life have I been the first person in a grocery store until now since thru-hiking is the only time I am a morning person.
Quick resupply, there's only so many options in a small town dollar store, and then I have a five mile road walk down a highway out of town. Finally hit the trail. Or the mudbath more like it. I slip and slide and at one point swear I am in quicksand. It's entertaining. And exhausting trying to walk. Once I get off the dirt roads the tread gets a little better and then I start getting all the views.
I climb up on some plateaus and omg, why did noone ever tell me New Mexico is so freaking amazing!?!
Needless to say it's a quite enjoyable day.
Even the rain can't deter me. It helps that it's not sleeting-snow-rain at 10,000 feet like yesterday. I turn a bend and swear I'm in a sci-fi movie.
If The Lord of the Rings and The Lion King had a baby on Tatooine, this would be it.
Despite the trail being a muddy mess, I only have two water sources today so I am quite parched when I reach the second one at the end of the day and find a place to camp somewhat covered under some shrubby trees. The clouds look bad so I'm sure I'll get rain at some point tonight. So much for a dry desert.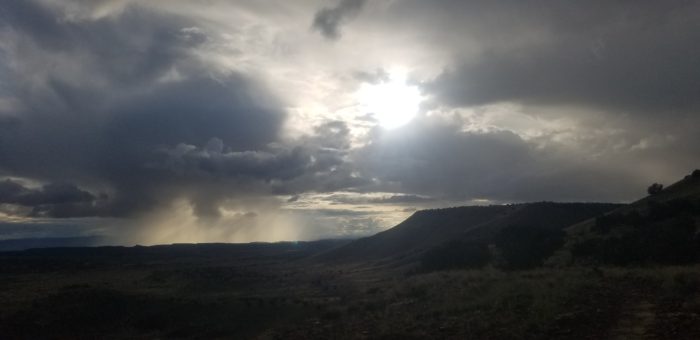 CDT Day 93

It rains a bit during the night, but nothing crazy. The morning isn't too cold either which is nice. I find a water cache, so thankful for this in the desert.
I climb up on a plateau and omg, how is this real life.
It just keeps getting better and better.
There's always something cool to stumble upon in the desert.
I climb through canyons.
Then have to ford a big muddy wash.
I'm crossing barefoot and when I close my eyes I can almost pretend I'm in the ocean with the cold water rushing around my legs and sand in my toes. A chocolate milk ocean that is.
I find a cow trough midday to get some tasty water out of and the sun even comes out enough for me to dry my gear out a bit. But then the clouds darken and I run around to collect everything in case the storm breaks loose. One thing I've learned about the desert is it can go from a nice day to a straight downpour in literally one second. I climb up another big plateau and the views are even better.
Now that I'm off the desert floor I'm back in the high desert complete with trees and all.
I cruise through the rest of the day, jumping with the random thunder claps, but I stay dry. I have to go half a mile off trail to get water at one point, but being thirsty ain't too fun either. This is the first day on the entire CDT that I haven't seen another human. I don't see a ton of thru-hikers, but I usually at least see hunter, day-hiker, or someone when I'm crossing a road. The desert is always the quietest place. I walk 'til dark and find a tree to set up under. The sky looks like a Halloween movie set, especially with the nearly full moon parting the clouds every so often, so I'm sure it will be a wet one tonight.
CDT Day 94

Wake up to the patter of rain on my tent. It's early morning. Too early to get up. I wait til I can see some light in the sky and luckily the rain is just dropping random drops now so it's easier to pack up. I can tell by the looks of the sky it is not going to clear up today. But the rain is light and with all my layers on I stay warm. The trail is just straight mud by this point though, so I basically spend the entire day meandering around the road and trail trying to find any grip I can.
It's mostly pointless, I pretty much slide around all day. And turn into a mess myself.
After a long morning road walk, I switch onto the trail which goes up and down every canyon and hill.
I find an aspen grove which I haven't seen in a few days.
I am supposedly going around Mt. Taylor today, but the fog never lets up for me to even get a glimpse of it. Oh well, guess that's a good reason to come back and climb it someday!
I find some odd things to see in the middle of nowhere. I always find the weirdest things in the desert.
It gets pretty chilly in the late afternoon since I'm wet and hiking up towards 10,000 feet.
I find the driest place possible to set up my tent which is basically impossible. The whole forest is soaked. And my tent and sleeping bag are wet too since the sun never came out to dry them out today. Oh well, I'll survive. I usually have extra food than I need, but I must have skimped on shopping this time because I am down to rationing my last meals. Luckily I will be in town midday tomorrow. I'm already dreaming of all I will eat. I make tea to warm up and help me pretend I am consuming more than I am. I've been carrying around an "emergency" shot of Fireball whiskey I found in a hikerbox in Colorado, waiting for a cold night when I needed it. Since this will hopefully be the last rainy day for awhile, I decide this is a good enough reason to celebrate. Honey chai tea and Fireball… oh wow, a pretty tasty cinnamon concoction if I do say so myself. Definitely warms me right up.
Affiliate Disclosure
This website contains affiliate links, which means The Trek may receive a percentage of any product or service you purchase using the links in the articles or advertisements. The buyer pays the same price as they would otherwise, and your purchase helps to support The Trek's ongoing goal to serve you quality backpacking advice and information. Thanks for your support!
To learn more, please visit the About This Site page.