South Dakota Centennial Trail Days 4 & 5
Day 4
After using water to make breakfast, we had less than a liter each for the seven mile hike to Lake Sheridan. Not ideal, as it was a warm day, but we powered through. I got lost in the multitude of wildflowers, colorful butterflies, and fantastic ridge views. Jenessa pointed out a white-spotted red mushroom just emerging from the ground.
We got to Lake Sheridan just before noon and excitedly filtered a couple liters of water to quench our thirst. Then we walked along the lake shore until we found a great spot at the water's edge. Brendan and Jenessa went swimming and I waded in to rinse off my lower legs and feet. We ate lunch and played two card games. It actually got a little chilly (which felt nice) as the sky clouded up shortly after our arrival. At one point it rained hard and I watched the water bounce up from the surface of the lake. All the while we were filtering 4-liter bags of water. It was a rejuvenating break!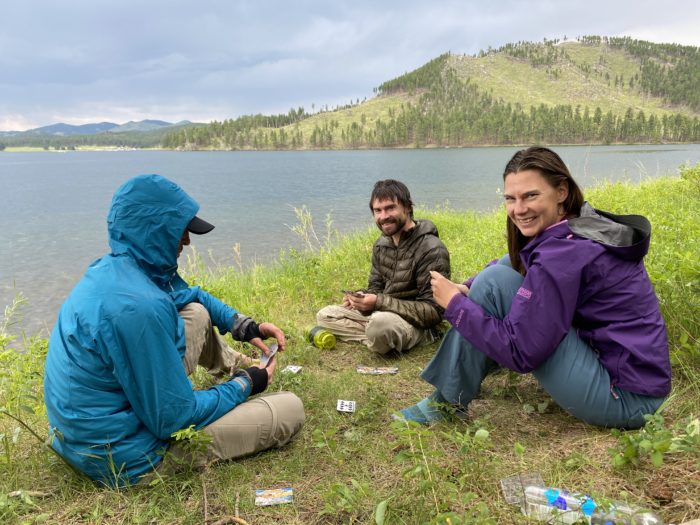 Once we were hydrated and had four liters apiece, we set off to get more miles in and intentionally dry camp. At the end of Lake Sheridan, we walked across a grass-covered earthen dam wall. It ended in a stone stairway that led to a wooden bridge, which crossed the dam's outlet stream. While approaching we saw a couple people dive off the nearby cliffs into the water below. Soon we were walking old logging roads and the miles went by easily.
This is one of the best maintained trails I have been on, though it seems under utilized. The trail marking is frequent, with arrow or extra markers at turns. At one point, we came to a newly constructed road that obstructed the trail with a huge earthen wall. A tunnel of pre-cast concrete had been built in for our access and orange barriers directed us to it. So considerate!

Day 5
We started walking amidst pines, transitioned to rolling pastoral hills where cows roamed, went back into a pine forest, along a road, and then into a humid jungle of plants. Really, humid, though prior to our trek all of us pictured South Dakota as having dry heat like Colorado.When the morning ended we found ourselves at Tamarack trailhead and a wide, icy cold creek. It was the perfect spot for lunch, card games, and water filtering. Mike dunked himself in the creek and Brendan took a quick swim. Jenessa and I did laundry. The day was hot so it felt very refreshing.
I felt a sudden tiredness come on while we were playing cards. I haven't had a good night's sleep yet and it is catching up. Back on the trail, I walked through a patch of brush that made me itchy, my pack started squeaking, and my shoe had a rock. I stopped briefly to adjust the physical items and remind myself that I can choose my attitude. A few minutes later and I was walking along filled with excitement and joy.
The next section of trail was a bit funky. We climbed up & up until we could see Pactola Reservoir in the distance, then curved right back the way we came. Pretty soon we came upon Hwy 385, found a gap in traffic, and darted across. I felt like a deer trying to get back to the woods. Then the trail took us near an inlet of the reservoir where boats were lined up at dock.
Our end goal was Deer Creek trailhead. It contained Brendan's car and our resupply. As we got closer, I was thinking about the bag of potato chips that I saw Jenessa slide into the resupply box. However, we kept walking and were soon past our destination with the trail continuing upward. The map showed the trailhead directly on the trail, but it had apparently been re-routed. We came up with a plan, Brendan and Jenessa would walk down an old logging road back to the car. Meanwhile, Mike and I would speed walk to Pilot Knob another three miles up the trail.
The rendezvous worked exactly as planned. The car team picked out an excellent campsite and filled our extra water bladders at a campground on their drive over. We excitedly sorted through our resupply food and ate potato chips (turned out Mike also put chips in the resupply). We ended our day at 70 miles so our new goal is to finish the trail in nine days.
Affiliate Disclosure
This website contains affiliate links, which means The Trek may receive a percentage of any product or service you purchase using the links in the articles or advertisements. The buyer pays the same price as they would otherwise, and your purchase helps to support The Trek's ongoing goal to serve you quality backpacking advice and information. Thanks for your support!
To learn more, please visit the About This Site page.