Change of Plans?
Seesaws 
I'm riding a proverbial seesaw and I don't like it. My plans to thru hike the Long Trail in Vermont this summer are currently up in the air (upgraded from cancelled altogether).  What changed, you may ask? Let me explain what I've been up to the past two weeks.
The Original Plan
Everything was going to plan.  I had begun making major gains in my workout regime, putting in two workouts a day, five days a week, and one hike on the weekends as I approached April break. Over the course of my week off, I had planned on completing several day hikes in a row to test out my endurance and tweak my exercise routine as needed.  I also planned on testing out my tent, sleeping bag, and pad in my mom's backyard (exciting, I know).  All of those plans came to a screeching halt, though, one day into vacation.
My Trail Name Strikes, Again
On the first day of break I headed out in soupy weather to hike some local peaks.  I had my whole trip mapped out, planned on hitting up nine peaks and hiking around twelve miles as a loop.  I've hiked in less than ideal conditions before, but wanted to start mentally preparing myself for hiking in bad weather (I knew I'd be facing it on the LT).
The day started out per the usual, the first hour of my hike took me over summit number one, away from the only two people I saw all day, and deeper into the foggy abyss.  The trails I had planned on taking were new to me, but easy to follow and I continued making progress.  Mile after mile, and summit after summit went by.  The familiar feeling of my legs taking step after step, as if on auto pilot kicked in (trail legs are a wonderful thing) and before I knew it I was about halfway done with my hike.
The Turn
The weather had begun to become progressively more foggy as the day continued and I found myself feeling as though I was looking through cheesecloth as I sloshed along on the trail.  Many times I've read that the hardest part of thru hiking is the mental toll it takes versus the physical.  I agree wholeheartedly.
Spending hours alone in the woods with nothing but your own thoughts is a dangerous thing sometimes.  But I had started down a path in my mind and the chances of emerging unscathed was becoming more and more unlikely.
Questions began popping up in my head:
Am I strong enough to spend hours alone with nobody to talk to?
Could I sleep alone in the woods?
Was I strong enough, mentally?
And those questions started turning into statements:
I can't do this, I'm not strong enough.
I won't see my husband for a month!
I will be all alone in the woods for a whole month without interacting with another human being!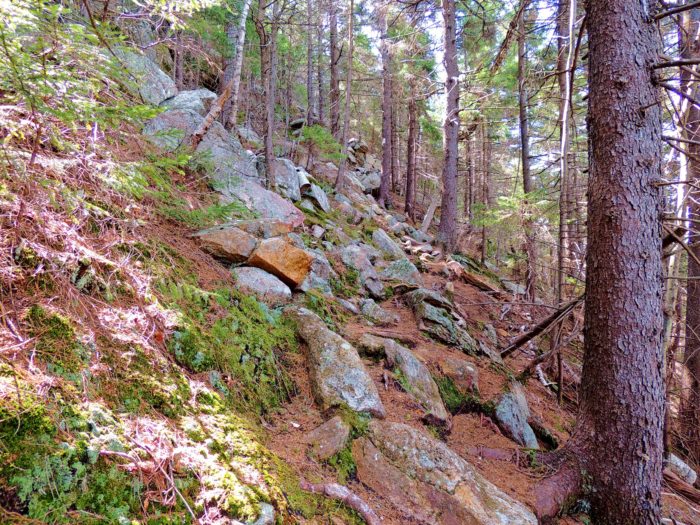 What's Next?
The result of that less than ideal hiking experience was me calling my husband to come pick me up and vowing that thru hiking wasn't for me; that I didn't want to do it anymore.  I couldn't do it, I wasn't strong enough.  I needed another person to go with, or I wasn't going at all.  Period.  End of story.  His response was that he supported me 100%, whatever I chose to do.
So what's next?  As the days progressed, I put thru hiking into the back of my mind, and I felt OK(ish).  I went on several other hikes over April vacation and they were all spectacular (not all sunny, but still fun).  And then I had to break the news to my mother and coworkers that my thru hike was already cancelled. That was really hard.  I felt like a failure.  I felt really weak.
I've started planning a lot of local hikes for the upcoming summer and I plan on doing some overnights (not alone) as well.  And now, a week and a half after deciding that thru hiking isn't for me, I'm willing to watch the LT Q&A session and find out what previous LT thru hikers have to say regarding their hike. What advice do they have for future thru hikers?
I don't know if I will end up thru hiking the LT this summer, next summer, or not at all. I'm taking baby steps, though, and have determined that I do need someone to hike with if/when I attempt to thru hike in the future.  I'm still having a difficult time accepting the fact that I'm not mentally strong enough to spend an extended amount of time alone in the woods, but I'm working on that, too.
As I take baby steps towards the possibility of thru hiking in the future, this keeps rolling over and over in my spirit:
"Feel the fear, and do it anyway." – Jeffers
Affiliate Disclosure
This website contains affiliate links, which means The Trek may receive a percentage of any product or service you purchase using the links in the articles or advertisements. The buyer pays the same price as they would otherwise, and your purchase helps to support The Trek's ongoing goal to serve you quality backpacking advice and information. Thanks for your support!
To learn more, please visit the About This Site page.