Colorado Trail Segments 4-5: The Bail
I capped off three straight weekends of CT section hiking with something of a grand finale: two sections of trail, more than 30 miles, over four days. At least, that was the plan. Things did not go according to plan.
The Stats
Segments: 4, 5
Endpoints: FS-560 Wellington Lake Road/Rolling Creek Trailhead to Kenosha Pass (but not really)
Miles: 31.2 (but not really)
Type: backpacking
The Journey
On Friday afternoon, Alex and I got on the road midafternoon in an attempt to beat the weekend traffic and get a head start on car shuttling. After leaving Alex's car at Kenosha Pass and driving mine to Rolling Creek Trailhead (the start of Segment 4), we set off. We hiked about 4.5 miles,taking advantage of as much daylight as we could before stopping to camp. 
The trail and area was quiet despite the holiday weekend; we passed one other group at the Lost Creek Wilderness boundary and had one group of camp neighbors. Having started late and hiking until nearly sunset, we had chores to do before bed: filter water, find a place to hang the bear bag, hang said bear bag, eat dinner, and set up the tent, sleeping pads, and bags. After that, we went straight to bed.
We knew some weather was approaching on Sunday and Monday so, influenced by talking to our camp neighbors, decided to go for more miles on Saturday to shorten up the latter days. We got going by 8 a.m., starting off the first two miles with a tough climb. From there, we gradually walked down out of the forest and into the long valley meadow that somewhat defines Segment 4. The day was warm and sunny, nothing hinting at the colder temperatures and precipitation in the forecast. We passed several groups throughout the day, but everyone was headed in the other direction, which was only slightly ominous.
The meadow has a saddle shape from end to end; as we'd walked downhill into it, we eventually started a gradual slope back upward. At the top, the trail briefly re-enters the trees and then passes through a gate that marks the end of the meadow. From there, the trail heads down through forested switchbacks.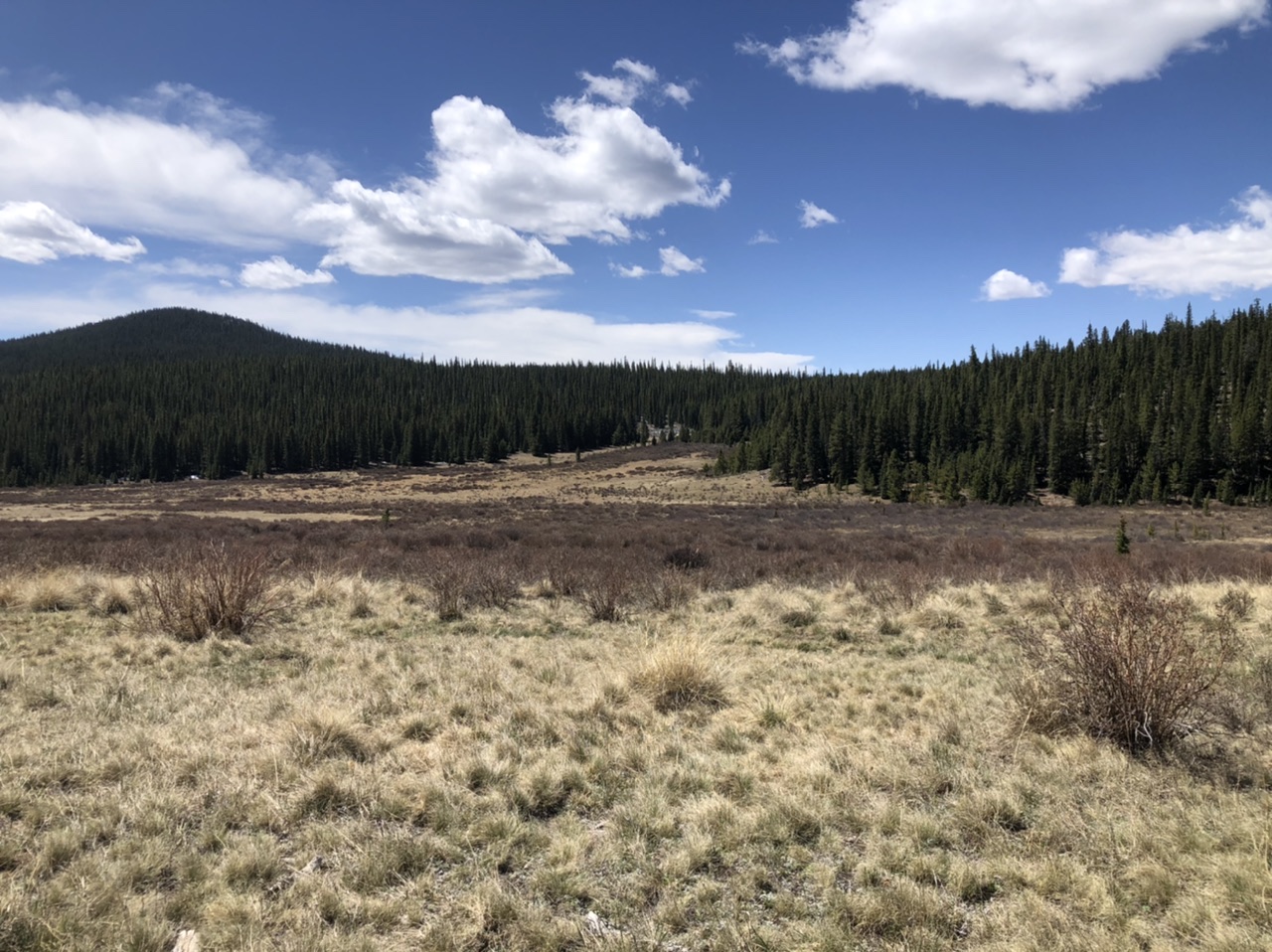 At this point in the day, we were tired and sore. If you've read my previous posts, you know that Alex is not a huge lover of big-mile days. Once we arrived at Long Gulch, the beginning of Segment 5, we dropped our stuff and refueled. We had originally planned to camp here, but since it was only 2 p.m. we knew we would push farther. That would give us the option to finish Segment 5 on Sunday rather than Monday-desirable with the cold rain that was predicted to arrive. 
A few groups headed off in the same direction, but after hiking another three miles to another creek-side campsite, we had the whole area to ourselves. Unlike the previous day, we had plenty of daylight to set up camp. We went to bed pretty much right after sunset, with various strategies for packing up depending on whether or not it was raining when we woke up.
Thankfully, it wasn't raining when we awoke. But it did start snowing, which I think was more pleasant to actually deal with, but more mentally concerning considering what we knew about the coming weather. While we understood prior to the hike that late May in the mountains is by no means summertime, hiking through the snow we hadn't really expected reminded us that late May in the mountains can just as likely mean winter as spring. 
Right past our campsite, we hit the infamous (at the time) blowdown—a couple of miles where fallen trees almost completely obscured the trail. Trail crews, due to the virus, hadn't yet been able to work on the section. Luckily the wayfinding was not as difficult as we'd predicted, with the help of Guthook and following others' tracks.
The trail leaves the forest again for a more open hillside that normally starts to present hikers with some impressive views, but today was obscured by fog and snow. I knew early in the day I wanted to push all the way to Kenosha that day, but wasn't sure it would happen given Alex's soreness and the predicted afternoon thunderstorms. 
Midmorning, we saw a couple hiking in the same direction as us and leapfrogged with them a few times. They had planned to hike Segments 5-2 but bailed when their baby (a true baby! The youngest backpacker I've ever seen) got altitude sickness on top of the poor weather. They gave us the scoop on the last seven miles we all had to trek to Kenosha, which they'd hiked the day before—a mix of exposed and sheltered, not ideal for thunderstorm weather. Morale, already low, started to decline further.
When it started hailing at the top of a rise, morale plummeted. We took a break, finding shelter under some trees, and discussed our options. We decided we needed to hike as much as possible during any clear (read: non-hailing or lightning) spots and pause for shelter when necessary. But, as we rounded a bend, we saw a completely unexpected sight: a trailhead, with a single car, that our compatriot hiking couple plus baby was getting into. I was immediately crestfallen, knowing our only company had convinced the sane bikers who were headed back for civilization to ferry them back to their car at Kenosha. 
Alex and I tried to brace ourselves for the hike ahead, and since the hail had stopped, prepared to kick into high gear to make the most of the weather window. Just as we stepped back onto the trail across the road, one of the hikers called out to us and said he would come back for us if we waited at the trailhead. We instantly said yes, and they drove off.
Pretty quickly, we realized the added precariousness of our situation. We were overjoyed by the thought of someone driving us back to our car and being warm and dry at home in just a few hours. Yet we'd forgotten to get the hiker's phone number. We didn't expect them to abandon us, but would have no actual way of knowing if they were on their way for us. Mostly, we were concerned about the weather—at the time it was decent hiking weather, but if for any reason they couldn't get back to reach us, we wouldn't know until the thunderstorms had set in. We picked a "keep hiking" time, and hoped for the best.
Not long after, a car rolled into the parking lot and we were saved! Our wonderful fellow backpackers had returned after all. As we drove back down the bumpy dirt road to Kenosha, the sky darkened, thunder rumbled, and snow flurried, making us enormously thankful for having the opportunity to bail on our plans.
The Rest of 5
Since we'd bailed at a trailhead along the trail, it was simple to go back to Segment 5 a couple weeks later and finish up the rest of the segment we'd missed as a day hike. I brought Taylor (meet Taylor: good friend and hydrology extraordinaire) to introduce her to the joys of car shuttling and tried to convey the misery of our bail while hiking toward Kenosha, this time under warm and sunny skies. 
We also performed our first act of trail magic, if you can call it that. We drove an early-season thru-hiker down to Jefferson for his first resupply and it was fun to talk to a Triple Crowner, if only for a few minutes! 
The Gear
Sleep System
NEMO Hornet 2p: A lightweight backpacking tent! If you read my Segment 1 experience, you'll know this tent is new to my gear list. I browsed a lot of different tents and landed on this one because it seemed lightweight enough for one person to carry, but could also squeeze two people inside if I ever convince Alex to backpack with me again. Squeeze us it did. This tent tapers from the head to the feet so our sleeping pads were nearly on top of each other at the foot end. It also requires a rather precise setup, in my opinion; the anchors in each corner don't lend themselves to a flat tent floor. Not a huge deal necessarily. Also, the side extenders can only be used when the fly is on, and those little do-dads are actually pretty handy. As you just read, it was practically winter for this test run, so we had the fly on. But it would be a bummer midsummer.
Big Agnes Insulated Q-Core SL: Every time I'm halfway into blowing this up, I swear it always went faster the previous time.
Klymit KSB 20 Down Sleeping Bag: My lovable, bulky bag. It kept me warm in the 30s overnight.
Packs and Poles
Osprey Aura AG 65: Attention! I finally started a journey toward getting my first-ever backpacking backpack that was not made for my 11-foot-tall brother. I really wanted to love this pack, and compared to my aforementioned horrible one, it was a great improvement. But the frame around the hip pads really dug into my hip bones. But I loved the ability to look straight ahead and even upward, rather than directly at the ground.
Gregory Jade 63: The alternate pack I tested out when completing Segment 5 with Taylor. I brought most but not all of my backpacking gear to make sure I was testing a full pack, but just didn't love this one enough to keep it either. The hip pads were more comfortable to me than the Aura, but it didn't fit my sleeping bag as well. The shoulder straps also dug in a bit.
Hiking Poles: One of my poles has its rubber cover, but I lost the other one. I have not done anything about it for approximately three years.
Cooking
Jet Boil MiniMo
Sawyer Squeeze filter
Ursack Major XL Bear Bag + rope
Other Stuff
Kahtoola Microspikes: Brought them again, didn't need them again. 
Affiliate Disclosure
This website contains affiliate links, which means The Trek may receive a percentage of any product or service you purchase using the links in the articles or advertisements. The buyer pays the same price as they would otherwise, and your purchase helps to support The Trek's ongoing goal to serve you quality backpacking advice and information. Thanks for your support!
To learn more, please visit the About This Site page.