Connecting All the Dots: Completing My 4 Year Odyssey on the AT
At last. Time to get my final, triumphant fix of the AT and, as a friend later said, "put a lid on it."
As you might recall, I am primarily a solo section hiker. However, this year I especially wanted my husband, Shorttimer, to join me during the grand conclusion of the AT, notably the 100 Mile Wilderness and the final ascent (and descent) of Katahdin. We also welcomed two of his cycling buddies, Jagdish and Fred.
It felt otherworldish for me to see these three guys climb out of the shuttle from the Bangor airport and join me at Shaws' Hiker Hostel in Monson, bringing suburban Ohio to the wilds of Maine. But I knew they were all fit and trained. Well, as trained as you can be for what Maine trails have to throw at you.
Day 1 WTF*: The Day the Guys Were Formally Initiated into the "Victims of the Sadistic Society of Trails of Maine"
*With the Fellows
Backpacks were ready with three days' worth of food and spirits were high as we headed into the forest for 10 days away from all towns. 
At first, the trail played nice, as the cushiony flat trail flowed deceptively through the mossy, misty forest. They were charmed. Dopamine flowed freely.

But then, coming around a bend, they came to their first minor challenge: rocks that needed climbing. Welcome to Maine, boys. And the trail, in its infinite generosity, just kept on giving the rest of the day. The worst were the inclined slabs of slate I had been dealing with my previous week, which, when wet (as in always) were slippier than, shall we say, nasal secretions on a doorknob.
But all good (?) things must come to an end. After nine eye-opening and leg-challenging miles, we decided to call it a day a mile before the planned shelter/lean-to (as called in Maine), due to the proximity of a stream and nice flat spots for our tents.
Even with a light rain falling, we enjoyed our first evening on the trail together, collecting and filtering our water from the river.
The day had been taxing, though. Snores were heard from one tent by 6 pm. Not mine, just saying.
Day 2 WTF: The Day We Hauled Extra Water Needlessly
Perhaps it was an omen when I awoke at 2:30 am because of rocks and roots (henceforth designated as R&R) under my sleeping pad and felt like I never went back to sleep. The rest of the day was subsequently filled with R&R. But why surprised, Ruthless? What state are you in? Denial?
Midday, we came to a sign indicating trail magic (often free food) just .2 mile down an intersecting dirt road. Three of us were interested, but Bill thought more highly of an unexpected nap break, so he reclined and babysat one of our backpacks as his pillow by the trail.
The .2 felt a bit longer than stated, but we were rewarded by a rustic "camp" (cabin, in Maineglish) where Birdman continued the tradition of food for backpackers, started by a now passed friend. One of us ate heartily of the meat and snack food choices (last night's snorer, but I'm not naming names here, folks), and two of us gratefully went straight for the grilled corn on the cob and raw veggies.
Birdman warned us about no water being available on the top of the next big mountain, exactly where tonight's lean-to was located. I had already been warned by a representative of the Appalachian Trail Conservancy of other dry sources, so I took this seriously. So, at the last reliable water source, we loaded up with enough water to hopefully get us through the next 24 hours.
With these extra pounds in our backpacks, we continued onward and upward, as the trail presented more of its own special varieties of experiences…
…streams to cross….
…mountains to climb…
…and all the usual R&R's.
We finally came to the blue-blazed side trail to our lean-to, an added half mile down tricky rocks. Not fair! And was there water? Well, yes, of course Cloud Pond was plenty full. All that needless extra weight we hauled uphill! That's the last time I plan on following the advice of someone who has no knowledge of present trail conditions.
Tents were set up within view of the large, water-filled lake, dinners were eaten, phototaking was completely forgotten, and sleep was soon enjoyed.
Day 3 WTF: The Day Fred Stuck to the Plan and Three of Us Went Rogue
The plan was to hike 11 tough miles over several mountains, then descend down a very steep, gnarly rock scramble to arrive at our next destination, a rustic cabin booked at the Appalachian Mountain Club Gorman Chairback Lodge. However, after hearing from other RELIABLE hikers (lesson learned) that the gnarly part was truly gnarly, I recommended to my three fellows that we take an alternate side trail down to the lodge just before the worst part. My right knee and shin had been swollen and painful for two weeks, and ultimately getting to Katahdin mattered much more to me than risking it on this one short stretch of trail.
However, Fred felt strongly that he needed to take on this solo challenge. So off he headed to get an early start on what promised to be a hot and taxing day. I thought of him often during the day, wondering how it was going.
Meanwhile, we three still had plenty of the AT to negotiate, as it dished out its final good sized mountains before reaching Katahdin 70 miles away.
Eventually we came to the turnoff for the AMC lodge. I had enjoyed this place so much two years ago when staying on my own in the bunkhouse while my friend Freeman was getting through the 100 Mile Wilderness.
We quickly demoted our cute little rustic cabin to tenement status by hanging out hand washed clothes and airing out camping gear. When a tired Fred rolled in, he completed the picture by pitching his tent on the cabin's front porch for comfortable sleeping on an unusually warm night.
I was so happy that Bill enjoyed this retreat as much as I did. We took advantage of our afternoon break from hiking by kayaking,
swimming, and sitting by the still waters, listening to the loons' calls and watching the stars appear in this designated Dark Sky zone.
Day 4 WTF: The Day We All Got Drenched
Heading out with our packs filled with three more days' worth of food, thanks to a planned supply drop by Shaws', the trail quite naturally headed uphill. What happened to this "easy part" in the Wilderness that I had heard about?
The skies were dark and soon we were scrambling for our rain gear as the clouds suddenly dumped their contents.
We had been lucky so far with the weather, but the trail isn't "the green tunnel" for lack of precipitation. Luckily, it soon let up and skies were blue.
It was nice to be a complete gang of four again. Because the fellows were moving along well, were good at following the trail and had the same navigational app as I do, we worked out a good system of hiking as pairs or on our own, with me sweeping the course, to be sure all were well.
We met up at a predesignated shelter, river or lakeside location for lunch…
and later at our sheltering place for the night.
We were thankfully beginning to see subtle differences in the trail, with much less of the Super Slippery Slabs o' Slate which had been so dangerous.
We were running into other backpackers who had been at my pace and daily mileage the previous weeks, as well as others. One was Marmot, a little woman in her early 70's who has a surprisingly huge resume of long distance trails she has backpacked completely: AT, PCT, CDT, Colorado Trail, Arizona Trail, to name a few, and keeps on hiking, slowly and surely. I really learned a lot of info during my short time hiking with her.
We got into our campground by 3 pm, which gave Jag time to play with fire and Fred time off his feet to nurse his painful blisters, which had begun a few days earlier.
Day 5 WTF: The Day of Countless Stone Steps
Hurray for all the amazing trail maintainers who do so much to keep this trail possible and passable!In place of those awful Slabs o' Slate, there were now literally hundreds of stone steps painstakingly set in place, with other smaller stones lining each side to keep the errant hikers actually on the steps, not contributing to erosion of the trail by tramping down the sides of the trail. I'll take steps any day.
When on my own a few weeks earlier, I got to talk with 2 different groups of maintainers: a group of women building water bars to redirect rainwater off the trail…
…and a group of men laying basically a cobblestone pathway in a frequently muddy section, with branches along the sides, to indicate to the exhausted, brain-dead hikers, "On the stones, folks!"
Following the stones theme, the lean-to in whose grounds we camped had lots of huge boulders, between which we fit our tents. I really enjoy the various settings we've had during all these nights of camping.
Also at this shelter was a new privy, complete with a ramp for the handicapped. Very nice inclusion, but please tell me how a wheelchair would get even get between the lean-to and the privy?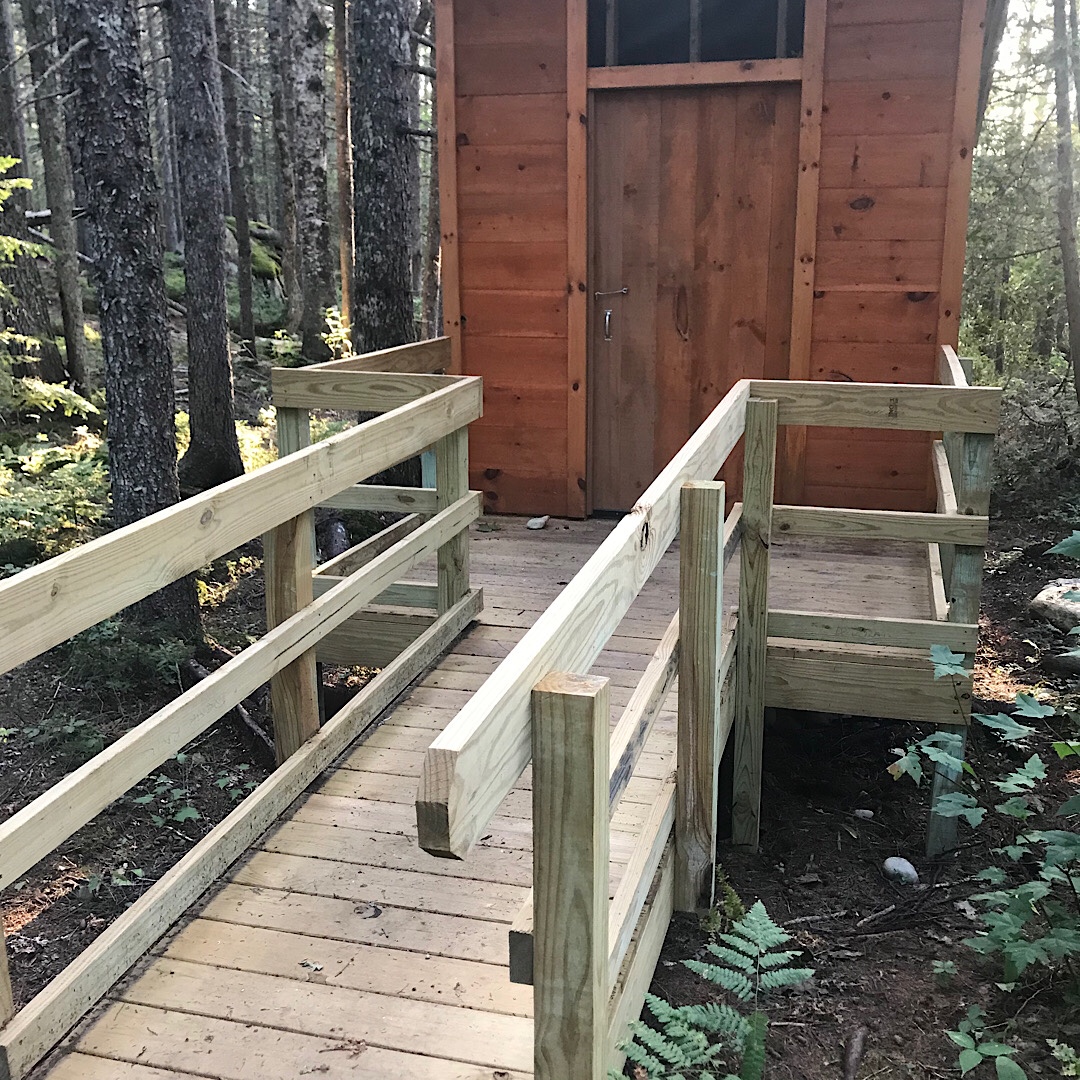 Day 6 WTF: The Day We Lost One of the Fellows
This day started out in a similar fashion to the others, with Fred and Jag out front and Bill and me in the rear. Fred left earlier to move at his own pace and to have time to enjoy a beach on a lake we would pass by. We were able to spend a few minutes with both of the guys there before moving on.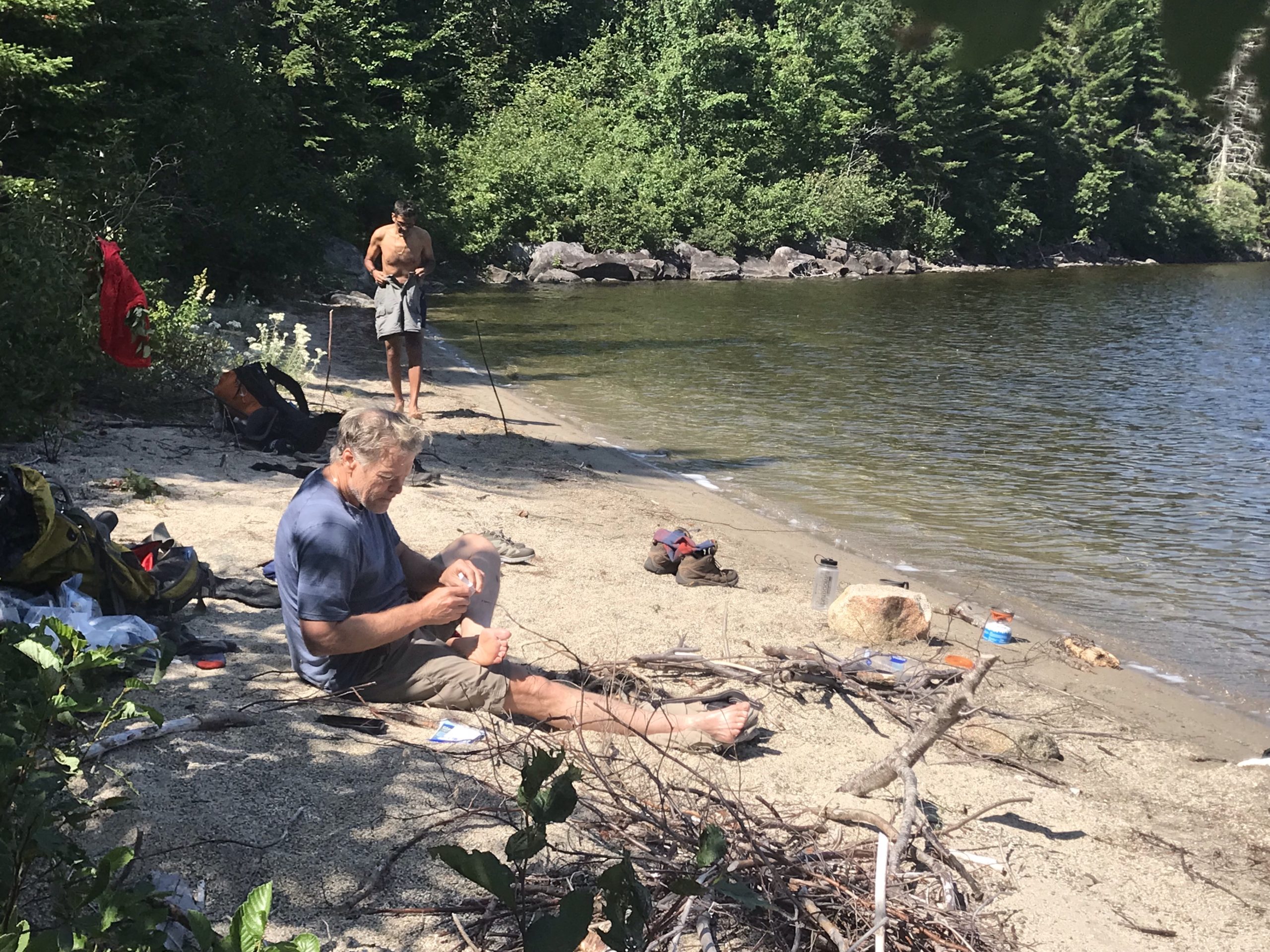 We had a second food drop from Shaws' planned for 4 pm where a dirt logging road crossed the AT, and I didn't want to make the driver have to wait for us to show up. Jag and I put it into high gear after our lunch stop to get there on time. Lucky we got there half an hour early. The driver had been told to arrive at 3:00, not 4:00. We gratefully took our heavy bin filled with our food for the final 5 days and set up camp in "stealth" sites along a river by the trail and near the road.
Then things really changed. Bill and Fred came soon afterwards, with Fred limping from his blisters which were now near intolerable. He had made the decision that it was time to go home, since five more days remained with ever increasing daily mileage. It was a wise decision on his part, but we really hated to see him go and would miss his liveliness and fun, joking manner.
As we waited for the shuttle driver to return to pick up the food bin and other hikers (and now Fred) going back to Shaws' Hostel, Fred had one more item of business: sharing from his heart as he thanked us for letting him join in this adventure, and, on behalf of himself and Jag, presenting me with a beautiful, custom made gold necklace AT pendant with my initials and the year on the back. I was very moved by his words and the beautiful gift.
With heavy hearts, we waved goodbye as Fred headed back to Monson, and, the next day, home. He had done six days on a part of one of the most challenging trails in the US, and had been a trooper while suffering with foot pain. We'd miss him.
And then there were three… and it was a lot quieter. In the coming days, though, this became our new normal.
Day 7 WTF: The Day We Settled in as a Trio
Jag was really finding his trail legs, so he went on ahead but met us a couple of times, by a lake…
and as usual for lunch. The trail was finally getting easier, with more sections of actual dirt, not quite so much R&R. Well, sometimes.
We all enjoyed sitting in our drinking water source at our shelter that evening. This photo makes me think of a similar scene in the 1986 movie, "Gung Ho," in which a Japanese corporation takes over an American plant and the Japanese take traditional Japanese baths in the local river.
Day 8 WTF: The Day I Was in a Funk
It always happens at some point , either on your own or with a group. We had had enough excitement and exhaustion to last us for a long time. I needed time on my own. I got it by walking and camping more on my own. I was fine the next morning.
Day 9 WTF: The Day We Saw the Light at the End of the Green Tunnel
This was our longest day yet, 15 miles. And the trail was kind. And lovely. Yes, it really was.
We walked along the shores of a huge lake for some time, with our first closeup view of Katahdin, the tallest mountain in Maine…
gorged ourselves on the most blueberries I'd ever seen atop a modest "mountain" that insisted on popping up…
And then, wonder of wonders, we came to a sign that we were now leaving the 100 Mile Wilderness. Amazing!
We would soon be entering Baxter State Park the next day where we would make the final big climb.
Our next stop was the Abol Bridge Campground, a commercial enterprise where we had rented our own little bunkhouse. We soon downgraded the neighborhood as we had at our previous cabin. Our camping was now done. From now on, we would be freshly showered as we climbed into a real bed.
What a location we had this evening, up close and personal with the Big K!
Day 10 WTF: Completing My Journey
Two years ago, I wouldn't have believed this would happen. But it did. The three of us crossed over the foot bridge that entered Baxter State Park, where a ranger explained the complicated procedure a backpacker must go through to have a permit to enter the park to climb Katahdin, as we would do the next day.
With a lot of staticky phone calls from several mountaintops the previous three days, I had managed to secure our lodgings the next two nights, shuttle rides to and from the nearest town (45 minutes away) and entry to the park. It certainly was no walk in the park to get this lined up, but we were good. Whew.
The 10 mile walk into the park was lovely, through birch forests…
…beside cascades that were too tempting to pass by…
The end was coming, the point at which I could connect the final two dots of this journey: where I was finishing all of the trail behind me and where I had started my ascent up Katahdin two years ago. This final mile felt incredibly long in coming, both in years and in time on the clock. It was very emotional for me, more than I expected, as I remembered so many memorable experiences, wonderful people I had met, triumphs and challenges, both physical and emotional. Oh, what a journey!
And then, there we were. Done. Incredible.
And, as I expressed to my Main Squeeze for the past 50 (!) years, I am a solo hiker, but I didn't do this trail on my own. Without his unwavering support, both in words and in action (who do you think mailed all my food boxes to me for 4 summers?), he was with me all the way. I thank you, Shorttimer, from the depths of my heart.
EPILOGUE: Katahdin
Can you believe my nerve, daring to call this majestic, frightening, enticing mammoth an epilogue? But in a way it was. I didn't have to climb it, but I did have to! It was there. I was there. The weather was good. We had the permits. Done deal.
In the interest of space (this blog is already too long), interest (I don't want to lose you, dear readers!) and time (of which I've already spent way too much, not being very adept at technology), I'm going to give you the Cliff Notes
In my opinion, climbing Katahdin at the conclusion of one's completed journey on the AT is like taking a final exam. It basically throws many of the challenges that you have surmounted during the previous nearly 2200 miles within a 5 mile ascent. Buckle up, folks, you've got quite a ride ahead of you:
The usual R&R's…
Boulder after boulder to go around, between or over, ranging in size from shoe box sized to massive….
Rebar to climb…
Those darned slippery slabs…
Scary parts (well, for me!)…
But a glorious alpine plateau awaiting..
And a triumphant finish!
Now go back down. Where's that helicopter that comes with the park permit?
In the spirit of full disclosure, I must admit that, while my ascent was surprisingly fun, the last half of my descent was not fun in the least. For the first time ever, I suffered from dehydration (despite having water and snacks), the world spun before my eyes, and I was weak and tearful.
But once again, you know who was there for me. Reminding me to eat and drink, continually encouraging me and physically placing my feet on boulders and rebar during the steepest parts, Shorttimer was there for me. It took us an hour more than planned, but the shuttle was still waiting for us, as I sank gratefully and apologetically, into my seat.
Done.
Affiliate Disclosure
This website contains affiliate links, which means The Trek may receive a percentage of any product or service you purchase using the links in the articles or advertisements. The buyer pays the same price as they would otherwise, and your purchase helps to support The Trek's ongoing goal to serve you quality backpacking advice and information. Thanks for your support!
To learn more, please visit the About This Site page.
Comments
19
As always, wonderful writing. Congratulations. I will miss you and your trek. Thanks.

Thank you for following my journey. So many ups and downs, in every sense of the words!

And I'm not out of your hair yet. I have one more AT blog to post, after a brief respite from my battles with technology.

Congratulations, loved keeping up with you through your posts. Great writing and photo's…and I never got tired of reading. Looking forward to hiking the AT myself someday.

Thank you for your kind remarks. I love the writing and taking the photos, but it's always a challenge getting everything to come together on the blog. But if I didn't like challenges, I wouldn't have bit off the At. I highly recommend reading "Appalachian Trials" before you do any other advance preparations for a trek. I also suggest you give long distance section hiking some consideration. Doing this, you have a much higher possibility of success. And you can choose when and where you hike each time. As I observe it, thru-hikers are completely worn out and usually nursing injuries by the final quarter of their journey. I want to enjoy the adventure.

Need inspiration? Listen to "I Lived" by One Republic.

Wonderful blog! oh, those crazy huge slabs of rock! What a wonderful journey:) thank you so much for sharing it with us!

Ah yes, those darned slabs, particularly going downhill in the rain. Yikes! Sounds like you too are well acquainted with them.

Ruth, this was a great summary and pictures of the 11 days hiking with you, Bill and Fred. I want to thank you from bottom of my heart giving me the opportunity to hike the last 100 miles (100 miles wildness hike in Maine) of your epic AT adventures.
Going back, I remember taking to Bill after our 6am ride in February, Bill mentioned that he was planning on hiking the last 100 miles of AT with you later in the year. I said I am interested, he said talk to Ruth. I think it was early March when I came and talk to you after one of the early morning bike rides and for some reason you said it was ok to join you guys. Few weeks later Fred showed interest in doing this hike with you and you agreed. You took Fred and I under your wings to get ready for the trip. You put in a lot of time for planning and preparing for the trip. You made it easy for us.
For me me you showed me what I needed, from equipment to food, clothing…. You took us out to Shawnee state part to even do a overnight camping and hiking.
Even this trip was harder then any think I have done, you have introduced me to something I like to do more off.
Again thank you very much.
Regards
Jagdish

Jag, it was a pleasure having you as a part of our little group. Your level head and eagerness to get your pack weight down and do all the training showed me how serious about this you were. True, it's hard to describe in advance the challenges the trail has in store for its backpackers. Photos and words don't do it justice. But you really showed your strength of body and of spirit, even though I know it took effort to adjust to carrying a pack full of food. Sorry I didn't book any Sherpas! 😉

Thank you for joining us. It was great having such good companions.

Congrats mom! Great article as usual.

Thank you, son. We applaud and support your Mediocre Golf Association, race car driving and coaching, you support my adventures. That's what family does. ❤️

Ruth I am happy for you, and the fellows!
What a comeback you made! I have enjoyed following your journey. I also will miss you.
Happy Trails.

Hey, Shocktop! You've been with me a long times! And I'm not done yet. I still have one more AT post to do, and then more trails to follow. I hope you'll continue to follow me. It means a lot.

Ruth:

Congratulations! I've followed your journey for the past couple of years through your journals. I'm glad you persisted in reaching your dream. I hope to follow those footsteps someday on Katahdin. I smiled a little when I saw Fred wearing the same REI blue striped merino shirt that I own. I've been thinking about the journey for 6 years and got to realize a few miles of it in July with my family. This pandemic is making me realize life is short, work is abusive, and I need to realize my dream sooner than later while my body can still handle it. (although, tree roots are rough on the arches of my feet) Thanks for bringing us along on your journey. Best wishes. – Mikeycat

Mikeycat, it's so affirming to see comments from names I recognize from past posts/years. My goal has been to share this adventure in the hopes that it might light the fire for others to take action towards dreams they have long harbored. Ships in the harbor are going nowhere. It's time to put wind in those sails. It doesn't have to be immediately out to the high seas. But getting your ship seaworthy (studying and beginning to purchase gear) and learning navigational skills (researching backpacking through books, podcasts, websites, and from other backpackers) is a good start, along with local hikes on a regular basis.

Life's short, Mikeycat. I can't believe I'll be 70 in15 months. I'm glad I didn't wait. Take action now.

Mikeycat, one more comment re:roots being rough on your feet. Finding the right footwear is vital. I started with trail runners, tried a couple of different styles but got tendonitis with them. Switched to a full hiking boot, the Lowa Renegade, which fits me beautifully, has superb grip on all the slippery surfaces (except that blasted wet slate and wet roots), and protects the bottom of my feet from sharp surfaces. However, if you're eager to put in lots of daily miles, boots do slow you down. But that's fine by me. More time to smell the roses and take their photos.

That said, I'm now considering trying out several trail runners in the near future for different trails. I plan on buying them at REI, with their generous return policy.

Congratulations, Ruthless, on your big accomplishment! It's been a joy following your journey, meeting your on and off – trail friends, and knowing that Shorttimer has been your longtimer, too. The photo of you three on Katahdin with your gold "medal" from Fred was the perfect culmination to your climb. Looking forward to your next adventure, after you get some rest of course.

Congratulations Ruth! I am in awe of your fortitude and commitment to your goal. As always your writing and photography helped us to understand the challenges you've encountered. So glad you've made it home safe and healthy!

Congrats on your finish! Love all of your Katahdin sign pics but the one with you sitting on top of the sign is my favorite! I enjoyed your blog and will miss reading them.

So amazing! So happy for you completing something you've been so incredibly passionate about. I have so much enjoyed reading and hearing about your adventure and pulling inspiration for my own future adventuring. I'm glad you made it home safely with an incredible new compendium of stories to add to the big story of Ruthless!