Continental Divide Trail Thru-Hike Week 13. Deerlodge & Helena National Forests.
Dry Deerlodge
Once again water was scarce but some SOBOs told me of a creek but I managed to miss it. After 18 miles I came to a rotten smelling stagnant creek.  I mixed the H2O+ with tang and couldn't taste any nastiness. After packing out 2 liters I found a flat place to camp.
I hadn't seen any NOBOs for over a week and my feeling of loneliness was high except for the brief encounters with 3 SOBOS and a couple of bicyclists. I met a couple of bikers that were from Seattle. One was a college professor. We chatted about the dangers and wonders of the trail. He feared mountain lions while I was more concerned about grizzleys. We also agreed that it was a blessing to be able to experience nature in all its beauty and brutality. He offered me money but I refused. Now if it had been food? I would have taken it.
Another bicyclist told me about his escape from Iran so we shared a smoke together on the trail while he explained that his family was killed by the government for speaking against it. He was the only survivor of his family. And he came to the U.S. via Mexico and applied for asylum and was granted his request. Or he would have been killed in his home country. He was thankful to live in the USA and was on an adventure to see more of it.
The trail was in great condition. I had heard that there might be blow downs. The fresh sawdust by the trails was the tell tale sign that crews had cleared it. Thanks. I truly hate blown downs.
The good thing about the dryness is that the trail is easier. Not much vegetation to scratch my legs, no bugs, & stable ground.
Stalked by a Bear
I camped at Champion Pass. A historic spot where mines and railroad tunnels burrow through the mountains. When I broke camp in the morning I heard a loud crunch. I thought it was just a tree falling but I spotted movement to the South. After retrieving my bear bag and packing up I hiked North without breakfast. I could see a black mass moving in the trees behind me.
It was a black bear. I was partially relieved that it wasn't a grizzly but rattled that it was following me. Or was it? It would knock over stumps and dig around for bugs or something. All the berries were dried up. Maybe it just happened to be moving in the same direction as me.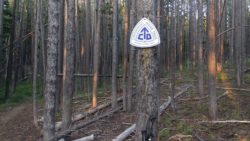 Before long I had to go. The morning stalking was scaring the shit out of me literally. I quickly dug my cat hole and did my business. "Crunch, bang!"
Another stump down by the bear. I cleaned up quick. That was the fastest #2 I'd ever done in the wilderness. My pace increased and after an hour I didn't hear any more from the bear.
Famished I ate and drank breakfast while squatting like a caveman. My ears were tuned to any sounds of the woods. My nose sniffing to the wind, eyes scanning the horizon. I felt like a caveman, smelled like one too. Maybe I'd become one.
Helena National Forest
Coming to the pass to Helena, my niece picked me up. She brought me to her house for a great rest and resupply. Her husband and her have a brewery in town and are quite busy but were happy to have me for the night.
The next day they drove me back with some of thier friends. They seemed impressed at how I just disappear into the wilderness alone on such a long journey.
Back on trail I met pocket rocket (a German woman) and crunch (from Pennsylvania). We leap frogged for a couple of days.  It was nice to finally see some NOBOs even if it was for a few minutes a day. I had slipped into a trail depression being alone so much.
The trail was in great shape and I planned out my water better. By the time I got to the pass for Lincoln Montana I just ran out of food. Perfectly.
The hitch in was tough. It took an hour of waiting then walking toward town. Sometimes I ran. It was all downhill. Finally a semi truck gave me a lift. Crunch shared his hotel with me. I resuppled cleaned up and got drunk & stuffed off of wine and pizza rolls.
Affiliate Disclosure
This website contains affiliate links, which means The Trek may receive a percentage of any product or service you purchase using the links in the articles or advertisements. The buyer pays the same price as they would otherwise, and your purchase helps to support The Trek's ongoing goal to serve you quality backpacking advice and information. Thanks for your support!
To learn more, please visit the About This Site page.