Alternately, Alternates
The first section of Colorado is done. There's still so much snow. The Continental Divide Trail is already a choose your own adventure trail. The official route isn't a continuous footpath so every person makes their own way anyway. There are a lot of alternate routes in this section as the official route is high elevation and sketchy traverses. And with the historic levels of snow this year, the official route is that much more dangerous. I chose an alternate that cuts off a lot of the official route. It brings up the philosophical question of what is a thru-hike for me. I want to stick to the official route as much as I can, but I don't want to do anything unnecessarily reckless or dangerous. Here's how it's going.
Day 56 (Continued)
It was a relaxing zero. Pretty much just watched TV all day. I think we all needed some chill time after the drive down and all the people. Link and Snowcat left to get miles they hadn't done and Hemlock left in the afternoon to push on. Wraps, Caroline, Riley, and I were left and we chilled hard. Went to a saloon just to get out of the room for a bit. Went back and watched a movie on TV before spreading out and falling asleep easily.
Day 57
Got up, packed, and got a ride to the trailhead. I had decided to attempt the official route as the others were doing the Great Divide Mountain Bike Route. It is a lower-elevation alternate that stays off the high peaks. I felt pretty good about going the high route. I had done this section last year so I remembered the route and I felt confident in my self going forward. About four miles in, I took a break and called my dad, as it was Father's Day. Talked to some other people, then pushed on.
Climbing another four miles, I reached a pass that went over 12,000 feet, and I remembered it. I remembered the physical sensations of climbing over that pass. I remember the wind buffeting my body and my pack, being able to reach out and touch the slope with my hand, needing to do that for stability sometimes. As I was stuck in all of those sensations from that pass, and passes I knew I had to climb the next few days, I psyched myself right into a panic attack, which I do really easily with heights.
I was frozen for maybe half an hour. Gathering myself, I looked and saw that I could bail out and circle back and do the Divide Alternate. I decided to take it as it was movement and I couldn't bring myself to move toward that pass. So I started down the side of a mountain to a forest road where I started to question the decision. I was upset that I didn't at least try the pass. But I made the decision I made and came to a campground at a reservoir right next to Cumbres Pass. Right next to where I started this morning.
As I set up camp, some storm clouds rolled in. It made me feel a bit better as I was glad I wasn't up on the Divide in that. But I still went to bed feeling cowardly, foolish, small. Hopefully I don't have to anguish on it too much.
Day 58
It rained through the night. I woke up and gave things time to dry. Plan is to cut down a river from the reservoir to put me four miles into the alternate. Cross-country two miles until the road. Was walking along a valley, I saw a falcon perched on a tree. It cawed at me, wondering what this monkey was doing walking through its valley.
Pushed a bit along the road till I took a break to eat a bit. I also wasn't bushwhacking so I took my pants off and was in shorts mode. Continued on till a stream where I filled up water and ate a bit more; I was pretty hungry today. Got to a town where the alternate turned onto a forest road. No more asphalt!
Stopped at a store to get some snacks and talk to locals. It started getting stormy as I continued on the road. Got rain gear on as I walked into precipitation. Mostly rain with some bits of hail. Also really big flashes of lightning and super-loud thunder. Maybe ten miles away, right over where the official route was. Started to feel better about my decision.
Made it to a campsite and set up in a break in the rain. It's a bit early but the next campsite is in 12 miles with private property in between here and there. And while it's early, it's not 12 more miles early. At least not today.
Day 59
Woke up and got out. The sun was out and it was beautiful hiking. It might be an alternate that walks along forest roads but it still meanders through the Colorado Rocky Mountains. The aspens had leafed out fully and their majestic green paired with the darker greens of the pines for exquisite mountain slopes.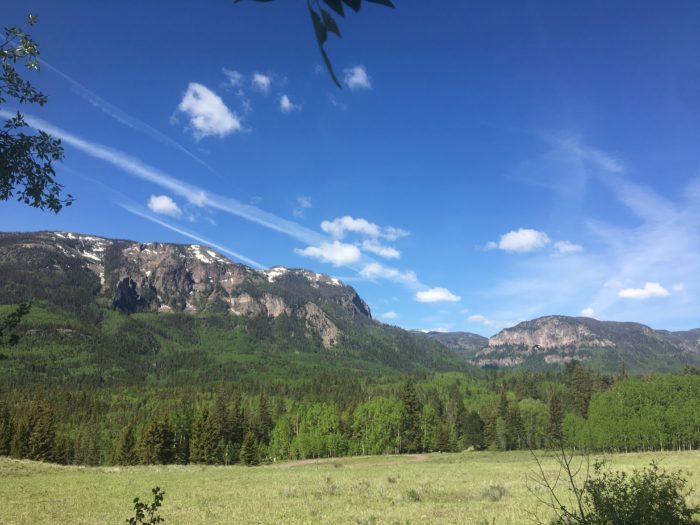 My body felt excellent. The scenery was gorgeous and I was hiking on steady, wide roads. It felt immensely grounding. Even though I wasn't on the peaks of the mountains I was looking at, I knew I had passes to climb in my future. I was more and more OK with being on this road. Grounding my self here in Colorado in these mountains. So that I can take that sense of groundedness and bring it up to those passes. Manifest the groundedness with every step.
My breath kept me almost already on to the next step. I was so excited for the next one, where it would take me. My perspective grew to encompass mountains and clouds when the views were prominent. It could shrink down to a few feet whenever I stopped for water, or food. So I am a perspective shifting, spacetime processor unit. I'm narrowing it down.
Made it to a small town, Platoro, right as some weather came in. There was a lodge that acted as the restaurant, store, and hotel. Big thunder pushed me inside where I had a fantastic burger. Mountain of fries, cups of soda, and a warm cinnamon roll later and I was ready to get back to it. Rain-geared up and pushed back out. The weather broke and came back a few times. Made it to a campsite at the base of a climb. The weather broke but I was exhausted. I decided to let my body rest. Feed and hydrate it and get it some sleep. Which it welcomes readily.
Day 60
Woke up and got out. Pushed up the climb to Elwood Pass. Some folks in a UTV got turned around by snow at the pass. Talked to them and they gave me some food. Got to the snow that turned them around and pushed on. Coming up to the pass I was greeted to a view of the Divide. There was so much snow, so I was more OK with not being up on that trail right now. Checked in with people at the pass as it was the first service for a few days.
Four more miles of snow was a bit tough. My sunglasses had one lens pop out and I lost it. So one lens with that much snow was challenging hiking. As the snow reflects sunlight, sunglasses are pretty essential gear. I ended up wrapping my buff around my open lens. It put pressure on my forehead, combined with constant squinting kind of soured my mood. I didn't really appreciate the surroundings as much, more just wanted to be over and done.
I floated along the afternoon. Felt dream-like. This sense of deja vu, but it was more encompassing. I feel like I've always been hiking this trail, and always will be to some extent. Made it to a spot four miles before the road. Gonna rest, get into Pagosa Springs in the morning, and meet an old friend.
Affiliate Disclosure
This website contains affiliate links, which means The Trek may receive a percentage of any product or service you purchase using the links in the articles or advertisements. The buyer pays the same price as they would otherwise, and your purchase helps to support The Trek's ongoing goal to serve you quality backpacking advice and information. Thanks for your support!
To learn more, please visit the About This Site page.