Broken By The PCT
The PCT was the first of the three Triple Crown trails I'd vowed to hike by the time I was 65. I expected to finish in peak physical condition and be in the best shape my 63-year-young body could attain. But instead of building me up, the PCT tore me down.
Broken
I came off the PCT last September hurt and broken. My legs were stiff, my left knee creaked, and my feet were sore.
I'd lost more than 25 pounds and was disturbingly thin. I'd gone from being a greenhorn plodding across the California desert, to a svelte and toned über-hiker scaling the high Sierras, to an emaciated camp inmate. By the time I came out at Hart's Pass, stopped by fire and smoke 30 miles short of Canada, I was hurting bad. My one consolation was that I'd hiked the Washington State section from the Columbia to Canada in 2018 (that's the photo above). So I could still claim victory.
But my body was played out. Exhausted. I felt old again.
Coming Home
Riding Amtrak's Empire Builder back to Minnesota, I was so grateful to be sitting and doing nothing for hours on end. I spent the 38 hours from Wenatchee to St. Paul drifting in and out of sleep, gorging on leftover trail food, and watching the endless prairie slide by. It was such a relief.
I'd expected to bounce back after getting home to Wisconsin, but a month after my return I was still in rough shape. I was tired most days, my legs were stiff, and they ached on the long walks.
The whole point of retiring early was to hike the Triple Crown before my body gave out. I'd seen too many friends and relatives go into physical decline and lose the opportunity to do the things they wanted because of arthritis, cardio-vascular disease, and worse. These are the deficits and declines of aging that happen gradually and then all at once. Like the time in my early 50s when I tore the meniscus in my left knee. All those miles of wear and tear finally bore their dark fruit. Suddenly, I wasn't training for marathons anymore, much less running them.
Coming off the PCT I was deeply concerned that I'd done irreparable damage to my body. Had my aged frame reached a tipping point? Was it too late to complete my hopeful quest? Never mind the Triple Crown, could I even manage the CDT?
The Storm That Follows
I've met others on trail who suffer from chronic depression. For us, thru-hiking is potent medicine. It brings solace and relief and lifts our heads to see the brighter world around us. Despair about the future and regrets about the past are vanquished by the immediate now. The miles attained, the well-earned sweat, and the hardships overcome all nurture a radiant sense of accomplishment that grows daily. Witnessing Nature's beauty, her grace and power, is humbling and awe-inspiring. In the face of this, self-doubts whither into insignificance. One becomes suffused with gratitude and respect, and the dark clouds of melancholy burn away in sunlight.
But when the trail is done, depression can slam back with a vengeance.
A few days after returning to Wisconsin, the exultation of my accomplishment was overtaken by a malevolent thunderhead of despair. My epic journey was done, I was home with my loved ones, and yet nothing had changed. I was the same flawed person. After months of direction and purpose I found myself lost and adrift. I tried to fend it off, but in the end, I could not weather the storm. The cold rain of hopelessness came down and soaked me through and through.
So, I did the one thing that I knew would help.
I went for a hike.
Solace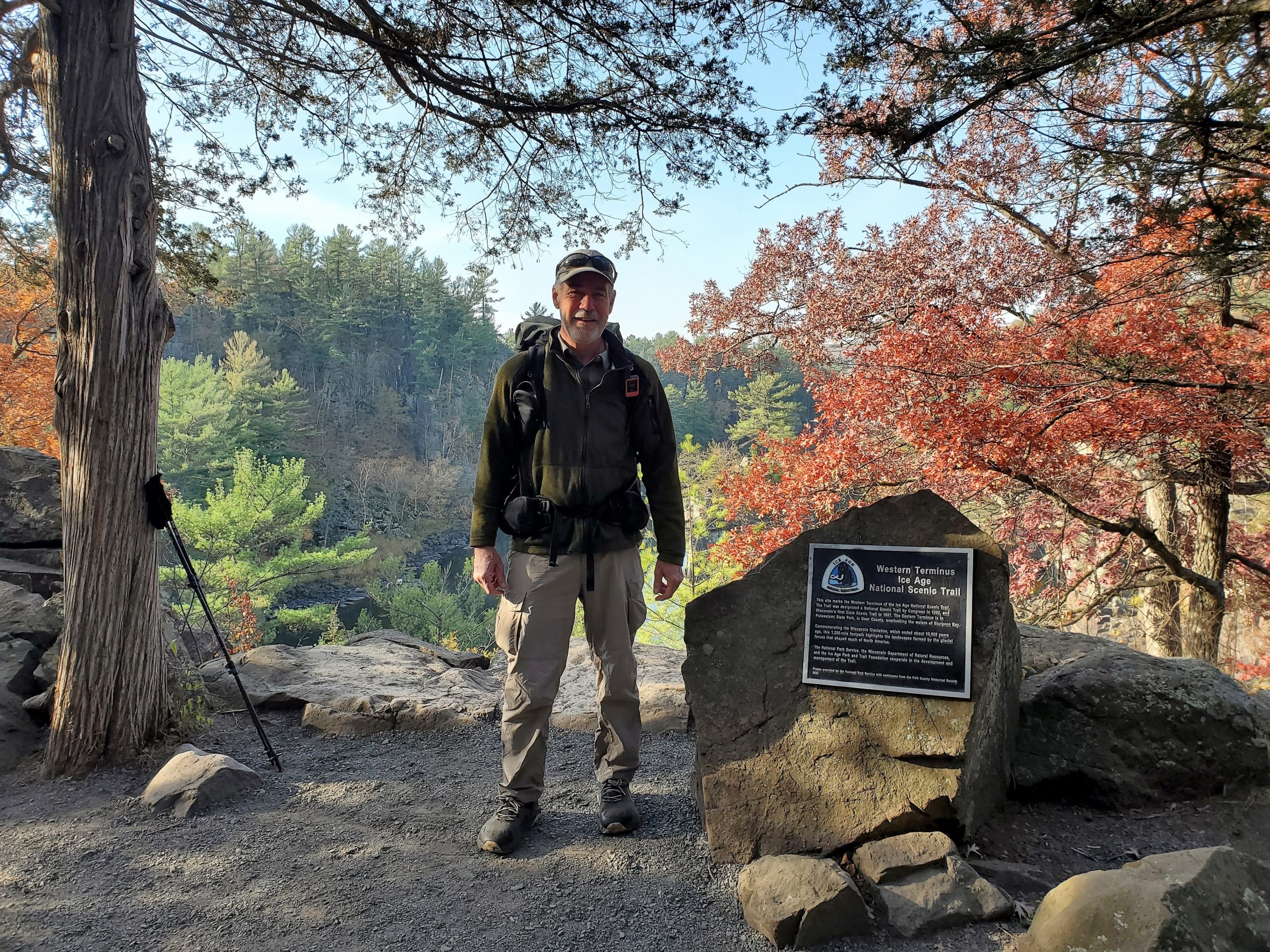 l am fortunate to live in a state with a long trail close by. Wisconsin's Ice Age Trail (IAT) is a 1200-mile route of forest paths, backcountry roads and old railroad beds that snakes east to west across the state. It passes cornfields, beaver ponds, and one-tavern towns, and has a vibe more rural than wild. My hike would cover a 190-mile section starting at the western terminus on the St. Croix River and ending in the small town of Cornell, a 40-minute drive from my home. Though no PCT, it didn't need to be. I just wanted a long trail to hike and the IAT was right there.
It was slow-going at first. My legs felt stiff and clumsy. Fallen leaves obscured the trail's roots and rocks and I stumbled repeatedly. My pack felt ungainly. I was carrying too much food. The kit I'd honed down to bare essentials on the PCT was now overweight, stuffed with warm clothes and a fat sleeping bag to fend off the autumn chill. I was tripping down the trail like a novice.
But the awkwardness didn't last.
Trail's Grace
After 2 days I found my trail legs and stopped fretting about my pack weight. Gradually and gratefully, I let myself be taken up by the trail's rhythm. Up before sunrise, on trail at first light, and putting in my miles with welcome breaks for rest and food. I relished the evening ritual of erecting the tent, preparing my bed, and enjoying a relaxing meal before turning in to write in my journal, and then plunge into restful sleep. This daily structure, the autumn's beauty, and the trail's gentle demands rejuvenated my body and soothed my soul.
I felt stronger. My leg issues receded. The cloud of depression dissipated like morning mist. I found myself living in the gracious present, welcoming each day's gifts. The frosty morning's bite, the wary deer crossing the trail, the chevrons of Canada geese overhead, and long October sunsets. Kicking through fallen leaves I encountered whispers of gratitude like those I'd experienced on the PCT. Thankful for path before me, the friendly towns along the way, and small and simple things, like the way autumn-chilled peanut M&M's crunched delectably in my mouth.
Redemption
My 10 days on the IAT renewed my confidence, quelled my fears, and helped me get stronger. It persuaded me that the CDT was yet within my grasp and reminded me that old age is as much as mental construct as a physical reality. The CDT will be tough of course, perhaps brutally so. But that is as it should be. For are not the rewards sweeter when the way is hard?
If nothing else, I'd learned that on the PCT.
Affiliate Disclosure
This website contains affiliate links, which means The Trek may receive a percentage of any product or service you purchase using the links in the articles or advertisements. The buyer pays the same price as they would otherwise, and your purchase helps to support The Trek's ongoing goal to serve you quality backpacking advice and information. Thanks for your support!
To learn more, please visit the About This Site page.