CDT Day 1-5: Glacier National Park
CDT Day 1

Finally fell asleep around 1 am on Amtrak after leaving Seattle on it the previous evening. Wake up around 5:30 am (but it's actually 6:30 with the time change) when the conductor starts rattling off info about breakfast and the next stop. I want more sleep, but I'm wide awake. Train coffee and some snacks help get me going. I was watching episodes of the show "Alone" the previous night, specifically Season 8 in grizzly country. Probably not recommended before jumping into hiking through Glacier Park. The train gets to East Glacier around 10 am and I hop off and instantly meet some fellow thru-hikers. One of then has a shuttle and a permit lined up and he is kind enough to let us come along for the ride. We head up to St. Mary Ranger Station and sweet talk the ranger into letting us adjust our itinerary so as not to have to do too many low mileage days. Don't get me wrong, I would love to spend a month in Glacier, but we've got a lot of miles to tread before the snow starts in the fall. The ranger asks us why we think we can do a 30 mile day. Our group leader asks if she wants a pic of his quads and we're on our way. It starts thundering and raining on the drive up to the border. We sweet talk the border patrol agent into letting us get a pic with the monument as long as we promise to not get too close to the gate.
And then we are on our way through what is one of the most beautiful areas I have ever hiked. The contrast of meadows and mountains is unreal. We laugh a lot and take lots of breaks since we have the opportunity of a short day.
We mostly joke about how we are going to practice using our bearspray on the NOBOs. It's one of the guys' first trail of the Big 3 so we sneak a 7-in-1 kids tool from the gift shop into his pack as a haze/joke. We're convinced the whistle on it will probably deter the bears more than the bear spray. Once the sun goes behind the mountains the mosquitos come out in full force. They're relentless no matter how much you slap yourself. Even 100% DEET only lasts an hour. We have to camp in designated spots in Glacier so we get to our stunning lakeside campsite and cram the four of us into our tiny tent pad.
We are in our tents before dark, mostly because of the mosquitos, but also needing rest after the crappy night of train sleeping. As we are starting to nod off, a guy from another campsite yells something about a grizzly bear sighting. We throw our shoes on, grab our bearspray, and go to check it out. I notice him about 40 feet away and we start making noise to let him know we're there. He sees us and starts walking up the trail towards us. Now, I've encountered a lot of black bears, and unless they're protecting their cub, they always run away. This grizzly acted like he didn't care about us, but also was not scared of us at all. We slowly back away and let him wander away. We think he's gone, but it might be awhile before we get to sleep tonight.
CDT Day 2

Sleep in until 7 which is glorious. I probably could have slept all morning if I hadn't heard others packing up. Before I left for the trail, I threw all my leftover granola, nuts, cookies, and super old pop tarts I had in a bag. A handful of this concoction in a tortilla with peanut butter is delish as the sun pops over the mountain and warms my face. Have a steep climb right off the bat over Red Gap Pass.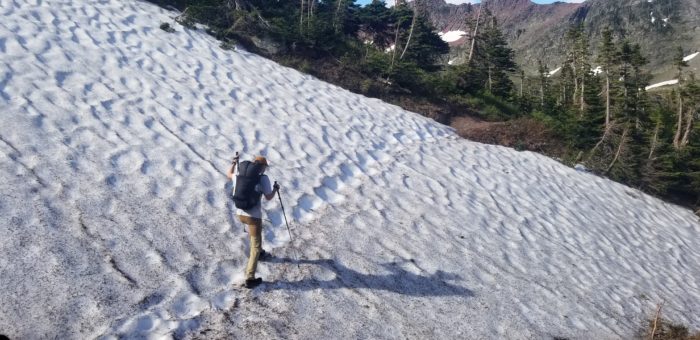 And then cruise down through a glorious valley. See a couple black bears, eat lunch at a mountain lake, get serenaded with a marmot, and spend the day cruising through the most gorgeous valleys.
End up in Many Glacier for the night, which has a lodge, store, restaurant, and an actual RV campground, which they plop the backcountry hiker site right in the middle of. We definitely stand out from the clean campers, but I'm pretty sure we have the most fun of all the campsites. A beer and real food almost feels too cushy for Day 2 on the trail, but that doesn't stop me.
CDT Day 3

Waking up without an alarm is the best thing ever. Especially when you're sleeping outside and wake up to the sun shining and happy camper voices. Hot instant coffee tastes great somehow and gives me the kickstart to start walking. I feel good despite my feet being pretty achy upon finishing yesterday. But oh, what a great night of rest will do. A walk around the lake provides the best morning views and almost lets me forget the trail is full of mud and horse poop.
I hit snow early on in the day which I end up in and out of all day long. There's a bridge out at a creek crossing and crossing the swift, freezing current is a reminder of the wild I am walking through.
We start a steep climb that involves some bush wacking and kicking steps in the snow to get around the sketchy parts. Finally make it to the top of Piegan Pass and stop for a lunch break and spend most of the time shooing away the all-to-curious marmots and chipmunks.
If they think I'm sharing this food I've been packing around for days, they're crazy. The descent is much more snow once I get below treeline and a lot of post-holing and sliding around. It's a good thing it's a low-mileage day today, because the snow makes for slow-going. Make it to the campground and find some nice rocks to lie on and dry my socks and shoes out on and just as I lie down the clouds start rolling in. Eventually the thunder and lightning starts, but the front passes through without rain luckily. This campground doesn't have bear boxes and I do my first-ever bear hang!
I'm not a fan. I usually sleep with my food and enjoy some late-night snacking and having my food not in arm's reach gives me stupid thru-hiker anxiety. We are all in bed by 8:30 even though it won't be dark until 11. It's crazy how late it stays light out here in the summer.
CDT Day 4

Woke up around 5:30 to get an early start for a big day. It's already light out. I'm not sure it's ever completely dark around here. The morning walk consists of waterfalls, a pretty lake view, rain, and lots of bushwacking.

Feet are soaked by 9 am. Do our first 10 by 10 (10 miles by 10 am). See our first moose.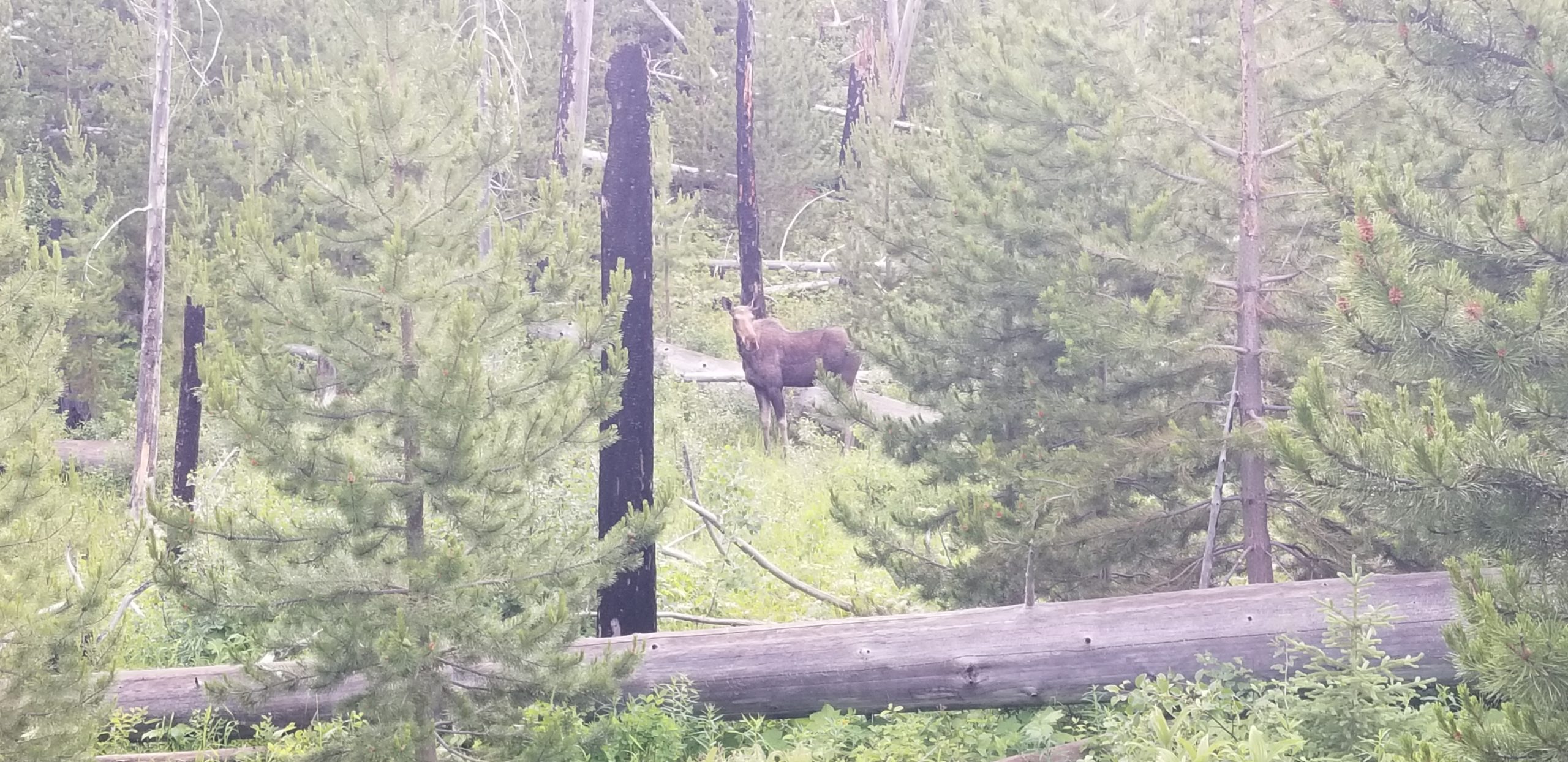 More bear sightings. We find a break in the rain to have lunch by a gorgeous lake. We try to dry our socks and shoes out which is silly because they are instantly soaked by the wet grass and then creek crossings soon after. It's a steep and somewhat snowy climb up Triple Divide Pass and near the top the wind tries to knock us off the mountain. The views from the top are worth the cold.
We head down and have to navigate a steep snow field. We reach the valley, an area that only recently opened up after it was closed for months due to a bunch of dead cow carcasses attracting grizzlies. Hopefully all the cows are gone. One last push to our campsite at a gorgeous mountain lake with lots of log hopping along the way since this portion of the park has been untouched since last year. We have the campground to ourselves and quickly set up and make dinner and sit around talking until we are completely frozen. We have to eat in designated cooking areas at the campsites so as not to attract grizzlies to our tents, which sadly means no eating in our tents curled up in our sleeping bags, which is one of the best parts about wet backpacking days. Hopefully we stay warm and dry tonight.
CDT Day 5
Rough night of sleep last night. Every time I started to nod off, I would start itching and could not stop myself from scratching all my bug bites. Waited until the sun popped over the mountain to get out of my tent this morning since it was so cold and then set off on a steep climb up a snowy pass, but was rewarded with a gorgeous view of two valleys.
A long downhill until I hit Two Medicine and ALL the tourists. It's so fun watching tourists after you have been living in the wilderness. People are great. And ridiculous. Had an epic lunch on the lake to rest my tired feet.
And then another big climb in the afternoon with sheep!
A ridgetop walk and then a ridiculously steep and muddy downhill to East Glacier. Stumbled into town, found the hiker hangout where a previous restaurant owner now runs a super lowkey hostel. A much needed shower, laundry, walk to the store for resupply, and most importantly- pizza, beer, and hanging out with other hikers.
Well that's a wrap for Glacier National Park and the first 100 miles of the CDT! This place blew my mind. The views from the roads are stunning, but the real gems are in the backcountry which only a few get to see. I feel fortunate to be one of them. Take away notes- grizzlies are much scarier than black bears and don't believe all the fear-mongering from the rangers. On to the Bob Marshall Wilderness tomorrow!
Affiliate Disclosure
This website contains affiliate links, which means The Trek may receive a percentage of any product or service you purchase using the links in the articles or advertisements. The buyer pays the same price as they would otherwise, and your purchase helps to support The Trek's ongoing goal to serve you quality backpacking advice and information. Thanks for your support!
To learn more, please visit the About This Site page.