CDT Part 3: Goodbye New Mexico
It's been longer than I planned to get this post up; service and internet through Southern Colorado has been pretty lacking. So without further ado, the end of New Mexico!
After all the road walking of the last stretch, we finally got back on trail. We also started to gain some altitude, so the scenery dramatically improved as well. We still had some long water carries to deal with, but we hardly noticed. We were too busy enjoying the mesas, canyons, and forests.  
We've been anxious to get out of New Mexico, mostly because the state is a tinderbox right now and we want to get through before the fires start. We seem to have made it just under the wire. Shortly after we got through the Santa Fe National Forest, it closed behind us. There was no fire yet, but over Memorial Day weekend the rangers found widespread noncompliance with the fire ban, and so the forest and the trail was closed just a day or two after we passed through.
Mount Taylor
Between Grants and Cuba the highlight was Mt. Taylor.  This alternate doesn't add miles, but it does add some elevation. Rising up over 11,000 feet, this stratovolcano is the highest point of the trail in New Mexico, and offers not only lovely trail but panoramic views. We made it to the top by midmorning and enjoyed a nice long break at the summit.
Cuba
In Cuba, we planned to resupply and shower then head back out of town. We stopped at Rebels Roost, the home of a trail angel/hiker hostel. It was so awesome we decided to stay the night. It was just the three of us and Vince, plus his two dogs. We spent the day relaxing and watching movies, and Vince made us coffee in the morning before we got back to the trail. It was a worthwhile stop.
North of Cuba, we climbed up to over 10,000 feet again  in the San Pedro Parks. Suddenly we were hiking through aspen and pine forest, with meadows, flowers, and running water. We wondered if we'd left the desert for good?
Ghost Ranch
We were wrong, of course, as we soon after headed into a really cool desert landscape of canyons and mesas. We took the alternate to Ghost Ranch to pick up our packages. It was Memorial Day, and we were walking quickly along the road to make it before the visitors center closed. (Turns out, it was open later than we thought so our rushing was unnecessary). Along the way, some rafters headed home after the holiday stopped to give us each a few cans of beer! We drank one during the walk to Ghost Ranch and drank the rest while we were sorting our packages at the ranch.
Leaving Ghost Ranch, we left the desert behind and climbed back up over 10,000 feet yet again. We stayed up high all the way to the Colorado border and Cumbres Pass. Running water was frequent, and we saw herds of elk and deer. We crossed meadows and forests. We had views of mountain peaks in the distance. There was a lot of new trail in this section. Even though GPS told us to take roads, we stuck with trail when we could, until finally the trail stopped abruptly in the middle of a meadow. We made our way back to the dirt road and the GPS route.
Colorado
The New Mexico/Colorado border has no sign, except a national forest boundary sign, and a broken barbed wire fence. We stepped over the fence into a new state, and headed down to Cumbres Pass and into Chama, where we took our first zero day.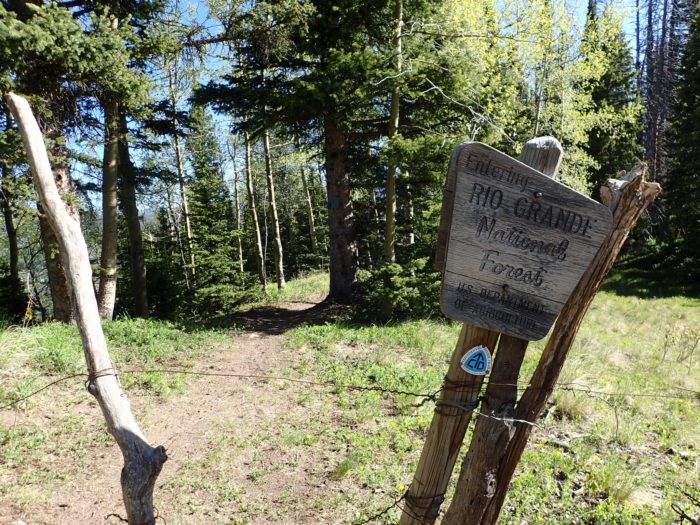 We stayed at the motel in Chama, and enjoyed the kitchenette to cook some real food. We took care of all the usual zero day chores: hitting the post office, grocery store, and hardware store. We were packed and ready to go the next morning when we realized the day would be full of thunderstorms. Since we would be climbing over 12,000 feet, we decided to wait another day before heading out. Our first zero became a double zero, and we took full advantage by staying inside and watching television all day long, with occasional breaks to watch the rain, hail, and lightning. It's so good to be inside for weather like this.
Affiliate Disclosure
This website contains affiliate links, which means The Trek may receive a percentage of any product or service you purchase using the links in the articles or advertisements. The buyer pays the same price as they would otherwise, and your purchase helps to support The Trek's ongoing goal to serve you quality backpacking advice and information. Thanks for your support!
To learn more, please visit the About This Site page.