CDT Thru-Hike Week 2: The Gila River
Water Is Life
Dropping down into the Gila River was like stepping out of one world and entering another. Just a few days before I was dying of thirst and heat in the wide-open Chihuahuan desert. And now I was crossing the small river every few minutes. The cool water felt relieving to my feet. I checked out a cool cliff dwelling upon entering the valley. Water access must have been the life choice to live here.
The cliffs rose like towering giants starring down at me. The needle like rock formations reminded me of the Black Hills of South Dakota. The narrow gorge shadowed the setting sun painting colors on the high stone. The trees had super white bark and large leaves. They branched out from the trunk in large limbs.
Hot Springs
I made my camp by what was suppose to be a hot spring but it was covered up from a flood. I went into the river and felt the hot water by the bank so I tried to stack rocks to isolate the hot spring. After an hour of producing some kind of rock wall I sat in the water. It was muddy and not much warmer. Oh well. It was worth a try.

By morning my shoes were icy. So once I got them on I stood in the hot spring to make my laces pliable to tie. My only company was the occasional big black bull. They looked like the ones in Spanish bull fights but most of them were scared.
Later I found another hot spring that was great for an hour soak. There was a cool orange dragon fly there that would fly in a circle towards the water for a drink.
The only down side of the Gila was poison ivy. I was very careful not to touch it and would wash often in the river and hot springs. Luckily I never got a rash.
Doc Campbell's
I stopped by Doc Campbell's for a little resupply. If you run the tap water for a few minutes it turns super hot. It must be hot spring water. Later, I checked out the big cliff dwellings then took the bear creek trail back to the Gila. Smoke was billowing to my left and I worried how close it would come.
The next day on the river I came to one more hot springs. Jordan hot springs was one of the best I'd ever been in. Bath tub temperature, clear, lots of room, and surrounded by wonderful views. Hiking out, the river became more shallow. The rocks became smooth and flat. A rattle snake rattled at me from under a rock.
I had crossed the Gila about 200 times and my feet were ready to dry out. And so the did for once I had passed Snow Lake there was no more natural water that I had found.
UFO's and Fire Tower
Cow tanks were my sources of water and most of them were dry. One night I was out of water so I planned to hike all night until I found some. I hadn't seen anyone for three days. I came to a dirt road around midnight and saw a stream of light moving across the sky with a bunch of bright lights in it.
"Was it Starlink, military planes, UFOs?" Or maybe I was hallucinating. Moments later I came to a huge water tank full. The cattle trough had tons of bugs and slime. But the large center tank was OK except for several goldfish of different sizes swimming it. I was so thirsty that I drank two liters and packed out over three liters.
The next day I decided to go over Mount Mangas. It was a steep climb getting a bit under 10,000 feet. The fire tower ranger gave me a tour of the tower and showed me how he pin points fires. There were many fires in the region and he was putting many hours of watch time in. On my way down the trail that night I saw some antelope. I tried to get close for a picture but they heard me and they took off like a rocket.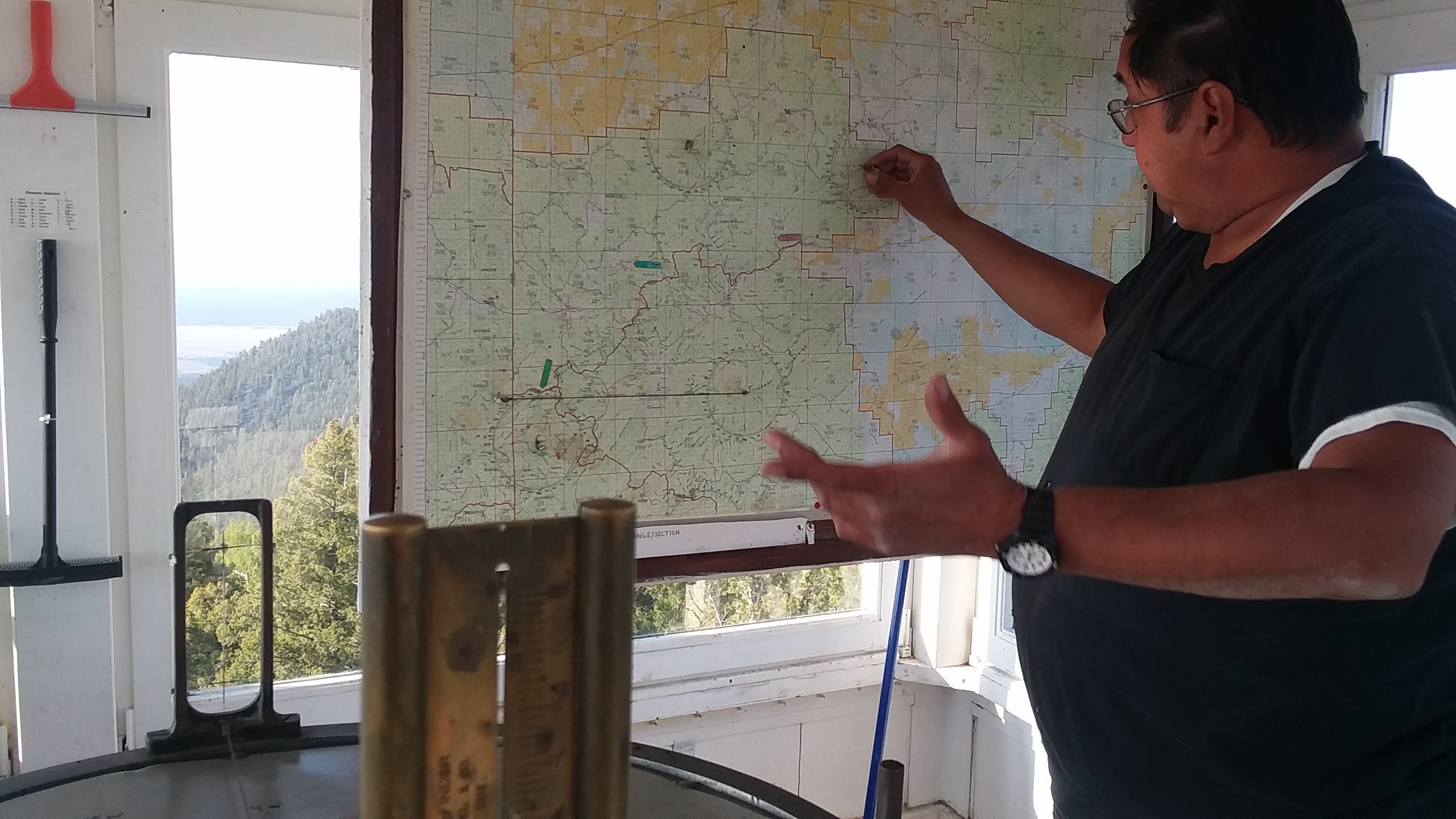 Coming down a ravine I saw something that looked like a lit up cell tower but it was weird because it was in a low spot and lit from the interior. As I moved closer, it got brighter and harder to define with my eyes. I shut off my headlamp and started to get my camera ready. Just then the lights disappeared from the bottom side up. As I passed by where it was, there was nothing there. I was freaked out. My pace increased and I hiked well past the unexplained lights. I wondered how far I was from Roswell.
Yum. Pie.
The next day I planned to go in and out of Pie Town but I had such a great time sharing stories with people at Toaster House that I just had to stay.
Affiliate Disclosure
This website contains affiliate links, which means The Trek may receive a percentage of any product or service you purchase using the links in the articles or advertisements. The buyer pays the same price as they would otherwise, and your purchase helps to support The Trek's ongoing goal to serve you quality backpacking advice and information. Thanks for your support!
To learn more, please visit the About This Site page.