Glacier National Park
Embrace the brutality. A phrase often used to describe the Continental Divide Trail, the longest and most remote of the US long-distance trails running from Canada to Mexico. And, finally, my turn has come to embrace the brutality of this trail.
Or at least the mosquitoes. It's it buggy, hot and humid when I set off from the Canadian border into Glacier National Park in Northern Montana. And stunningly beautiful. This is the Rockies in its full glory. After a hitch from East Glacier Park Village that took me and Al, my hiking partner from the Pacific Crest Trail, on a dirt road in the wrong direction, that resulted in a native american offering ceremony wishing us safe travels. We finally arrive and are ready to get going.
Glacier National Park
It doesn't take long before this park has me completely smitten. Jagged mountains are towering up all around me and waterfalls from the melting snow from the snow covered peaks are falling down the huge mountain walls. Calm lakes and roaring rivers with clearblue water invites me to go both skinny dipping and soak my feet and legs in the ice cold water after a day of hiking. I find myself taking picture after picture and just standing in awe looking at this beautiful scenery.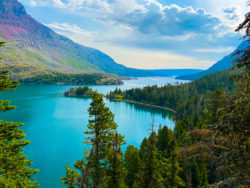 Glacier National was established in 1910, and had at the time over 100 glaciers. Since then the glaciers have diminished and in 2015 there were only 26 active glaciers left. And even though we hike through a park called Glacier, the trail doesn't take us across any actual glaciers.
Other thru-hikers
Our permit and itinerary for the majority of our days in the park has short mileage days, averaging around 15 miles/25 km, and we are assigned to specific campgrounds where we must spend the night. Our first night in the park, we spend alone at the campground. And although we have to hike four miles off trail on our very first day (only to backtrack those four miles the next morning), bushwack and deal with a ton of mosquitoes, the view of the lake is pure magic. With an easy hike of 15 miles and a gorgeous view at the end of the day, the trail is off to a good start.
Even though we are late starters going southbound, it doesn't take long before we find great company of other hikers; Darwin on the trail, Geared Up, Bopit, Punisher, Heaven and Scoops are all staying at the same campgrounds as us and we meet up with them as we hike the trail. On my train ride from Chicago to Montana, I spotted Bopit and Punisher and it turns out they have pretty much been on trail for over a year hiking PCT, AT, ECT, Arizona trail and Florida trail before setting off to do the CDT (that's some serious trail legs and tan lines right there!!). We were also lucky enough to have the same start date as Darwin on the trail, known to most people in the hiking community, and his hiking buddy Geared Up who is only doing a small section of the CDT only to go off and climb Kilimanjaro in a few weeks. All and all, it feels great to be back in the company of other thru-hikers and be a brief part of their great adventures.
Grizzly country
Trail itself is good for most parts but, like Croatia, some stretches has a lot of vegetation and overgrowth. Other parts, such as Piegan pass, are absolutely fabulous and I enjoy every step of it. But this is also grizzly country and bear encounters are a serious concern. Hanging food and other items that smell, carrying bear spray at all times and making noise as you go are all precautions we take in order to reduce the risk of an encounter. And so I find myself hiking while constantly clapping my hands and shouting "Deeeoooo" (apparently it is the magic word used in the Yukon in Canada to scare off grizzlies). Hiking here definitely keeps me on my toes and I try to make sure I am aware of my surroundings at all times.
Grizzly bears will be a concern all the way through Wyoming and so by the end of it, I'm sure my hands will be sore from all the clapping and my voice will be almost gone after shouting "Deeeooo" all the time. But so far so good, and to round up the whole Glacier experience we finish it off with an absolute amazing dinner at Turtleman's home in East Glacier. And even though I'm certain that this trail will bring me to my knees one way or another, at this time I feel great in both spirit and body – and ready to take on the next section.
Affiliate Disclosure
This website contains affiliate links, which means The Trek may receive a percentage of any product or service you purchase using the links in the articles or advertisements. The buyer pays the same price as they would otherwise, and your purchase helps to support The Trek's ongoing goal to serve you quality backpacking advice and information. Thanks for your support!
To learn more, please visit the About This Site page.