Hiking Through Weather: Grants to Cuba
After an evening in Grants we hiked out the next day, opting not to zero. Though we left in the afternoon we still planned to do about 17 miles to the water cache on Mount Taylor. As per usual, the section out of town began with a road walk. We walked as one big group along the road until we got to the trailhead. Here we began to ascend onto a plateau. The view as I climbed was amazing! I could see the whole valley I had just walked through and the tall rock walls surrounding it. I could also see the sky darkening. Just as I crested the plateau I ran into Tall Boy. As we were talking lightning began to strike in the distance. We decided to hike this next section together. We quickly crossed the open area of the plateau and got back into trees. As we moved the storm got closer. We began counting the time between lightning strikes and thunder booming. Though it got close enough to make me nervous it didn't get close enough to pose any real threat, so we just kept moving. We began to climb even higher and I could start to feel the effects of the altitude. Trying to push to camp as fast as we could we ignored the thinner air and refused to stop hiking. As we were just a few miles from camp it began to snow. This only spurred us on to camp faster. We finally got there just before 8 p.m. and scrambled to set up our tents without getting them too wet.
I would say I woke up at 3:30 the next morning but truth be told I hadn't slept because I was too cold. So when my alarm went off I just packed up camp quickly and met Poles for our sunrise hike of Mount Taylor, the highest peak of New Mexico. With our headlamps on we started to climb. With all the fresh snow, finding our way was super hard. We often found ourselves way off trail. We finally made it to the summit but it was socked in. There was no sunrise nor a view, just two cold and wet hikers. Nonetheless, we took a short break and then found our way down to the forest road. We followed the road down till it reconnected with the CDT and here we stopped for lunch. We got a small patch of sunlight to dry our tents from the night before. After our break we hiked on. We followed trail for a little while before hitting another dirt road. As we walked along the road we were hit with another snowstorm. Heavy, wet snow began to fall and quickly we were wet again. We hiked through it, hoping it would stop long enough for us to set up camp. Luckily it did, and just as we reached our camping destination the sky cleared. I quickly set up and got into dry clothes. As I began to cook dinner in my tent I heard the next round of snow begin to fall. I hunkered in my tent for the night and hoped for better weather the next day.
We slept in a little the next morning, hoping to give our friends who were behind us time to catch up. We hiked out of camp around 8 and went about seven miles along the road. Here there was a side trail to a spring. Normally I wouldn't go a half mile off trail for water but the water source at our camp would have been a dicey scramble down wet rocks. I made the trek to the spring and got water for the next section. As I walked I left my things out to dry because I've learned to always take the chance when you can! As I was coming back from the spring I heard the voices of the rest of our group. We were reunited! We all hiked the next 12 or so miles to the next water source. All the while being threatened with dark clouds. At the water we stopped for a late lunch. We all slowly began to hike out of that spot. The rest of the afternoon, the trail made its way through canyons. It would snake up along the side of a mesa and then follow its top before going back down. This is how I had pictured New Mexico—dry and red cliffs and canyons. It was absolutely beautiful! As we neared camp the sky finally broke and a cold, wet rain began to fall. Poles and I decided to hike through it until we found our friends camped. We hiked along until we found Stats and quickly set up with him. I luckily found a spot right between two pine trees to shelter my tent from the howling wind.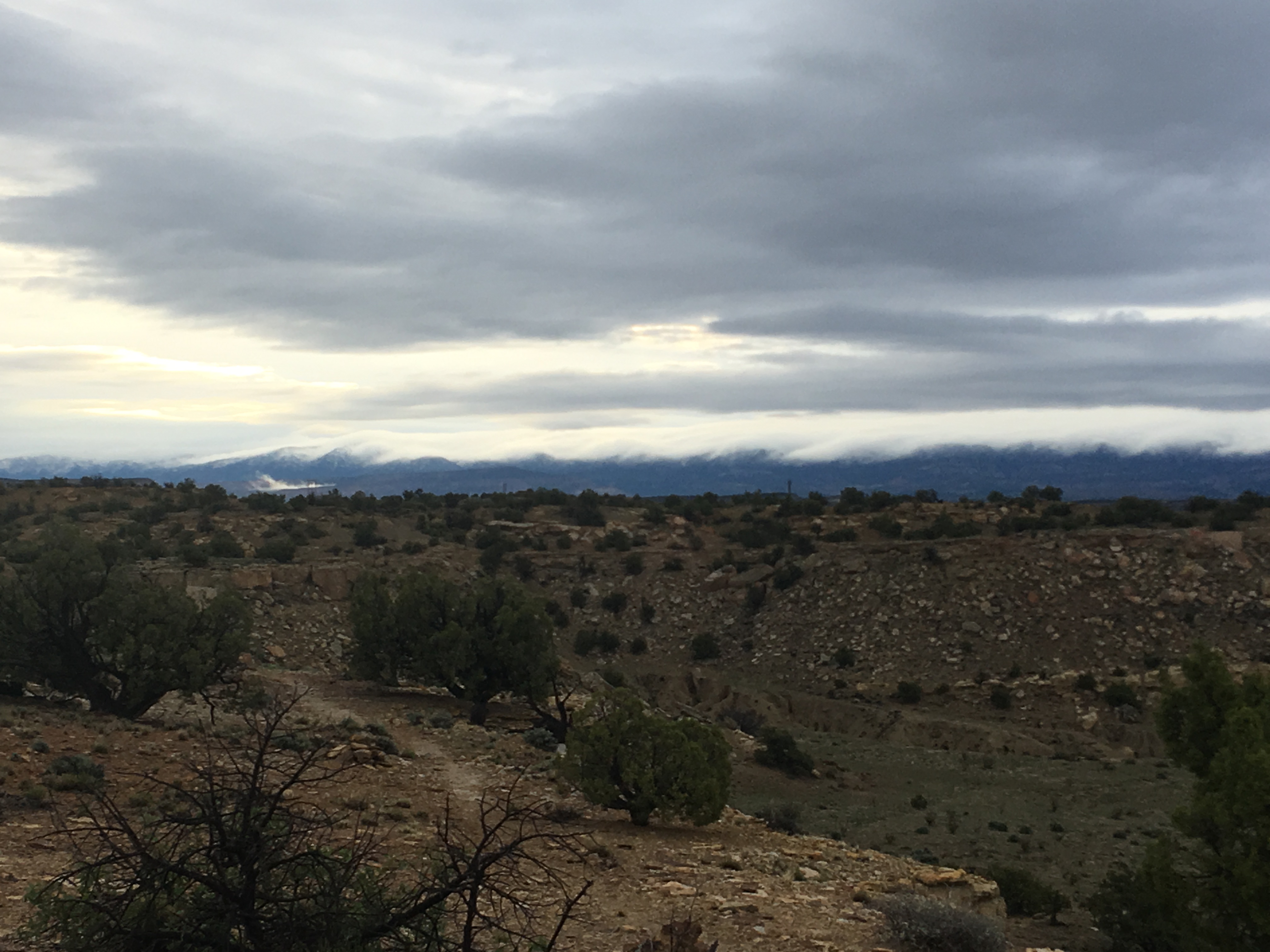 In the morning we awoke still cold and a little wet. We decided we would make one long push into town. We set out early and began hiking. We hiked down to the road, which had a water cache. I grabbed enough water to go the remaining 30 miles to town. From here we set out again and hadn't hiked long before it started raining. It started as a cold rain with the wind whipping it against my hands and face and as I climbed it turned into snow. It was a super cold morning and I was anxious to get to town so I didn't stop for a while. I ate hip belt snacks and kept pushing till about 1 p.m. when I needed to take at least a short break. I sat down on a rock and checked Guthook—16 miles from town. As I stood up to move on Krafty came around the corner. His feet were hurting so he was moving a little slower than normal. We decided to ride out the rest of the miles together. We continued to weave along mesa tops, chatting and encouraging one another. A little way up trail we got to our final climb of the day. Finally! We thought it would be a breeze as it was only a mile. Our hopes were quickly dashed when we realized the climb was a mile up a mound of wet clay. As we took a step forward, we would slide back. We dug in with our trekking poles and used all of our strength to struggle up Mud Mountain. We finally made it to the top and began the walk down to the highway. When we finally got to the road we knew we were close. With soaking feet and shoes caked in clay we plodded the next four miles into town. When we got there we met up with the others and got a hotel. Sadly, we got there just as everything was closing so I had a gas station burrito for dinner. Though it was not five-star dining I didn't mind because I was warm and dry for the first time in days
Affiliate Disclosure
This website contains affiliate links, which means The Trek may receive a percentage of any product or service you purchase using the links in the articles or advertisements. The buyer pays the same price as they would otherwise, and your purchase helps to support The Trek's ongoing goal to serve you quality backpacking advice and information. Thanks for your support!
To learn more, please visit the About This Site page.