I'll Take Thru-Hiking with a Side of Mountaineering
As we drove up to Cumbers Pass the truck barely maintained traction. With each fishtail I asked myself if I really should be heading to trail in such conditions. We reached the pass, no time to question the decision, we were about to hike out. We piled out of the truck, grabbed our bags loaded with a week of food and snow gear, strapped on our snowshoes, and began to hike. Soon we found ourselves in a whiteout storm. We hiked close together, making sure everyone was safe. As we neared noon the storm let up a little and we were able to huddle under some trees for lunch. We ate quickly and returned to hiking because sitting too long just makes you cold. We continued the climb up to the ridge and as we crested the skies had cleared and we had amazing views. We hiked a little longer and dropped just enough to find some small trees for shelter and began to set up camp. We were relatively exposed and my tent is bad in the wind so I shoveled out a hole and set up in my little snow wall of protection.
It didn't protect me as much as I had wanted. In the morning I woke up to my tent half buried. Throughout the night the wind picked up and blew snow into my hole, caving my tent in. I spent an hour digging out while getting spindrift snow to the face. Finally my bag was packed and I was ready to hike.
The morning was normal, terribly slow as we climbed in snowshoes, but uneventful. That changed, however, when we crested the ridge. It was no longer a peaceful walk through the forest but a battle against high wind and spindrifts. We spent the next few hours trudging across the open tundra, struggling to even stand. There was not much of an option; the slope was too steep to descend into trees and the winds too high to camp. Midafternoon conditions worsened as another snowstorm blew in. We navigated through a whiteout and when we stopped to check navigation my group realized I was shivering. Seeing how cold I was they made camp immediately in some trees and put me in a tent. They handed me my sleeping bag and told me to climb in. About a half hour later I had regained warmth and was able to fall asleep.
The next morning we woke up to clear skies. The storms had finally broken and the next few days had a better weather window. This was a good thing because those first two days practically wrecked us. That day we finally were able to dry out gear. As we neared midafternoon we hit a long traverse if we stuck to the trail. We did the first part but looking ahead we could see the traverse was steep and over cornices. Plus, if we did the traverse we would be too high to camp. Weighing the options we decided to descend to the forested valley below. The descent was steep in very unstable snow. It took us awhile but we got below and were able to set camp in a sheltered area. We also were near flowing water, the first we had in this section.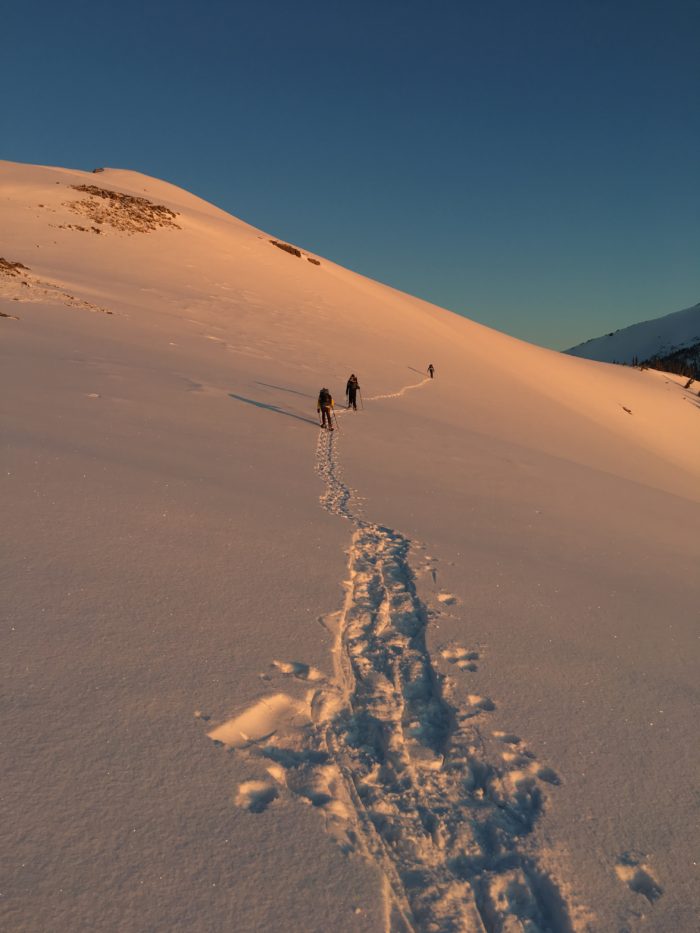 The one bad thing about descending was the climb out in the morning. It wasn't a super-long climb but it was steep. We went straight up the valley wall and over the pass. Once at the top the trail again traversed. Examining the conditions we decided the avalanche risk was too high to traverse so we descended the pass and climbed again up the opposite valley wall. This section took awhile as the descent had a slick, icy section and the climb out was steep. We finally made it over pass two but we still had work to do. We had another long traverse over on last hump. This traverse had hard snow, which would have been easier if I wasn't sliding in my snowshoes on every step. We finally made it over the last bit and took a break in the sun for lunch. We hiked a little longer before heading into a valley for camp.
The next morning we woke up and once again climbed straight out of the valley. When everything is snow covered there's no trail and no switchbacks so your trail becomes much steeper. Once on top we followed a ridge for a bit. This section was incredibly beautiful as we could see the snow-covered mountains we had come over and those that lie ahead. It was truly awe inspiring! We made it down to Elwood pass for lunch. We had service so we made arrangements for Pagosa, which we would hit the next day. After lunch we moved on since we still had quite a way to go. That afternoon as we hiked weather moved in. We had made it up to the next pass just in time for a lighting storm. Just as we hit the most exposed area a storm was right over us. We had a very close lightning strike and with that we quickly bolted down to trees for cover. The storm was moving fast and quickly passed and we climbed back to the ridge. The next section the trail followed one side of the mountain on a steep traverse. The section looked incredibly sketchy so we crossed to the back side of the mountain, which had a much more friendly angle. We made it across the slope and then descended into trees. Even though we were in the trees we had to push to the next pass in order to be close enough to town. The miles left to camp were all a traverse through the forest. It took us a little while, especially since it started snowing. We finally got to camp around 7. We were all exhausted but the fresh snow covering the forest sure was beautiful.
Town day! We all woke up excited to make it to Pagosa Springs that day. It was not an easy beginning to the day. We had a traverse that was extremely steep on hard snow that was difficult to get a purchase on. The traverse was tedious and took a lot of my mental and physical strength. Not to mention it was super cold and windy. The rest of the day was to be a ridge walk into Wolf Creek. The weather was calling for morning thunderstorms so we decided a ridge walk would be a high risk. Instead we descended on an alternate route down to the ski area. The alternate still had a lot of traversing and ups and downs. It took us a few hours before we hit the final downhill to the parking lot. We were all ecstatic to see the end drawing close. We finally relaxed as we took off our snowshoes in the parking lot. We had made it through the first section of the impassable San Juans. Now all that stood in between us and beer, burgers, and hot springs was a simple hitchhike.
Affiliate Disclosure
This website contains affiliate links, which means The Trek may receive a percentage of any product or service you purchase using the links in the articles or advertisements. The buyer pays the same price as they would otherwise, and your purchase helps to support The Trek's ongoing goal to serve you quality backpacking advice and information. Thanks for your support!
To learn more, please visit the About This Site page.