Light Of A Clear Blue Morning: Early Days on the CDT
Intro – Gratitude for Moss
Moss drives Tumbleweed from Bethlehem, New Hampshire to Harper's Ferry, West Virginia to Monongahela National Forest to St. Louis, Missouri to me, waiting in Sioux Center, Iowa. Moss does all the driving themself. They take us to Denver, where we pick up Comet, then down to the Great Sand Dunes, then down to the town of Lordsburg, New Mexico, where they see us off.
Moss asks us to bring as much of their energy out onto the trail as possible, and we swear to try. The morning we start, they tell Tumbles, Comet, and I that the hardest part is over: the organization, the putting our lives on hold, the planning. From here, we just need to walk. It's exactly what I need to hear.
Leg 1: Southern Terminus to Lordsburg. We begin on Janos and Chiricahua Apache Land, exiting Janos about 20 miles in.
Cruise and Savage drive us from Lordsburg down to Crazy Cook. We get there in the afternoon, well-hydrated and excited to start. We walk bright-eyed through flat New Mexico desert as the temperature lowers, coming across what seems to be an abandoned farm with an old windmill. The scattered barbed wire foreshadows the barbed wire fences we will soon be crawling under. 
I try to be as present as possible for these first few steps. Distant hills and sagebrush leading all the way there, the bright landscape of Mexico behind me. Everything is still before us, and I feel this sensation of home welling up inside of me. Traveling through desert again, I am reminded of how I love it and what it asks of me: to see beauty and life where others might only see desolation.
The trail is as flat as trail gets, here in the bootheel. We move around some small outcrops of rock, climbing and descending easy slopes. The dark reddish tones of one small peak shift to a lighter sandstone shade at its top. The sediment layers and their colors seem at times to be separated deliberately, inviting the question of geology, of the age of the stone and of the earth, of my brevity in comparison. Before long, I forget and return to my body.
Night falls, and we keep hiking. The moon is so bright and we're so excited to be here, there are no headlamps necessary. We can see every step. We've gone about 11 miles by the time we stop to cowboy camp.
In the morning, Comet is up earliest and moving before us. I see him at the water cache in a couple of miles, and then he bolts away. We might never see him again. He's a quick one.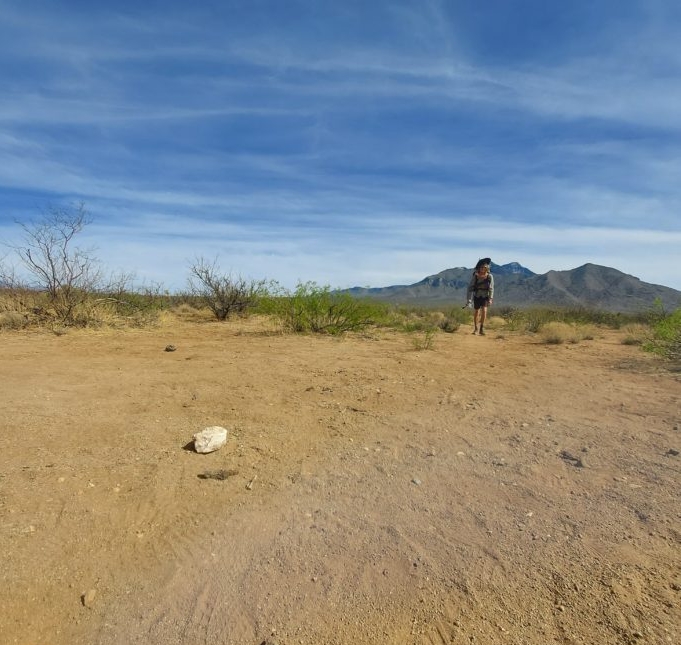 Toward the second half of our third day, we see a sign for trail magic just ahead. Arriving, we meet Apple. Actually, Tumbles has met him already, back in 2017, hiking the Colorado Trail with Moss. Apple had shown them some magic back then, too. It's a surprise for these two to cross paths again, but serendipity like this isn't so uncommon out here. Apple has set up a big, storm-proof dome shelter. He gives us apple pies and cold drinks. He lets Tumbles fly his drone to check for more hikers coming up the trail.
Over an hour later, as Tumbles and I toss our packs back on, Apple points us in the direction we'll be walking. There are a few small peaks in the near distance, and it's fun to look at them and think, "that way." It's getting into the late afternoon, though, and it's unlikely we'll make it there tonight.
Of course, to get to those foothills, we need to cross a long, flat expanse. We wander through the brush and along the cow tracks, losing sight of the official trail, not that that matters much in this terrain. As we go, the clouds darkening above us grab my attention, as well as the intensity in the wind.
Before long comes a sprinkle, then nothing, a sprinkle then nothing, a sprinkle then nothing. It's the sort of rain where, by the time you stop to toss on a raincoat or use the trash bag you brought as a waterproof shell for your backpack, it's stopped.
With the hills in the distance, we're looking for a campsite that isn't so exposed to the wind. Last night, we had set up our shelters on a whim, electing not to cowboy camp. When a windstorm came through a couple hours later, it pushed my tent down onto me, ripping a hole in my mesh. The wind knocked over Tumbles' shelter as well, stealing his inflatable pillow as well as a single camp shoe. Not a great night of sleep. We're trying to avoid that tonight.
I come across a little gully, just as the intermittent rain lets up again and the light is fading. We walk a few feet down and find flat ground. Tumbles is determined to cowboy camp, while I set up my tent just in case the rain picks up overnight. If it were pouring rain, this would be the worst possible place to be, in case of run-off. But, no chance of getting that much tonight. 
We sleep, and a drizzle or two passes over us. It's probably a little after midnight when a bigger drop of water gathers on the flap from my ripped tent mesh, then falls onto my face. I bother to step out of my tent and toss on my rain fly, then go back to sleep. A few hours later, I hear it start to pick up. I had offered to share my tent with Tumbles earlier, and I finally hear him say, "Twain? I'm comin' in!" before tossing his bag into the vestibule and climbing inside, to where it's relatively dry.
We have a slow morning, drying some gear out and making jokes about how ridiculous this whole thru-hiking idea is. But, before long we're moving up and over those hills and starting the road walk down into Lordsburg.
Leg 2: Lordsburg to Silver City. Continuing through Chiricahua Apache Land.
We take a zero in Lordsburg, because of course we do. The Econolodge is literally right on trail, and we have to grab those chances as they come. After our day off, our feet have begun to heal. We're well-fed, and thinking about the Gila River in our near future.
We walk up 70 for a minute leaving the city, until we head East toward a poorly marked section of trail. Once again, it's easy to lose track of the "true" CDT, following errant tracks or what looks like a footpath. I remember Cruise telling us, "Don't get too attached to that little red line on Guthook." I'm beginning to understand why.
I pull into our first water source out of town, the "Engineer's Windmill." Tumbles isn't far behind. I meet a woman named Peanut, who has just walked in and out of Lordsburg, a quick resupply, not even a nearo. This is a herculean feat to me. She seems entirely comfortable so far, ready to just keep trucking. I'm a little jealous, still being in a transitional phase myself, still breaking my feet in. She jokes that she had to wait until her kids were out of the house to do this, and then pulls away. Who knows if I'll see her again.
Tumbles and I continue a little further past the Engineer's Windmill until we enter an area full of trees. It seems to be the site of another abandoned farmstead, just South of the "Derelict Cabin" at mile 102.1, exactly as advertised. There are some derelict windmills and water troughs as well. I can only wonder about this place's exact history. Despite it probably being haunted, we camp there anyway, under some of our first real tree cover yet.
Over the next couple of days, we run into a few different folks and end up linking with a guy named Stinger. We get to talking over a water cache, then camp most of the way up our climb to 8,000 ft., just around Burro Mountain. As we get higher up, the tree cover improves and we enter a grove of Ponderosa Pines. Tumbles points out how sweet they smell, and I suddenly can't get enough.
We've all been thinking about the dry stretch coming up, as well as the possible trail closure for controlled burns up ahead. We heard from The Hidalgo Crew, (a group of section hikers that all know each other through endurance horse racing,) that the closure was done and that we could go through. However, as we dip down into the Burro Mountain Homestead to refill on water, we're told it is still very much in effect. Stinger is there, just about to walk out and hit the trail again, but we stop him and convince him to sit with us for a while at the Homestead, to wait out the heat of the day. Eventually, we resolve to skip the closure and follow the old CDT, heading to the highway.
Stinger has done the CDT before, some years ago. He's also done the PCT twice, as well as Florida to Maine, linking the Florida Trail to the AT. He's an accomplished hiker and has a lot of good insight about what we're doing. He also happened to be enlisted in 2001, when 9/11 happened. We head East as a trio down some Forest Service Roads, and rather than camping just off the highway, stop short for the day.
Mostly, of course, we talk about hiking, and Tumbles and him get to talking about skiing. I'm learning that the second passion of all thru-hikers is apparently skiing, since the seasonal work fits so well. All the same, our conversation shifts from the lighthearted to the heavy and back again. Sometimes, Stinger will drop a piece of hard-earned wisdom that kind of shocks me. It's all I can do to listen, really. We're all out here for a reason.
It's the next day and we're approaching the highway. We meet Picasso, Whiz, and Taco by the water cache there, then walk the highway with them. It's a good crew, even though we split up as we make it into Silver City.
Tumbles and I zero in Silver City as well, and having not had the foresight to book a bed in the hostel, we head to the RV park to camp for our second night. As we set up our tents in an eerily green patch of grass, a courtyard set apart for us hikers, I am thinking about how the man that checked us in assured us that he'd turn off the sprinklers. After we set up, we eat bread and butter and watch Curb Your Enthusiasm on Tumbles' phone.
We go to bed early, planning to be up at 5 and walking by 6. At 4, the sprinklers come on and start pelting our tents. I say aloud, "Oh, no." It goes for about 45 minutes, during which time I realize there's actually a sprinkler head directly beneath my inflatable pillow, spraying water against the footprint of my tent. The fake rain finally stops, and fifteen minutes later, my alarm goes off.
We have a slow morning, drying out.
Leg 3: A Love Letter to the Gila River. Entering Pueblo Land around mile 170, close to where we enter the Gila. Continuing through Chiricahua Apache Land as well.
Dear Gila,
I am sitting here by your side. There are your canyon walls of deep red and sandstone surrounding me. There are Cottonwoods and Aspens, Pines and Junipers in sight. I can hear birds all around, and your water tumbling over the rocks. The air is cool on my skin as my feet dry out. I've just finished a quick dip, after my first 6 miles of the day. I am feeling blessed by you, grateful for you and for the love you show me.
It's just, there's so much life surrounding us here. We've come from the bootheel, and the difference is almost overwhelming. We heard an elk bugling all last night and couldn't at first believe it was an elk. Perhaps a cow in distress, we thought. But, this morning as I followed an unofficial trail into a copse of trees, I snapped a branch beneath me and heard the bugle again. Loud, this time, shockingly loud and close. I didn't want to get too near, but I wanted to see. I snuck forward just a couple steps, and saw her haunches as she stepped away from me, through the clearing. I doubled back and gave her a wide berth.
But, this is what I mean, Gila. The world around you is so vibrant, I almost can't believe it. It's all because of you. I find myself stunned silent as I wander your banks. The cliff sparrows are at play as "snow" from the Cottonwood trees falls, and when you run waist-deep, your turquoise shows. Sometimes I step into your waters and see fish, half a foot long, bolt away. The bullfrog tadpoles are near to growing their legs, and are fat, happy, and sluggish on your banks. We walk into the night as sunset colors your cliff walls. Soon, the bats are echolocating around us.
I wish I knew you better. I can feel your spirit, walking upstream, but you were a home long before I had crossed over into this life. I have seen the cliff dwellings, and I have heard a little about the Mogollon people who lived there. A plaque at the National Monument let me know that they live on in the Zuni, and their stories are still known. The National Park folks have limited information, and from a limited perspective, as do I. I only hope that as I travel along your length, Gila, that you can feel my respect. In your age and your life-giving waters, I see you as sacred. I hope for you to be running long after I fade from this world.
Can you feel the grief and the confusion of the travelers wandering through here? I hear it on the outskirts of conversation, and I see it in the way people's eyes dart somewhere else as a certain topic comes up. We are still reeling, many of us. You have been teaching me patience. I have to meander the way you do, to travel with you. If I am able to leave behind any of this burden, it will not be from the way I rush along the path. I will find grace in accepting the distance, and what the distance asks. 
And just like that, we're saying goodbye to you. I'm not ready. I could spend a lifetime drinking from you and swimming in your waters. I'm sure you've heard Tumbles and I talking about abandoning the trail and just continuing to your headwaters. It's tempting, certainly, but I know it is time to move on. We've crossed through your waters more than two hundred times over the last few days. Do you remember those times we stopped walking the trail and just followed you upstream, our feet in the water and our laughter echoing through the canyon? I'll cherish those moments.
The last time I cross, I stop and sit for a while on a rock, my feet submerged. Tumbles has just said his own goodbyes and moved on, and I have a moment alone. I say farewell to you under my breath, a little prayer, and then listen. A yellow, Monarch-looking butterfly comes to visit me and hangs around for a while. I think, "Maybe I won't leave until you do." I sit and watch its wings absentmindedly separate and come back together. Neither of us seem to be willing to move on.
I can't stay forever. I bite the bullet and get moving, heading up toward Snow Lake. You have taught me so much, Gila, and offered such a balm as I've travelled through here. You, this beacon of light around which life springs. To have this glimpse into your beauty. To be able to give so much. To be able to give, endlessly, like you.
Love, Twain.
4th Leg – Into Pie Town. Exiting Chiricahua Apache Land around mile 400. Continuing through Pueblo Land. We enter Shiwinna (Zuni) Land around mile 365, as we cross Hwy 12. Just after 390, before we cross Hwy 60, we enter Diné Bikéyah Land.
If you really had to say it, I suppose you could say that we took a little more time in the Gila than was perhaps necessary, and now have to make up for it. I'd argue with you, though, because really I think we needed every minute of our time in the Gila, and now we get to send it to the road.
We have to make our way to the end of the Gila Alternate, where it rejoins the CDT. Essentially, for this portion, we're just walking gravel roads, which has proved beyond a doubt: my shoes are worn too thin. As we get back into the 20-mile range for a few days on these roads, I feel it more than I want to feel it. By the balls of my feet, right under the big toe and its neighbor, I have had two huge blisters healing. They haven't gotten worse in the Gila, but they didn't get any better, either, being wet all the time. So, dry again, new blisters have appeared right around the same area as the old ones. The fresh ones are painful, and force me to compensate for them in my gait, which, guess what, causes more blisters. Several more spring up around my heels and toes.
This section sort of comes to a head as we get ready for our last day to the highway, having taken so much time in the Gila. We're scraping the last of our food together and looking down the barrel of the 22-mile water carry to Aragon Well. We start the day cruising steadily downhill, on a very easy road walk, for two miles. Then, we check Guthook and see that we're two miles off trail. We walk all the way back up and now have to do the same water carry with a late start. There goes the coolest part of the day, where our legs were at their freshest.
Still, we pick up again and get going. We managed to cut off about 2 of those extra miles we did by taking Ley's Govina Alternate. But, the day is still a challenge. We end up stopping at the "Todd Cianaga Tank & Spring," which was just a gross cow pond. Filtered through a bandana and our Sawyers twice, we had another liter. After Govina Canyon, we had 8.3 miles or so to water, and about two hours of daylight left. We eat a quick meal, and I pop four advil to soothe my feet. The ol' get-me-home. We cruise at a quick pace for this, the end of our day, but still have to pull out the headlamp as night falls. It's late, and cool, but I only have like ½ a liter of water for these final 8 Imiles. I ration out little sips for myself with each mile I walk, just enough to keep me sane. Actually, I'm very anxious for us, but the only option is to get there. We're acting out of necessity for maybe the first time so far on this trail. I'm focusing on my breathing. I'm pushing the rest out. My mindset is almost trance-like.
We make it to the last mile of our day: a straight, flat road leading to the cattle tank. I turn onto it and see two big, yellow eyes reflected in my headlamp. A cougar! I back up as Tumbles arrives behind me. I warn him, but we're both tired and out of it, and he doesn't believe me. He walks on, uncaring, even as a big shape lumbers across the road in front of us.
It's a cow. I breathe a sigh of relief. Tumbles will later tell me that he thought, "Sorry, what? No," as I told him about the eyes. He maintains that he never even saw the cow.
When we finally get to the big, metal, cattle tank, we see there are some fish in there, just swimming around. It tastes so good. I've rarely had such amazing water. I've rarely felt such relief, laying out my groundsheet and my sleeping pad.
We wake up late the next morning and walk a final mile to Highway 12. There, a very kind trail angel named Mike offers to take us into Reserve. He's supporting his daughter at the beginning of her thru-hike, and is staying there another day anyway.
We have our day off in Reserve and are back out there the next morning. My feet healed a little bit over those 24 hours off, but not much. It's just gonna be two days to Pie Town, though. We do 10 miles getting out of town, then do our first 30 of the trail to make it to Toaster House. Here, I'll rest my feet for two days as we wait for our friend from the PCT, Captain Jack, to arrive. He's not far behind us.
Pie Town feels like a turning point. It feels like my trail legs are back, but my feet can't quite catch up. Luckily, The Toaster House is the perfect place to rest. The atmosphere of community and the pay-what-you-can environment lend it that essential feeling of a gift, speaks to the way we take care of each other out here.
Note: Info for my Land acknowledgements comes from Native-land.ca. They do not represent or intend to represent official or legal boundaries of any Indigenous nations. To learn about definitive boundaries, contact the nations in question.
Affiliate Disclosure
This website contains affiliate links, which means The Trek may receive a percentage of any product or service you purchase using the links in the articles or advertisements. The buyer pays the same price as they would otherwise, and your purchase helps to support The Trek's ongoing goal to serve you quality backpacking advice and information. Thanks for your support!
To learn more, please visit the About This Site page.