Making Plans to Change Plans
Our morning in Leadore was spent trying to figure out our plans for the Goldstone Fire closure. These fire closures are and will continue to be a major point of concern for my hike. In the afternoon we were able to get a ride back up to Bannock Pass to continue north. It was hot out, the car registered an outdoor temperature of 95 degrees, and we were in the hottest part of the day as we left the pass. Luckily for us the trail continued into the shaded cover of the forest.
About five miles into the afternoon I saw my first bear of the trail! I was hiking along and looked to my left to see a huge black bear. This was the largest black bear I have ever seen in my life. Still, though, the bear was startled by my presence and rushed to climb a huge tree. I waited there, away from the bear, for my fellow hikers to catch up so I could point it out to them. I knew that most of them have not seen a bear so far on the trail.
Now that we saw a bear we continued on high alert. Roughly 30 minutes later I was hiking with a friend and a smaller bear sprinted across the trail in front of us. From the body characteristics we knew that this was a grizzly, but it was much smaller than the first one. We continued along with caution just to be sure there was not a mother bear nearby. Safe to say I did hang my food bag after we got to camp and set up our tents.
It was a warm morning, which made it easier to rise with the sun. The trail led us to a dirt road, which then led us Lemhi Pass. Lemhi Pass was a interesting pass that held a lot of history with the Lewis and Clark Expedition. I read that they thought the Pacific Ocean would be within view on the other side, but as they crested over the pass the only ocean they saw was a huge expanse of mountain ridge lines. This is where our fire closure began. Fires probably wouldn't be a problem if there was actually an ocean nearby.
We found a group of four other thru hikers taking lunch at a spring downhill from the pass so we joined them. This made a little lunch party of eight hikers, quite a large gathering for the CDT. After an hour or so we began the road walk alternate. This alternate would be all road walking, thankfully on gravel and forest service roads. We would avoid the highways this time.
As we hiked into the evening we got closer to the Goldstone Fire and could see the fire burning up on the ridge lines. This was an impressive sight. We hiked past sunset, as it turns out it can sometimes be hard to find a camp spot along the sagebrush-lined roads. We did eventually find a well-established site that even had a food hang area set up.
The following morning we awoke and continued along the gravel road bypassing the fire closure. Unfortunately, our plans soon changed very abruptly. A few cars passed us walking alongside the road. We would stop each one just to check and see if anything had changed overnight with the fire. Most of the drivers were surprised to see us determined hikers out bypassing the fire closure. According to these unofficial updates everything was gravy and we continued along.
This all changed when a Forest Service vehicle came into sight and stopped alongside us, obviously to address our situation. The firefighter inside informed us that the fire blew up overnight and they were having to close this detour and implement a new alternate. My two friends and I looked at each other. We all had the same defeated feeling come over us. I tried my best to not get mad at the worker that was just delivering us the news and they were only trying to keep us safe. I tried to feel thankful that they came and found us, but obviously it still was frustrating.
We asked the official about the options for us. We figured the new alternate was out of the question because that would mean backtracking and none of us had enough food to sustain those extra miles. Thankfully they were offering to shuttle us around to Jackson, MT, which was north of the fire and out of danger. So much to our dismay we spent the next three to four hours being driven around the fire closure with a truck full of dejected thru-hikers.
This was the first time that my continuous footsteps were broken through my entire Triple Crown. I was forced off trail and because of the circumstance I had to skip some miles. It was out of my control. So I felt OK about it. A new experience for me. Along the drive I jokingly thought to myself, "Oh, so this is what it is like to yellow-blaze?" At some point in my life I will be able to travel through this area and walk the five road miles to connect this together, but in the meantime I was content.
Our shuttle driver dropped us off in the tiny town of Jackson. One positive of this little adventure is that we were able to enjoy a meal at the only restaurant in town. Unfortunately, the only vegetarian options on the menu were a salad and french fries, a common theme in this region of our country. After we filled our bellies we headed out of town. This detour wasted a lot of our daylight hours so we hit the road.
The road walk back to trail was not boring at least. We saw a bald eagle soaring high in the smoky sky. A kind local man gave us some trail magic and we shared our woes of the day with him. While that was happening I spotted a small grizzly bear in an adjacent meadow. We watched the little dude run around for a few minutes before it ventured out of sight. We soon continued up the forest road. A few hours later in the evening we reconnected with the CDT. There is always a sense of relief reunited with the trail after a detour; it's like coming back home. This five foot wide does, in a way, become our home. We continue up the trail, finishing one last climb before setting up tents in the dark.
We woke in the morning to the first sign of fall; frost littered the trail up in the subalpine. I started hiking with all my layers on, and as the first climb of the morning warmed me up I stripped down to my normal attire for the remainder of the day. The trail for the day wandered up and over several passes, and meandered through the beautiful subalpine area. It went wonderful and I was thankful to be back on beautiful single track. While hiking a common practice for me is to do "trail math." Adding miles and subtracting miles to figure out a schedule for the coming days. I figure that I have roughly 25 days left at this pace, less than one month. Crazy.
The following day my goal was to get to Chief Joseph Pass, for a resupply in Darby, MT. This is also where the trail leaves Idaho and continues north straight into Montana. This section was nice, but it had a few climbs that coincided with the Continental Divide. I enjoyed a few miles with a day hiker, and I was pleasantly surprised that he was able to keep up with my for a few miles. He did stop eventually to take in a view (and catch his breath), but I was thrilled when he tossed me an orange as I continued along. I later enjoyed the fruit as I reluctantly stopped for lunch. I wish I could hike all day without stopping. Content with the constant movement of trail under my feet.
As I neared the road crossing I caught up with a friend. We hitched down into Darby together. She made hitching a little easier, I guess because people become uneasy about picking up a single guy alongside the road. Darby is a small Montana town, just a few restaurants and one grocery. We opt to spend the night at the campground to recuperate, get clean, and enjoy some real food.
The following day I discover there is new fire closure to our north. So we spent a few hours trying to figure out a reasonable plan to get around it. There was not an official detour so at this point we had to figure it out on our own. We spent some time at the local Forest Service ranger station discussing the closure with the employee there and viewing maps. We end up at the library mapping out a reroute and calculating mileage. I decided that I was going to give it a try and hike on. If a bad situation arises I could easily bail out to the highway and hitch somewhere.
Eventually I hitched back up to the pass to head into Montana. The evening walking was nice. It was flat and shaded. I was able to get in 11 miles and set up camp at the edge of a burn area. It is always best to avoid sleeping in burn areas because of the threat of deadfall lingering in the canopy. Those dead trees can and will come down with the wind.
The following day went well; I was feeling good and antsy to get miles done. I only took a 15-minute lunch break. With the smoke filling the air and the slight hint of fall in the air I was feeling the end of hiking season in the distance. I saw two familiar faces heading north. They had had gotten some cell phone service and discovered that the fire closure just ahead of us was increased and the reroute was changed. Classic. Luckily, I wouldn't have to deal with that until tomorrow. I took a right-hand turn, east off the trail onto my detour.
At the trail junction I was standing in a burn area from last year. The black soil covered most signs of the trail, leaving only a faint reminder of a path. With each step a plume of ashy soil erupted from the floor.  The views were framed by the charcoal skeletons of vertical timbers. From here, to my north, I could see the flames from the current fire on a nearby ridge line. With this in sight I was glad to head off the trail and away from danger.
Navigation became interesting as I headed off the trail. My phone's GPS only allowed me to get a general senses of my location and travel. I did download a few areas on Google Maps to aid me; I had also written down directions for the alternate. I was content with the adventure this might bring, and I found a nice camp spot just off the forest road that provided my detour route. A long day, and finally resting after 36 miles.
The next morning I awake ready with a sense of adventure. Ready to figure out my new detour to my original detour, a double detour, I guess. I stopped early in the morning to fill up my water bottles. During this chore I ended up dropping and shattering my Sawyer Squeeze. I yelled a few choice words to deal with my situation. Safe to say I was pissed. I had no backup.
The filter still sort of worked, but it was obvious to me that it really was not filtering properly. As I filtered water, unfiltered water cascaded down the filter, mixing with the clean water. This was a huge issue because I was heading away from the mountains and into the valley, where most likely there would be grazing cattle. This was the second time I have broken a Sawyer Squeeze, and I was upset I did it again. I drank as much of this mountain stream water as I could and kept hiking; really nothing I could do about it now. I was carrying super glue that could come in handy later to repair the stupid thing.
There was firefighting activity in the area. Groups were getting ready head into the mountains. They had already prepared structural protections for the area. They had set hoses and sprinkler lines and wrapped structures in a protective foil-like layer. I followed the gravel road to the east, which eventually brought me to a larger gravel road and then I made it to the highway. I decided the easiest alternate for me would be to walk the highway north all the way to Anaconda. From where I started this morning it was 52 miles via roads to Anaconda.
I made it to the highway and headed north. At this point road-walking was just a mental exercise to try to keep my mind busy while I subconsciously walked along the narrow highway shoulder. I did strike up a conversation with a couple camping next to the road and was able to get some water from them. The husband mentioned to me there was a warming hut in my direction, but he didn't give me too much information. Still, I put a little mental note in my mind.
Farther along I watched a couple of bald eagles along the riverbank sit high up in the pine trees. They provided a little entertainment for me. Dark clouds gathered to my south, wind blew dust in my face. Once it started raining I could only laugh to myself about this terrible situation I was in. Yes, it was terrible in the moment, but I couldn't think of any place I would rather be. This was alright with me.
Farther down the road as the evening was approaching I remembered what the gentleman told me about the warming hut alongside the road. So I started looking on Google Maps to try to locate it. I noticed on the map there was an area designated as a cross country ski area, and it did not take long for me to make the connection. I assumed that the warming hut would be in the ski area. Then I figured out that it was within my reach for tonight.
Later on in the evening I arrived to the cross country ski area. The sun was setting and I needed to find a place to settle down for the night. The hut was not next to the road; my heart dropped. I wandered into the parking lot and found a trail map, which thankfully depicted a warming hut just a quarter mile away. Hooray! I still tried to not get too excited, hopefully the people in charge were kind enough to leave it unlocked. I walked up a brand new warming hut, and wouldn't ya know it, the hut was unlocked. This made the whole day of road walking worth it.
I set up my sleeping kit on the floor and prepared dinner by candlelight and enjoy some music from my phone. There was a huge stove in the middle, but thankfully I didn't need to use it. It wasn't that cold. My gratefulness for the cabin doubled when I woke up in the middle of the night and heard the sound of rain upon the roof. I fell asleep with a smile on my face, thankful that my issues today never became problems and I was happy I wouldn't have to pack up a wet tent in the morning.
Early the next day I left after signing the hut register with a thank-you note. I was out early and excited to get into town. Anaconda was just about 15 miles away. So roughly five hours of hiking, maybe a little less if I hurried along. I walked through the fog. I was sure I probably startled a few drivers that passed me walking alongside the road. To them I was just a silhouette appearing from alongside a foggy road. The road walk was uneventful. The final couple of miles I was greeted with rain. I did not care, though, because I was hiking into town. I donned a constant grin thinking of town food.
As soon as I was in town I saw a few familiar faces, fellow thru-hikers who were resupplying at the grocery store. They were a little confused because I came into town from the north, kind of the wrong way. I explained to them the detour I was forced to take and we shared fire detour stories, which have been a popular conversation topic recently.
The wonderful town of Anaconda has a nice little shelter built in a park for hikers and other adventurers to stay in. So I ended up staying there for the night along with two other northbounders. I will be heading out tomorrow, so just half a day off my feet here, then onward I go.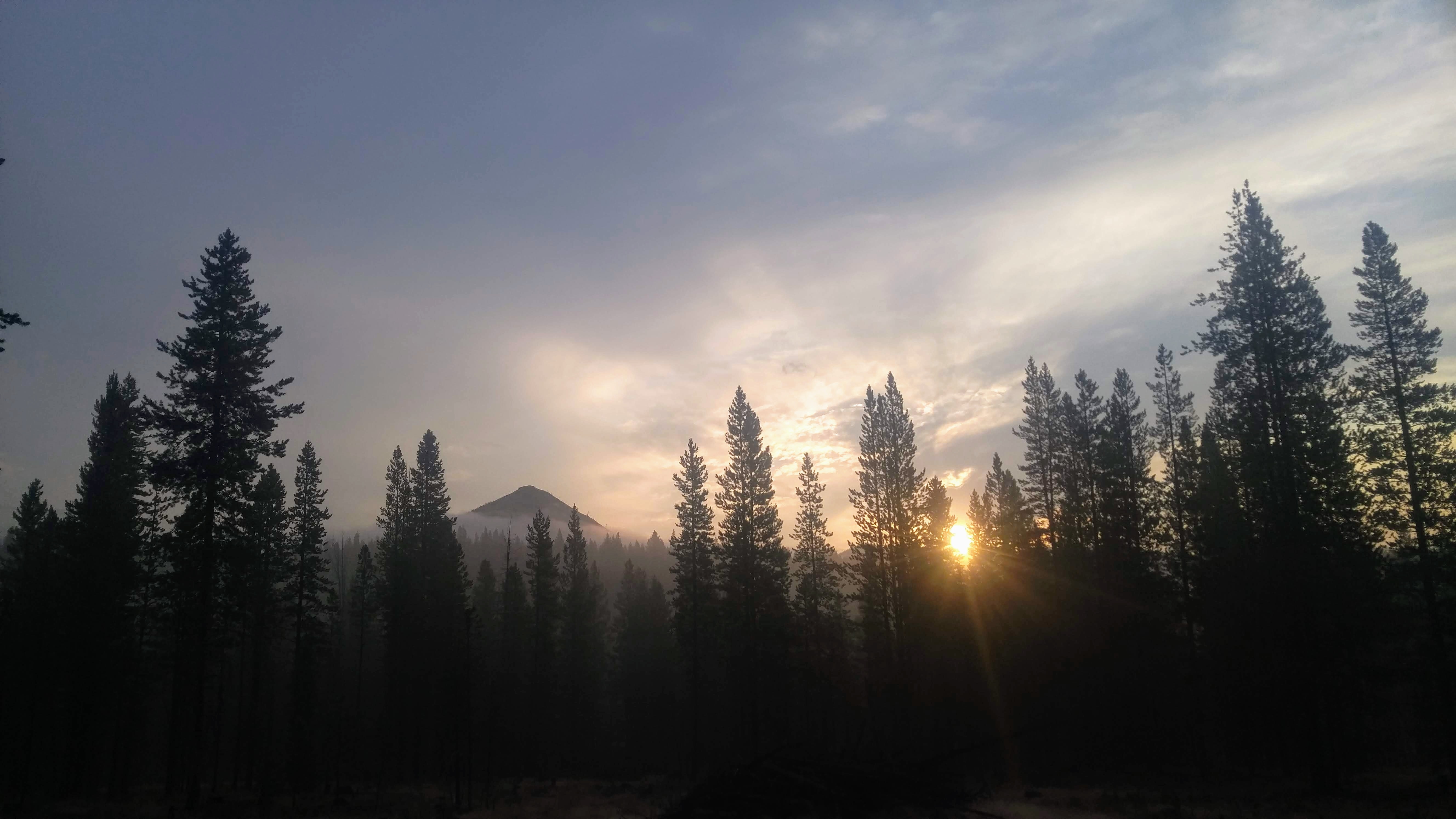 Peace and love,
Top Nach
Mileage Log
Aug. 10: Day 103 – 13 miles leaving Leadore, ID
Aug. 11: Day 104 – 30ish miles
Aug. 12: Day 105 – 20.5 miles
Aug. 13: Day 106 – 27.5 miles
Aug. 14: Day 107 – 21 miles into Darby, MT
Aug. 15: Day 108 – 11 miles leaving Darby, MT
Aug. 16: Day 109 – 36 miles
Aug. 17: Day 110 – 37 miles
Aug. 18: Day 111 – 15 miles into Anaconda
Affiliate Disclosure
This website contains affiliate links, which means The Trek may receive a percentage of any product or service you purchase using the links in the articles or advertisements. The buyer pays the same price as they would otherwise, and your purchase helps to support The Trek's ongoing goal to serve you quality backpacking advice and information. Thanks for your support!
To learn more, please visit the About This Site page.