Passes and Storms in Montana's Pintlers
The way out from Anaconda is a highway walk. Just like the way in, except longer, and with a few opportunities to slip onto parallel gravel roads instead. These quieter lanes didn't add too much distance and provided a much-needed respite from the paved road and fast cars.
When Josh and I were almost at the road that would take us to the trailhead and then up into the mountains, a guy waved at us from across the street.
He was carrying a gun, but he seemed friendly and gestured like he wanted to talk to us. We crossed over and he asked if we wanted to come over to his cabin for lunch. He also explained that the rifle was for gopher hunting. Having been raised as a suburban Californian, I appreciated the context.
We had a lovely meal just down the road with Bill and his wife, Terri. Bill was born just down the creek from where they now live, in a large log cabin they built themselves over 15 years. I told Bill that I'd noticed a lot of falling down old log cabins out along the trail. None so nice as his. He said those are all just fixer-uppers.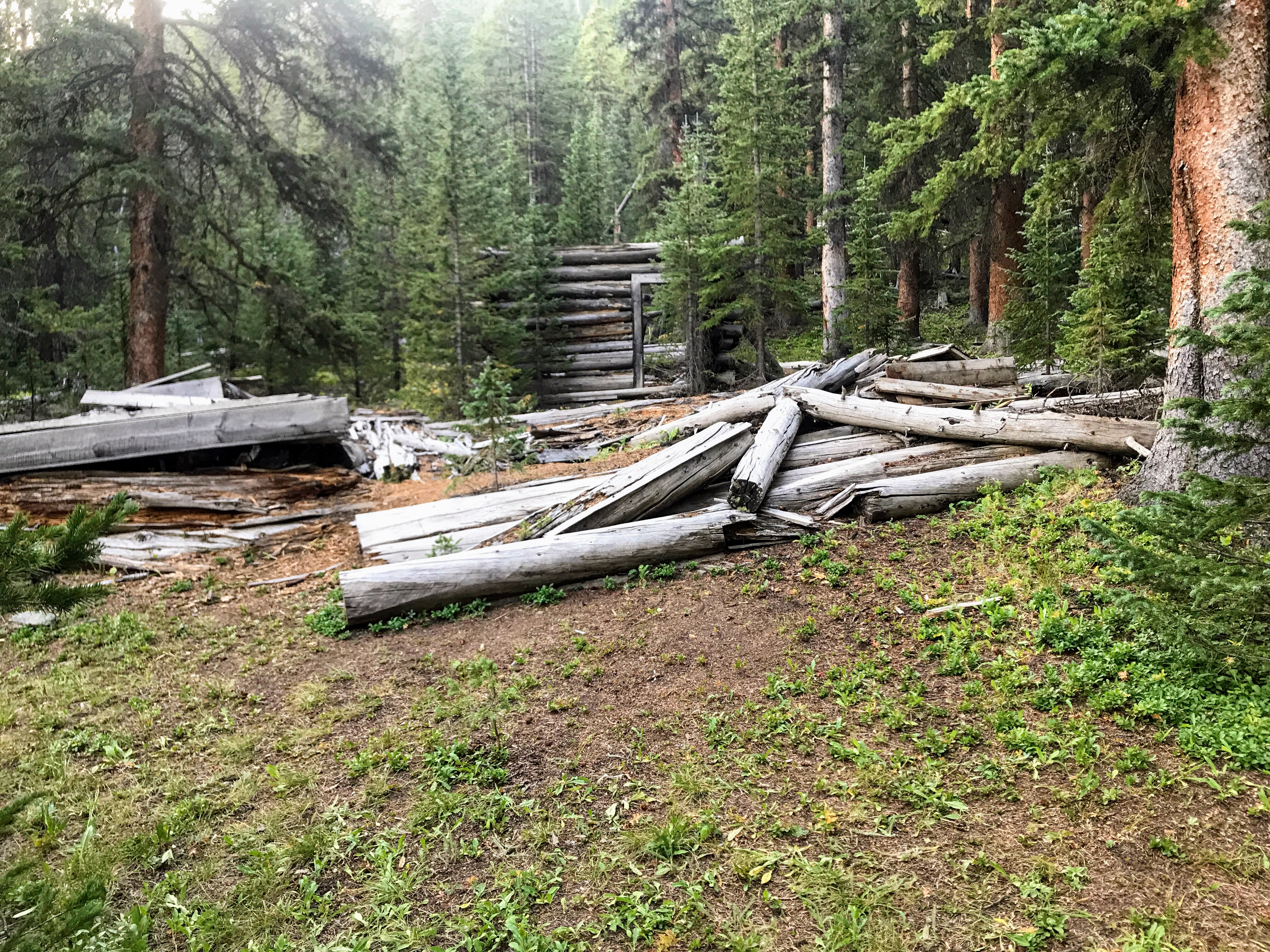 After lunch, Josh and I headed back out along the road. We trudged uphill in the heat and decided to go swimming at one of the Twin Lakes coming up. Once we passed the trailhead and got on actual trail I started feeling better, able to hike faster. Lots of folks were coming down the trail, including several wet and happy dogs. Josh and I decided to push past the first lake because it looked small. By the time we got to the second lake it was raining.
I huddled under my umbrella and ate my packed-out chocolate cake out of a plastic bag. No swimming today.
After our snack, Josh and I lost the trail on the way to Storm Lake. I felt like it was at least an hour of bushwhacking up and down slopes looking for a trail that wasn't there. I was constantly swatting mosquitoes, and every time I checked the map I couldn't stand keeping still. At long last we found a bit of trail at the top of a rise. A sign read "Twin Lake Pass." I felt bitter and told the sign what it could do to itself. Because of our time-consuming detour, Josh and I decided to camp when we got to Storm Lake. There was road access and cars and dirt bikes roared into the evening. We had a nice fire, though, which is a thru-hiking rarity.
In the morning the trail took us around Storm Lake and up the first pass of the day. Here the Anaconda cut-off we'd been hiking re-united with the official CDT. Passes are one of my favorite things about hiking, and it turned out this section of the trail through the Anaconda Pintlers was full of them!
Passes, lakes, and new views around every corner.
At Cutaway Pass I realized that the funny, short trees with bunched-up needles were larches. The larch is a deciduous conifer that turns golden in the fall. This being summer, the needles were still bright green, but I was excited anyway. Despite having to go down after each pass and then right back up to the next one, I felt like the mountains were sweeping me forward.
Between the passes were mossy streams, car-sized boulders, and alpine lakes. Josh and I swam in one and it was windy and freezing. Just before I got to the top of the last pass of the day, above Rainbow Lake, I started hearing thunder. The two of us decided to go down because the descent would bring us below treeline quickly. We walked with plenty of space between us, as thunder clapped in that tremendously loud, metallic way that it does when it is so close to you.
It began to rain and we camped at Johnson Lake, cooking under the trees, swatting the mosquitoes. The thunder and lightning continued into the night and I counted out the strikes, finally falling asleep, fitfully.
In the morning, everything was soaked, and Josh and I made the very un-thru-hiker-like decision to sleep in as late as we wanted and have a very lazy, relaxing morning.
I hauled myself up Pintler Pass at around 11 a.m. My feet ached, and there weren't a lot of views, compared to the passes of the day before.
At the next high point Josh and I sat down for a snack break. It began to hail, and we waited it out under my umbrella, but when we continued we heard thunder just beyond the ridge we were hiking along. Thunder seems so much louder to me in the mountains. I went ahead and Josh followed some distance behind. The idea is to reduce the likelihood that we will both be struck by lightning. Mostly it helps me feel like we're doing something proactive as we walk through exposed areas.
Later in the afternoon, we got hit by another storm. This time we were walking through a recent and severe burn area. Miles of flammable lighting rods! In our hurry to get back into live forest we forgot to keep an eye on water sources. When we checked the map, both Josh and I had a quarter liter each, with seven miles to go to the next stream.
I got so thirsty that I started looking at the droplets on pine needles longingly, wanting to lick them from the trees.
We found camping in an old burn area full of beargrass and fireweed blooms. It was hard to find a spot without any dead trees looming overhead, but we eventually did, and the two of us had dinner sitting in the rain, again.
The following day was mostly sunny, full of mellow hiking over low ridges. Josh and I swam in Surprise Lake, and met two other thru-hikers heading south, Lucky and Soda.
The remaining miles to the highway the next morning felt smooth, like this hiking thing was getting easier on my body. The trail went through a cross-country ski area and by a cozy-looking warming hut. The first car that drove by stopped for us. The driver said he was going through Darby on his way to work. Sure, we could go to Darby!
Josh and I piled into the backseat, leaving the front for a dog who was initially skeptical of us smelly strangers, but ended up coming to the back for pets.
Josh and I ran into Soda at the Montana Cafe. It was a great small-town diner with a kind and friendly family of owners. The teenage kids were serving tables, and the  mom at the cash register checked in to make sure we got enough to eat. Her husband came out of the kitchen to ask questions about our hike.
After resupplying, showering, and doing laundry at the Traveler's Rest RV Park, Josh and I went to Bandit Brewing Co. We had a few great beers and met the former head of the fire department.
At 6 p.m. we hitched back out of town, catching a ride with an off-duty wildland firefighter. She told us stories about her job and dropped us off right where we needed to be to connect our footsteps. Another hiker told me once that going in and out of town in the same day is called a hero. I think that's pretty silly, but we did it! We heroed in Darby! We had also crossed the border into Idaho, marking the beginning of the next section of our hike, where the CDT crisscrosses between Idaho and Montana along the divide.
Affiliate Disclosure
This website contains affiliate links, which means The Trek may receive a percentage of any product or service you purchase using the links in the articles or advertisements. The buyer pays the same price as they would otherwise, and your purchase helps to support The Trek's ongoing goal to serve you quality backpacking advice and information. Thanks for your support!
To learn more, please visit the About This Site page.