The Winds Have It – Part One
Best kept secret in the lower 48 hiking world? It would have to be Wyoming's Wind River Range. How did we not know about this magical place? Had we not set out to thru-hike the CDT, I highly doubt we would have ever discovered, let alone experienced, the ridiculous beauty of The Winds. Our second and third weeks (June 27 – July 11) hiking the CDT found us in the Wind River Range.  I dare say we could spend an entire summer exploring the far reaches of this majestic area. The only problem being, how to have food delivered so we wouldn't have to hike out to resupply. You can only eat so much fish. 
Finis Mitchell, however, did explore the intricacies of The Wind River Range. In fact, he spent a good portion of his life doing so, and in 1975 chronicled it in his book "Wind River Trails". Not only did he explore the Winds, but he and his wife Emma stocked the over 300 alpine lakes with fish, during The Great Depression. Therefore, any fish you catch in those high alpine lakes, you have Finis and Emma Mitchell to thank.
Simply Brutiful!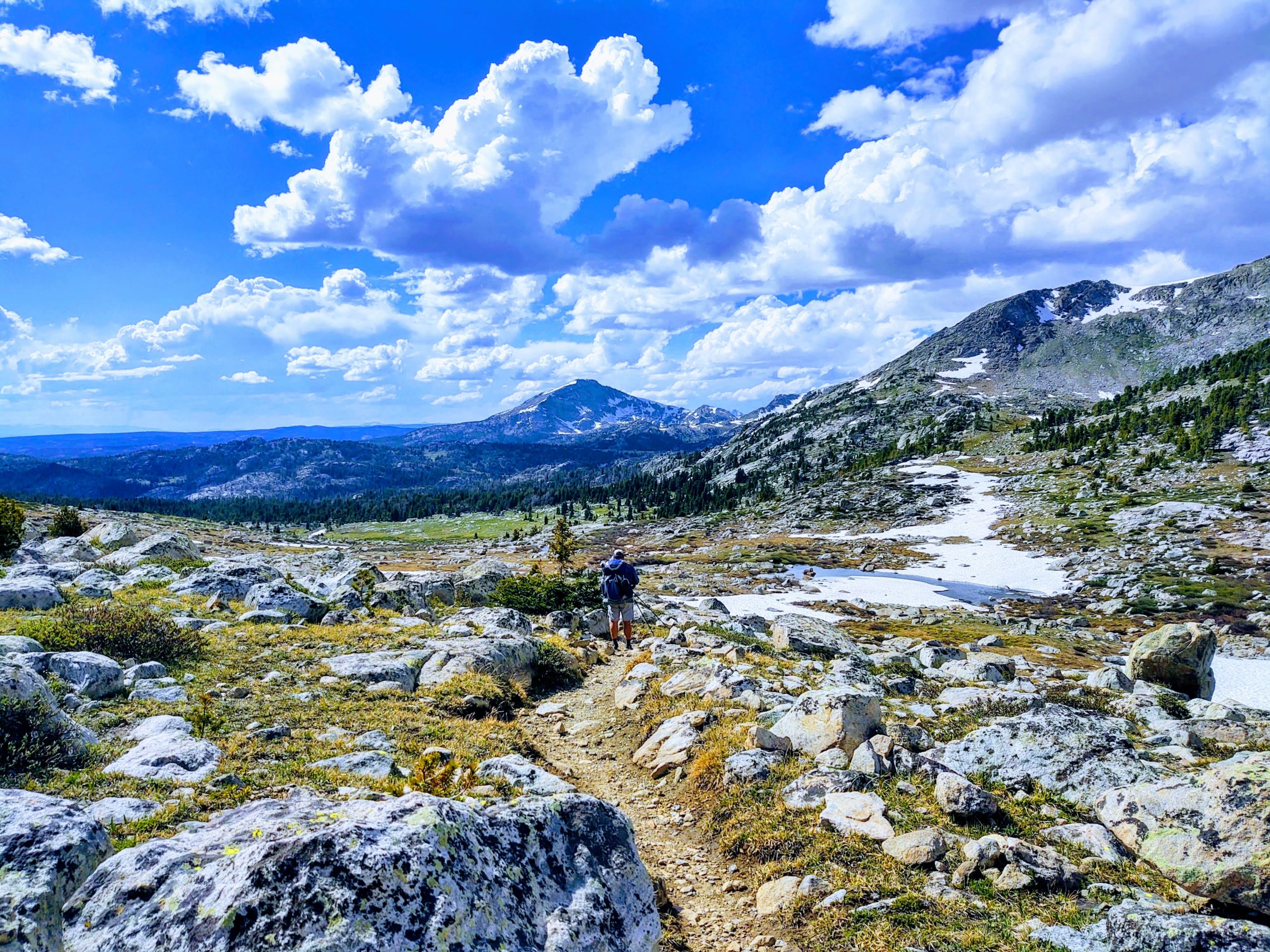 The CDT portion of the Wind River Range, stretches from South Pass City(CDT mile 1716 – NOBO), north to Union Pass (CDT mile 1844 – NOBO, just before the Lake of the Woods).  Without a doubt, this two week section of the CDT kicked our asses. During those two weeks we experienced all manner of weather and challenging terrain.
The trail, it's tread conditions, elevation changes, water crossings, and perfectly timed mosquito blooms, were more than memorable. A blizzard, lingering snow, and a bushwhack that ate my favorite hat and Gossamer Gear umbrella, was brutal. A fall that nearly resulted in us pushing our InReach SOS button made for some ill timed "excitement". Nevertheless, our traverse through The Winds was nothing short of beautiful. In short. The Wind River Range was simply BRUTIFUL!
Day One (June 27)
When we left out of South Pass City (June 27), with our resupply finally located, we had no idea of what we had gotten ourselves into. We spied snow capped mountains in the distance. For some ridiculous reason, we didn't expect to be marching directly into and through them.
On the plus side, this would be our first sight of actual trees, and water that wasn't stagnant. It is here that we also began our frustration with the practice of hanging our food bags. Paul became the chief line-tosser, as I (following a shoulder injury) now throw "like a girl". In hindsight, we should have brought two lines to hang our food bags. Hoisting two fully loaded food bags, and having them on one fairly thin line is a lesson in mechanical advantage. Having them hanging from separate lines would also reduce the possibility of becoming "foodless". Heaven forbid a crafty bear (or small sharp toothed varmint) is successful in breaching our "piñata of food". 
Having made only 15 miles, we called it a day on the flattest side of a hill we could find.
Day Two (June 28)
With Wyoming winds, come inevitable blow-downs. Thankfully, a chainsaw toting "angel" cleared the path for us. Otherwise it was going to be a slow crawl through the forest. We aren't as nimble as we used to be. Luckily the trail was mostly cleared and made for "easy" miles.
Early on, The Winds, had us dodging lightning and discovering the true saturation point of our rain jackets. While it has been awhile (6 years), we quickly "re-honed" our skill at pitching our tent in an unrelenting downpour.
Day Three (June 29)
It took us till noon for the rain to stop enough for us to dry our tent and pack up. The thought of pitching a wet tent and Paul having to wear a "wetted out" rain jacket didn't seem all that smart. Especially, with the possibility of it snowing on us as we reached 10,000 ft.
After signing the trail register, we would be entering the Bridger Wilderness/Bridger-Teton National Forest. Over 1300 lakes populate this area. Before the 1920's most of these alpine lakes were devoid of fish…until the Mitchell's of course.
Ironically, the moment we reached 10,ooo feet, it began to lightly snow. Not enough to stick, but snow all the same. From here, we descended several hundred feet and made our first swift and icy crossing of Little Sandy Creek. Just before the junction for the Cirque of the Towers alternate route, we set up camp. With temperatures well below freezing, we zipped our Western Mountaineering 20° bags together, and hoped neither of us had to pee in the middle of the night.
Day Four (June 30) 
We awoke to lightly falling snow that frosted the surrounding terrain.
This quickly devolved into a blizzard, thwarting any possibility of safely negotiating the famed Cirque of the Towers alternate route. In an effort to move quickly, and after our second crossing of the STILL swiftly flowing and icy cold Little Sandy Creek, followed by a bushwhack through a dense thicket of brush, The Winds stole my favorite hat and Gossamer Gear umbrella.  Sadly, I didn't discover the loss, until it was too late to back-track.
In no less than 8 miles, in often horizontal snowing conditions, we had the "pleasure" of fording four additional "creeks". At some point we didn't even bother to roll up our rain pants, and trudged through the often thigh deep toe numbing water, bent on getting to lower elevation.
With 2-4 inches of freshly fallen snow already having accumulated in under 2 hours, we entertained exiting via the Big Sandy trailhead, and escaping to the Big Sandy Lodge. The thought of setting up camp in a snow drift with numb and frozen limbs did not seem all that appealing…or safe.
Just before we reached the Big Sandy trailhead, the snow had abated and melted enough for us to continue to Meeks Lake, where we would camp and do our best to "dry out". By this time we had practically walked ourselves dry, if not warm.
Day Five (July 1)
Significantly warmer and with a hint of clear blue skies, we traversed through some of the most breathtakingly beautiful scenery we have ever seen. If we didn't need to make miles, we would most definitely tarried at more than a few places, just to more fully take it all in.
It was definitely a shame to have to "speed" through such remarkable scenery, that even the wind and marauding mosquitos could not affect. At one point we felt like we were "On Top of the World". Bright blue skies above, accented with silver embossed clouds and jagged granite peaks adorned with snow surrounded us, in the near distance. Rolling hills planted with boulders and supplanted with bright green vegetation, with pristine pools of water and patches of snow bordered the CDT. Our day finished with a flat, miraculously mosquito free, campsite with white swans floating in a nearby lake.
Day 6 (July 2)
Bright blue skies make for quick work on the recent snow fall. It's important to note, that since entering The Winds we have NOT had the pleasure of dry footwear. For the past 5 days, our feet have been waterlogged, pale and shriveled. Impromptu ponds of water and squishy deep mud filled the recesses of the trail. Taking shoes off to keep them dry is an act of futility.  The only saving grace, is that the continual immersion of our feet/calves/thighs in icy cold water has done wonders with keeping down any lower extremity inflammation.  As such, our "vitamin I" (Ibuprofen) supply has nary been touched.
The morning air was crisp and cool. With all the moisture, creeks, rivers and lakes, we are grateful that the mosquitoes here, are "late sleepers".  This is not to say that our timing into The Winds did not coincide with a murderous bloom of mosquitoes. It did! Apparently, they just sleep late, which means we had nearly 4 hours of "peace" before they tried to make us dry sacks of flesh.
A "feast" for all involved
Without a doubt, this was the most beautiful day, (scenery wise) we had while on trail. Green meadows with picturesque lakes and creeks were the norm. Rolling soft terrain underfoot negated the need to constantly pay attention to ones footing. On the whole, it was a feast for the eyes…and the soul.
It was on our 2 mile ascent of Hat Pass (10856 ft.) that the mosquitoes woke up. These devilishly wise vampires found us easier "prey" as the trail got steeper and the air got thinner. In other words, we did our best to NOT stop for more than 15 seconds to catch our breath, otherwise, we would become completely swarmed and covered by mosquitoes. This necessitated the donning of a head net and the use of "bug juice", to keep from being drained of all our red blood cells. (Ben's 30% Deet is our on-trail "go-to", in addition to pre-treating our clothing and packs with Sawyer's Permethrin, before we started the CDT)
The day finished near a Trail Junction at NOBO mile 1790.9, while being dogged by incessant mosquitoes trying to breach the interior of our tent. As the sun set, the moon rose. Next stop, Pinedale, for a day or two off, and resupply.
Day 7 (July 3)
Only an open fracture would have kept us from pushing on to town. More importantly town food, and well, Pinedale's Wind River Brewery.
First we had to breach three unnamed snow covered passes (at: 10,787 ft, 10827 ft, 10827 ft) in our first 5 miles before the snow got soft and the pleasantries of post-holing began.
Following the descent of our third and final pass, and in an attempt to bypass yet another steep patch of snow, our worst nightmare almost became a reality. Without notice, I found my left foot and knee being jettisoned into an unnatural position. To arrest the probability of injury to the point of having to push our Garmin InReach Explorer + SOS button , I threw myself into the hillside, face first, with a sickening thud. As I lay face down in an icy mess of mud, snow and spongy vegetation, I had a good cry whilst taking "inventory" of possible affected body parts.
Bleeding? No blood. Check.
No feeling or sound of a "break". Check
No searing pain… currently. Check
All parts move "properly", without much pain. Check
Some 20 minutes after "inventory" complete, we continued our descent, much slower than originally intended till we reached our turn onto the 10.5 mile Pole Creek Trail.
Nightmare on Pole Creek
A sigh of relief was replaced with, "You gotta be kidding me!" You really have to want to get to town really bad to do the Pole Creek trail. Especially this time of year. This trail was worse than what most of the CDT has been so far. We spent the first part of this trail slogging through often calf deep muddy bogs, or sludgy snow drifts blocking the trail.
Then came the crossing of Pole Creek (proper), which was wide, thigh deep, swift and cold. More mud, and now horse torn trail followed. Add the fact that we were dogged by mosquitoes and an occasional biting fly a good portion of the time, and you have true town motivation.
With 6 miles left till the Elkhart Trail head, where the Pole Creek Trail ends, we began to see numerous people with fully laden backpacks headed our way. We counted 20+ people before we hit the parking lot. It was the most people we have seen in one day, since we started in Rawlins. They all smelled so fresh and clean. We tried to name the detergents, aftershave, body wash and deodorants as they passed. We were amazed at how popular this trail was. Was COVID over, we asked? Nope, it was Friday, and the beginning of the 4th of July weekend. How did we miss that? We would have preferred not getting into town on a weekend, let alone a holiday. However, food, a shower, laundry, a bed, beer and resupply shopping for our next 4 resupplies beckoned…not necessarily in that order. A quick hitch into Pinedale, found us at the entrance to the Best Western and unwittingly, 3 days off trail.
Day 8-11 (July 4-6)
Getting into a town on a weekend, and especially a holiday weekend puts a cramp in your ability to access the Post Office. We took the 4th off and spent the day lounging and exploring the quaint town of Pinedale. A social distanced concert in the park, followed by a spectacular fireworks display that didn't start till 10 pm because it doesn't get fully dark till then, made for a fine Zero day.
The next two days had us scurrying to complete our chores: Fuel for JetBoil. New Hat for Dee. More "Bug Juice". A new filter for our seriously beige tinged water filter. (The cow ponds of the The Basin did a number on it.) Food. Food. And more Food.
Affiliate Disclosure
This website contains affiliate links, which means The Trek may receive a percentage of any product or service you purchase using the links in the articles or advertisements. The buyer pays the same price as they would otherwise, and your purchase helps to support The Trek's ongoing goal to serve you quality backpacking advice and information. Thanks for your support!
To learn more, please visit the About This Site page.