Wyoming: Final Days and Final Thrill on the CDT (July)
Starting in Wyoming, I spent an increasing amount of each day imagining leaving the CDT, departing from my original plan to thru hike the trail in one season.  Though I was well aware that most thru hikers face moments of discouragement or decreased motivation at some point in a months' long hike, I also knew that I had not felt this same level of apathy on either of the other two trails (PCT and AT).  Ultimately, I found that the many thrills/fears on the CDT (snowy traverses and windy passes in Colorado, exposure to thunderstorms, remote location, hiking in grizzly country) combined with a much smaller hiking community wore me down.  Without more human interaction throughout my hike, I started acutely feeling the absence of both levity and meaning.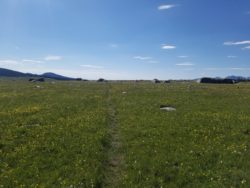 In the town of Pinedale, I booked a flight to NYC and made plans to hike a few final days on the CDT, to the town I would fly out of (Jackson Hole).  
My final day on the CDT, the plan was to hike 17 miles to Highway 287, then catch a ride down to town.  In the morning, I hiked over the very familiar landscape of high desert towards two men talking.  One was another thru hiker; the other was a rancher with his horse and two dogs.  
I wasn't surprised to see the rancher.  I had heard from other hikers that the rancher here often checked in with hikers, asked them if they had bear spray, and told them about a grizzly bear known to be in the area.  As I approached, I nervously observed many bear print tracks in the soft dirt of the trail.   
A recent hiker comment I had read on my trail info app stated, "Active bear… for about 6 miles.  Bluffed the rancher on 7/22.  Rancher feels it has a kill in the area.  Make sure you are yelling 'bear beware' any time you cannot see more than 100 feet in front."  And: "calf killed by grizzly bear near here 7/21 near this waypoint.  Very nice rancher around here will make sure you have bear spray and wish you luck."  
The rancher asked if I had seen the tracks, then told me he thought the bear had been following hikers who had passed through earlier in the morning.  "He has the potential to be aggressive".  I sensed that he was primed to tell me numerous stories about the bear and his activities lately, and I said, "Well, I don't mean to cut you off, but I'd like to try to catch up to the hiker ahead of me."
Should I ask the rancher if I could stick with him for the day, and rely on him for a ride to town?  I considered it, then chose to follow the path of the hiker ahead of me instead, rationalizing there would be more hikers coming behind me eventually.
He wished me luck and I hiked as quickly as I could, scanning the land and trail ahead constantly.  I turned the volume up on my phone and played loud songs, hoping to keep the bear away and not startle him.   
Soon I heard cattle bawling in a far meadow, even over my music.  Later, the hiker ahead of me theorized that the bear had gone over to those cattle, and that's why we heard them.  It was quite eerie.
The trail wound through burned forest, the deadened trunks also particularly eerie in the present circumstances.  The rancher had claimed that the next 5 miles were the problem area.  I hiked steadily on, grimly determined to cover the 5 miles as quickly as possible.    
A group of riders and horses appeared on the trail coming towards me.  I asked them if they had seen any bear activity ahead.  "No ma'am", the riders calmly replied.  I told them about the tracks behind me, and they thanked me, but appeared unfazed.  Maybe they were locals.  I envied that they were riding in a large group together, though I was also glad I had run into other humans out on the path.  
I paused a moment to pull out my bear spray and remove the safety guard.  I sprayed a practice spray, and was somewhat reassured by the loud initial pop and the force of the spray.  I kept it in hand and ready for the next hour.
5 miles beyond the rancher, I saw the hiker ahead of me sitting along the trail, backpack off, eating a snack.  I called out to him, "Whew, you're sitting and snacking, you must not be as freaked out as I am in this bear zone!"  He said, "I think we're out of the zone, that problem bear went after the cattle back there."  
I took the opportunity to snack as well, though I chose to remain on my feet.  The hiker told me about how the highway we were headed to was visible down the hill, and it'd be possible to bushwack to it more quickly than our current trail.  I said that I'd never want to risk intersecting a grizzly path while bushwacking, and the hiker nonchalantly replied, " You just tell that bear, 'get out of here'!"  I sighed to myself, once again feeling like the cautious anomaly on this trail.  
The other hiker and I finished snacking, then set off down the trail.  The other hiker was taller and hiked quickly.  Much to my irritation, he hiked at the same fast pace as usual, not slowing for me, in spite of the current threat.
Fortunately, the trail soon opened onto wider dirt roads.  With each mile I relaxed a degree, even stopping to sit for lunch a few hours later.
At long last, by late afternoon, I hiked up to Highway 287 and caught a ride down into the town of Dubois.  I relished the feeling of safety I had down in the small western town.  All was well here.  Saloons and small businesses fronted the main street, and tourists ate at an outdoor cafe.  One man in a button-down shirt walked up to an outdoor piano to play "The Entertainer" in front of a wooden building lettered "Horse Creek Station".   
 I listened to the lively tune as I walked to the grocery store stocked with abundant food options, inwardly celebrating the fact that I had reached the conclusion to this challenging adventure, and that it felt so right to be leaving.  (Concluding blog post coming.)  
Affiliate Disclosure
This website contains affiliate links, which means The Trek may receive a percentage of any product or service you purchase using the links in the articles or advertisements. The buyer pays the same price as they would otherwise, and your purchase helps to support The Trek's ongoing goal to serve you quality backpacking advice and information. Thanks for your support!
To learn more, please visit the About This Site page.