Day 24 – Zero in Salida
US Highway 50 crosses both East and West – leading hikers into Salida for resupply and rest.
The Hotel Time Forgot
We had sent a resupply box to the Monarch Mountain Lodge. It's actually right off the trail, no hitching required. They offer a day pass to hikers so they can use their pool and facilities. They even have their own restaurant right there. Since we were stopping there to pick up a box, it sounded like the smart choice to stay for the night. And since everyone was warning us about how bad the weather was going to be the next day, we decided to stay for two. There is a hostel in the tiny community there, and it many people recommended it to us. But they advertise beer on tap and 420 friendly. Not exactly our scene.
Monarch Mountain Lodge is a ski lodge that survives off it proximity to the Monarch ski area. While the staff was nice, it is seriously dated. Our room had a huge entertainment center where they had removed the dated box TV and stuck a flat screen on top. The headboard was from the 70s and there was a drop ceiling just like the one in my mom's basement. It also backed up to a mechanical room with a constant whine. John was gracious enough to do the annoying task of getting our room changed. The second room had painted cinderblock ways (again, literally exactly like my mom's basement) but a slightly smaller hole in the entertainment center.
It had access to a balcony through French doors, but the weird part is that is was one long balcony. You could stroll past everyone's glass doors on that whole side. Fun if you and your friends rented the whole block of rooms. Creepy if you don't know your neighbors. Even the posters on the wall were from the eighties. The women skiing had big hair and red sports cars.
The 'restaurant' was closed two days a week and literally had 3 choices of meals. I feel bad for hikers without a car, as the closest decent food was 20 minutes away in Salida. Above the restaurant was a huge empty lounge with an abandoned stacks of plates and Parmesan packets from a pizza party. However, it got the best Wi-Fi signal and 1 bar of service – so the creepy empty place became our go to hangout space.
Town Goodies
Our good hiking friends, Geo and Co-op, stayed down in town. We drove down the next day to help them move to a hotel (hostels are cheap, but often crowded and small). We did laundry in the cutest laundromat I've ever seen before an early dinner. The only advantage of staying at that hotel on the mountain is that it kept us out of all the cute stores, restaurants and coffee shops.
Pizza Rio was an open air restaurant on the second floor overlooking the river. I'm always up for watching people float by as dinner entertainment. At dinner John preceded to order the biggest pizza I've seen. It was a 20" pizza called the "Shuttle Bunny" with spinach, mushrooms, onion, olives, and peppers.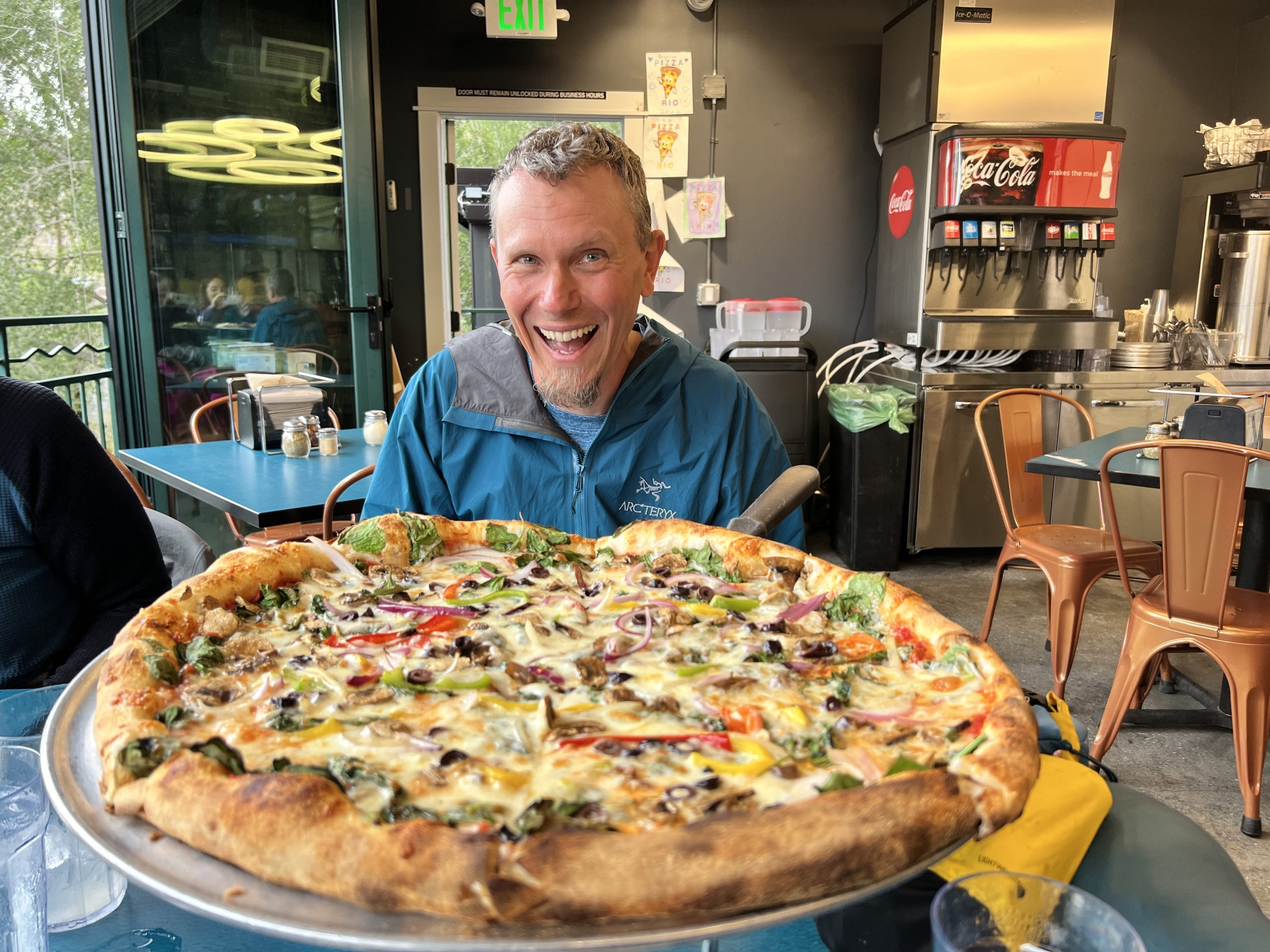 I, however, saved room for the tiramisu. During dinner the skies opened up and began to pour. We watched the water rushing down the street and into the river. The rain did not stop John and Co-op from searching out ice cream, while Geo and I opted for coffee.
The pouring rain convinced that it had been a good idea to take a zero and I was happy to have a car to drive us back to the hotel. This has been the first resupply where I have splurged on snacks for myself. That is was also our first Super Walmart is not a coincidence. I don't know whether it's comforting or creepy that I can buy almost the exact same things as back home.
The one change I would make to my dehydrated food is upping the spices.  It seems the citrus flavor ( in the orange millet and lemon quinoa) disappeared when I dried it. A packet of True Lemon and True Orange would helped a lot. I also salted the food for everyday life. Out here in Colorado you definitely lose salt when sweating. At home you sweat a little – and it stays on you. Here you sweat, it evaporates – so then you sweat more. I have been desperately wanting more salt on all of my meals. The solution – the cheapest container of salt (which was also the biggest ironically) and a travel pouch meant for shampoo. I wonder what the cleaners thought of finding an almost full container of salt left behind.
Affiliate Disclosure
This website contains affiliate links, which means The Trek may receive a percentage of any product or service you purchase using the links in the articles or advertisements. The buyer pays the same price as they would otherwise, and your purchase helps to support The Trek's ongoing goal to serve you quality backpacking advice and information. Thanks for your support!
To learn more, please visit the About This Site page.