Day by Day
I took a nero day at a hostel to recover my foot. Icing and a half day of rest was just what it needed. Afterwards, I took it easier for a few days. Enjoying the trail and some beautiful weather. I'm not thinking about the ending anymore, I'm just taking it day by day.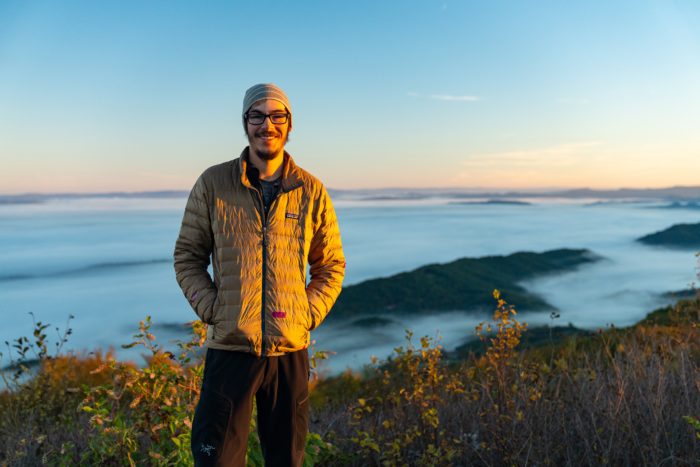 Day 104 (7.2 miles)
I woke up with the sunrise. The rays pierced through the trees and into the front of the shelter. I quickly made my coffee and headed out into the windy field. Clouds covered the entire valley. It was as if water had filled the area and formed a lake.
The sunrise lifted my spirits. I remembered the reasons why I was out here. None of them included being anxious or upset over events that have yet to come. I accepted that whatever was going to happen, was supposed to happen. I took my time packing up, knowing it was a short hike downhill into town.
There was almost no pain in my foot this morning. A delightful surprise! I made it into town just before 11 am and immediately went to get some food. I ate a giant serving of nachos, along with a quesadilla. I should have felt sick, but there was still more room. The afternoon was spent icing my foot at Angels Rest Hostel, a fitting name. There were a couple other hikers there who I chatted with. The sun soon set and we had a fire before heading to bed. I was optimistic for the next day.
Day 105 (18.8 miles)
Despite a warm cozy bed, I didn't sleep the best. Perhaps it was the lack of exercise the day before, or maybe it was feeling out of my element. Either way, the fresh coffee provided by the hostel was welcomed into my system. I debated whether to hike on this day or to take a full zero. My foot felt pretty good, but another rest day may further heal it. I chose to hike on. I told myself that I would take a full zero if it flared up again. To my disbelief, my foot was almost entirely pain free this day.
The trail began with a long gradual climb up to the Angels Rest view. It was a beautiful view and beginning to feel like Fall!
I only saw a few other hikers, but I enjoyed the peaceful day to myself. I was finally feeling happy again while hiking. The miles came and went quickly, an almost euphoric day of hiking. There were a long sections of tunnels created by thick brush and mountain laurel.
I arrived at the Wapiti shelter around 4:30 pm. It was a great place to relax for the evening. The creek just down the trail was perfect to ice my feet in. I sat there until my feet went numb and tingled. Then, I headed back to the shelter for dinner. It was reassuring to feel like my foot was improving. I was hopeful that the next day would yield similar results.
Wapiti Shelter: T1, S3, P3, W1, B2
Total Score: 18
Day 106 (19.2 miles)
Another morning, another coffee. It was a calm and chilly day on trail. I passed a pretty pond just after leaving camp.
It was easy hiking in the morning. A few miles into the day was a convenient store just off the trail. I stopped in for some chicken tenders, mozzarella sticks, and milk. An odd combo that led to a shitty afternoon. My stomach did not accept the food. I struggled up the next climb, but managed to keep going! I planned to camp at a stealth site with no water. A few miles before was the Jenny Knob Shelter. There were some small puddles that I was able to get water from. I filled up my bottles and stored a bit extra for camp. In addition, some trail maintainers left a Gatorade and instant coffees as trail magic. I drank a Gatorade and took a couple coffee mixes for later.
I left the shelter and continued the 4.5 remaining miles to camp. Along the way I passed some rocks that indicated 600 miles remaining. The campsite that I stayed at was extremely small and on top of a ridge. I could have easily missed it. There was a neglected fire pit and room for only a tent or two. I setup camp and decided to have a fire. I dug the pit out with a stone and then built the ring up higher. There was an abundance of dry dead wood laying around. It was easy to start a small fire and keep it roaring for hours.
It was early in the afternoon, but I was pretty tired. I made a small cup of coffee to boost my energy. After a while by the fire, I headed into my tent for the night. The wind was surprisingly calm and I slept much better this night.
Stealth Site: T1, S3, P1, W5, B2
Total Score: 30
Day 107 (18.5 miles)
Had a chilly night, the coldest on trail so far. Dipped well below freezing! It was nice to not wake up sweating. Cold mornings are always slower. My poor circulation means my hands don't function well in these conditions. Everything seems to work properly once I get moving though.
I hiked along a long ridge and then mostly downhill to Rt. 52, which led into the small town of Bland. Just before the road was some trail magic in the form of sports drinks, a nice start to the day! It took me a while to hitch into Bland. I think most of the folks were at Church until the late morning hours. I finally got a hitch to the Dollar General and did my resupply. Upon finishing, an older man asked if I needed a ride back to trail. I gladly accepted. He began to take me back and then asked if I needed anything else. He informed me of the Festival of Leaves currently taking place downtown. I decided to have him drop me off near there and explore. I saw the GA boys there doing the same thing. I got some food, loaded french fries, and hung out in the sun. A country band played some tunes and I enjoyed a lazy afternoon before heading back to trail.
I hitched back to trail just before 1:30 pm. I still had 11 miles to go, but I was happy I stayed the extra couple hours in town.
The terrain and surrounding forests were amazing. Time flew by and before I knew it I was at the Jenkins Shelter. Just before arriving was a large creek with a wooden bridge. I was thankful I didn't have to get my feet wet at the end of my day.
The GA boys, Tick Bite, CB, and Wolfram all stayed at the shelter that night. We had a fire and enjoyed sharing stories. It was going to be a chilly night again!
Jenkins Shelter: T1, S3, P3, W1, B4
Total Score: 36
Thanks for reading this trail update! I hope you enjoyed the pictures and stories along the way. I'm happy to share that my foot is feeling much better. It's still sore, but not painful to hike on. As I said before, I'm just taking it day by day and so grateful to be out here still hiking. Until my next post, remember to keep wandering in your own direction!
Affiliate Disclosure
This website contains affiliate links, which means The Trek may receive a percentage of any product or service you purchase using the links in the articles or advertisements. The buyer pays the same price as they would otherwise, and your purchase helps to support The Trek's ongoing goal to serve you quality backpacking advice and information. Thanks for your support!
To learn more, please visit the About This Site page.
Comments
4
Get your 20-degree bag out!

Yes I am definitely using my warmer bag now!

Thank you for sharing your amazing pictures and trail tales! We read every post and are pulling for you to finish strong. Looking forward to drinking some bourbon with you…until then – stay warm and be well.

Thanks Janice! I'm excited to enjoy some Bourbon with you guys too!