A Deeper Look Into Mountain Crossings: Outfitter, Hostel, New Best Friend

Imagine an oasis in the desert right when you need it most. Okay, maybe a little after when you feel like you need it most because you've never been in the desert before and you don't realize how bad it is going to get, but suddenly there it is and even though this oasis is flowing with about half as much water as usual, its still a savior.
This was Mountain Crossings to me during my thru hike. I woke up at Lance Creek to a blizzard and hiked up and over Blood Mountain in the fierce weather with half a Clif bar and no water. It was my third day on the trail and I was too inexperienced to know that I was doing myself in my not taking the time to cook a good breakfast and gather some unfrozen water. By the time I popped out onto US-19 and saw the stone façade of Mountain Crossings, I was literally whooping with excitement.
The storm had taken down the power lines and the heat and water weren't working when I arrived, aching for a hot shower, but to be between four walls, under a roof where the wind couldn't blast me with stinging snow was really all I needed to feel like a human again. In no time they had the place back in working order and hikers where cycling through showers, laundry and pots of coffee.
Mountain Crossings is the first establishment you will come across on the Appalachian Trail. You literally will walk under an arch that connects the outfitter to the hostel, whish is the first and the last time you will pass under an archway on your hike. Being the first in a long line, it won't occur to you that this place looks pretty different from many places along the trail. Upon approaching, the obvious history behind the old stone building is matched only by Bear's Den Hostel, which you will come across right before Harper's Ferry.
A Little Bit of History
The buildings comprising the modern day entity of Mountain Crossing have gone through quite a few hands.
Civilian Conservation Corps
The building you see today as you come down off Blood Mountain into Neels Gap was built by the CCC in 1937.
 The Leisure Years
For the next several years, the building was used as restaurant, dancehall and inn until 1965. As you stand in the outfitter as it is now, it is interesting to think back to fancy folks in the 40's fox trotting after a three-course meal right where you're standing.
Years of Flux
For a few years in the mid and late 60's an artist, whose pottery is still for sale in the gifts area today, transformed it into a live in studio. Then, for a while the small campus laid abandoned and narrowly escaped demolition thanks to the efforts of local conservation minded folks, who were able to land it a spot on the list of National Registered Historical Places in 1977.
Proprietors
In 1983, Mountain Crossings as we know it today was created by Jeff and Dorothy Hansen. Between 2001 and 2013, Winton Porter, the author of a very intriguing book about the characters who are Just Passin' Thru (only good AT book I've read besides Appalachian Trials), took over. Currently, Georganna Morton and Logan Seamon are the owners. These 2009 thru hikers took possession of Mountain Crossings just this past November of 2013. Welcome to your new life as a keystone of the AT experience, George and Logan!
What's In It For You (Literally)
Those first 30 miles are the "make you or break you" period on the trail and many hikers throw in the towel, or food bag, at Mountain Crossings. (All joking aside, I heard a story about a guy who threw his food bag to a group of near by hikers at Mountain Crossings and said he was going home). By the time you make it there, you will either be enjoying yourself quite a bit and only need a quick shower, some laundry and a resupply (lucky you) or you will be rethinking a couple of important decisions you've made.
Outfitter
The outfitter, which is run by ALL FORMER THRU HIKERS, can hook you up with a full resupply and any gear changes you made need. Did you freeze your ass off those first few nights? Pick up a warmer sleeping bag, a liner, or an extra layer of clothing. Are those boots killing your feet? You wouldn't be the first hiker (as you will see) to throw their shoes over the branches of the big tree out front after buying a new pair inside. Did you realize that you missed a major piece of gear you didn't think was necessary? They have just about anything you could need there.
Shakedown
Maybe you are questioning this thru hiking business altogether or realizing that you're going to need to make some major changes if you're going to make it to Katahdin. Let's hope this isn't the case but, if so, they can help you with that as well! Just ask and they will gladly give you a pack shakedown and give you suggestions of what to pitch and what to pick up. Having already done what you are about to do, on top of seeing hundreds upon hundreds of people come through each season, they know a thing or two about what is in a successful thru hiker's pack. (Major thanks to Jason, for helping me cut down on some of my pointless stuff! Saved me hundreds of miles of carrying that extra weight, seeing as I would have eventually wised up pitched it myself.) Honestly, even if you think you're doing well, it's worth having them scan over your pack anyways. You don't want to carry a piece of crap to Virginia before you figure out you don't need it.
Hostel
If you're one of those lucky ones who are doing just fine, then a night at the hostel may be all you need. For a flat rate of $17 per person you can claim a bunk. That price includes a shower and a towel but if you're not staying the night then you can snag a shower (also with a towel included) for only $4. For and extra $3 (cash only) you can do your laundry and that includes the price of your detergent. They have a computer for hikers to use as well as wifi but keep in mind that Mountain Crossings in way up in the mountains and subject to the unexpected weather of the terrain. Since Georganna and Logan have taken over, they've kept themselves and the staff quite busy with revamping the hostel. (You lucky, 14er's, you!) They have redone the floors in both the bunk room and the common area, bought brand new mattresses for the bunks, reinsulated some exterior walls and fixed up and cleaned pretty much everything you could think of.
Life and Times at Mountain Crossings
As you read this, the staff at Mountain Crossings is gearing up for the new thru hiking season. Once March hits, you and all your hiking partners will begin to descend upon them in large packs for the next couple of months. There are about eight of them during the heavy season and over this span of time, they all live just marginally more comfortable lives than a thru hiker. The half of the building that used to be the old inn is now split into two parts. The bottom is the hostel and the top is the staff living quarters. The staff shares a two bedroom little flat with a small kitchen and den, the couches and floors of which second as all the extra beds that may be needed. I think part of the reason for the close knit staff must surely stem from here!
The Off Season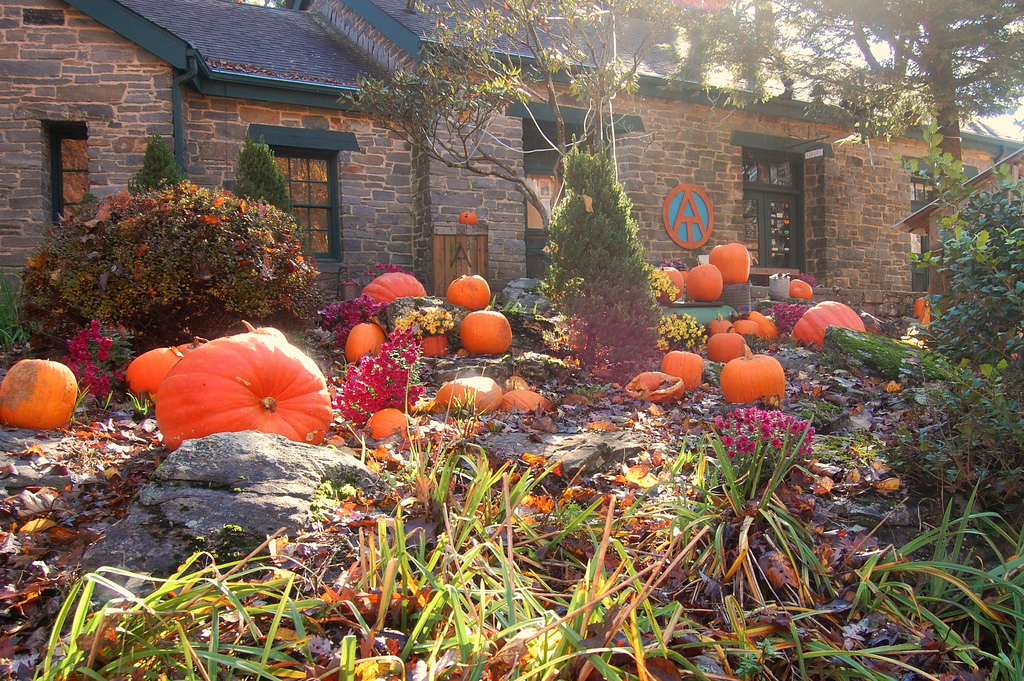 When Mountain Crossings isn't functioning at full speed ahead through the busy Spring months, they have other roles in which they play. It is located close to several campgrounds and state parks that make it a destination point on many family vacations. The summer is relatively consistent with the outdoor crowd coming in and out all summer long. During the fall, many vacationers come up from more southerly regions to take in the beauty of the turning seasons. The gear that once took over the outfitter in the thru hiking season gives a little bit of real estate of the gift shop side of retail.
Going Local
Since Georganna and Logan have taken over, they have invested a lot of their time during slower periods to reconnecting with their community. They have Boy Scout troops and educational classes come visit them and they give talks about the history of the trail. George has become very involved with Young Harris College and their Appalachian Trail centered classes. She is lending her wide breadth of knowledge and experience of the AT to classes in both the Minor in Appalachian Studies program as well as the Institute of Continued Learning at YHC. The students of the Appalachian Studies minor will learn the history of and preservation tactics of the trail as they also get out and experience the trail and even will be planting trees along the entirety of the trail during their class. The continuing education course is focused around the conception and history of the trail as well as everything an individual would need to know to hike the AT. Even with out the mad rush to Katahdin coming her way, George has quite a bit of things to juggle!
No matter when you start you thru hike, Mountain Crossings will be your first big check point. Those of you who are starting early or close enough for a day trip, March 1st is the first annual Kick Off at Mountain Crossings. Music, food, fun, gear and so much more! Those who are able to make it are quite lucky! Keep in touch with the Mountain Crossings gang via their Facebook page.
Affiliate Disclosure
This website contains affiliate links, which means The Trek may receive a percentage of any product or service you purchase using the links in the articles or advertisements. The buyer pays the same price as they would otherwise, and your purchase helps to support The Trek's ongoing goal to serve you quality backpacking advice and information. Thanks for your support!
To learn more, please visit the About This Site page.