The Dirt on the Trail: Chapter 1
The Approach Trail to Stover Creek
After a foggy hike to Springer along the Approach Trail with my husband, Frisbee, and our friend, currently known as Panda who is joining us during the first couple of sections, I anticipated meeting the new crowd of hikers at Stover Creek Shelter.
Our buddy Wokman who started with us last year decided to grace us with his wild and loud presence by meeting us there. He helped break the ice for some, and frightened a few others. We were glad that he could join us for the first 3 days. We met an awesome Aussie named Ears who was returning to hike the sections she missed from last year after getting injured. A strong hiker who we would name Middle Brother also became one of our hiking buddies for the first stretch.
---
Gooch Mountain to Low Gap
We climbed over Sassafras and Justus Mountains, which were as rough as I remembered them, and stayed at Gooch Mountain Shelter the second night. The third hiking day, we climbed up and over Blood Mountain to get to Neel Gap and a couple hikers went on a beer run to celebrate.
We had plans to camp nearby, but all the sites were filled and we weren't trying to hike anymore, so after our beers, we got a ride from Ms. Janet to Blairsville.
She dropped off two ladies at another hotel before taking us (Wokman, Middle Brother, Panda, Frisbee, and I) to the Seasons Inn, the same place we zeroed at for the first time last year with Wokman. We were glad to dodge a nasty thunderstorm and rest up.

The next morning we grabbed breakfast at the Hole in the Wall (actual name), then got a ride back to the trail with a former thru hiker and ridge runner named Razor.
Before reaching our final destination for the night at Low Gap Shelter, we received trail magic from a man named Jim from Iowa who was traveling from Alabama. We shared the shelter with Middle Brother and Ears, and decided that we would be unofficially known as the "Poo Crew" as we would rate the privies in the shelter log books.
Right as we were settling in for the night, Zebra, a hiker from Poland, would roll in the shelter for the night and would hike with us the following day.
---
Low Gap to Dicks Creek Gap
It was a steady hike in the morning followed by a climb up and over Rocky Mountain and we were surprised by a lady walking her goat on the trail.
Right before climbing up to Tray Mountain Shelter, we were all blessed with trail magic in the form of burgers brought by Boy Scout Troop 24.
We hung out for a little watching the Jeeps drive through the mud, and listened to Panda play the guitar before heading to the top. We caught a nice sunset view before going to sleep.
We packed up our gear, tackled Kelly Knob, then stopped at Dicks Creek Gap to wait for everyone to catch up. A man named Chris with his pup Jojo provided drinks and snacks as we waited, then we headed to Top of Georgia Hostel to get our resupply. We were rushed to get our food packed before the last shuttle back to the trail left, and stopped a mile later at a camp site.
---
A Nero at Plumorchard Gap
I woke up to raindrops falling on the tent, so we packed up quickly and headed to Plumorchard Gap Shelter. We initially stopped for a food break, but then it started to downpour and wasn't giving up until later in the afternoon. We had a lot of food so we decided to take a Nero day.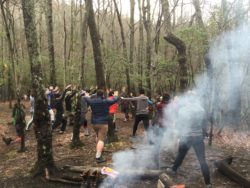 I tore the crotch in my rain pants which I would later call my "rain chaps" and once the storm stopped, there was a random yoga session out front of the shelter.
---
Plumorchard Gap to Carter Gap
To make up for lost miles, we decided to hike 19.8 miles to Carter Gap Shelter the next day. A little over 4 miles in, we crossed the border to North Carolina.
It was a brutal climb up Courthouse Bald, and we would meet up to refuel at the next two shelters on the way.
Once we made it to our final destination, we overheard during the night a guy yelling and banging his poles on rocks in attempts to frighten away a bear. We heard the next morning it was just some poor girl trying to pee in the bushes.
---
Beer Me, Franklin!
We were hoping that the rain would hold off until after climbing over Albert Mountain the next day. It didn't.
We crossed the first 100 miles of the AT, dried off, shivered, and snacked at Long Branch Shelter, then we all gunned it to Rock Gap to get to Franklin, NC. We were originally aiming for Winding Stairs Gap, but hot showers, clean clothes, and cold brews were calling. A shuttle took us to town, then we got a ride from Spoon who was driving one of Ron Haven's vans to the Sapphire Inn, one of the few places not fully booked. We scored the cottage with Panda, Ears, Middle Brother, and Chelsea whose trail name is pending. We wandered to Outdoor 76 (love those guys), then to the Lazy Hiker Brewing Co. for some food truck grub and to drink more beer.
Even though we said we wouldn't this year, the weather on the mountain was bad and we got stuck in Franklin's vortex of Southern hospitality or two zeroes instead of one. I love this town!
Affiliate Disclosure
This website contains affiliate links, which means The Trek may receive a percentage of any product or service you purchase using the links in the articles or advertisements. The buyer pays the same price as they would otherwise, and your purchase helps to support The Trek's ongoing goal to serve you quality backpacking advice and information. Thanks for your support!
To learn more, please visit the About This Site page.