Donning the Thru-Hiker Cape – My First Day on the Arizona Trail
A friend asked me recently how long it took me to get back into the thru-hiker groove once I was back on a trail. I responded flippantly that it took mere seconds. I thought about my response again as a I sat in the airport waiting for my flight to Phoenix. Later that day I would step foot on the Northern Terminus of the Arizona Trail and by nightfall I would be spending my first night on the trail. It was hard to imagine amidst the hustle and bustle of the airport. I tapped my foot anxiously ready to get the journey started. But my carefully laid plans soon collided with reality.
Day 1….Nope, Day 0
I looked up to see that my flight to Phoenix was now delayed and I would miss my connecting flight to Page, Az. My frustration rose quickly.  I was supposed to be picked up at the airport by a trail angel, driven to the northern terminus at Stateline Campground and after 5-6 hours of hiking I would be spending my first night on the trail tonight. I had already plotted out the first ten days of hiking and my first zero. I loved my plan, it was perfect. For a while my mind raced with ideas for how to salvage the same timeline until finally, reluctantly, I hugged my old plan goodbye and began to adjust. My mind rapidly sorted through different options – I made phone calls to hotels, and scheduled a new shuttle date and time to the trailhead. The process felt familiar and with some chagrin I realized why – I recalled the millions of times I had rearranged plans during my 2022 Appalachian Trail thru-hike. Weather, terrain, health and yes, transportation options can all affect a timeline or progress on any hike – I happened to be experiencing it at the very start of my hike. With this insight, I immediately relaxed.
And so it was that Day 0 of my AZT thru-hike felt like coming off a very long zero. Later that evening I walked off the steps of the commuter plane into the small Page airport terminal, grabbed my backpack and walked the mile to my hotel. I repacked my backpack for hiking and headed to the Safeway for a few food items and grabbed a sub from Subway for tomorrow's lunch. I charged my brick up one last time and headed to bed. At 0545 the next morning I met my shuttle driver in front of the hotel.
One Giant Step
In all my preparation for the hike I had done little research on Page, AZ or the surrounding area. My shuttle driver, Alex, was passionate about the region and he gave me a lovely overview of all the wonders during our hour-long drive to the terminus. I made a mental note to include a return trip to Page in the future to check out Horseshoe Bend, Lake Powell, the Grand Staircase-Escalante National Monument and Antelope Canyon.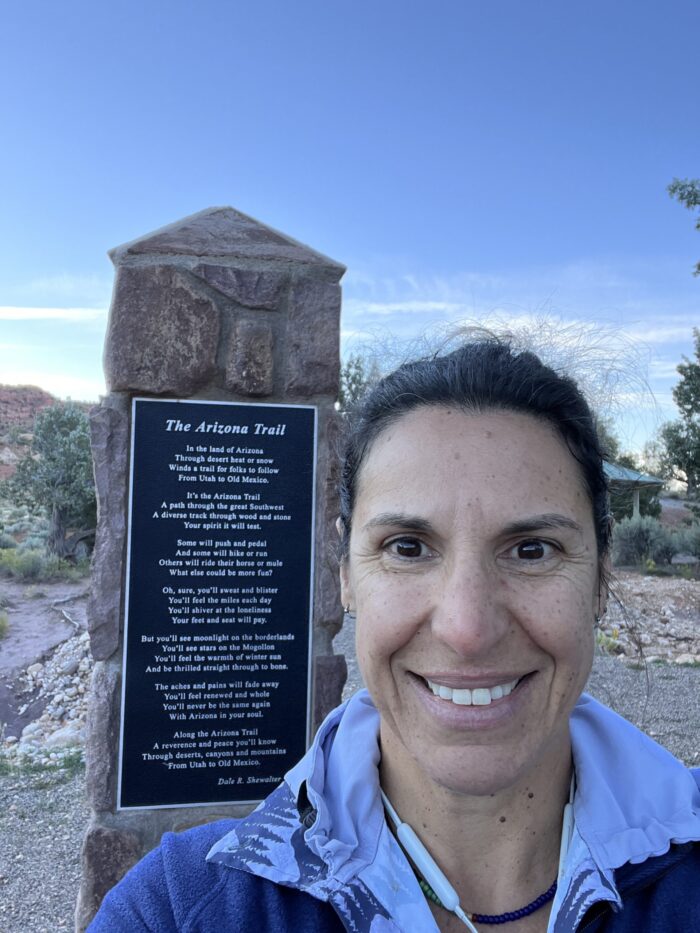 By 0700 Alex had dropped me off at the northern terminus in Stateline Campground on the Utah-border. The sun has not risen high enough to warm the campground and it was chilly. I snapped a quick selfie in front of the terminus marker and took a celebratory giant step onto the trail. I was relieved to finally start and filled with joy to be outside again. My euphoria dimmed slightly as I rounded a corner of the trail and saw the ridge overhead. I would have to climb 1200 feet in two miles. The AZT asked of you right away. As if sensing my hesitation, the sun emerged from behind the ridge and lit up the shadows in the valley. I began to climb the gently graded, albeit rocky, switchbacks. The hillside was mostly brown covered in sagebrush broken up intermittently with color from alien plants with delightful names like the purple Prickly Russian Thistle, the orange Apricot Mallow and the yellow Broom Snakeweed.
Along the way I passed a man and his horse taking a break on one of the switchback corners. The trail is open to hikers, equestrians and mountain bikers and this would not be the first horse I would see on the trail. The man and his horse looked exhausted already. He greeted me and informed me that he and his horse were out of shape and I should go ahead. A short time later I passed two hikers resting. They were doing a section hike to the South Rim of the Grand Canyon. We exchanged names but it occurred to me as I hiked away that I had given them my real name, not trail name. Clearly I had not yet donned my thru-hiker persona yet.
When I reached the top of the ridge I looked back down to the valley toward the northern terminus. The swirling colors in the Vermilion Cliffs to the east were breathtaking and I could see that this would be a welcome sight for NOBO hikers finishing their hikes. I breathed in the fresh air and turned my face south to continue my hike.
It's all coming back to me
The day warmed quickly and as the trail transitioned into a high-desert forest of juniper and piñon trees I drew my hood over my head to provide shade. I came to the first of the Arizona Trail gates and winced at the loud squeal it made as I opened and closed it. After six hours of hiking, I was down to a liter of water. I was hoping some of the trailheads I passed would have cached water but I did not luck out. Instead, I braced myself for filtering water from a wildlife tank. The water in Umbrella tank looked green and little bugs skimmed along its surface but to my surprise the water filtered clear and cold and I recalibrated my expectations for acceptable water sources on the trail.
I kept walking. The trail was mostly flat winding in and out of forest and open areas filled with sagebrush. Close to sunset I chose a campsite on a bed of pine needles. I took my time arranging my gear just right enjoying the process of setting up my little home. I lay contentedly on my sleeping bag – I was pleasantly tired after 22 miles of hiking. I had seen no other hikers but I was getting a sense of this trail. I thought to myself that my thru-hiker cape was not fully donned but in the next few days it would sit comfortably on my shoulders.
Affiliate Disclosure
This website contains affiliate links, which means The Trek may receive a percentage of any product or service you purchase using the links in the articles or advertisements. The buyer pays the same price as they would otherwise, and your purchase helps to support The Trek's ongoing goal to serve you quality backpacking advice and information. Thanks for your support!
To learn more, please visit the About This Site page.