Enter the Scottish National Trail
Introducing the SNT
If you've never heard of the Scottish National Trail, then I am not surprised. Not many people have as its 864 km (537 mile) length is overshadowed by its more famous, much older relatives like the West Highland Way and Cape Wrath Trail, both of which the SNT shares some distance with.
According to Walk Highlands, which is the extensive primary database on Scotland's vast trail system (indeed, the country is a hiking paradise) the SNT was devised by outdoors writer and broadcaster Cameron McNeish. It is a challenging route stretching from Kirk Yethom on the English-Scottish border to the very northwesterly tip of Scotland at Cape Wrath. The trail utilizes sections of smaller Scottish long trails, including the before-mentioned West Highland Way and Cape Wrath Trail, while also using Saint Cuthbert's Way, the Rob Roy Way, and the Southern Upland Way. Due to Scotland's populated nature, there are few if any hitchhikes needed as settlements will be encountered fairly frequently, making resupply a breeze, except in the Highlands, where civilization can be harder to find. Scottish public transportation is generally quite good.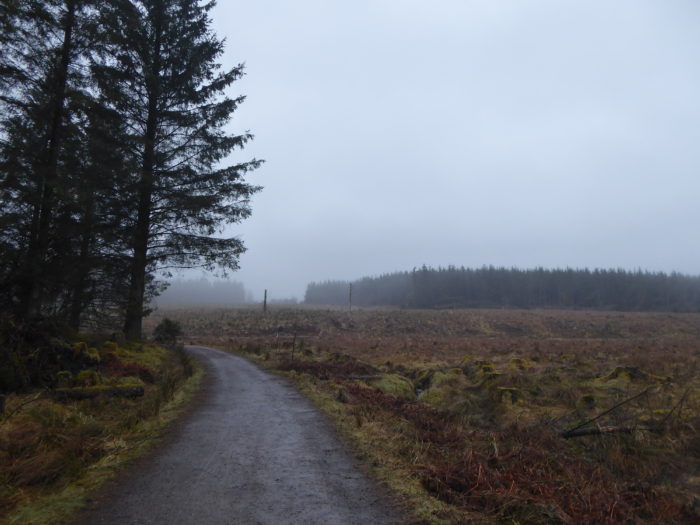 What the Trail is Like
Most, if not all, people hike the Scottish National Trail northbound, likely because of its easy access beginning. You can literally take a public bus from the Scottish capital of Edinburgh to get there. (Logistics of getting to the northern terminus, meanwhile, are much trickier.) The trail first crosses pastoral borderlands, then, after brushing up against beautiful Edinburgh, it traces historic canal towpaths (which includes walking on a 250 metre/820 foot long working aqueduct as well as walking through a 630 metre/2,066 foot long tunnel,) before cutting north into the famous Scottish Highlands at Milngavie, near Glasgow. There it follows a single section of the West Highland Way before shifting away east on the Rob Roy Way, then taking the intrepid thru-hiker to the Great Glen, where the legendary Loch Ness lies. From there, it moves north into the often trackless mountainous landscape beyond where route-finding skills are a must. The SNT takes you through two national parks along its length, Cairngorms National Park as well as Loch Lomond and the Trossachs National Park. (Sadly, you don't get to actually see Loch Lomond.) It's an adventure full of history, rugged terrain, potentially perilous river crossings, and, reputably, solitude, which is exactly what this crazy Canuck needs.
Jumping Through Hoops
I was supposed to start the SNT in late April 2020, but as even aliens on other planets probably know by now, COVID-19 happened to us, and as a result, my flights have now been changed five times. The simple fact is that I won't be able to place a single Altra-clad foot on British soil much less hike the length of Scotland until certain governmental things happen. The good news is, much of that has happened. The United Kingdom opened for international travel on June 8, leisure travel reopens in Scotland July 3, and Scotland's tourism industry officially reopens July 15, which will occur half a month prior to my current August 5 departure date. Unlike trails in the States, there is no specific governing authority for the Scottish National Trail.
The only thing I am waiting for at this point is for my flights to be allowed through. I made the mistake (unbeknownst to me,) of booking with the wrong airline. Canada basically just has two major airlines—WestJet and Air Canada—and only the latter, for some reason, is doing intercontinental flights right now. Once I do get to fly (which'll be conditional on my not displaying symptoms of COVID,) I will be required to wear a mask from the moment that I step into my local airport here in British Columbia to the moment that I step outside in England many hours later. I will also be wearing a mask whenever I am in a populated area in public in the UK, while using a generous amount of hand sanitizer at all times, something which I do anyway when backpacking, because, well, Giardia.
At the time of my writing this, I will be required to undertake a 14-day quarantine, but it's a mark of my determination to hike this trail that I am willing to voluntarily be a veritable prisoner for two weeks. I'll only be allowed to leave my quarantine location for food and medication—no walkies, not even around the block, and there's a good chance that the British authorities will be checking in on me to make certain that I am following their rules.
Fortunately, we live in the age of Netflix, and being a creative type, I'm pretty self-entertaining most of the time, so, so long as I have Wi-Fi, I'll be a fairly happy camper. I am also going to attempt to do yoga and possibly learn to dance via the magic of YouTube, because I don't know another way to do cardio indoors! Once I pass the ordeal of quarantine, I'll snatch an undecided form of transport to Scotland and spend a couple of days just day hiking to get my legs happy again before beginning my thru-hike of the SNT at Kirk Yethom.
Not New to Scotland
There are a lot of things that I am looking forward to on this trail, so many in fact that it is difficult to pick anything specific (although being able to gorge myself on cheese-and-onion bakes at Gregg's again comes close). While I have no truly long thru-hikes to my name to help me complete this trail, this isn't my first rodeo, because Scotland has called my name before. In 2018 I completed a thru-hike of the West Highland Way in seven days and came face to face with the land's favorite hobby: inclement weather. I took to calling Scotland The Land of Rain (you won't suffer for lack of water there) and became deeply mistrustful of weathermen. I got excited just to see the smallest patch of blue overhead, and almost every night it was crazy windy unless I was camped somewhere nicely sheltered. Tent placement (as well as waterproof gear) is key!
Why I'm Hiking the SNT
I am hiking the Scottish National Trail to repair my mind; for me, there's no better time to do a thru-hike than right now. If I have to rebook my flights, I will, and I am even willing to postpone until April 2021 if I have to. This last Match 2020 I turned a mentally ill 30, my mind sickened from a traumatic year of caring for a grievously sick mother and half a decade at a poorly paying retail job that was taking me nowhere. Last fall I felt myself slipping to dark places where I did not wish to go, so at the advice of my doctor I began taking antidepressants, which I believe have saved my life, at least for now. I believe that this solo thru-hike will help my confidence grow, and help me find the courage to become successful not just professionally, but in life. Hopefully this hike will help me on my way to abolishing my need for medication as a safety crutch. Social anxiety is a dragon thatI am determined to slay, and I don't think that there is a better way of doing that then chasing a unicorn (which is Scotland's awesome national animal).
And in case you are wondering how the sad tale of my 2019 ended, well, it concluded with my beloved mom being home for Christmas thanks to an amazing general surgeon and his team who saved her life. She's now back to avidly hiking, playing video games, gardening, and being an utter dynamo working on the cabin that she's been building with my dad for the past five years. She's a badass, and I couldn't be more proud of her. Despite the many intimidating obstacles which she has faced, she trucks on, and her trials are another inspiration for my hike. I want to take advantage of my sound body while I still have it, so that when I am old, and maybe a bit crotchety, I can say in my wheedling elderly lady's voice, "When I was young, I hiked the vertical length of Scotland."
With hope, some other long trails too.
Affiliate Disclosure
This website contains affiliate links, which means The Trek may receive a percentage of any product or service you purchase using the links in the articles or advertisements. The buyer pays the same price as they would otherwise, and your purchase helps to support The Trek's ongoing goal to serve you quality backpacking advice and information. Thanks for your support!
To learn more, please visit the About This Site page.