Sobo On The Florida Trail | Eglin Air Force Base, Black Water State Park
Everything Is Wet
Like consistently, for the past 70 miles, everything has just been wet. Mostly from condensation. Anyway though, since I last checked in a lot has happened. The next morning I woke up to hear that a tornado had passed over close by overnight! I had been kept up by the wind and lighting most of the night, but I had no idea how bad it really was. A few of my stakes were even bent! Although the tent held up amazingly, I still ended up with a puddle on one side, luckily I still had enough room to stay dry.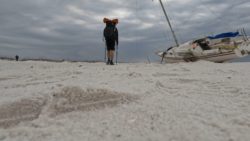 January 25th
I packed up slowly that morning, trying to give everything time to dry. That morning was still pretty warm so it didn't take too long. There was a long walk through the sand afterwords. About ten miles of dunes and beach walking. Every step was beautiful and I really loved it, but it did take a toll on my knee. After that came a 9 mile or so road walk, the campsites are so spaced out that it's hard to do low mile days, unless I would wanna camp in town somewhere.
After a short stop at Burger King, and family dollar, where I was stopped by someone who had questions about the trail. I was back on trail in eglin Air Force base. I love when people stop me to talk to me about what I'm doing. Explaining it and seeing their reaction is always a great experience, I even had someone ask for my instagram! In eglin air force base, I hit my first forested area. There was a beautiful campsite tucked away in here that I came into just after dark, exhausted, I laid down for the night.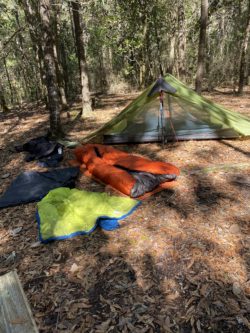 January 26th
Beautiful day hiking in the forest through Eglin Air Force base, lots of walking in the woods until I eventually crossed a busy highway and walked across a bridge to a gas station to grab some resupply food, mostly snacks. Met a nice guy at the gas station who gave me a ride to the trailhead, I realized I left my poles in his car and had a minor breakdown and had to hitch back to his house, he was nice enough to let me camp in his yard though.
January 27th
Woke up to a hen outside my tent, hearing them in the morning was a bit annoying but also really cool. Once I realized how many animals this guy had, I had to look around at the animals on the property. He has rare dogs, hens, tortoises, and birds. I can't completely remember all the specific breeds or anything, but they were all a treat to experience, I'll throw some pictures up here, but I'll have more on toy other social medias soon. Walking to trail I got charged by two dogs. They barked and chased me to the opposite side of the road, until I passed the property. They backed off east enough, and then once I got on trail a random German Shepard ran up on me, barked at me and then ran away. I've seen more dogs on this trail than any I've been on, I absolutely love them. But I don't like being ran at this often when owners are nowhere in sight. I hiked to a beautiful campsite and dryed out my gear, then continued on to camp for the night on an old road bed.
Affiliate Disclosure
This website contains affiliate links, which means The Trek may receive a percentage of any product or service you purchase using the links in the articles or advertisements. The buyer pays the same price as they would otherwise, and your purchase helps to support The Trek's ongoing goal to serve you quality backpacking advice and information. Thanks for your support!
To learn more, please visit the About This Site page.