How to Explore Capitol Reef National Park's Lesser-Known Backcountry
Often overlooked on the list of must-see parks in Utah, Capitol Reef National Park puts a unique spin on the classic red rocks of the Southwest. Soaring rock walls and slot canyons meet green valleys and apple orchards in this unique pocket of the state. The famous Utah red rocks contrast with white, orange, and sand-colored hues, and towering monuments can be found just minutes away from winding canyons and gorges.
While the middle of the park is perfect for those looking for short hikes to some of the area's best known attractions, the network of backcountry roads allow adventurous visitors to experience some of the most dramatic formations in this alluring environment. There are multiple roads in both the northern and southern backcountry areas, and both offer different experiences depending on what you are looking for.
Northern Backcountry Must-Sees
Cathedral Valley
Temple of The Sun
Temple of The Moon
Glass Mountain
Gypsum Sinkhole
Southern Backcountry Must-Sees
Muley Twist Slot Canyon
Strike Valley
Halls Creek Narrows
Waterpocket Fold
Although both networks of roads offer differences in scenery, what they have in common is the ability to access a wilderness experience not found in many places. The desert nights in this part of Utah are exceptionally still, quiet, and peaceful. So quiet in fact that ringing ears are not uncommon as your body gets used to the absolute silence that surrounds the area. The stillness is paired with skies so dark that they have received "Gold Tier" status from the International Dark Sky Association. Throughout the park, the Milky Way can be seen with the naked eye, and overnight guests can easily try their hand at finding constellations, planets, and shooting stars.
There are multiple routes through the backcountry you can choose depending on the durability of your car and your desired attractions, but some of the most notable roads are Notom-Bullfrog Road, Burr Trail Road, Hartnet Road (which includes a river ford), South Draw Road, and Cathedral Road. Many of these routes intersect, which makes it easy to plan an itinerary all your own.
Enjoying this unique experience requires a bit of planning and preparation before heading out into the backcountry. Keep the following tips in mind while mapping out your desired route, and you'll have an adventure unlike any other.
Use the Right Type of Car
Bringing the proper vehicle is essential to enjoying the backcountry area. Very few people would list "getting your car stuck" or "flat tires" on their list of must-do's in the park, so plan ahead and drive an AWD / 4WD vehicle with high clearance. Many of the roads are washboarded with deep potholes and rocks. If you have any doubts about your car making the trip, it is best to hold off until you have a proper vehicle. Cell phone service is minimal in the park, and tow trucks would have a near impossible time getting to your car. If you have the right vehicle, then all your have to do is make sure you're loaded up with a fresh tank of gas and you're ready to hit the road.
Know Where You Can Camp
If you've done any research, then you've probably come across multiple sources saying that camping is prohibited near the roads in the park. Although this may sound like a major wrench in the plan, our beautiful public lands have come to the rescue. Bureau of Land Management (BLM) land surrounds the park, and many of the dirt roads constantly swerve between park boundaries and this land.
Visitors to BLM land are free to camp literally wherever they would like, completely free of charge. There are multiple pull offs and clearings that are a stone's throw away from the park boundary and are perfect for setting up a tent. Pay attention to when you are entering and leaving park boundaries, and follow Leave No Trace when choosing a dispersed site to ensure these areas stay pristine for future visitors. There are multiple sites that are outside the park boundary and still within viewing distance of some of the most well-known destinations in the backcountry.
Plan for the Weather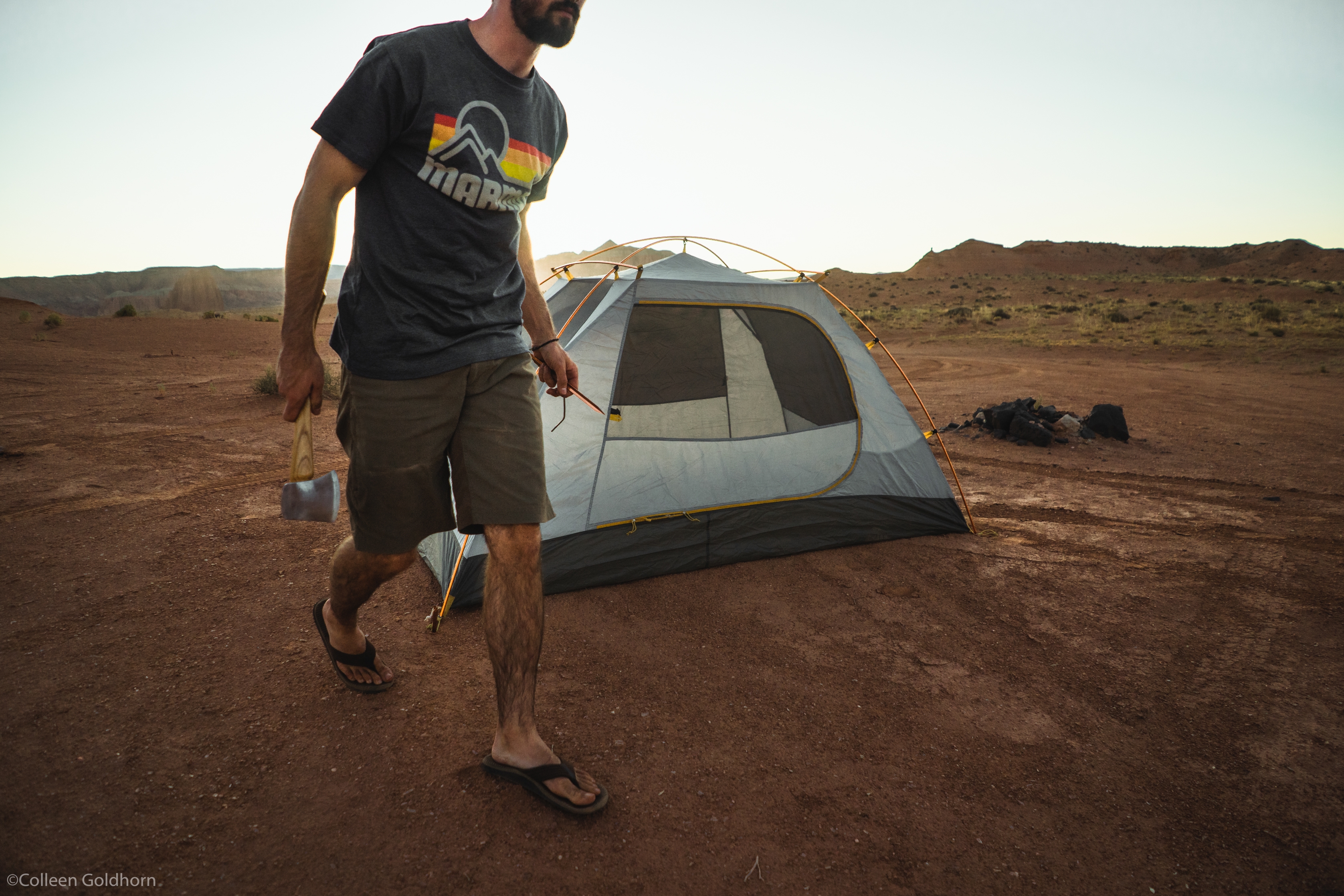 It pays to talk to a ranger about the possibility of flash floods on the day of your trip. Many of these roads cross through desert washes that swell with rushing water during heavy downpours upstream. Even if it seems sunny at your current location, a sudden rainfall a few miles up the wash could cause big problems and the possibility of roadways becoming blocked. These washes are free of problems most of the time, but a park ranger will let you know if you should be prepared for flooding, and if so, exactly how to stay safe.
Load Up on Water
As with many places in Utah, water is almost nonexistent in the park. You will need to pack in however much you need to cook, wash dishes, and stay properly hydrated during your trip. With summer temperatures soaring close to 100 degrees (F), and almost no shade to hide from the heat in, it pays to bring more than you think you will need (especially since you won't have to carry it on your back!).
Keep Your Vehicle on the Road
As always, it is important to follow Leave No Trace while traveling the backcountry roads. Desert ecosystems are fragile, and a single car driving over plants and shrubs can destroy years worth of growth in an instant. Keep your car on the road, camp in established sites, and always stick to the trail when hiking.
Capitol Reef National Park is a hidden gem that often gets overshadowed by some of the better-known parks in Utah. With its network of backcountry roads that are unlike any other, the park is a great place to get intimate with the Utah desert and experience the stillness that sets into the area each night. From multicolored rocks to uninterrupted views of stars, the park really is a playground worthy of a visit from any adventure junkie.
Affiliate Disclosure
This website contains affiliate links, which means The Trek may receive a percentage of any product or service you purchase using the links in the articles or advertisements. The buyer pays the same price as they would otherwise, and your purchase helps to support The Trek's ongoing goal to serve you quality backpacking advice and information. Thanks for your support!
To learn more, please visit the About This Site page.