Haute Route Pyrenees – Peaks and Valleys (D10-16)
It's been a week since my last update, and what a week it has been!  I have moved into the hugh country of the Pyrenees Mountain range.  The landscape is replete with alpine lakes and cascading snowmelt, meadows blanketed with an abundance and diverse mix of wildflowers, gigantic jagged peaks as far as the eye can see in every direction, and extremely challenging trail.
I have a lot to cover and even so I will have to abbreviate some of the days.  I could go on and on about how beautiful these mountains are and how tough the trail is, but I'll try to stick to the memorable experiences.
Beginning where I left off in Lescun, France with a rest day… two hikers became three hikers with the addition of Rewind, an American thruhiker I met briefly on the Pacific Northwest Trail in 2019.
Day 10 – Lescun to Refuge d'Arlet
10.8 miles; 5,075ft ascent; 1,575ft descent
The day started out with clear skies and of course a jump right into a long climb back into the high country.  Winding up a combination of country roads and single track shortcuts after a mile or two the route led to a parking lot and after that it was steep climbing up up up.
About midway through the ascent we noticed a cloud creeping up the valley behind us.  We tried to outpace it but it enveloped us in a thick mist for a little while.
Somehow we climbed out of it and found the Cabane de Bonaris, a shepherds hut, on a plateau before topping out on the ridge.
Being a good water spot and lunch time we decided to pause for a bit which proved to be a wise decision as shortly after our arrival the sky opened up and a short thunderstorm passed over us while we ate.
After the danger passed we continued or trek ascending to the Col de Pau and shortly after the Col de Saoubathou on the French/Spanish border.
The rest of the afternoon was easy walking along gently undulating trail mostly following a contour through the high meadows with long views.
Eventually we arrived at the Refuge d'Arlet, unfortunately closed for renovation.  Another wave of storm passed us by just after we arrived, but it was short lived and the evening was perfect.
Day 11 – Refuge d'Arlet to Candanchu
11.1 miles; 3,019ft ascent; 4,692ft descent
A somewhat early start (7ish?) meant excellent hiking conditions in the cool air and golden morning light.  The first few miles continued the gentle and short ups and downs of the prior afternoon through vast meadows with looming cliffs and expansive views.
After a leisurely hike through the high country the trail led to an incredible overlook before loosing some 2,000ft of elevation.
Of course going down means going up again.  After a long water break by a stream at the bottom we climbed steeply through a forest then some cliffs, complete with a ladder reminiscent of the northern portion of the Appalachian Trail.
The trail topped out at a big lake which was a perfect spot for a lunch break.  A swim was tempting but the large herd of cows on the opposite side made it less appealing.
The last part of the hike led around an alpine cirque, through a calm forest and over a raging runoff stream, across steep scree slopes and through a herd of grazing sheep.
We arrived at the ski resort Candanchu and found everything closed, apparently it's still the shoulder season there.  We saw a guy enter a small bar and followed him in, he said he was also closed but kindly offered us cervesa anyway.
While enjoying our beers we asked if there was a bus running to Canfranc a few miles down the road.  We were told that yes, a bus was running and it would arrive very shortly.  So, needing resupply, we jumped on the bus and spent the rest of the afternoon eating, buying food, charging electronics and updating social media.
We caught the bus back up the hill around 8pm and hiked a mile fu rther along the road to find a somewhat stealthy (not easy with 3 people) place to camp for the evening.  The site was the first encounter on this trail with mosquitoes, so we set up quickly and hid in our castles for the night.
Day 12 – Candanchu to Refuge de Pombie
8.7 miles; 4,735ft ascent; 2,871ft descent
Rewind and I started out first, climbing a mile or so up the paved road to a smaller ski resort (I was hoping to find an open café for a cup of joe, but was unsuccessful) where we found a bit of wifi and waited for Johan to catch up.
The next three miles were a long climb resulting in a beautiful lake just before the Col des Moines, which offered the first views of the iconic Pic du Midi d'Ossau.
According to the laws of hiking, what goes up must go down and we descended again into the valley, encountering more people on trail than the entire previous week.
The next section began with an incredibly steep gain through a chute and up to the steeps of the Midi d'Ossau.  In an area of relative flatness we found the Cabane de Peyreget and had lunch.  A little higher the path again evened out and gave us a view of our final pass for the day.
On the last climb we encountered our first small snowfield and some boulders to goat-hop our way up.  Shortly after the pass we arrived at the refuge.
Johan and I set up but Rewind felt like going on since it was ~4pm and there was at least another five hours of good daylight for hiking.  I probably won't see him again this trip as he has no snow gear and the coming weeks will be sure to have challenging snow crossings.
Johan and I had a great meal and conversation with a group of Spaniards and afterward watched a colorful sunset on a distant thunderhead.  Late that night a brief but pounding rain fell, followed by calm and a breathtaking view of the Midi d'Ossau lit by the full moon.
Day 13 – Refuge de Pombie to Refuge de Larribet
9.5 miles; 4,734ft ascent; 4,757ft descent
This day was by far the toughest day so far thus hike; 9.5 miles took as many hours to complete. It started out relatively calmly with a long descent and a gentle climb back up the opposite side of the valley.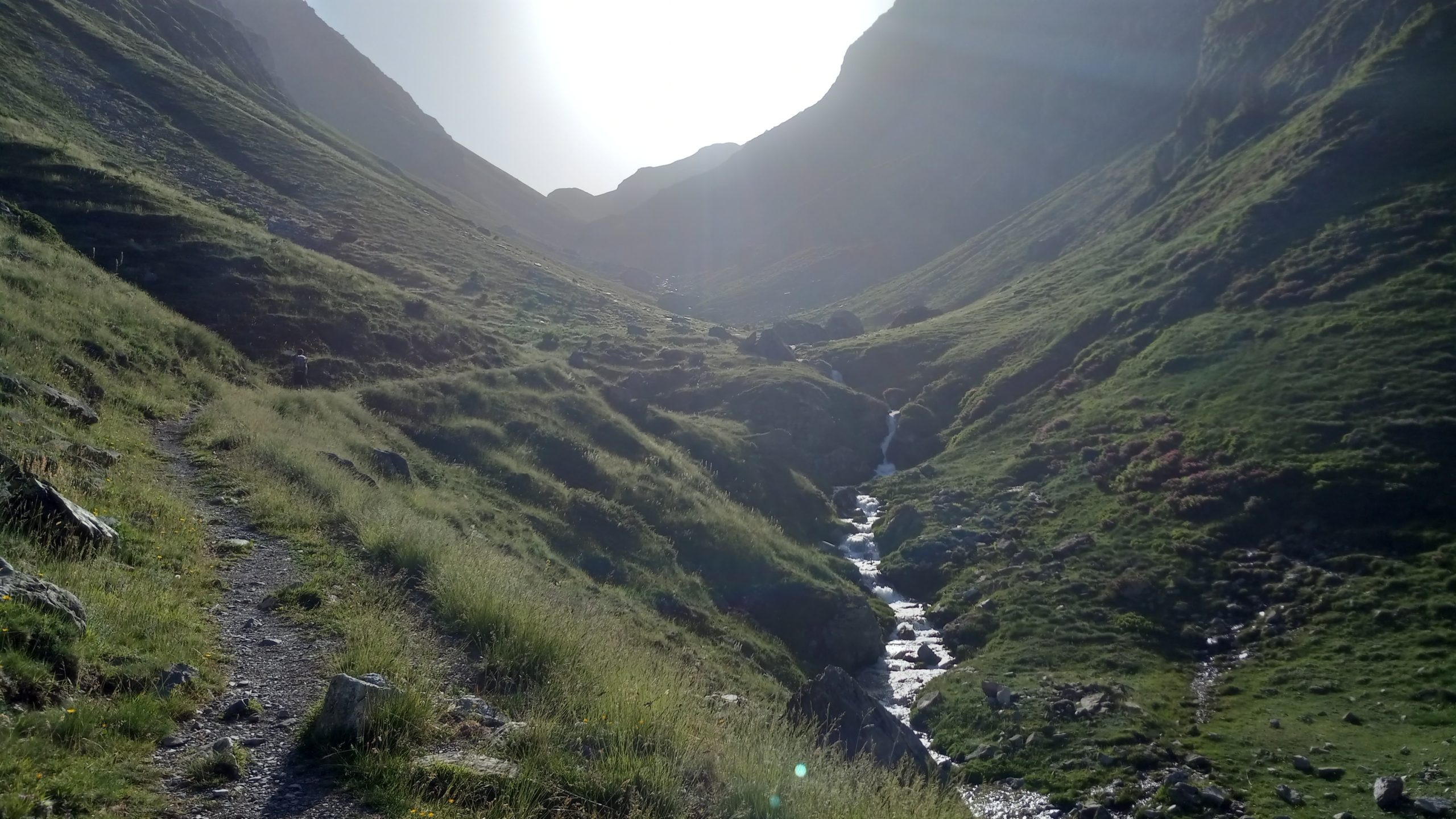 Here's looking back, the Refuge de Pombie is nestled under the pass to the left of the peak:
After topping out at the Col d'Arrious things got serious.
The Passage d'Orteig involves a steep cliffside cutout with a steel cable to guide you along:
The route then led down a little to the Refuge d'Arrémoulit, where we had lunch.  It was a beautiful location on a turquoise blue mountain lake surrounded by massive High Sierra like peaks, cliffs, and ridges but sadly I didn't get any pictures there.
After lunch another climb, this time up and around a steep scree field with no clear path:
The final ascent led up a steep snowfield on which we took a wrong turn resulting in a death defying and absolutely terrifying scramble to get over the Port du Lavédan (check out my Instagram for video of that).
The challenges for the day weren't over yet, on the way down was a long and steep snowfield to make things interesting:
We made it down and arrived at Refuge de Plombie exhausted but relatively unscathed.  A cold beer was absolutely necessary while we laughed at our adventure and retold the stories of a challenging and memorable day in the Pyrenees.
Day 14 – Refuge de Larribet to Refuge Wallon
10.8 miles; 4,142ft ascent; 4,938ft descent
The day began with another steep descent followed by another several thousand foot ascent.  This climb was very gradual starting on a beautiful plateau then following a long canyon.
The final ascent to the Col de Cambalès was a little tricky.  We followed a clear path at first with switchbacks and cairns for a while, but then the cairns got confusing and a snowfield covered the path with no clear boot pack.
We scrambled up steep loose scree, very slow going.  About halfway up it became clear the actual path was on the other side of the snowfield, but we met it again near the pass.
After the pass the trail led down to the Lacs de Cambalès.  The guidebook has a picture of ice covered lakes and vast snowfields, but it's clearly been a low snow year because we had patches in comparison and could navigate around most of them.
We had a nice lunch by the biggest lake but there being no shade and the hottest part of the day we made it short.
Continuing on the path led along a vast rocky plateau before descending to the valley below.
The final mile led along zig-zags through a pungent pine forest and dropped into the valley where the monumental Refuge Wallon sits (unfortunately also closed for renovation.)
We lazed about, found an ideal place to set up tents and enjoyed dinner before retreating to escape mosquitoes and raindrops.
Day 15 – Refuge Wallon to Gavarnie
18.8 miles; 6,258ft ascent; 8,251ft descent
This was Johan's last morning on the HRP.  He did the rest to the Mediterranean last year and had to return to work.
We had a few hundred meters of shared trail before he descended out of the mountains and I continued onward.  I will definitely miss hiking with him, he is certainly one of the great hiking companions I've had over the years.  Our styles meshed well and his company and conversation will forever be memorable.
I made the climb up and up and up first to the Lac d'Arratille:
then to the back to back passes Arratille and Mulets.  Between the two was a small snowfield on a steep pitch that I almost lost my shit on when I decided halfway through that I should probably have my crampons on.  Do not take off your pack with sketchy footholds and death below, the shifting balance is not conducive to safety.
I didn't slip and/or die, so I made it to the second pass and took a breather.  Looking back:
Following was another extremely steep descent into the valley below and the Refuge des Oulettes de Gaube.  This was a beautiful lunch spot looking up the valley to the north face of Vignemale, the tallest peak in the French Pyrenees.
With a storm cloud gathering I decided to race it and stormed up the switchbacks to the Hourquette d'Ossoue, the pass at the base of the shoulder peak Le Petit Vignemale.
I made it before the rain started and descended the short distance to the Refuge de Bayssellance which was supposed to be the endpoint for the day according to the guide.  I was going to stay and try the ascent of Vignemale but the weather didnt look good and I had heard the next day wasn't going to be great either.
I had a beer and since it was just before 1pm I chose to push on and get as close to Gavarnie as possible to make for a longer day of rest.
Down and down and down I went, past the Grottoes carved into the cliffside by an eccentric mountaineer at the end of the 1800s and deep into the valley below.
After leveling out a bit the path undulated along through meadows high above a road and past several shepherd cabins.  The sun came out and I was starting to feel the miles but I was determined to make it to the refuge near Gavarnie by dinnertime.
I made it with time to spare for a shower.  The meal was filling and I was able to catch up a bit with a fellow American I had met in Lescun a week before.  After a long day and a big meal I slept hard and long.
Day 16 – Gavarnie
0 miles.
A much needed day off in a very touristy town.  It may prove to be expensive but I need it.  There's a concert in the small church I plan to attend this evening.  I just hope I can find somewhere to sleep, it's a Saturday and there are definitely hordes of people about (though this picture taken early in the morning may not make you think so!)
The next section will include a couple of town stops, so radio silence shouldn't be as long this time.  Until then there are many more pictures to be found on my Instagram.  Thanks for joining the adventure!
Affiliate Disclosure
This website contains affiliate links, which means The Trek may receive a percentage of any product or service you purchase using the links in the articles or advertisements. The buyer pays the same price as they would otherwise, and your purchase helps to support The Trek's ongoing goal to serve you quality backpacking advice and information. Thanks for your support!
To learn more, please visit the About This Site page.