Five Things I Wish I'd Known Before Hiking the Triple Crown
I hiked the Triple Crown in a total of two years and two months, and it's still the most amazing thing I've ever done. I started with the PCT in April 2016, then moved on to the CDT in 2017, before finishing the AT in June 2018. Hiking the Triple Crown is just a series of thru-hikes, in the same way that a thru-hike is just a series of day or section hikes, but it comes with a whole host of additional logistics and challenges.
Here's what I wish I'd known before I started.
1) The best order to hike the trails.
There isn't just one best order to hike the trails, and much will depend on personal preference. Most people start with the AT, graduate to the PCT, and then finish with the CDT. In many ways, this is the best way to hike the Triple Crown.
The AT is by far the easiest trail in terms of logistics, distances to resupply, and navigation, while the CDT is the most challenging. And while the AT has its own charm and beauty, it can seem anticlimactic after the big mountains out west.  Hiking the AT and the PCT first will also give you the skills you need before you "brave" the CDT, which is in a whole class of its own in terms of difficulty and danger.
That being said, lots of people start out with the intention of Triple Crowning and decide that it's not for them. Only about one in four people finish a single thru-hike. Many others, including me, start out with the intention of only hiking one trail, and then fall head over heels in love and decide to do all three.
If you're not sure you want to hike the entire Triple Crown, do the trail that appeals to you the most first. For me, that was the PCT. I have no regrets about not doing the AT first, even though that order would have made more sense. The PCT was my favorite trail, and I might not have gone on to hike the others if I hadn't had such a great time.
READ NEXT — 8 Reasons the AT is the Easiest Triple Crown Trail for First-Time Thru-Hikers
2) It pays to plan ahead.
You're probably already familiar with the logistics involved in leaving your regular life behind for a thru-hike. Quitting your job, selling your house, and leaving your family are some of the most intimidating parts of thru-hiking. Now imagine doing this three times. It's a lot.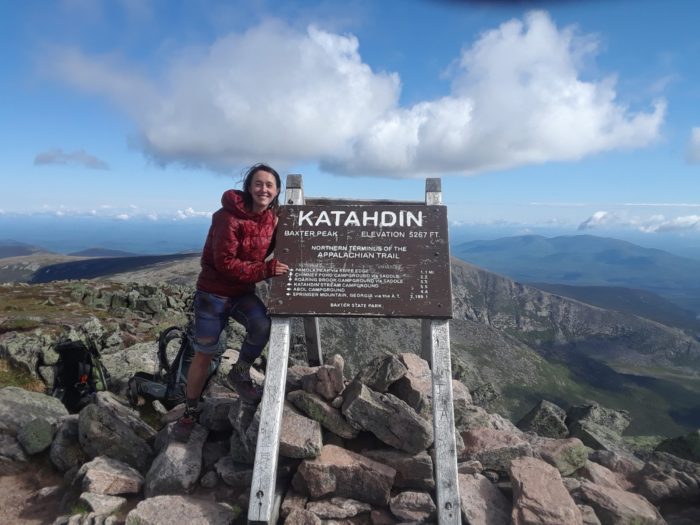 There are two ways to handle this. The first is to take a few years off between hikes to enjoy normal life and save money for the next trail. The second is to condense the Triple Crown into just a few years, a strategy that's becoming more and more popular.
I found myself in the second camp by sheer luck, but I wish I'd been able to plan it better. My Triple Crown cost around $15,000. Purely by chance, I'd already been working my butt off for years and saving every penny. This meant I could take from my savings and not worry about more than just my living expenses over the winters.
A room in a house with 10 roommates and a seasonal retail position conserved my money between hikes, so I didn't have to go back to my old career. But with a little more planning and money saved, I almost certainly could have found a better way to spend my winters between hikes—perhaps even on a beach somewhere warm, or hiking in the Southern Hemisphere.
3) 8,000+ miles can take a physical toll if you're not careful.
A regular thru-hike is tough on your body. Now multiply those effects by three. I finished my first trail with a little plantar fasciitis and some fatigue. I finished my last trail barely able to walk from a knee injury, covered in hives, and exhausted for months after.
In hindsight, I wish I'd followed through on all those empty promises to take vitamins, eat better, and stretch at the end of the day. Nothing will completely mitigate hiking over 8,000 miles in such a short time, but taking care of yourself should be a priority. More time off between hikes also would have helped a lot with this. The Triple Crowners I've met who did not cram their hikes into under three years had far fewer physical problems.
4) Post-trail depression can come back with a vengeance.
I watched my tramily struggle after the PCT with post-trail depression but found that it didn't hit me as hard. After all, my next trail was just a few months away. This came back to bite me after I'd finished my last trail. Suddenly, I had completed a goal that had taken years to achieve. Because I'd had an easier time when I had other trails on the horizon, I was not expecting to feel so awful. My normal coping mechanisms for dealing with post-trail depression suddenly weren't enough, and it took a long time for me to feel like myself again.
I also found it substantially more difficult to transition back to "real life" after each hike. I still struggle with many things that are important in normal life, but not on trail. I'm not sure this is bad, but it can make interacting with coworkers and non-hiking friends who don't understand more difficult.
5) It will change your life.
I've been to some of the most amazing places in the US, fitting a lifetime's worth of hiking into just a few short summers. Watching the sunrise in Wyoming's Wind River Range or the sunset on the peaks behind a High Sierra lake are bucket list items for many people, and I'm so lucky that I was able to experience that.
I've also met some of my best friends (and the love of my life) over the course of the Triple Crown. Tramily members have traveled to different continents to visit each other, and no matter how long it's been since we've spoken, I still feel like I can tell them anything. Nothing compares to the instant connection you feel with other thru-hikers.
Naively, I thought I would finish the PCT, go back to my old town, and pick up my old life. I now live in a different country, married to a man I met on the PCT, and make getting outdoors even more of a priority than it was before. I've hiked a long trail every year since 2016 (with the exception of this year; thanks COVID). I've gone from clumsy and out of shape to someone who exercises for a few hours every day. I'm independent, strong, and confident. I'm not the same person I was when I stood at the US/Mexico border and took my first steps on the PCT.
In hindsight, I'm incredibly happy with the amazing experiences I had hiking the Triple Crown. I wish I'd taken better care of myself, but even if I'd known more about the order to hike the trails or logistics, I wouldn't have changed much. The Triple Crown completely reshaped my life in a way I couldn't imagine before I started, and I'm so glad that it did.
Affiliate Disclosure
This website contains affiliate links, which means The Trek may receive a percentage of any product or service you purchase using the links in the articles or advertisements. The buyer pays the same price as they would otherwise, and your purchase helps to support The Trek's ongoing goal to serve you quality backpacking advice and information. Thanks for your support!
To learn more, please visit the About This Site page.