Flying High (literally): Back on the AT after Two Years Off
At last. AT LAST. After leaving the AT nearly 2 years ago with injuries and dashed hopes for ever finishing my section hiking of the full distance, I finally was ready physically and emotionally to head back. I said goodbye for now to Shorttimer
and hello to the first of hopefully several of these Maine residents in the Portland airport.
The trailhead I needed to reach, which I had left in tears and pain in 2019, was a 2 hour ride with the shuttle driver from nearest hostel. Perry Ellis is a folksy little hostel run by Eileen and her trusty aide, Naomi, in the tiny town of Andover.
You'll find one market, one gas station, no police, an elementary school with 36 students,
a library,
and post office that are occasionally open, two churches and zero crime. You can walk around the town in 15 minutes. Rural Maine.
It felt very comfortable to be here for the second time. Wanting to save my dehydrated food for the trail, I pieced together some items (baked potato, canned chickpeas, canned mushrooms, orange) from the little market for dinner, which proved to be very satisfying, filling and healthy, my goal for all my food in this adventure.
I had the great surprise in meeting another guest from Ohio, Andy "Captain Blue" Niekamp. Hearing one of his talks in Cincinnati and reading his book, Captain Blue on the Blue Blazes:the First Solo  Thru-hike of Ohio's 1444  Mile Buckeye Trail, had been influential in my decision to undertake that trail encircling our state.
Because it was my first day back on the AT in two years, I decided to make Perry Ellis my base for two nights and slack pack my first day, meaning hike with a lightweight pack and no camping supplies. Captain Blue was also intending to do so, so we were dropped off at one trailhead the next morning and picked up 8 miles further at the next one. It was such a joy and an amazing sense of homecoming to be back on the white blazed trail, as if I had never left.
We had gotten on the trail by 6:30 am, to time our arrival at a shelter ("leanto" up north) when the heaviest of the rain was expected to come. Perfect timing. I had my early lunch at 9:30 AM while Captain Blue had a 20 minute nap under the noisy metal roof as we waited for the rain to pass.
It was a real pleasure to share trail stories and information with him about other trails. This is his fifth time to hike the entire AT (as long sections, as I do), has twice done the Florida trail (about 1300 miles), the Colorado Trail (486 miles) and others too numerous to remember.
Speaking of long-distance hikers, we chanced upon two other hikers also going north, one of whom Captain Blue had met on the Florida trail in February: Jeffrey Gazar, a man in his mid-60s who is doing an amazing solo adventure. In December, 2020, he began walking from Key West and hiked the entire Florida trail (1300 miles), a connector trail (? miles) with the AT (2193 miles), the International AT to the Canadian border (138 miles), and, if the border's open, 568 further miles into New Brunswick and Quebec. This will be approximately 4800 miles in all. He still seems enthusiastic about his venture. Not surprisingly, in this photo, he is the gentleman with the longest beard.

Of course, the trail had its usual generous servings of steep ups and downs, as well as copious slippery wet roots and rocks.
As happens on long-distance trails, we parted ways the next day, as Andy hiked faster than I.
Day 2 was dry and very pleasant, with both the beauty and the challenges you expect from this trail up north, starting immediately with a 2200 foot climb in the first 3 miles up to Old Blue mountain. I took my time with that for sure, especially with three days' food and camping gear now on my back.
As I've seen all along the trail the past 4 years, some cairns (piles of stones) marked the trail on treeless, potentially clouded-in mountaintops.
I know I mention food often, but during these first few days, my body is still getting used to the demands placed on it, and hunger strikes nearly every hour. I find my usual lunch of dehydrated hummus, veggies, greens and 3 corn tortillas a welcome mid-day meal, as well as breakfast, dinner and 4 generous snacks through the day.
I had the pleasure of running into Jeffrey Gazar again and his present partner Silver Goat, who is doing the entire trail from Springer Mountain, with his wife supporting him in her vehicle since late March. A saint.
After around 9 miles, I came to Beamis Mt lean-to. It's always such a pleasure to see the shiny tin roof through the trees and hear the laughter of the other backpackers, with whom I enjoy sharing conversation as we eat our respective dinners. With this group, we talked quite a bit about environmentalism, certainly a topic that interests me.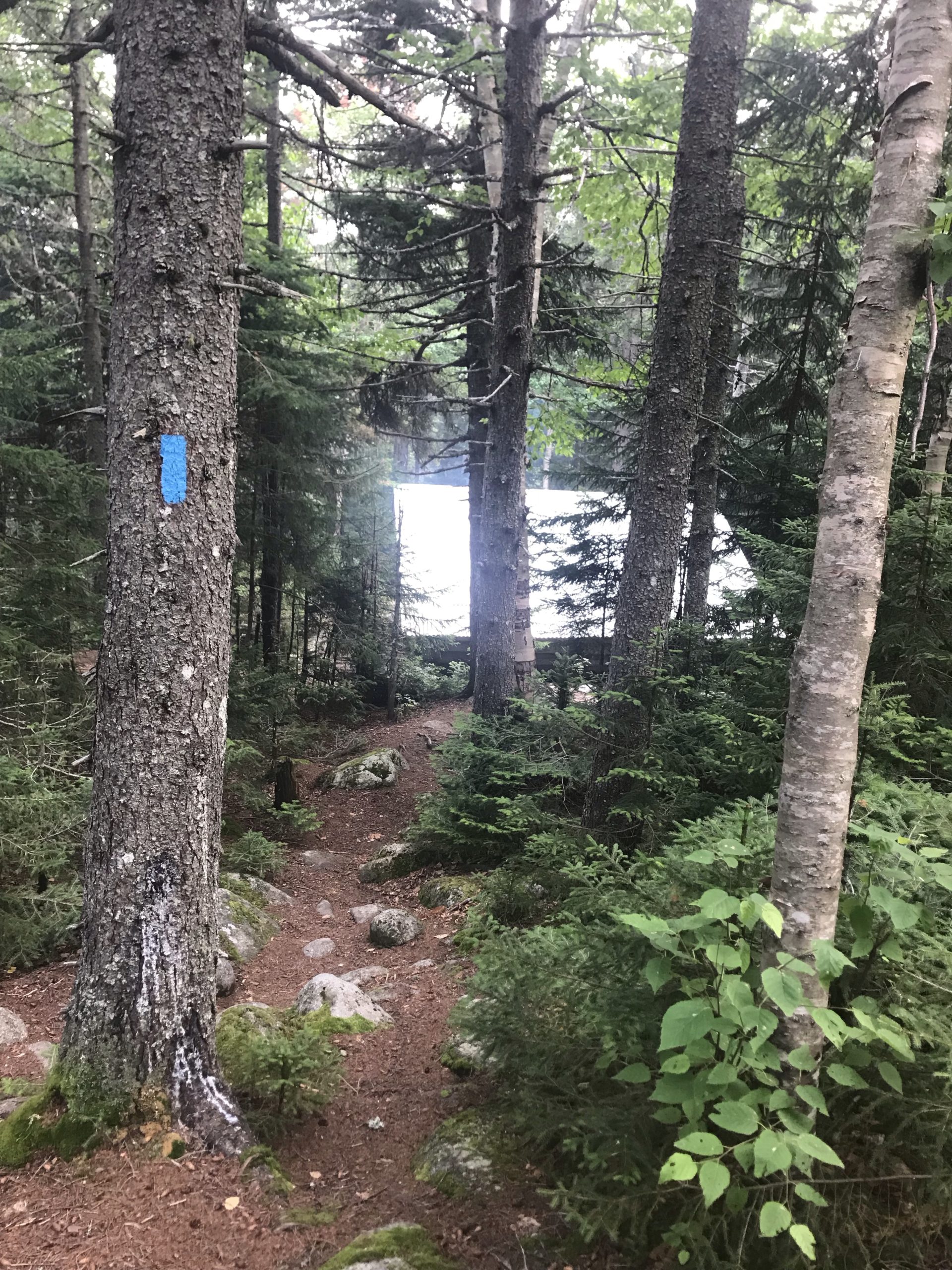 I found a good site for my tarp, nestled among trees. So fun to camp on the trail!
I took the time the next morning to have a good yoga session on my blue foam sleeping pad, very enjoyable under the trees.
Each year, it takes me several days to get faster at packing up in the morning and getting out by an early hour, the prettiest time to hike. I was hiking by 8:15 this day, aiming for earlier. I really took my time this day hiking though, again with just a bit over 8 miles to cover during the whole day. I'm sticking to my plan of easing gradually into slightly longer days, to ease my body into the added effort. After all, I'm not in my 20's, or 30's, or 40's…etc.
I took time to meditate on a mountaintop,
to closely observe an ant (soon to be a hero in his colony) immediately scurry off with a bit of rice cracker when I accidentally spilled some of my snack mix,
pick wild blueberries growing on several mountaintops,

admire mushrooms by the trail,
and continue being amazed by what the trail presented.
I took 7.5 hours to do 8.3 miles! I walked a decent pace, I just stopped so often to enjoy so much of it, including a leisurely lunch with shoes and socks off. I love it.
The Sabbath Day leanto was near a lovely lake, and loons could be heard calling. It was fun collecting (and filtering) my water from this source. Again, nice camping and a lively group to visit with at the leanto during dinner.
The next morning, I packed up a wet tarp thanks to rain during the previous evening, knowing I could soon dry it out in my motel room at Rangeley. I was pleased to be able to pack up and leave camp by 7:30. As I approached the town, the trail gradually got easier and easier, resembling what many people probably picture of the whole Appalachian Trail being like: verdant, easy to traverse, lovely. Yes, some of it is. Some of it isn't.
When I reached the very busy two lane highway that traveled 9 miles into Rangely, I tried to position myself in a good place for hitchhiking into town, a practice very common among backpackers. Within 10 minutes, a very friendly couple with their two sweet aging dogs gave me a lift to the IGA in town, where I picked up some fresh food for dinner.
So fun to be in one of the same grocery stores that I had been in back in 2019, when I was injured and not hiking, but shuttling my Swiss hiking partner, Freeman, the rest of the trail. I miss you, friend!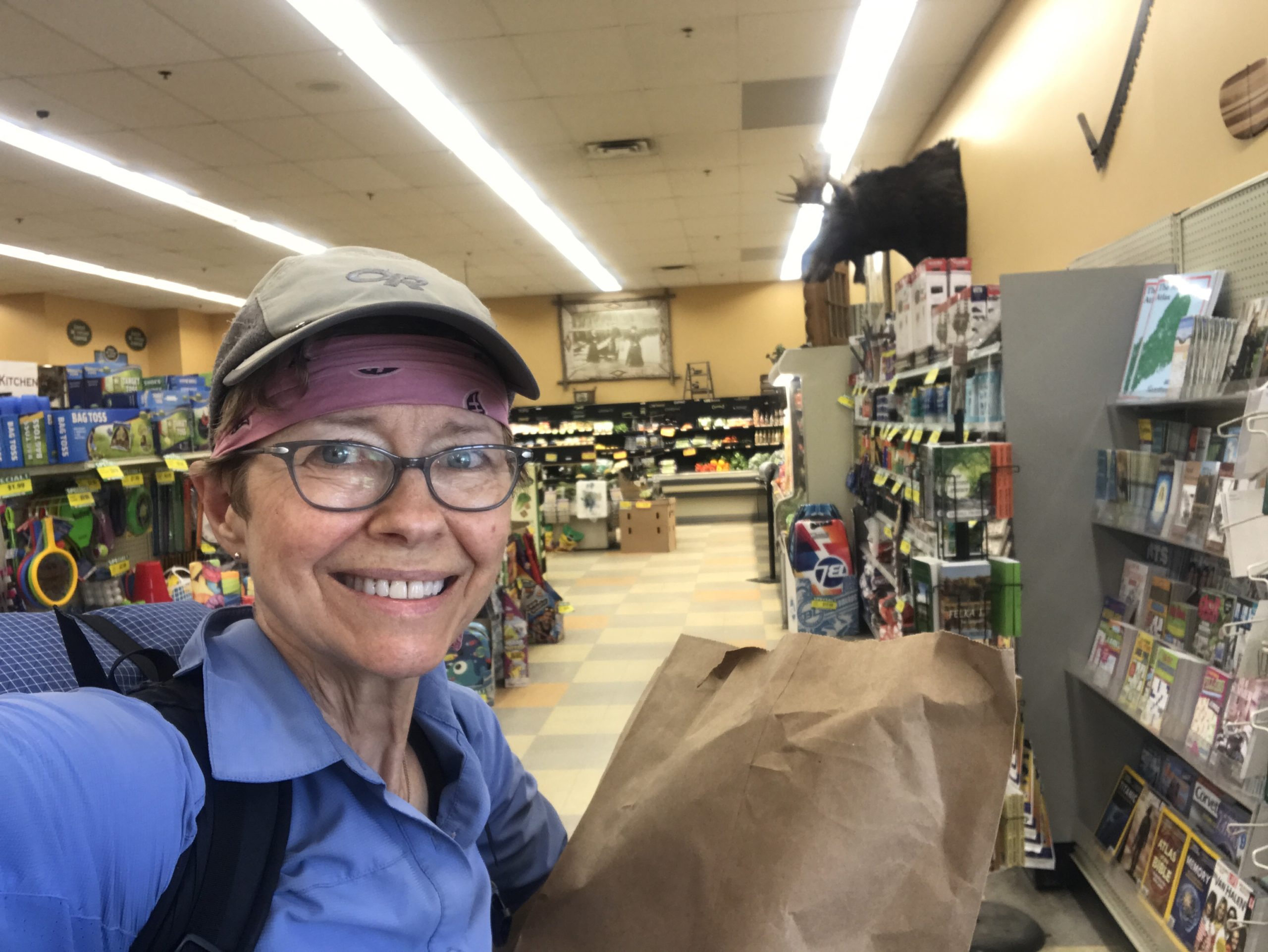 After my shopping, I asked an exiting shopper for a lift to my motel, which she gladly agreed to, even though she was heading in the other direction.
I'm staying at a cozy, vintage motel right on the beautiful Rangeley Lake.
I'm taking my first zero day (# of miles hiked) after only four days, because I find this town very sweet. It has been a good choice, since my legs were getting tired after four days of extreme effort. Laundry has been done, yoga enjoyed on my mat overlooking the lake, baked sweet potatoes devoured (my favorite food now), with black beans, veggies and fruit for dinner on my little deck both nights,
Rangeley has a cute little downtown, including its classic inn.
I've done lots of resting as well, but the best thing that happened in Rangely was this amazing, sky high experience:

We saw three moose in a lake, from a distance of course. So exciting! I've now seen 17 black bears, 4 moose, one rattlesnake, one fox, one porcupine, countless deer and heard coyotes on the AT.
It was a fantastic experience. I'm so glad I spent my day here. So worth it.
I had two more hitching experiences, once more out to IGA
and then back to my motel,
where I spent my evening writing this lengthy-as-usual missive about my sky high experiences of being back. Back on the amazing, beloved, frustrating, hateful, beautiful, maddening, scary and captivating path called the Appalachian Trail.
And on I go, once again Katahdin bound.
Affiliate Disclosure
This website contains affiliate links, which means The Trek may receive a percentage of any product or service you purchase using the links in the articles or advertisements. The buyer pays the same price as they would otherwise, and your purchase helps to support The Trek's ongoing goal to serve you quality backpacking advice and information. Thanks for your support!
To learn more, please visit the About This Site page.