Forays into Fastpacking: Surviving The A100
The A100 is an event that takes place every June in the Allegheny National Forest of western Pennsylvania. Participants have up to 50 hours to fastpack the 100 miles of the North Country Trail that go through the park. Running is not really encouraged, so in many ways, the A100 is an anomaly. There are no official support stations, you have to carry everything with you, and except for your car, there's nothing at the finish line. I participated in the event for the first time this past year, and wrote the following to capture the exhilaration, pain, and sheer insanity of what transpired. Was it crazy? Yes. Would I do it again? In a heartbeat. Enjoy!
—
100 miles in 50 hours sounds so good in theory. Maybe that's why, even though I've never done an endurance event, and (let's face it) have been mostly sitting on my ass for the last 8 months since finishing the AT at the end of July, I entertain the idea with a degree of seriousness. My friend Chris, AKA Maquina, never the voice of caution, eggs me on, so after doing some math and drawing up a hare-brained plan that sounds vaguely plausible I cave and click that register button and sign up for the A100. I think I can do 30+ miles without sleep. I'm a sucker for endurance. I haven't failed yet, and that makes me a little reckless.
My training is haphazard at best. I do a 75 mile hike over a weekend on the AT, but very little else, so the morning of the event, I feel medium about my chances of actually completing the challenge. I throw my tent and sleeping gear into my pack, and kick myself out of bed at 3am to drive out. The event itself doesn't start until 6pm, but if I want to park the car at the end of the course and catch the shuttle to the start (and I do), I'll have to be there a little shy of 3. The drive is 6 hours, but I make great time and cruise into a nearby campsite to meet Maquina and George by late morning. We sit by the lake trading stories until the early afternoon. Then, we drive to the terminus. The parking lot is bustling with activity. People at various levels of readiness and various types of gear saunter around. There are maybe three other women there, and I feel self conscious about my pack, which looks big comparatively to everyone else's. I feel a wave of Packorexia. Mostly though, I am calm. This is just a hike, after all. I've done this before.
Then, we climb onto the bus.
—
The first night feels like a hiker party. Six of us form a merry troop in the darkness. There's me, Maquina, a former PCT thru hiker named Eli, and Dan. I grill Eli with all my questions about the PCT as we make forward progress at a steady clip, and he seems happy to answer. We both know in the back of our heads that this is a part of the game; we're killing time in the darkness.
The miles make themselves, and we cross 25 miles by 11pm. Most of us stop for the night at midnight. Maquina, who doesn't have much sleeping gear with him, elects to keep moving. I pitch my thin ultralight tent, crawl in, and try to fall asleep, but end up tossing and turning for a few hours in the heat; people pass by my tent like ships in the night, their headlamps hitting the tent wall periodically.
At 3am I give up. I open my food bag, force some nutella-almond butter-coconut oil concoction down my throat, get my headlamp out and go. The early morning is almost eerily silent; the late-night hikers have stopped, and the early risers aren't up yet, so I have the trail to myself. I settle into a podcast and let my body start moving. At mile 35 I swear I see a pair of eyes looking at me from off trail, but when I shine my light there, it's just a tree stump. I decide I can't wait for the sun to come up. Three more hours in the darkness. Slowly, my eyes start to pick up light, turning the forest from black, to shades of gray in the absence of any real light. Finally, the sun lazily pokes its head from above the horizon and the forest bathes in a golden glow. I plod forward, trying to shake out the stiffness in my legs. For some reason, my left leg isn't cooperating, and my usual regiment of stretches is doing nothing to ease the pain. Drawing from my AT experiences, I file the tight sensation away and keep walking.
—
There's trail magic at mile 50. Hamburgers and hot dogs, bananas. Ice cold gatorade, every hiker's dream. A welcome respite from the small psychological and logistical fires that are going on in my head. At this point, I've come to the realization that I haven't packed enough food, and am processing how to handle it as I scarf down two burgers with cheese and ketchup. If I keep moving without packing out more, I will run out well before the 100 miles is up. On top of that, the back of my left leg is tight and swollen, and shoots sharp pains down my calf when I walk, especially on the down hill. The trail magicians tell me I'm looking strong, and I manage to smile at the encouragement. The guy sitting next to me in a camping chair is asking for a ride to his car, felled by bad blisters from what I understand. I eat and say nothing. As if on cue, the man flipping burgers tell me that my friend has left me something. Turns out Maquina has come through a few hours before like a benevolent ghost, and left me home made granola bars and a whole bag of Lifesavers. I giggle at the appropriateness of that. He has saved my ass.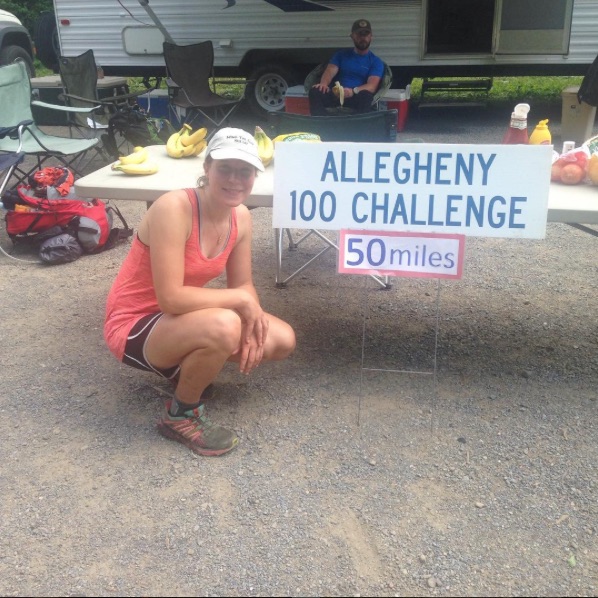 15 minutes later I decide it's time to keep moving. The uphill feels good and the burgers give me strength. The downhill, though, is a whole other story. A dull ache punctuated by piercing stabs has taken over the back of my left knee. I think about turning back, but I'm already 6 miles away from the 50 mile mark. Just keep moving, I tell myself. I stop to fill water. Then, I hit a trail register. Scrawled on the top of the register in pinched, schrizophrenic letters is "Mi nombre es Maquina," OK, I think. Chris is only a few hours ahead of me. I force myself to keep moving, until I come across an overgrown road. I throw my tent down and crawl on top of it. I have no idea how hot it is right now, but it feels upwards of 90. I force myself to rest for half an hour, but then the adrenaline and anxiety of burning daylight starts getting to me. I keep going for a few more miles. After a particularly painful downhill, I stop in a clearing, throw down my tent, and decide that I have to sleep for at least a few hours. It's 2pm. I elevate my leg and dig through my pack for the ibuprofen. I'm at mile 60. 100 yards away I spot another hiker stop by the nearby river and rest. He lays down on the river bank for hours, and so we both nap, alone but together.
At 4pm it's time to go. My leg is still terrible. A part of me thinks the hike is over, but I know I'm at least 15 miles from the road crossing with service, so there's nothing I can do but keep moving. The pain killer has at least somewhat numbed my pain. My hike becomes even more of a train wreck when at mile 70 I realize i've mismanaged my water. I'm up on a ridge that, it turns out,  is dry for miles. I take a Nuun tablet and suck on it to give myself something to focus on. The tab is salty and fizzes strangely in my mouth. Then, I walk, pondering my severe lack of foresight. I am here but not here. I float a few feet above myself. When I finally descend to the stream, I fill my Sawyer with shaking hands and then I just drink and sit. The gnats are having a field day on my exposed skin and I don't even care. Idiot, I think. Idiot.
I cross the bridge just as the sun is going down. I have service! The giddiness of hydration and the ibuprofen I popped earlier in the day have worked their magic, so I don't use the service to call for a shuttle. There's just one more bump before I hit mile 75, and I know I can hike 25 miles. The darkness sets in as I work my way up from the road. I can feel my toenails moving in my shoes. Not good. I'm ready to stop as soon as I find a flat spot. Finally, at 11 pm I move out of the craggy brush and into a pine forest. I set up my tent, crawl in, try to eat a handful of something, and pass out.
__
My alarm beeps at 5am. I've slept for 6 hours, and it feels amazing. I survey my feet with less enthusiasm. I have sizable blisters under at least four nails, which I pierce with a needle and some thread, and proceed to wrap up as best as I can. Clear liquid oozes into my socks on both feet, but at least the pressure has gone down. Then, I pack up.
I reach the 75 mile marker at 6am, feeling refreshed. Everyone I've seen so far has been asleep, huddled in lumps of emergency blankets and paper-thin tent walls off the sides of the trail. The register tells me that only 3 people are ahead of me, including Maquina. I rally. I want to catch him.
I settle into a podcast and pick my way across a boulder field. Korean pop groups. Who knew. The spell is shattered at mile 80 when I fall on my injured leg, and the flood walls break. I sob with abandon as I limp down the trail, trying to keep my weight off it. It feels so good to cry, to have a tiny little pity party alone in the woods. This is absurd, I think to myself. This is surreal. But it's happening, so deal with it, my mind tells me. I force some granola down my throat, even though my appetite has long since gone. I only have 20 miles left. It's barely 8am. I know I can do 20. I'm going to make it.
13 miles left I make a friend. His name is Trademark, and he's also a former AT thru hiker, Class of 2014. He comes up behind me and slows down to chat. I think we're both relieved to talk to another person. He ignores my tear-stained face, which I'm grateful for, and I explain that downhills are problematic right now. I ask after Maquina, and Trademark tells me that he hiked with Chris until late last night. That Chris got bitten by some sort of bug and his face swelled enough to make him barely able to breathe. Seeing my worried face he tells me that Chris is fine. He refused to get off trail, can breathe now, and is probably somewhere ahead of us. We fall into a steady cruising speed, practically running down the trail together. We trade stories. He tells me about a high powered job he had before he left for the trail, and how he now works at his girlfriend's father's hardware store and is happy. I tell him about the Dirty Song Lady of Manchester.  We reminisce about the strawberry shakes at Woods Hole Hostel, and how trail culture keeps both of us coming back.
5 miles left. We pass a guy sitting on the side of the trail. He seems surprised to see us and informs us that he's doing the 100 mile hike. We tell him we are too, and he shakes his head at how much energy we both have. 6 hours of sleep I laugh back at him as we keep going. That's what's making me move right now.
The end is so close we can smell it. We stumble out onto a road and see cars. Our cars. And then we see a table and smiling faces and camp chairs. And I know that it's over. We've done it.
Trademark and I were finishers #2 and #3. We sat around at the 100 mile trail magic for awhile and greeted finishers as they came by. Maquina showed up shortly after, clearly still recovering from his brush with disaster. Another hiker arrived with his head covered in dried blood, but otherwise incredibly cheery. Everyone arrived with a goofy grin and were greeted with cheers, hot dogs, and cold beer.
The knee injury that I hoped was an IT band flare up turned out to be a partially torn meniscus, and it took me 3 weeks before I could really walk again properly, 3 months before I ran again, but I have no regrets. The event was an incredible show of trail culture, camaraderie, and positive attitude, and I'm still incredibly happy and grateful that I had the chance to participate. For anyone interested in the event, keep an eye out for registration for 2017 at the North Country Trail Allegheny National Forest Chapter's page.
Affiliate Disclosure
This website contains affiliate links, which means The Trek may receive a percentage of any product or service you purchase using the links in the articles or advertisements. The buyer pays the same price as they would otherwise, and your purchase helps to support The Trek's ongoing goal to serve you quality backpacking advice and information. Thanks for your support!
To learn more, please visit the About This Site page.
Comments
2
What an adventure! Hope the knee does OK for you. Great report.

Woot! My neck of the woods. I was planning on entering this past June but broke my ankle a few weeks before.