GDT Section D (feat. The Kiwetinok Alternate)
For any thru-hiker who has made it as far as Field, there's a sense of trepidation that begins to tug at you. You've likely heard talk about how the official route through the Amiskwi valley is pretty overgrown and you are probably considering the Kiwetinok alternate. It's 7 km of off-trail route finding with little hand-holding and only the words of a few before you to guide you (thanks Dan Durston). You get to choose: overgrown valley bottom or off-trail route finding.
Day 21 – Field/Lake Louise to Laughing Falls
Total distance: 22 km
Although I appreciated the amenities of town life, I wasn't super stoked about the hitchhike back to Field. I guess because of that, I put it off as long as I felt like I could. I started with a late breakfast and had a terrific smoked brisket wrap and a Mighty Leaf Earl Grey tea. Then I went to the grocery store and snagged a bag of chips that I had never seen before: Herr's Deep Dish Pizza Cheese Curls. I eagerly anticipated trying them out. After delaying as long as possible, I finally began the walk to the on ramp of Highway 1.
And I waited there for quite a while. The first car that stopped for me was going towards Jasper so I declined and waited some more. Ten minutes later another car stopped; they were going the same direction. I'd waited for 25 minutes so far and was eager to make some forward progress so I accepted the ride to the highway junction 1.5 km away. I had hoped to catch a ride on the on-ramp from the Icefield's Parkway. However, it didn't look like a great spot for vehicles to stop so I walked towards the off-ramp for the Icefield's parkway and waited some more in a nice pullout near the underpass.
Finally, almost a half hour later, an SUV pulled over and a Russian man offered me a ride and quaint conversation to Field. He hoped to get to Golden to go paragliding, but with all the smoke he wasn't sure if he'd be able to. I talked about the trail and shared some of my experiences. Soon enough, we were at the visitor centre and said our goodbyes.
Field: Round Two
I quickly crossed the highway and, because I likely wouldn't have any service for a good while, called my partner. We talked as I climbed towards Burgess Pass. It was one of those everyday conversations that you tend to take for granted when you're in close proximity with someone. Where what you say is less important than simply connecting and sharing time together. So when I turned around a corner and the call suddenly dropped, I turned around and went back to where I had service to say goodbye.
The rest of the climb to Burgess Pass was quite enjoyable, even if the weather seemed foreboding. It threatened to rain, but seemed to hold back until it felt like a more appropriate time. Once I reached the top of Burgess Pass, the traverse over to Yoho Pass seemed to stretch on forever. I was into the last bit of my food and eager to resupply at the Whiskeyjack Hostel where Joel, the manager, had agreed to help me out. Due to the limited post office hours in Field, I needed an alternate resupply (closing at 1:30 pm on a Friday? Really?). If I had initially planned on going to Lake Louise from the start I could've sent it there, but I had hoped to camp somewhere near Field. I reached out to Joel to ask for his help and eventually sent my resupply to him.
The descent from Yoho Pass to the hostel made me appreciate the fact that I wouldn't need to go back up the Iceline Trail to Little Yoho. It was one of the few reservations that I didn't get, so I took a reservation at Laughing Falls as my backup. The weather wasn't great (overcast with rain forecast for the night) and I had already seen the Iceline on a fantastic day so I didn't feel like I was missing out on anything.  I reached the hostel, loaded my pack, and stuck around so that I could thank Joel in person before heading off to Laughing Falls.
I took a meandering route that passed by Takakkaw Falls instead of a more direct route along the road. Although I wanted to beat the rain, I wasn't in a rush to get to my campsite for the night. When I finally arrived at the campsite, I found a spot for my tent, and ate some dinner. It started to rain, but I wasn't quite ready for bed; so I chilled and chatted with two hikers under a tarp that someone had left for others to use.
Day 22 – Laughing Falls to Amiskwi Pass
Total Distance: 26.2 km
I woke up to a relatively wet fly and not quite sunny skies. The same way yesterday threatened to rain, today threatened to be sunny. Maybe. It wasn't quite sure and neither was I, so I stuck around hoping to dry my tent out before packing up. In hindsight, I should've just packed up and dried it out later, but I always sort of assume that the weather is going to be bad so that I'm ready for it. I ate breakfast, and waited much longer than I should have. My tent was drier, but not dry. And I was starting closer to 10 than I might have liked given that I had to hike the Kiwetinok Alternate today.
The trail to Little Yoho from Laughing Falls is nice and gradual; I made great time and soon enough found myself passing by the Stanley Mitchell Hut at Little Yoho. A couple of people laughed as I took pictures of the cabin (and them) before hiking on. As I approached Kiwetinok Pass, the sun finally came out in full force so I seized the opportunity to dry my tent while I filtered some water. By the time I filled my water, my tent was dry. I could see rain on the horizon and hoped to be at my campsite before it arrived. After packing my stuff, I quickly arrived at the top of Kiwetinok Pass and had some lunch as I surveyed the valley below and Kiwetinok Gap in the distance.
Kiwetinok Alternate – off-trail fun!
I spent a lot of my time glued to my phone to ensure that I was following the track. I should have ignored that and aimed for the valley bottom below the gap to save myself some time as the route down was obvious enough. There were a couple of times where I had to traverse to a better spot, but I would've figured it out quickly enough. That's not to say that you should ignore the track, but you don't have to be on it to get to the valley bottom. I really enjoyed the descent, though. It was fun to not walk on a trail and to make my way between and over boulders. I followed stream beds for a while until the water started flowing, and hopped across rocks.
Once I reached the bottom, that's where I ran into my first bit of navigational issues. I couldn't find the orange flag that supposedly marked a decent way to Kiwetinok Gap. Later, I found out that I likely didn't walk far enough to find it. So I guess the path I followed that was on the GPS track didn't send me to where I was supposed to go. That was almost immediately evident as the bushes became denser and I had to swim upwards through them. This part sucked. But I knew that somewhere above me, there was going to be a meadow. All I had to do was make it through this.
Have you ever angry hiked? That's where the trail (or conditions on it) are frustrating you so much that you start stomping forward while cursing at everything around you. I angry hiked through some of those bushes. I swore at the bushes. And when I finally reached an old, stream bed that was nearly vertical, I celebrated a bit because at least the bushes weren't as dense. The stream bed brought me to the meadow and I could see Kiwetinok Gap shortly above me. I quickly climbed to the top and had a little break to enjoy those Deep Dish Pizza Cheese Curls. They were exactly what I needed. While I ate, I watched a lone mountain goat off in the distance.
The descent into Amiskwi Valley was…fun. I'd call it fun anyways. Steep scree slope then down through the forest into an old burn. I was super appreciative for the awesome flagging on this side of the Gap as it made the descent quick and easy. The way forward was often evident; it wasn't long before I was at the valley bottom and back on the GDT. And being back felt good. Not just because I was back on a trail (albeit a bit overgrown), but mostly because I could increase my pace again.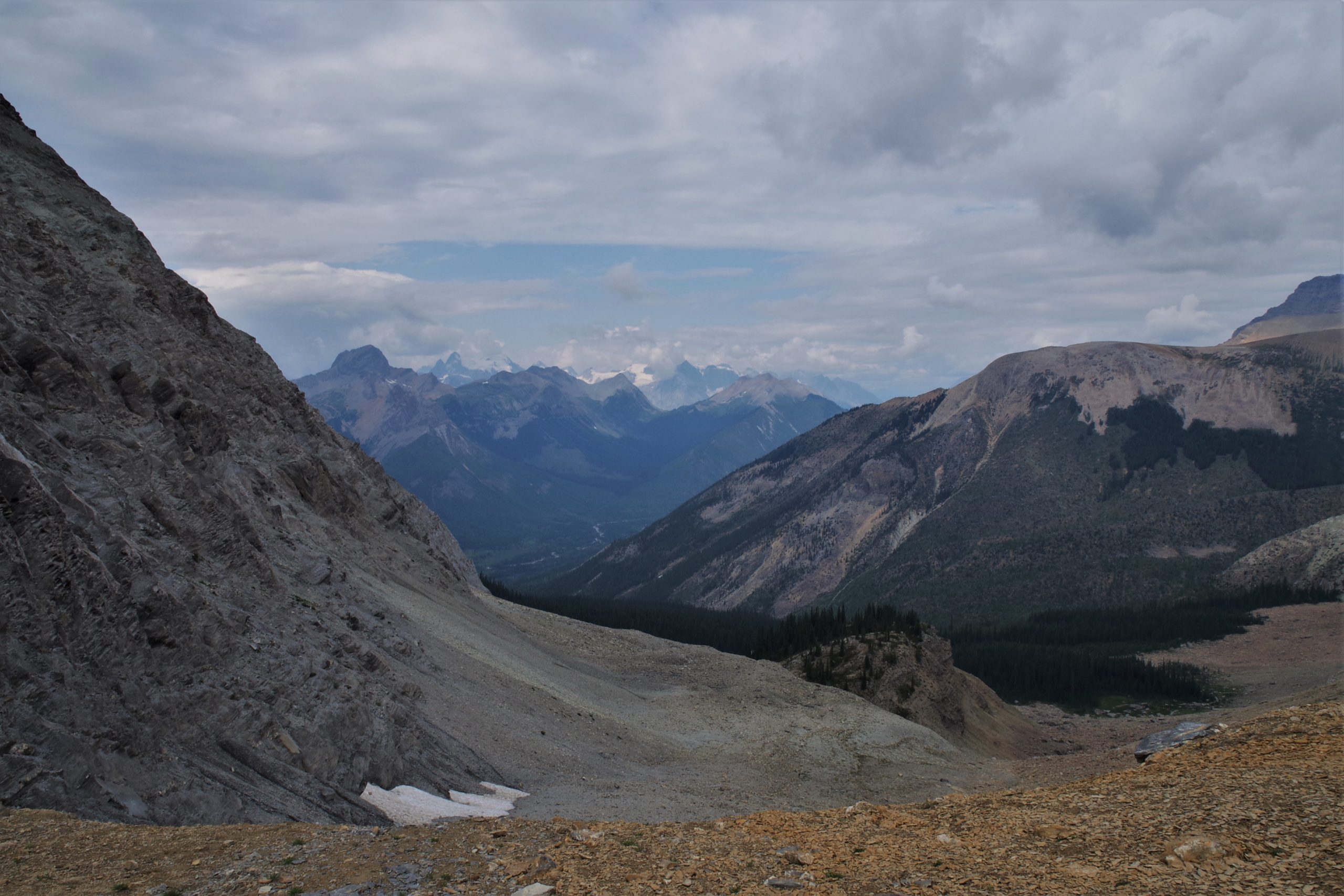 The way forward. Just have to make it down to the bottom of the next valley.
Back on the GDT
Shortly after celebrating my return to the GDT, the rain started and quickly soaked the bushes around me. I picked up a great term from another hiker: car wash. He said that walking through wet bushes to going through a car wash. Although I was dirty enough to need a wash I wasn't super jazzed about it. When I reached the first crossing of the Amiskwi River, I searched in vain for a way to get across without getting my feet wet. Seeing none, I stomped through the river and continued to the pass.
On the other side of the river, the trail was a little overgrown in places, with some of the bushes going well over my head. Thankfully, those sections were brief. I stayed close to the river when the trail disappeared into the bushes a second time and as I was about to cross the river again, I got stung by a wasp. Here's the thing about wasps: I hate them and they hate me. It's pretty mutual. For whatever reason, I get stung pretty regularly, but this was the first time while hiking the GDT. Anyways, as soon as I was stung, I ran (as I tend to) until I reached the river crossing and splashed across.
The climb from the last river crossing to Amiskwi Pass was pretty nice, with an awesome waterfall visible to the east. When I reached the pass, I saw Bent and Jason's tents and I stopped to chat with them about their day along the alternate. They managed to find the actual route up to Kiwetinok Gap and told me how I must've missed it. While chatting, I tried to scope out a spot for my tent that would be dry in the morning, but there were no other spots besides those in the meadow. After our chat, I had some dinner and the beer I'd been saving since leaving Lake Louise; it's important to reward yourself after a hard day's work.
Day 23 – Amiskwi Pass to Old Horse Camp (Howse Floodplains)
Total Distance hiked: 35.2 km
Trail distance: 43.2 km
Today needed to be a bigger day. I wanted to give myself plenty of time at The Crossing Resort tomorrow so that I could get myself sorted for the next section to Jasper. I woke up to an empty meadow, and a very foggy/overcast morning. My plan for today was to potentially take two alternates: the Amiskwi Ridge alternate and the Collie Creek alternate. The Amiskwi Ridge alternate is apparently quite scenic, but I declined to check it out due to the cloud coverage. My other choice, the Collie Creek alternate, provided an easy way to shave off 8 kilometers.
The trail to the forest service road was easy enough to follow and I even ran into a pair of hikers who had camped a little past Amiskwi Pass. The road to the alternate is a breeze and barely worth mentioning except for how foggy it was. There's something magical about hiking through early morning fog and I appreciated it.
I enjoyed the Collie Creek alternate quite thoroughly. Not only was it mostly downhill to reach the creek itself, it was well-marked and also had one of the sportiest creek crossings so far. Collie Creek flows quickly and I had to be careful with my foot placement to ensure that they wouldn't sweep out from underneath me. I leaned into the creek, the water lapping at my thighs, and carefully crossed to the other side. From there, the trail was mostly flat until I reached the Blaeberry River Recreation Site.
After lunch
Once again, I dried my gear out in the meager sunlight while I ate my lunch. The sun did not want to play, but I needed my gear to dry just in case. So I had a longer lunch than I wanted to but everything was dry once again. The trail between the rec site and Lambe Creek was pretty great once I figured out the first crossing after the rec site. Apparently the old crossing was washed out, so the reroute is much further upstream.
Overall, the trail was quite enjoyable because it wasn't overgrown, the sun came out, and I even saw blue sky! As I approached Lambe Creek, the smell of sediment was thick in the air. There's a waterfall just before the campsite and the water it kicks up is filled with sediment, a sharp smell intruding on an otherwise serene moment. When I reached the campsite, Bent and Jason were just leaving but I wanted a break so I told them I'd catch up later.
From Lambe Creek, the trail climbs towards Howse Pass. I was a little surprised to see a marker at Howse Pass given the condition of the trail. Walking through Howse Pass felt like stepping into the past; nature is taking over trail maintenance and it often felt like I was swimming through the bushes. It made me appreciate some of the more maintained sections of trail that I have hiked so far.
I caught up to Bent and Jason at Conway Creek. We enjoyed some dinner together and talked about our plans for the next few days. Once again, my hiking schedule was throwing me passed some of the few people I saw on trail. So I prolonged my dinner, knowing I only had another 5 km to go to reach my campsite. The time spent in company with others was definitely more important than finding a spot to stay for the night. Why sleep 30 minutes earlier when you can hang out with others?
The trail always feels emptier whenever I've just passed by someone that I know I won't be seeing again. From Conway Creek, I was finally on the Howse Floodplain and entirely unwilling to get my feet wet again. I leapt across a small stream to be on the floodplain itself and enjoyed the easy walking. However, I could see that this section wasn't going to last so I went back to the overgrown trail through the forest. It eventually spit me back onto the floodplain and it was pretty smooth sailing from there.
I reached the Old Horse Camp in short order. It must be a pretty old horse camp as it didn't look like much of a campsite. However, I heard/read that there's a better spot not much further, so I continued onwards. The spot was perfect; not only was it fully dry, it had quite a good view. I setup my tent, put my bear cannister in a safe spot, and crawled into my tent. The first drops of rain started just afterwards and lulled me to sleep.
Day 24 – Old Horse Camp (Howse Floodplains) to The Crossing Resort
Total Distance: 22.7 km
Although I didn't set an alarm, I was awake at a decent hour to get to The Crossing Resort. My shoes were toast at this point; I dreaded the fact that I couldn't make it to Jasper with them. Oh well. I woke up and listened to the rain against the fly. Although I don't mind the rain, I didn't relish the idea of starting my day wet. A couple of minutes later the rain stopped so I went to the bathroom and grabbed my food. I made it back to my tent just before it started raining again.
Instead of finding a place away from my campsite to eat, I boiled my water under the fly of my tent and hoped for the rain to stop. Just as I finished my oatmeal and tea, the rain tapered off. Today was off to a good start. Not only that, my fly was the only part of my tent that was wet. For the first time on trail, my footprint wasn't wet. It wasn't until I started hiking that things went sideways.
The first problem I encountered was the junipers. They are incredibly scratchy and I don't hike with pants. My legs took quite the bashing and I had to grit my teeth to pass through some sections. The second problem was the numerous deadfall littered across the trail. It made the going quite slow for all those parts where the floodplain was impassable. The first kilometer took me almost an hour. And for the second time on this section I angry hiked.
I tried hiking on the floodplain as much as I could, but there were long sections where it wasn't possible due to the Howse River. There was one section where it looked like the floodplain opened up, but I went to it too early and ended up in a swamp and had to dance across logs to keep my feet mostly dry. The trail didn't start to improve until I passed the sign for Glacier Lake. I could see the glacier above the lake and it looked enticing, but I didn't relish the thought of trying to cross the Howse River to get there. So I stayed on the main GDT.
From the Glacier Lake turnoff, it became clear that someone was  trying to do some maintenance to the trail. The trail gradually improved the closer I got to the highway. By the time I reached the Saskatchewan Crossing turnoff, I was mostly over how shitty of a time I had had that morning. Now I was mostly ready for food and to replace my shoes.
When I reached Mistaya Canyon, I avoided the crowds as best as I could to get to the road. The cars zipped by and I didn't feel like hitchhiking so I walked to The Crossing Resort. My room wasn't ready yet, so I had some lunch and decided to hitchhike to Lake Louise to get a new pair of shoes. I could have tried to get to Banff, but I wanted to return to the resort because I was only planning on staying one night and I wanted to make it back for the dinner buffet.
The hitchhike out wasn't too bad; I waited around 10 minutes for a pickup. I enjoyed listening to him talk about hiking in the area and shared some of my experiences. The Icefields Parkway is a beautiful drive and I appreciated being the passenger for once. Soon enough, we were in Lake Louise. I said my farewell and thank you, and went to the outdoor store. Turns out, they don't have shoes that I like to hike in. And it was too late to try to go to Banff and return. So I chose the pair that I disliked the least (and felt comfortable enough) and returned to The Crossing.
Check out my Instagram.
Miss any of my other posts?
Check out Part 2 of Section C.
I was looking forward to a day off during Section C.
Section B was a wee bit smoky.
Definitely learned a bit during Section A.
Check out My GDT Gear List – Living in Luxury 
Read about How to Plan to Thru-Hike the GDT.
Read about Why I'm Hiking the Great Divide Trail (GDT) during COVID-19.
Affiliate Disclosure
This website contains affiliate links, which means The Trek may receive a percentage of any product or service you purchase using the links in the articles or advertisements. The buyer pays the same price as they would otherwise, and your purchase helps to support The Trek's ongoing goal to serve you quality backpacking advice and information. Thanks for your support!
To learn more, please visit the About This Site page.