What Gear Companies Get Wrong About Women
As we layered up for the New Hampshire winter, my friend and I were indulging in a popular pastime – comparing our gear. We both enjoy the outdoors and have spent our fair share of time working in forestry or on farms, so we share any tips we can get.  Such as, TitleNine makes great sports bras.  Oiselle has soft waistbands on their running gear.  And a go-girl is a must have for peeing during a long multi-pitch. But even though we've spent our whole lives looking for the alternative deal, we're still surprised by how hard it is to find women's athletic clothing that fits right and doesn't make you look like an idiot.
The outdoor industry has exploded in the past few decades, focusing on creating lightweight, highly efficient gear from base layers to backpacks. As far as women's gear is concerned, we've come a long way. But despite a newfound focus on the female demographic, I can't help but feel like a lot of companies are still falling short of delivering the same quality to women that has been available in men's gear for years.
So, here is an open letter to marketing companies around the world about what you can you do better, along with a reader tip about which companies are ahead of their time and already getting it right.
1.  Make the arms larger
My arms are muscular. This is because I climb and I like to do active things. Hence why I'm trying to buy wicking shirts and flannel work shirts. I've come to understand that, despite my personal opinions, 'muscular' is not necessarily the ideal female form in society. In fact, when I injured myself and had to stop climbing for two months last year, I got endless compliments on how skinny I looked. And a miracle also happened – my arms fit into all of my shirts!
Having grown up in my brother's hand-me-down flannels, I was pretty excited when outdoor companies started making 'women's flannels'. Imagine my disappointment when I realized that that meant much less arm space. And when it comes to why, the ads say it all.
Men's flannels are shown in ads being worn by modern day, romanticized lumber jacks, but women's shirts are modeled by waifish women who look as though they couldn't even lift an axe, much less use it. Why would a woman want a shirt that was stereotypically worn by people cutting wood if it wouldn't fit her while she actually chops wood?
What is the message here? That women should dress the way men do, but remain weaker?
Women's arms are getting a bigger workout today than serving turkey dinner; let's try to keep up.
…So, who does it right?
Well, for one, Duluth makes a pretty solid line of women's work shirts.
2.  Change the colors
It's hard enough to stand your ground as a woman in outdoor sports. Now try doing it dressed like a female Power Ranger. The colors available for women's clothing are a horrible mix of pastels and neons; Line up women on a hiking or biking trip and it looks like Abba visiting a nursery.
OK, so it does play right into marketing stereotypes that I care about the color of my clothes, but I do think that color affects how we're perceived. Women want to be taken seriously – as mountaineers, climbers, hikers, skiers, snowboarders, runners, and cyclists. You name the sport and I guarantee you there is a humiliating teal outfit for it.
Even hunting clothing, which is designed for one primary purpose – camouflage – is tainted by female stereotypes:
There's nothing like bright, glaring pink to simulate a natural environment for wary deer.
And you know what? Some women want to wear neon pink and yellow, and that's OK. But in a market that is gradually incorporating more and more fitness boutiques like LuluLemon and Fabletics, it would be nice if the more serious gear companies – especially the ones who try to convince us that they support women's equality and athleticism – offered the same color choices for both genders.
It is 2015. We've had the right to vote for almost a century – can we please have adult colors now?
Who does it right?
Patagonia and the North Face are expensive, but slightly more likely to use palettes which don't assault your eyes.  Unfortunately, I still haven't found a company that reliably sells their women's gear in the more subtle burnt oranges, olive greens, and slate grey colors that men's wear comes in – but please tell me if you know of one.
3.  Make work clothes for women. Seriously.
I don't want to hear about how there are totally work pants for women out there. I know there are. But frankly, they suck.
To illustrate the divide, here is the picture you get when visit the website for Dickies, a well known supplier of work pants, and click on 'Men':
And here are the categories for work pants underneath that picture:
Cargo Pants, Coveralls, Bib Overalls, Painter's Wear, High Visibility, Flame Resistant, Built to Work.
What about the women's department, which primarily caters to women who stare meaningfully into the distant scenery on their farm?
If you want to guess how many of those categories repeat in the women's pants department, the answer would be none (I don't know what I expected from a company named Dickies…).
In all fairness, a more comprehensive search of their site turns up women's work pants that look like they might be durable enough, but the selection is limited and includes no female flame-resistant wear. There is a huge flame-resistant wear section for men, complete with a page-long explanation for why their gear is essential to occupations dealing with fire.
The long list of reasons I should protect myself from fire damage as a firewoman, female smoke jumper, female hot shot, or wildland firefighter would be a lot more helpful if it was put out by a company which also actually made fire-resistant clothing for women. The presence of women in fire-fighting jobs is growing every year; maybe the gear could grow – or shrink – with it.
Of course, there is always reliable old Carthartt – your friendly, post-misogynism blue collar company. Except that, despite a recent effort to make double-knee work pants which fit women (I own four pairs and can't complain), there is still a noticeable divide. Sure, I can get pants for chainsawing, but what about rain gear? Does Carhartt create its famous heavy-duty rain pants for the thousands of female foresters and trail maintainers out there?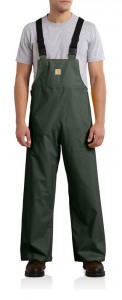 That would be a 'no'.
In my mind, feminism can be summed up in one word: pants.
We finally have pants that we can go to the office in. Now how about pants that can resist fire, water, motor oil, paint thinner, and all the other elements that women are encountering on a daily basis in this brave new world of non-gender-specific jobs?
Who does it right?
Basically, Carhartt has a pretty decent women's line, although for rain pants you're on your own.
Speaking of pants….
4. Help us cover our asses
Side by side, here are men's and women's long compression shorts from UnderArmour, which illustrates how much variety can exist in the word 'long':
The above shorts aren't bad, but the vast majority of base layer shorts you find for women still seem to look like this:
Booty shorts have a time and place. For some women, they are the most comfortable thing to wear while being active. But for many women, no amount of hiking, biking, or exercise will ever lead to their thighs not touching. So please consider this, trendy sport companies. Not only do the standard short sizes that you offer make me feel like a sausage who has outgrown its casing, but they cause chafing that can create a serious, long-term problem. I am happy to buy men's shorts for now, but I'm growing tired of explaining the opening in the front, so let's transcend women's shorts and begin making women's longs.
Who does it right?
Shredly and LaSportiva both make some pretty great shorts for women.
I've got to give marketers some credit. As perspectives on women's athleticism are changing, they have improved a lot. I'm by no means advocating for all gear to be exactly equal – the differences in many female-specific products are necessary. In fact, that's the whole point of this article. Outdoor gear is not like a bic pen – you can't just re-market men's clothing by changing the name to women's clothing. Women need smaller gear that accommodates our bodies. We get colder because of our fat distribution which means that the 'female temperature rating' on sleeping bags is one of the first specs I look at. And making backpacks that curve to fit women's shoulders is only one example of how companies like ULA and Osprey really listen to feedback from women.
But still, when I'm standing in the women's shoe department of REI looking at 'fit flops', I can't shake the feeling that marketing teams must view women as an alien species.
So, how do they make contact with us? What does the complex, enigmatic female brain desire?
Simple:
Men's gear – made to fit women.
---
Did I get something wrong?  Did I forget something?  Let me know in the comments – improving gear choices is a community effort, and one I know I'm not working on alone!
Affiliate Disclosure
This website contains affiliate links, which means The Trek may receive a percentage of any product or service you purchase using the links in the articles or advertisements. The buyer pays the same price as they would otherwise, and your purchase helps to support The Trek's ongoing goal to serve you quality backpacking advice and information. Thanks for your support!
To learn more, please visit the About This Site page.