Gear Guide 2016: Our Favorite Base Layers
Base layers: You sleep in them, you hike in them, you rarely wash them. These next-to-skin garments have the tremendously difficult job of keeping you either warm in the mountains, cool in the deserts, wicking profuse amounts of sweat, and surviving weeks between washing without turning into a biohazard. And we want them to be packable, fit well, and feel nice on our filthy bodies. It's a tough job, but with new technologies and innovative fibers, these are our picks for 2016's synthetic and natural-fiber base layers. As always, our thru-hiking, gear-loving Appalachian Trials writers have put these pieces to the test. If we've missed one of your favorites, let us know in the comments. –Editors
Note: if you're on a tight budget, base layers are one of area where you can skimp, especially for warmer weather environments. Head to the closest thrift store and snag a cheap, synthetic shirt and you're ready to rock. But if you want all of the bells and whistles of a higher end piece, it'll cost ya.
MSRP: $160
Yak wool. Not only is that a thing, it's a glorious thing. According to Kora's website, yak wool is 40% warmer by weight compared to merino. I've tested this bad boy in the snow on several occasions, their claim is accurate- it's warm. My core never once felt cold during testing. The piece also boasts all the other benefits of merino- odor resistance and a soft next-to-skin feel. The Shola makes an ideal base layer in cooler conditions or even a light mid-layer when the planet starts tilting toward the sun. The only thing that's not to love about this piece is the price tag. One hundred and sixty dollars is an expensive base layer, but if you need something that performs well while keeping your pack light in cooler conditions, you're not going to do better than Kora's Shola 230 Zip. — Zach Davis
Durability: 4/5
Weight: 5/5
Value: 3/5
Comfort: 5/5
Overall: 5/5
Duofold Varitherm Expedition-Weight Pant & Crew
MSRP: $44.99 each
                        
Duofold is partnering with apparel brand Champion to provide more technical clothing at an accessible price point, and they have their formula down. These two-layer thermal base layer pieces will keep you warm no matter how long it takes you to set up camp.  Both pieces are specifically fit for women, which mean more mobility and comfort, whether you're on the move or you save them to sleep in. I used these as a base layer for hiking, and also took them as camp clothes on another trip. They worked wonderfully in both roles, wicking moisture with a soft, no-itch next-to-skin feel. Duofold/Champion offers several different warmth/weight base layer styles, so if these are too heavy-duty for you, check out their other pieces. —Maggie Slepian
Durability: 4/5
Weight: 3/5
Value: 5/5
Comfort: 5/5
Overall: 4/5
MSRP: $40
This base layer from Helly Hansen implements their "Lifa" fabric, which helps keep your skin dry from perspiration. When paired with a midlayer, hiking during cold days becomes much more enjoyable. I wore this shirt in temps ranging from 20-60 degrees, often layering over it. This shirt has kept me (mostly) dry for many running and hiking outings since November, and I'll be the first to admit how sweaty I get. I also liked how well the shirt fit. I usually have problems with bagginess in the sleeves, but the wrist cuffs helped keep everything snug. On the down side, the stripe pattern on the arms doesn't enhance the function of the shirt, and removing them would cut down the weight. The inseams of the arms also don't like to stretch. Multiple times while taking off/putting on the shirt, I encountered popped seams. I would suggest HH uses a more forgiving seam thread. Obviously, this leaves the impression that the long-term durability of the Dry Stripe is questionable. Overall, the Dry Stripe is an awesome base layer with sufficient moisture wicking properties. For cold to mild temperatures, it helps keep you dry despite your exertion level. —Robert Peck
Durability: 3/5
Weight: 4/5
Value: 3/5
Comfort: 5/5
Overall: 3.5/5
Arc'teryx Women's Satoro AR Zip Neck LS
MSRP: $139 (
Due out Fall 2016

)

There are plenty of base layers out there that are warm and even light weight – but not many that actually look good at the same time. With a pocket for your credit cards or ear buds, this merino wool zip-up is flattering enough that you can leave the trail for dinner in town without looking out of place (whether or not you smell out of place is another story). It also seems to have a magical thermos-like property that holds in warmth during the evening at camp and keeps you cool while hiking mid-day. It's pretty expensive for a base layer, but it's worth its value in ice cream sundaes. –Maggie Wallace

Durability: 4/5
Weight: 5/5
Value: 3/5
Comfort: 5/5
Overall: 4/5
MSRP: $45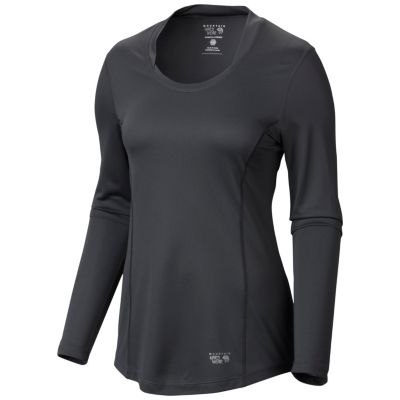 Mountain Hardwear's Wicked Lite Long Sleeve T has thru-hiked the Long Trail, the John Muir Trail, accompanied many snowboard adventures — and lived to tell the tale. Made with Wick.Q moisture-wicking technology, it has been an essential base layer to my winter getup, helping wick sweat rapidly to hold in warmth when temperatures dove below freezing. Conversely, the Wicked Lite Long Sleeve T stood alone when temperatures rose into the 80s in the High Sierras and I desperately needed to stay cool and covered against the blazing sun. It weighs next to nothing, and, accordingly, packs down exceedingly small. The thin material initially gave me pause, but this shirt appears indestructible. Admission: it stains easily, but in the backcountry, I'm not too worried about my appearance. The downfall of this shirt is in the fit. Although petite, due to my bust, I vary from a size small to medium. Even in the medium, the Wicked Lite T is tighter than I'd usually wear. It is particularly tight in the arms. This initially felt constricting, especially since I habitually push long sleeves up. Once realizing the superb wicking ability of this shirt was up to the task of keeping my body temperature regulated, I relented and relaxed into the form fitting hug of the Wicked Lite Long Sleeve T. –Kate Waite
Durability: 5/5
Weight: 5/5
Value: 4/5
Comfort: 3/5
Overall: 4/5
A good base layer is, to me, one of the essential items when hiking in colder weather. Having started my AT hike in February I know how brutal the extremes of weather can be, especially when we hiked through the Smokies and were hit by sleet/rain and freezing temperatures. The Smartwool Next-to-Skin 250 zip is, without question, the best base layer I have used. Being Merino wool means you get all the benefits of warmth, speed of drying and breathability as well, and importantly, comfort. One of the great benefits of Merino is it keeps you warm even when wet, and hiking with just the NTS 250 on is possible even in cold rain. (I am sure those that read my posts are tired of hearing that I use an umbrella and not a rain jacket). But this base layer is perfect to wear, with no other top layer, in the rain with an umbrella. It keeps you warm even when damp and does not cause over heating leading to being just as wet from sweat as you would from rain. The only possible issue with Merino wool is durability, especially when hiking day after day and washing in motel washing machines with the rest of your gear. But with care the NTS should see you through those colder weeks and at the price I think it's a great investment. – Paul Bunker
Durability: 3/5
Weight: 4/5
Value: 4/5
Comfort: 5/5
Overall: 5/5
MSRP: $110
Let's start with the less than good: I wouldn't recommend the Duckworth Maverick Snorkel Hood for any sort of extended backpacking trip. Merino is fragile as is and this material is quite thin; I wouldn't trust it to hold up against the constant friction of a heavy pack strap.
Now to the good: this piece is my swiss army knife for pretty much all other activities. Whether it's a trail run, day hike, or morning ride, the Vapor Hoody is thin enough to prevent me from overheating during heavy activity (the only long sleeve merino piece I've tested that I can say this about), yet still keeps me warm during an extended break at the vista. It's surprisingly stretchy, made in the USA, and best of all, superbly stank resistant. I have yet to wash this piece despite sweating into it on a dozen occasions and it's still stench free. Equal parts nasty and true. Score merino. – Zach Davis
Durability: 2/5
Weight: 5/5
Value: 3/5
Comfort: 5/5
Overall: 3.5/5
MSRP: $90
Tasc Perfrmance's Bamboo-Merino Base Layer Quarter Zip was my first experience testing a bamboo fabric, and immediately I was sold. Merino is already sufficiently comfortable on skin, but the bamboo (technically a semi-synthetic derivative called viscose) provides an extra-level of softness, resembling a heavier cotton. Add to this an impressive warmth-to-weight ratio and quality moisture wicking, and this new blend has become one of my go-to base layers for colder environments. – Zach Davis
Durability: 4/5
Weight: 4/5
Value: 4/5
Comfort: 5/5
Overall: 4/5
Disclosure: many of the pieces in this post were donated for the purpose of review.
Affiliate Disclosure
This website contains affiliate links, which means The Trek may receive a percentage of any product or service you purchase using the links in the articles or advertisements. The buyer pays the same price as they would otherwise, and your purchase helps to support The Trek's ongoing goal to serve you quality backpacking advice and information. Thanks for your support!
To learn more, please visit the About This Site page.
Comments
1
In general, great article. In the future, please include size availability for each. Without that information, you have to spend time looking each item up, just to find out that it isn't available in your size. For instance, less than half of the base layers reviewed come in XXL and none of them have XXXL sizes.